The continent of Asia offers an incredibly broad range of amazing landmarks. From the many tall towers across the continent to the wonderfully futuristic Gardens by the Bay to reclining Buddhas and even a luxury hotel, there are many extraordinary Asia landmarks.
Here are 21 stunning Asia landmarks to add to your bucket list.
NB: My definition of Asia doesn't include Dubai or Jordan or Israel which I would consider to be the Middle East.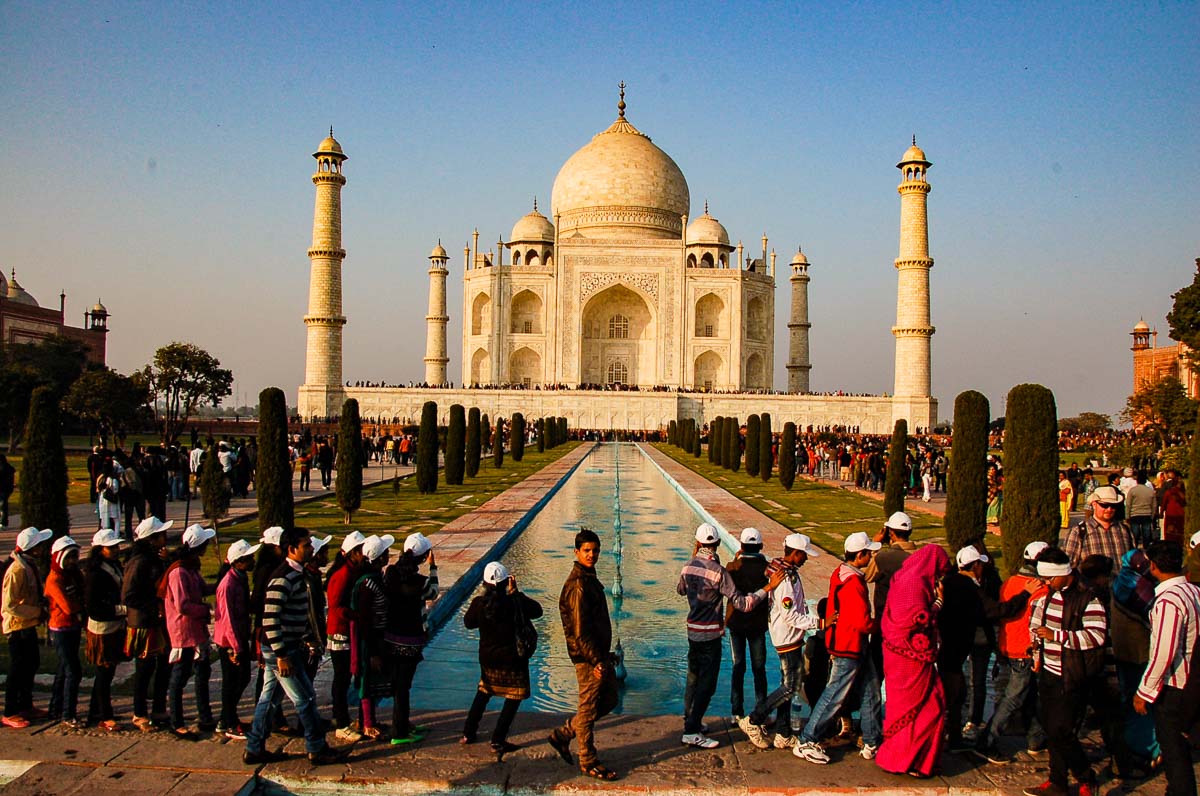 21 Asia Landmarks for your Bucket List
1. Angkor Wat, Cambodia
This enormous Buddhist temple is located in the north of Cambodia. As it is spread over 400 acres it is said to be the largest religious monument in the world. It was first built in the 12th century as a Hindu temple.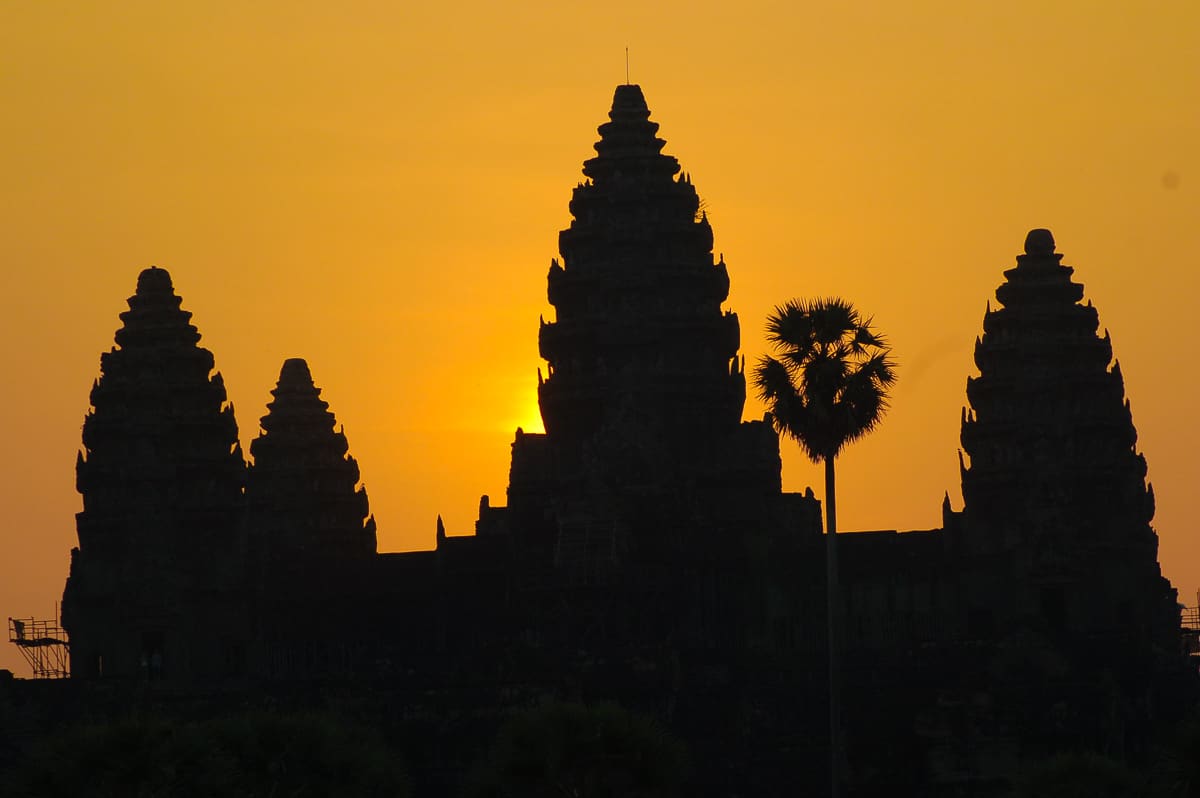 Over the coming centuries Angkor Wat became used less commonly as a place of worship and fell into disrepair. In the 18th century it was rediscovered by a French explorer, Henri Mouhot.
Angkor Wat was built from sandstones and its 15 foot walls protect over 200 acres within the temple. Plus it has a very photogenic moat.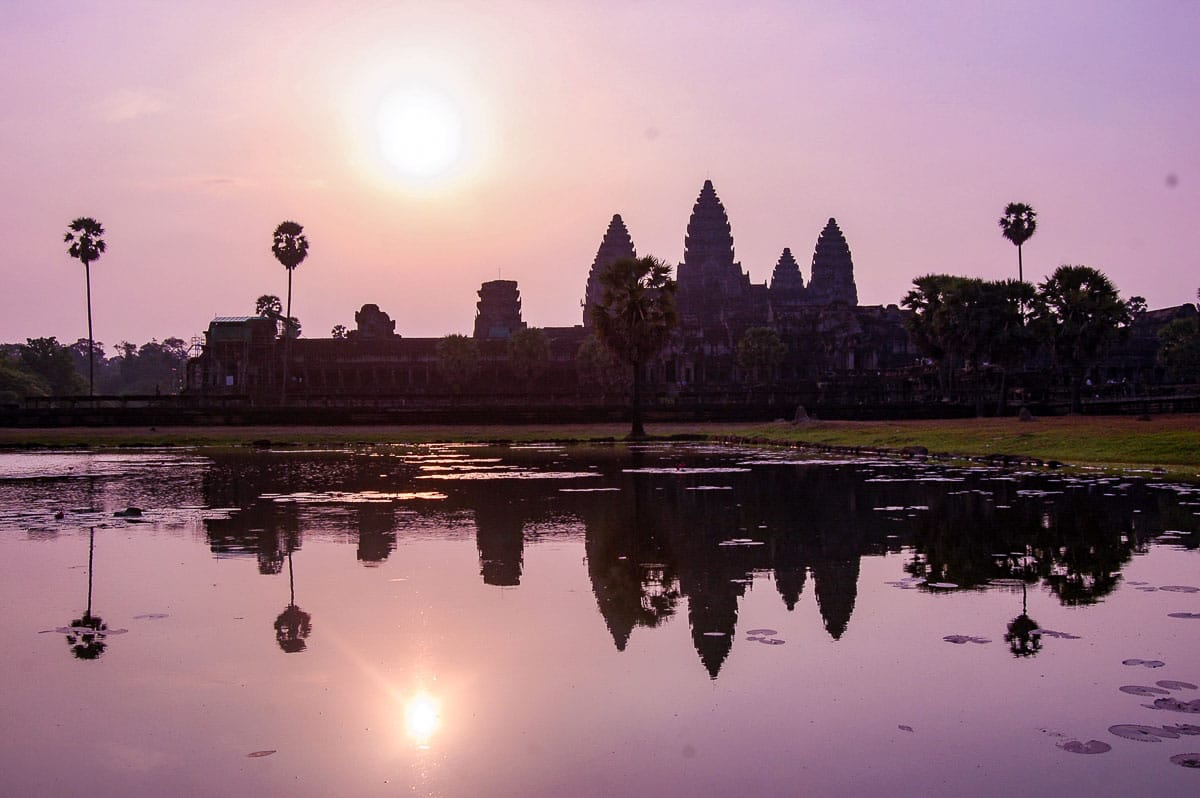 Angkor Wat became a UNESCO listed site in 1992 and today receives more than 500,000 visitors a year. The nearest town is Siem Reap, which was pretty much built to support visitors to Angkor Wat.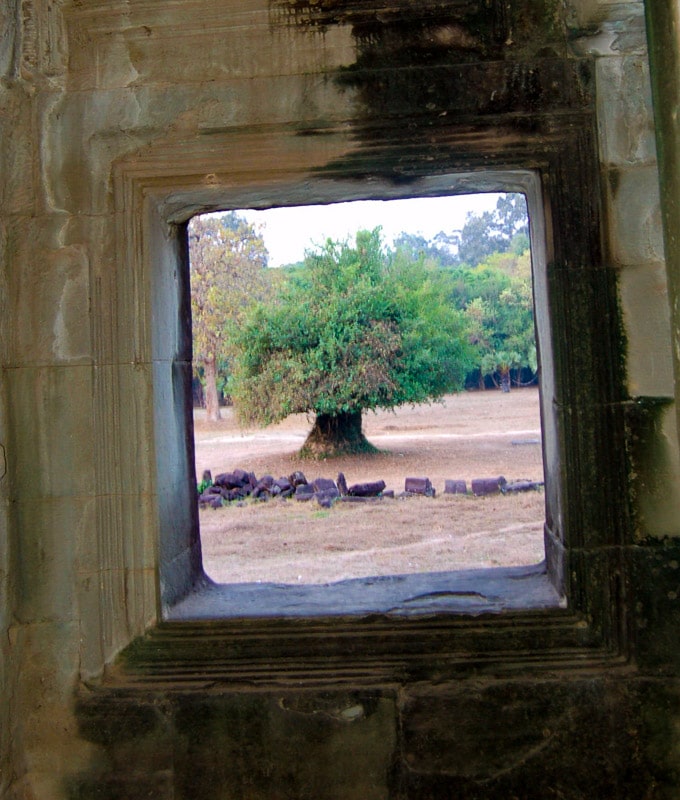 The key time of day to visit Angkor Wat is sunrise. However, you will find that the site is extremely busy at this time of day. Most of the tourist buses will pull away as soon as the sun has risen so that visitors can return to breakfast at their hotels. This is the time to stay at Angkor Wat as it becomes quite still and rather magical.

2. The Great Wall of China
This ancient series of walls and fortifications were built around 500 years ago in Northern China. Estimates of its length vary greatly from 1,500 kilometres to more than 15,000 kilometres.
There is actually more than one Great Wall of China. The walls are often in bits and not necessarily as magnificent as the photos we often see. There is a huge variety in the state of sections of the wall from the well maintained to very wild portions which have been taken over by nature.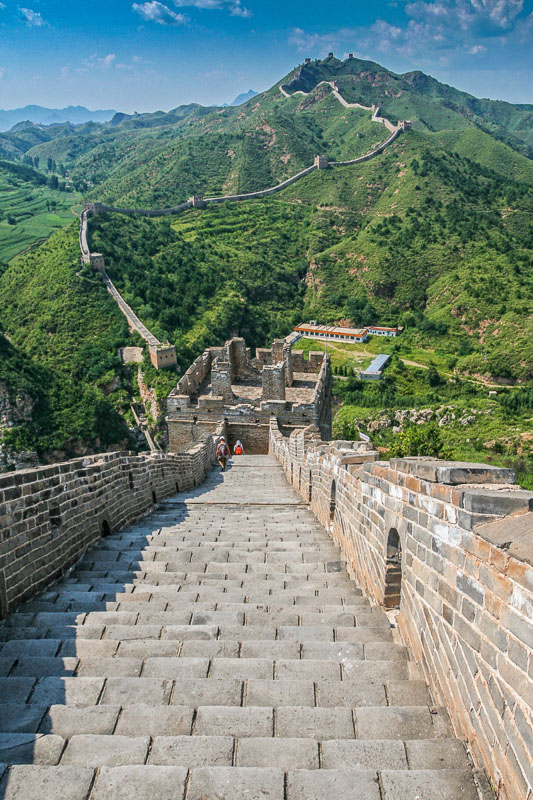 The sections of the wall around Bejing have ancient precedents, some of which are underneath the wall.
Spring and Fall are generally the best times to visit the Great Wall of China. The wall crosses nine provinces and the four most recommended sections to visit are around Bejing.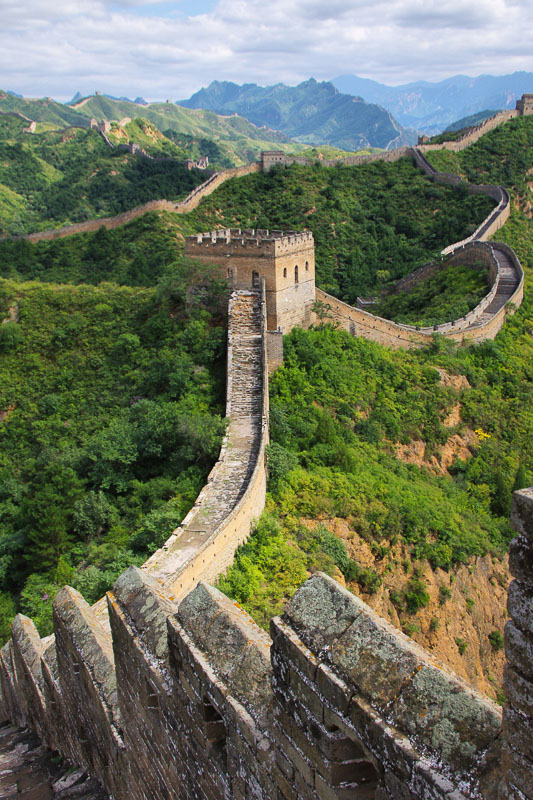 Do check the section that you are planning to visit as there can be large variations in fitness levels needed to visit and walk different sections of the Great Wall of China.
3. Temple of the Reclining Buddha, Thailand
Wat Pho or the Temple of the Reclining Buddha is located in Bangkok, Thailand. Its giant reclining Buddha is 46 metres long, 15 metres tall and covered in gold leaf. The buddha's feet alone measure 5 metres.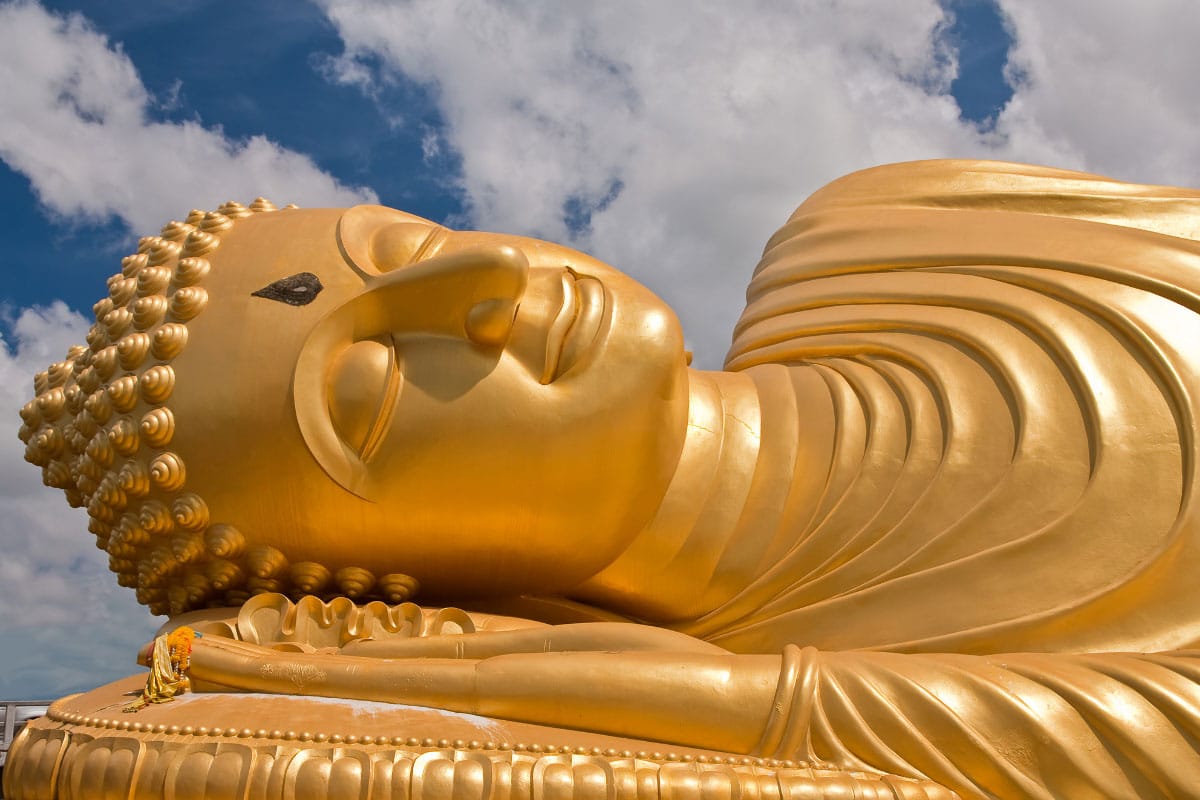 Visitors must remove their shoes when they visit the Reclining Buddha. Do purchase a bowl of coins at the entrance so you can drop some in the 108 bronze bowls along the walls (108 positive actions and symbols helped to lead the Buddha to perfection).
Wat Pho was also the first public University in Thailand. Today it is well-known as a centre for massage and medicine and a great place to receive a thai style massage.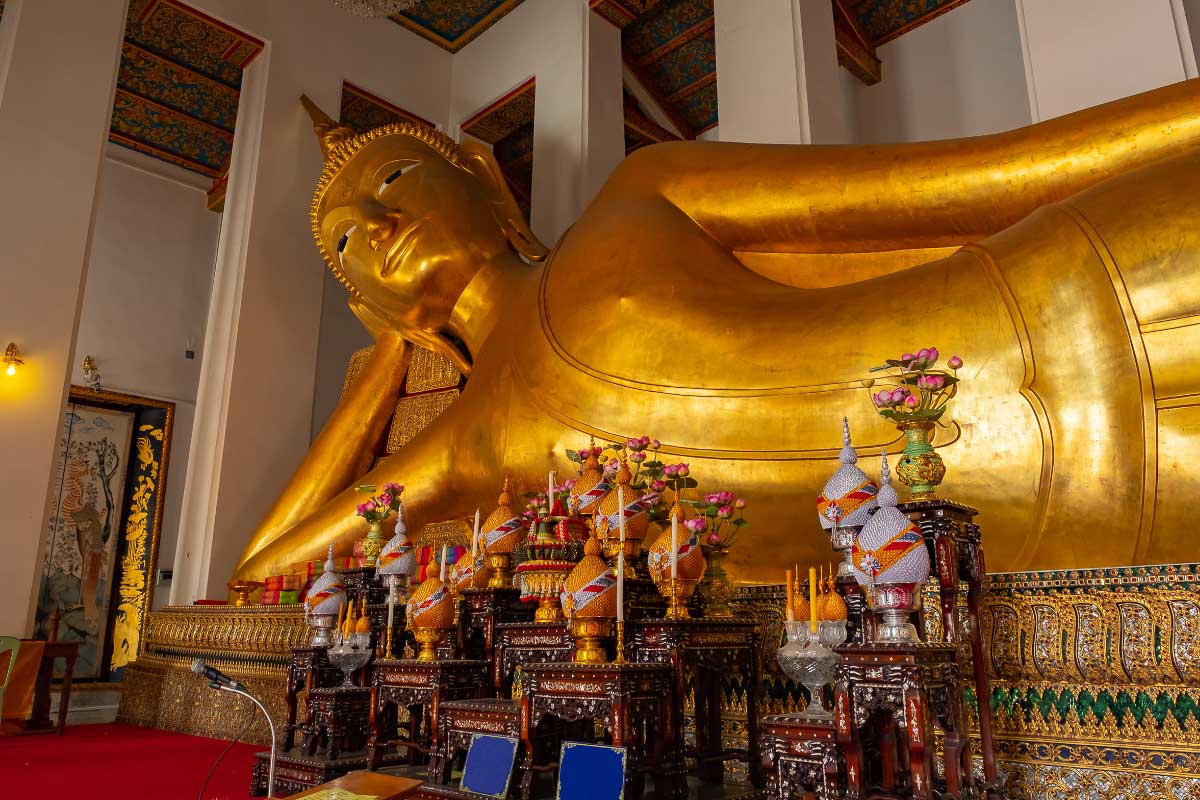 The Reclining Buddha is conveniently located behind the Temple of the Emerald Buddha and a 10 minute walk from the Grand Palace.
⇒ If you're planning a trip to Thailand and love a great spa don't miss my post on Kamalaya and my review of Thai Airways Business Class.
4. Gardens by the Bay, Singapore
Gardens by the Bay was my Singapore highlight and is perhaps my favourite landmark in Asia. Sure it is a massive tourist attraction but it is fantastic. I particularly loved the sci-fi trees.
Gardens by the Bay is such a mix of garden meets futuristic design. Most importantly it provides many photo opportunities.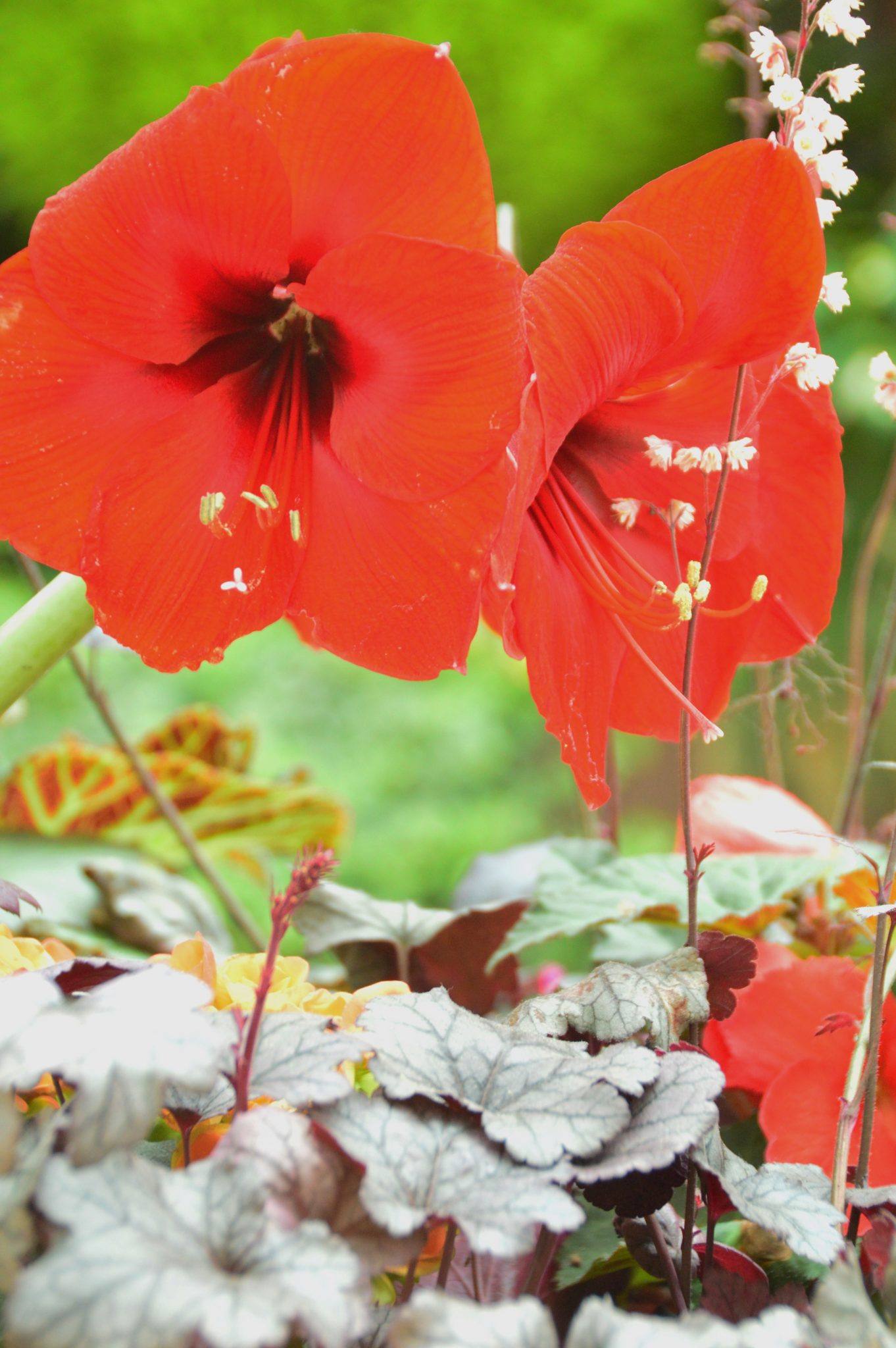 First up at Gardens by the Bay was the Flower Dome. The domes are the same type of thing you find at the Eden Project in Cornwall. The Flower Dome Singapore is focused of course on flowers and plant life. It is pretty but this one is definitely more of a thrill if you have a green thumb.
One thing I didn't do which would have been great was to visit Pollen. This is a Jason Atherton restaurant in the middle of the Flower Dome. I love his restaurants and it would have been great to have a meal in the middle of the Flower Dome – next time.
Singapore does a great job of putting fab restaurants in its major tourist sights (see the National Orchid Park).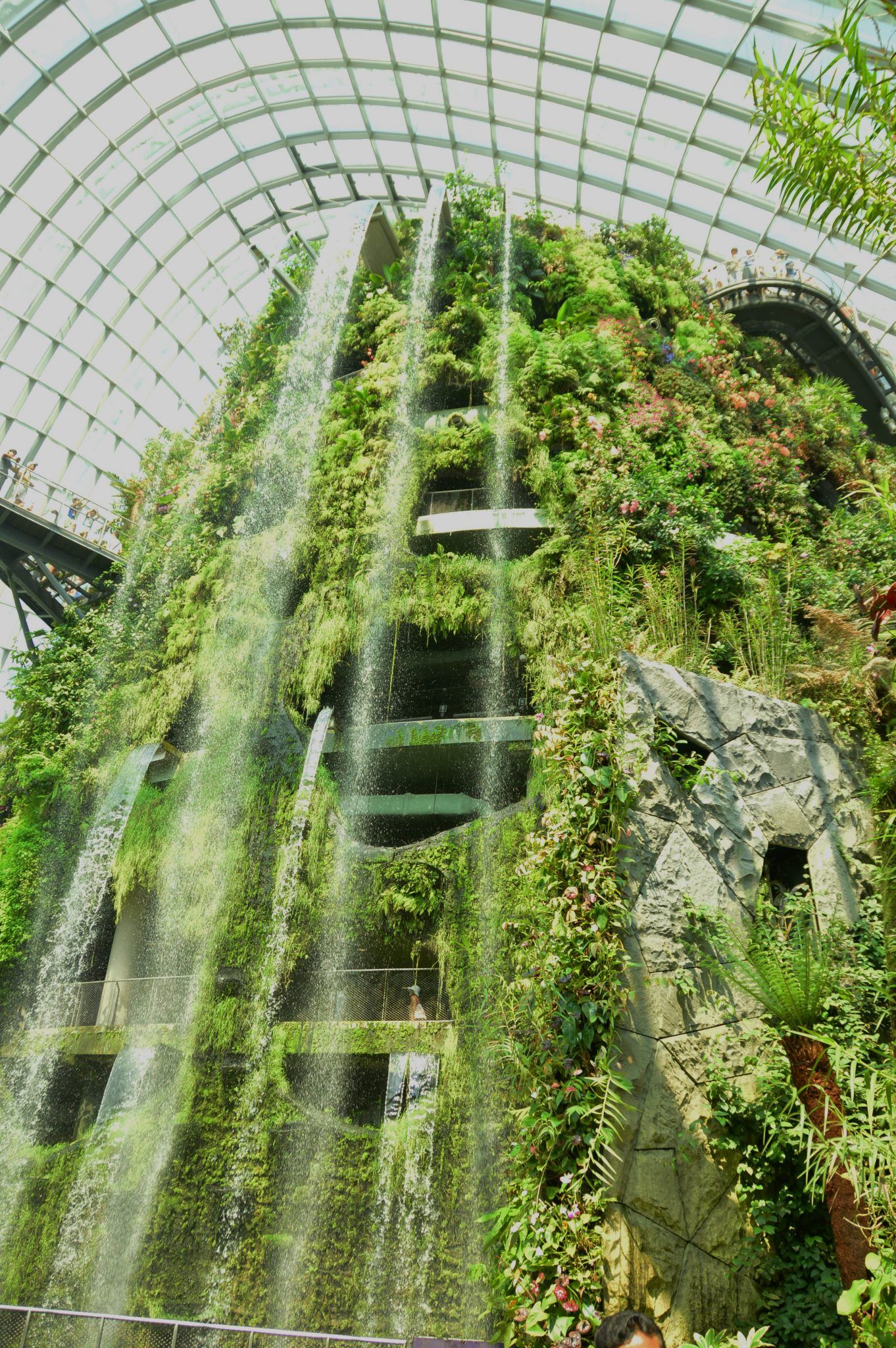 I far preferred the Cloud Forest Dome at Gardens by the Bay. The Cloud Forest houses a mountain of sorts and features the highest indoor waterfall in the world.
The path essentially takes you to the top of the mountain and you then head down some fantastic stairways to "climb" down the mountain (not a good one if you have a fear of heights as it is very open).
We then walked down to Satays by the Bay. This is a touristy hawker bar set up that is outside and as the name implies situated on the Bay. Having said that it is very easy to figure out what each stall is offering and the quality was good. We went with a serving of 10 chicken satays which were very tasty.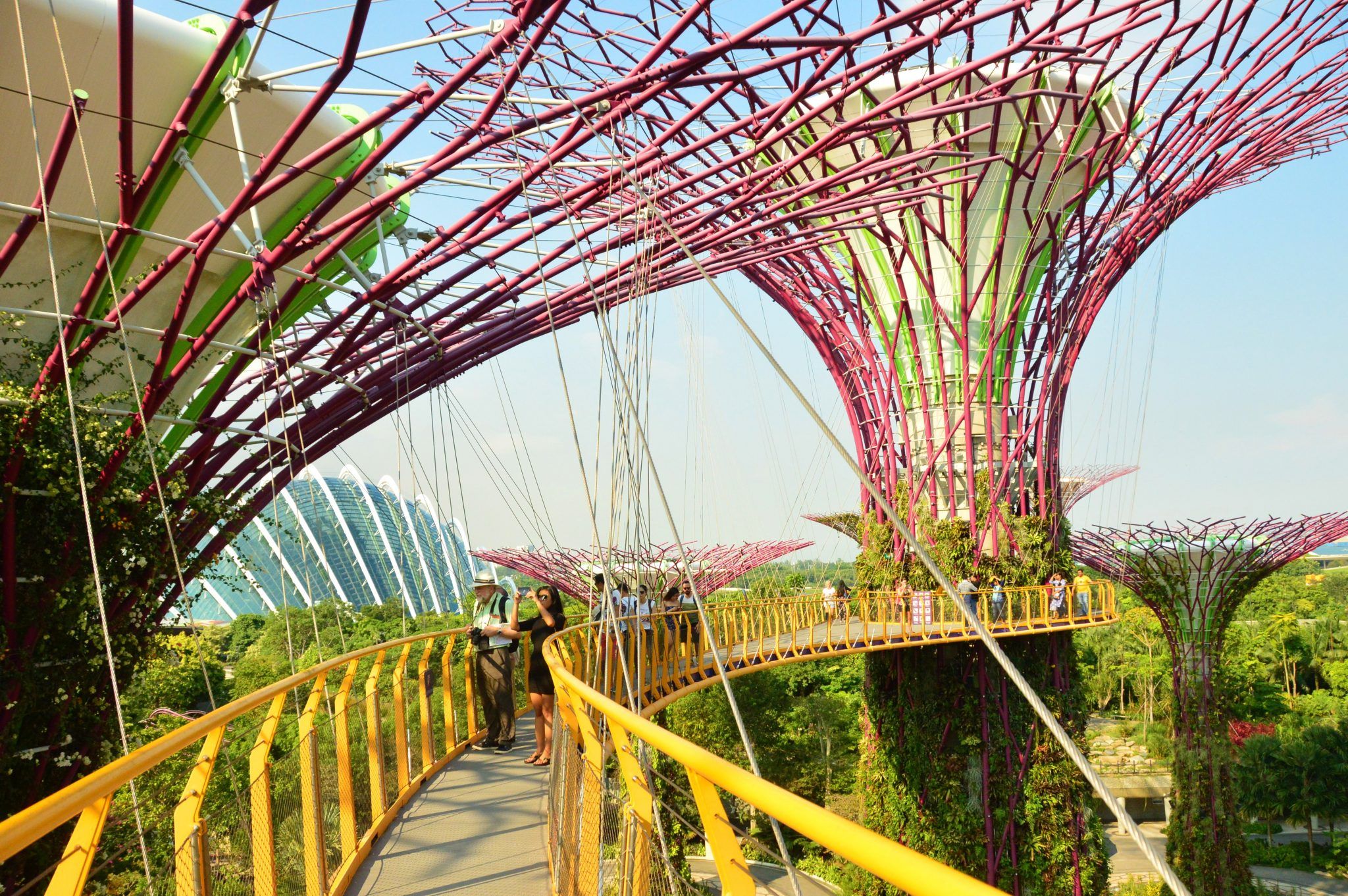 Next up was a walk down to the Supertrees. The Gardens by the Bay Supertrees were my favourites in terms of photography. The key was trying to get the right angle and as always the right light.
The Supertrees look best with a very blue sky behind them. I paid the $8 to do the OCBC Skyway and this was well worth it. This is basically an outdoor bridge between the supertrees and was the best way to get some great shots.
Gardens by the Bay is one site that you definitely want to book ahead as the queues can be massive! This skip the queue ticket covers entry to the Sky Garden, the Flower Dome, Cloud Forest Dome, and the OCBC Skyway.
⇒ Skip the Queue tickets for Gardens by the Bay
⇒ If you're planning a trip to Singapore check out my post on how to spend One Day in Singapore: Hidden Gems and Classics.
5. Taj Mahal, India
Widely considered to be the most beautiful building every made, the Taj Mahal is located in Agra in India. Legend has it that Shah Jahan's favourite wife made him promise on her death bed to create the most beautiful mausoleum ever imagined.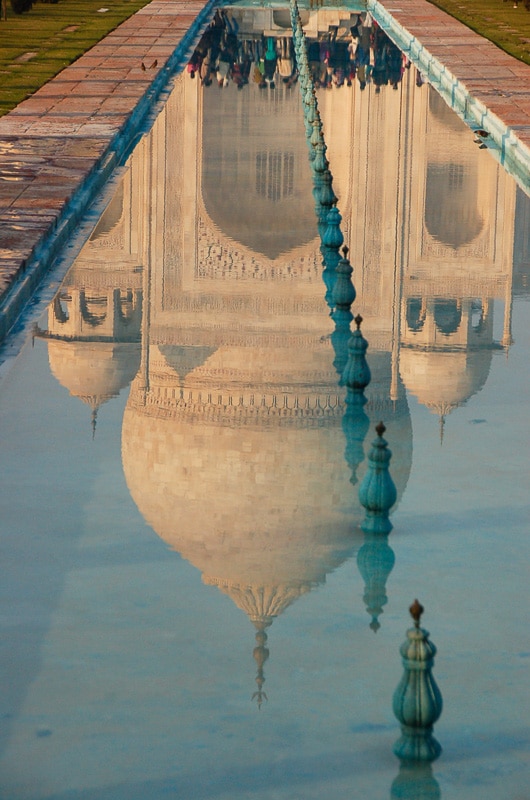 The Taj Mahal was built between 1631 and 1648. Stone masons and artists came from all over India and from as far as Iraq to create the marble building. In addition to the beauty of the white marble the Taj Mahal there are many semi precious stones, carvings and other beautiful details throughout the mausoleum.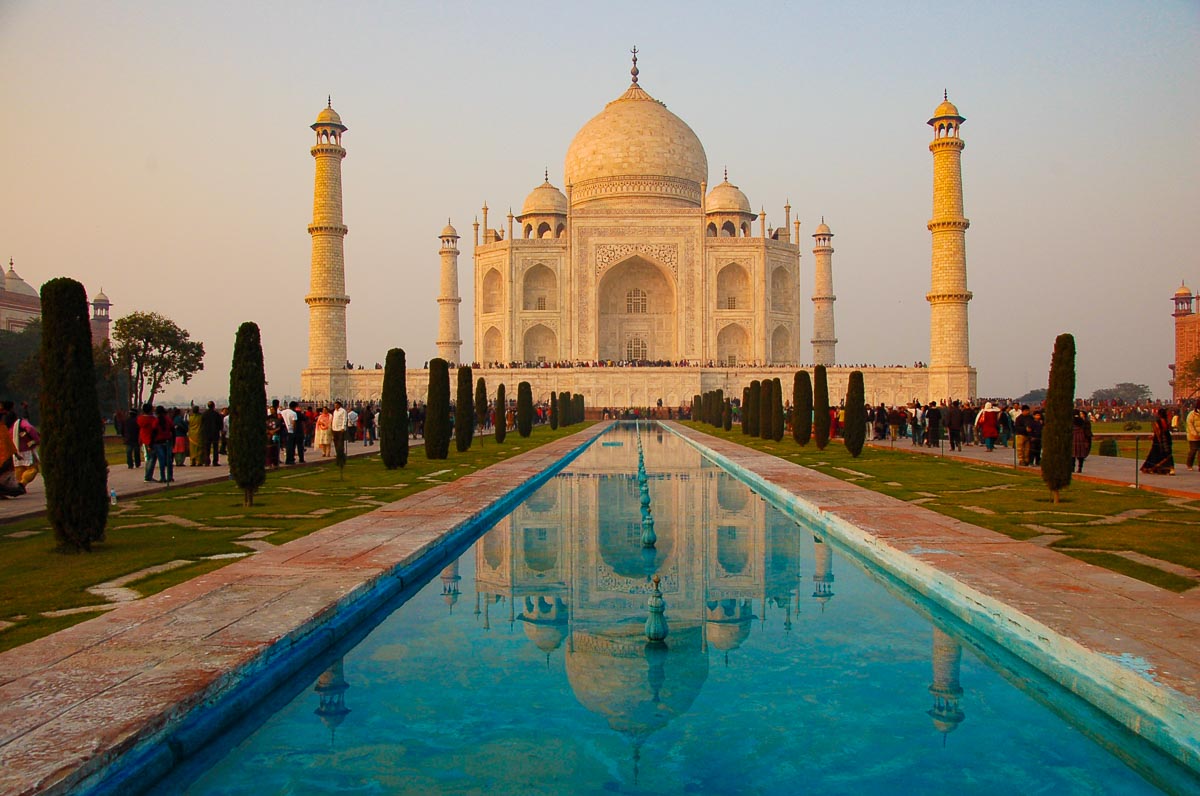 The domes of the Taj Mahal are framed by four minarets. Two red sandstone buildings are also located on either side of the building.
All of these buildings are located in the lovely gardens of the Taj Mahal as well as the stunning reflecting pool.
It is possible to visit the Taj Mahal on a day trip from Delhi. It opens 30 minutes before sunrise and closes 30 minutes before sunset. It is closed on Fridays.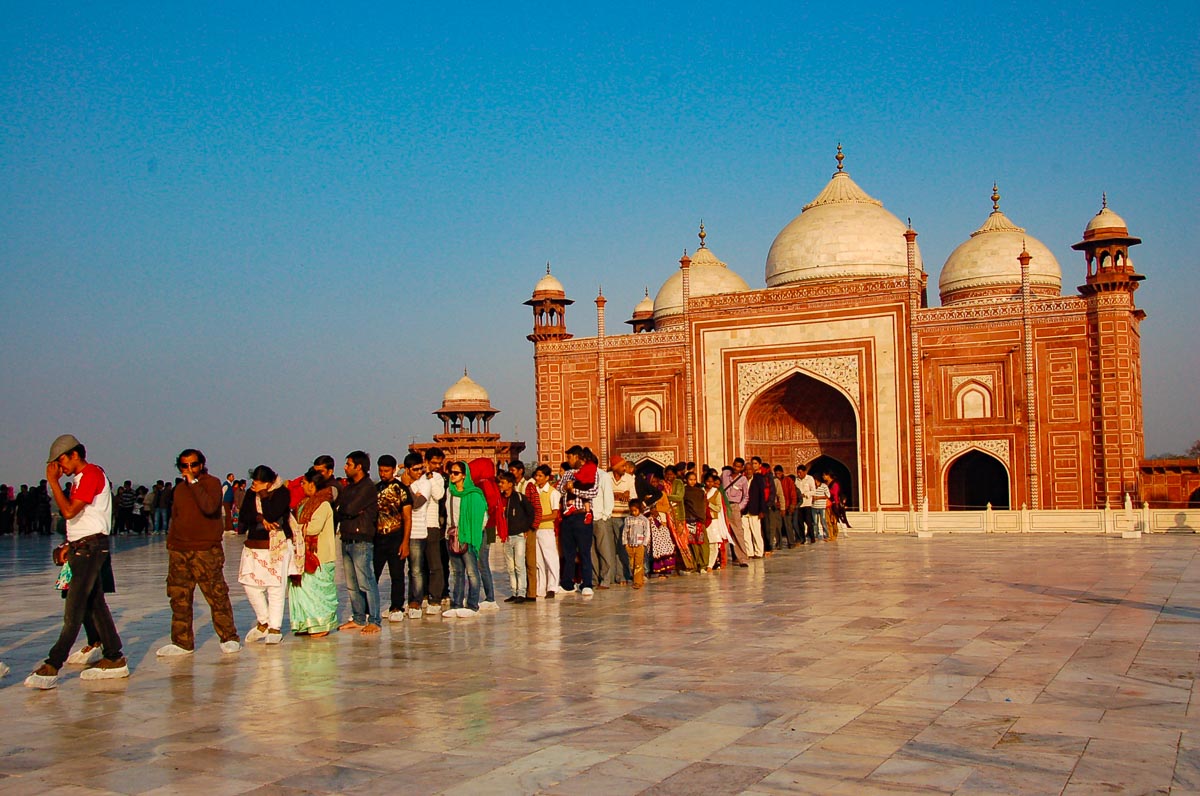 Tickets can be purchased at the gate or online. Choose your date on line and either a morning or afternoon entry.
⇒ There is something about landmarks – I am always a bit awed when I get to see one! 16 Famous Landmarks in Europe You Must See, 12 Beautiful Spain Famous Landmarks, 11 Stunning Canada Landmarks, 15 North America Landmarks, 16 Australian Landmarks, Top 10 Famous Landmarks in the US, 21 Stunning Asia Landmarks, 10 Bridges in London Not to Miss, 20 Most Beautiful Cities in the World, 9 Picturesque Japan Landmarks and 11 Historic Greek Landmarks.
6. Mount Fuji
Standing at over 3,700 metres, Mount Fuji is the highest mountain in Japan. The mountain is located on Honshu Island and is the seventh-highest peak of a mountain on an island in the world.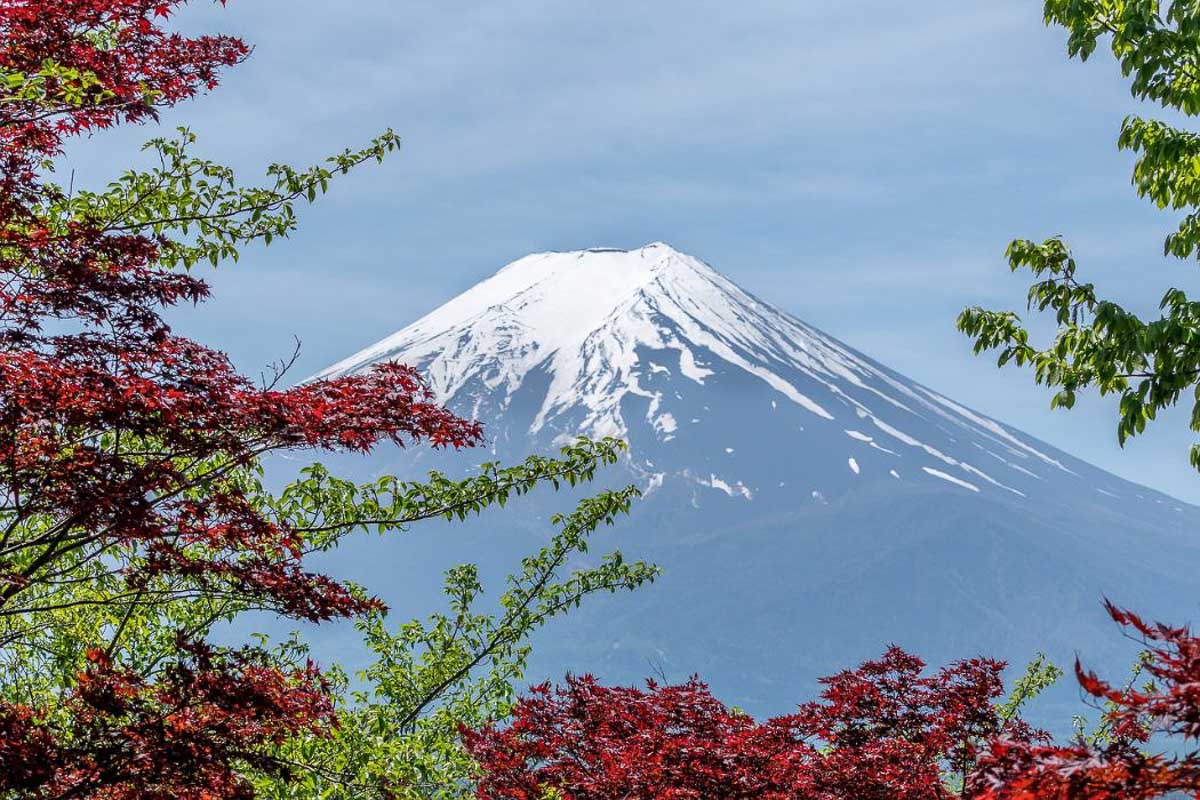 Fuji is an active stratovolcano that last erupted from 1707 to 1708. It is about 100kms from Tokyo, where it can be seen on a clear day. However, clouds and poor visibility tend to block the view. Visitors are most likely to get a good view in the colder months of the year, early in the morning and late in the afternoon.
For five months of the year it has a picturesque snowed top. Mount Fuji is officially open for climbing from early July to mid September. It is not seen as a difficult mountain to climb but is still a strenuous exercise. Climbing the mountain is popular with both locals and tourists.
Mount Fuji has ten different stations. There are paved roads up to the 5th station. There are four different trails to the summit which vary by ascent and descent times. At a minimum most people will be looking at an 8 hour return climb. If possible it is recommended not to ascend and descend in one journey due to the altitude.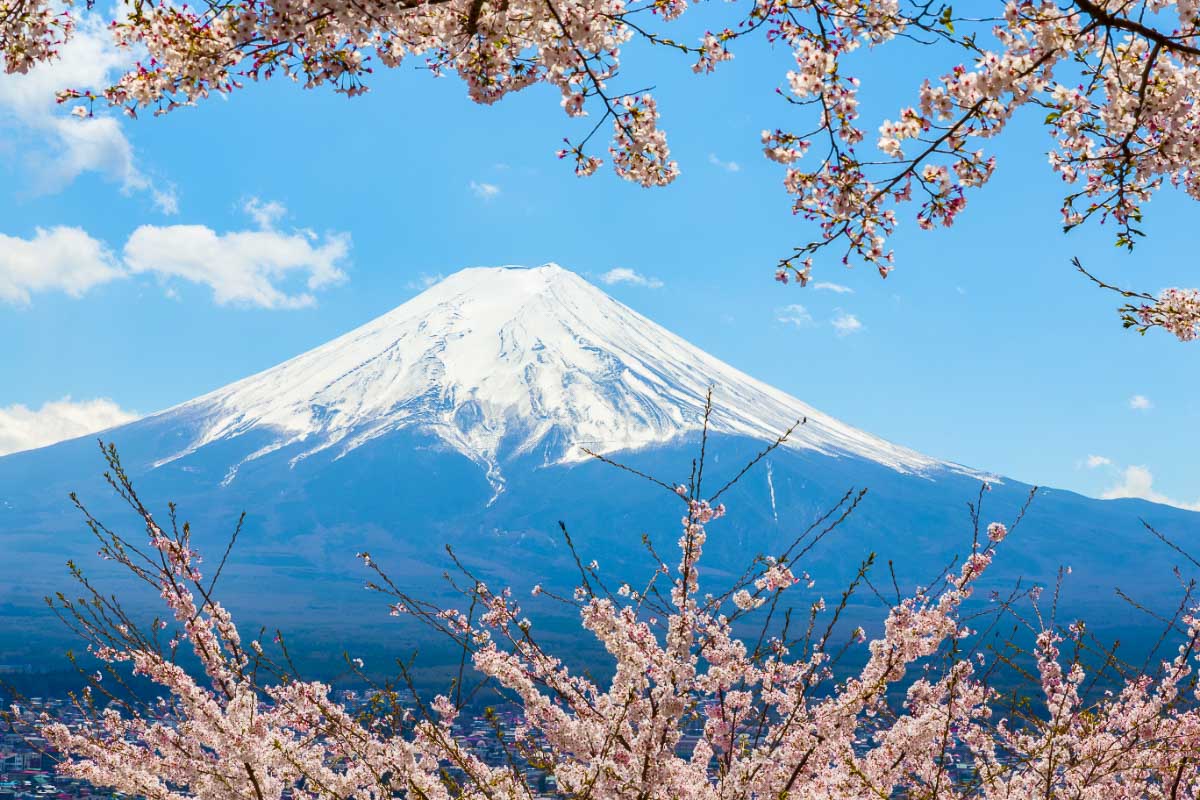 Many climbers try to match their summit time for sunrise. This is normally achieved by spending the night at the 7th or 8th station and then starting out very early. In the summer sunrise can take place as early as 430am.
However, an early start may be preferable to summiting in the middle of the day and finding the mountain covered with clouds and poor visibility.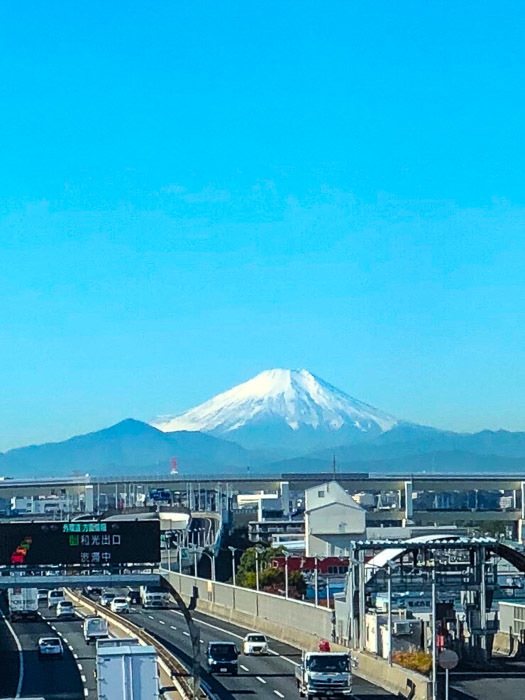 It takes about one hour to explore the summit crater of Mount Fuji. However, the mountain has very little shelter so it can be both cold and mean a high risk of sunburn.
⇒ Beautiful Japan is one of my favourite countries to visit. Check out my posts on One Day in Tokyo, 2 Day Itinerary Kyoto, 10 Day Japan Itinerary, 9 Beautiful Japan Famous Landmarks, the best things to do in Kanazawa and what to expect on the Nakasendo Trail.
7. Halong Bay, Vietnam
Halong Bay includes 1600 islands islets which form a range of limestone pillars. Most of the islands are uninhabited and quite untouched by humans. The Bay covers over 43,000 hectares.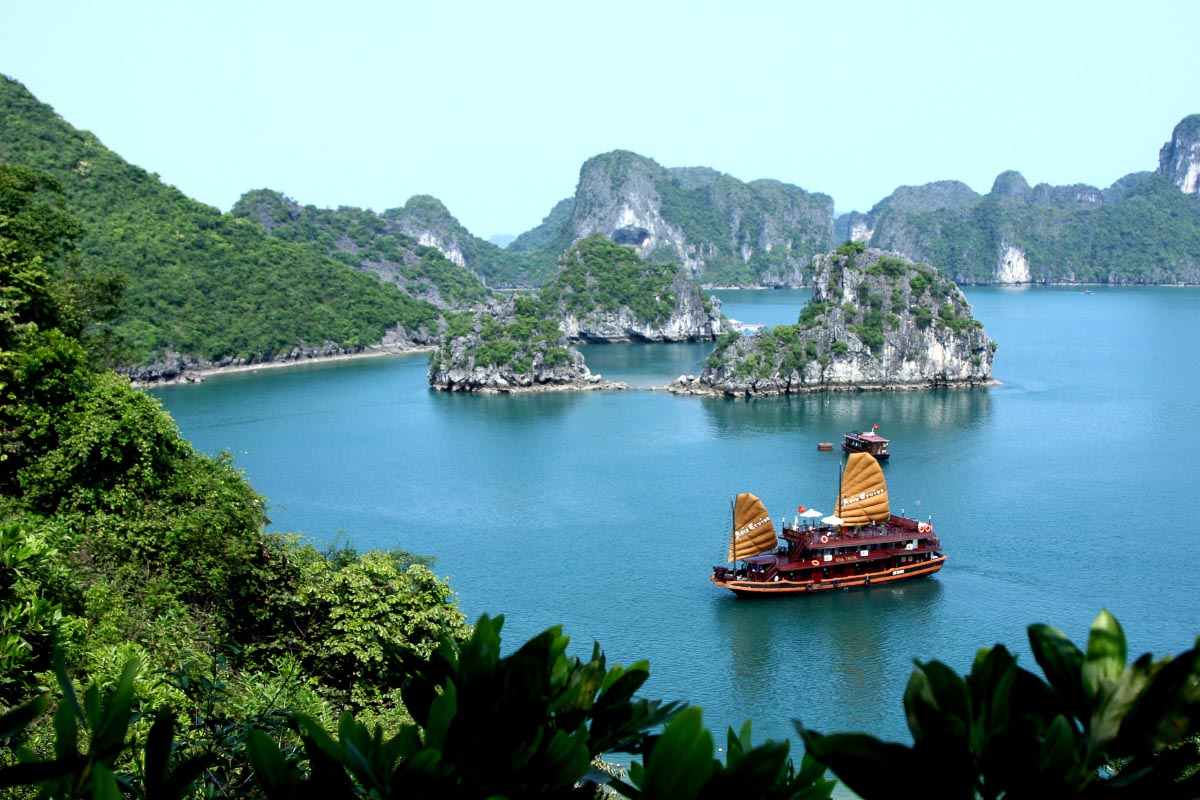 The name Halong means descending dragon. Legend has it that dragons where sent to the bay by the gods to protect the Vietnamese from invaders. It is estimated that the limestone in the bay has been forming in different conditions for 500 million years.
It is possible to visit Halong Bay as a day trip from Vietnam's capital Hanoi. However, this can be a long and stressful day where you will spend most of your time on the busiest stretches of the Bay.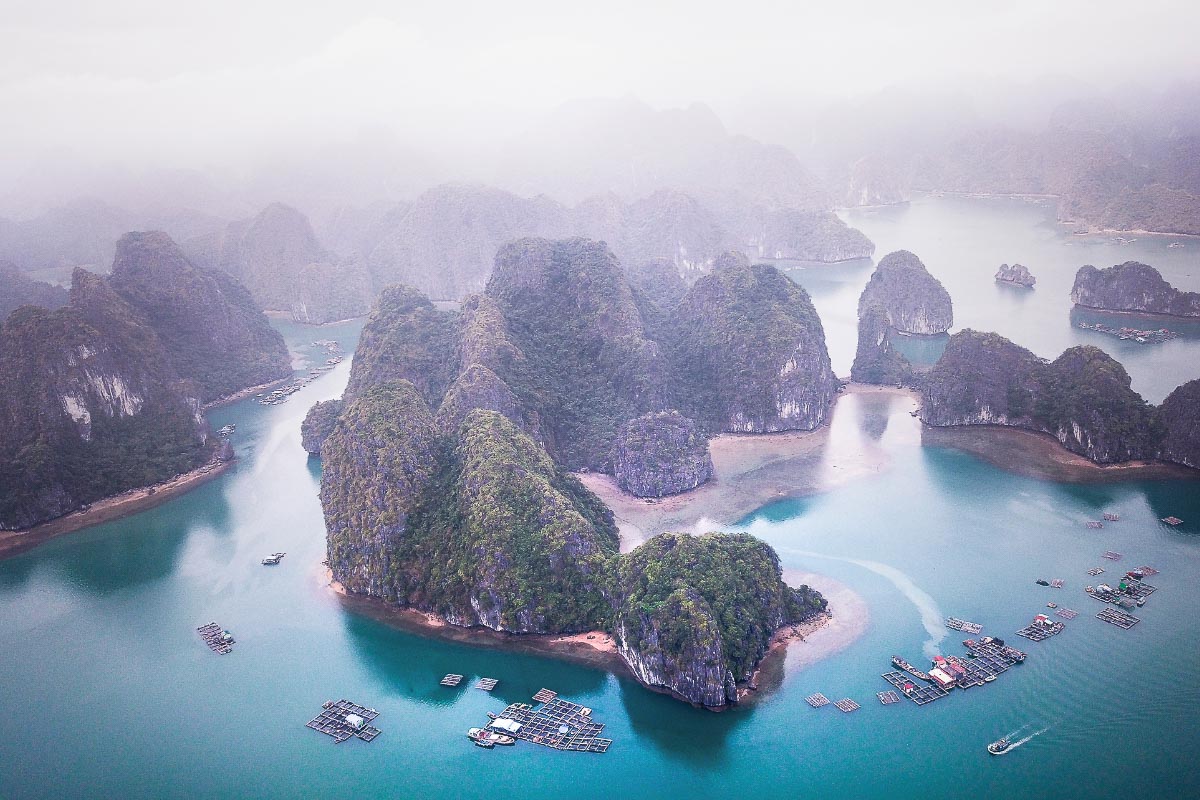 There are many options for cruises around Halong Bay including overnight cruises. It is also possible to take a kayak to explore Halong Bay although of course that isn't an option for overnight.
⇒ If you're planning a trip to Vietnam don't miss my post on what to do in Vietnam's tastiest city Hoi An.
8. Petronas Towers, Malaysia
Petronas Towers are the world's largest twin towers and for a time the tallest towers in the world (they have since been overtaken by Burj Khalifa in Dubai). The stunning design is a mix of glass and Islamic design, with Petronas Towers Kuala Lumpur intended to look like an eight-pointed star from above.
In Islamic culture, this represents unity, harmony, stability and rationality. This is one of the key things to do in Kuala Lumpur Malaysia. Construction of the 88 storey towers took six years.
The towers are 452 metres high and the viewing deck is at the 370-metre point on the 86th floor. The well known Suria KLCC Mall is at the base of Petronas Towers.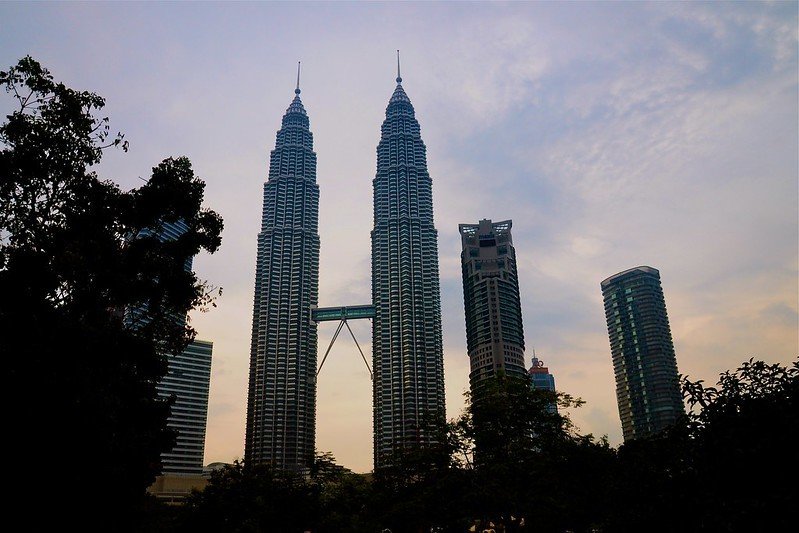 Petronas Towers are open from 9 am to 9 pm but are CLOSED on MONDAYS. This is a ticket you definitely want to buy ahead of your visit.
Petronas Towers is very popular and if you have limited time you could easily spend a lot of time in a queue or miss out completely (as happened to me once when I just arrived and found out that all tickets were sold out).
The tour also includes an opportunity to go on the sky bridge. The sky bridge connects the two tours and it on floors 41 and 42. The total tour lasts around one hour.
⇒ Buy your Skip the Queue Petronas Tower ticket 
After your visit to Petronas Towers you can then head for a wander through the KLCC mall which has something for everyone. I always like to try to find local designers. Some you may want to check out are:
⇒ Aseana – located on the ground floor and features different designers from the region
⇒ Farah Khan – ground floor G13 – east meets west and apparently good frocks
⇒ If you're planning a trip to Malaysia read my post on One Day in Kuala Lumpur and my review of Malaysia Airlines business class.
9. Marina Bay Sands, Singapore
Wow, Marina Bay Sands is over the top! We started at possibly the largest hotel lobby I have ever seen! We headed past the Casino into the giant shopping centre at Marina Bay Sands Singapore. A map is a requirement for this place.
The ground floor of the shopping centre is a lake and you can hop on a boat a la Venice and be gondoliered (not sure that's a word but it possibly should be) throughout the centre. It is rather surreal to be shopping and look down and see water and a boat.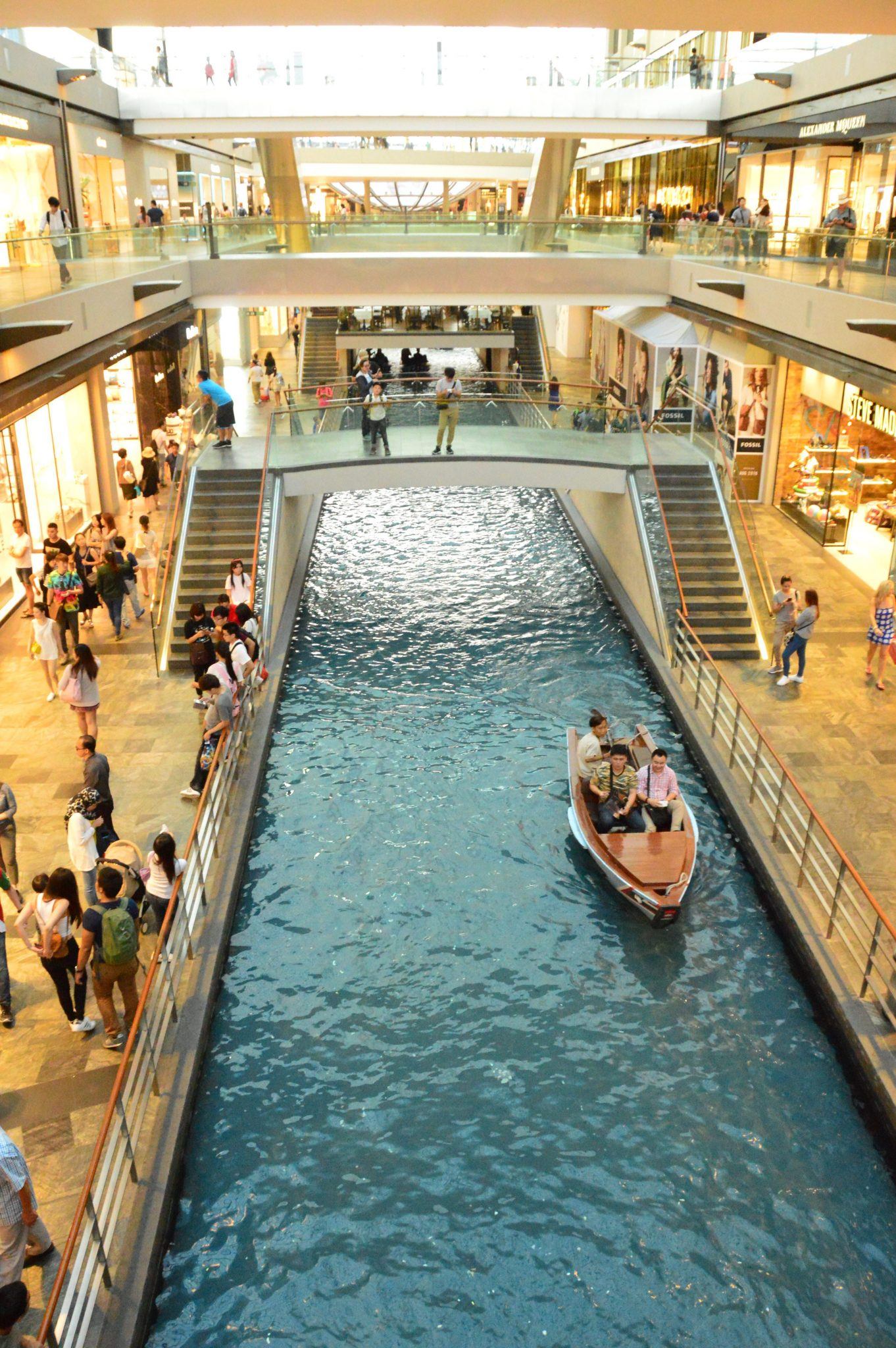 There are almost too many bars and restaurants at Marina Bay Sands Singapore. Again we hit the food court to keep all stomachs happy and I did have a delicious laksa (again too small).
Then it was upstairs and onto the bay for the Marina Bay Spectra sounds and lights show. This free show is run twice a night usually and we went to the first show which was at 8 pm.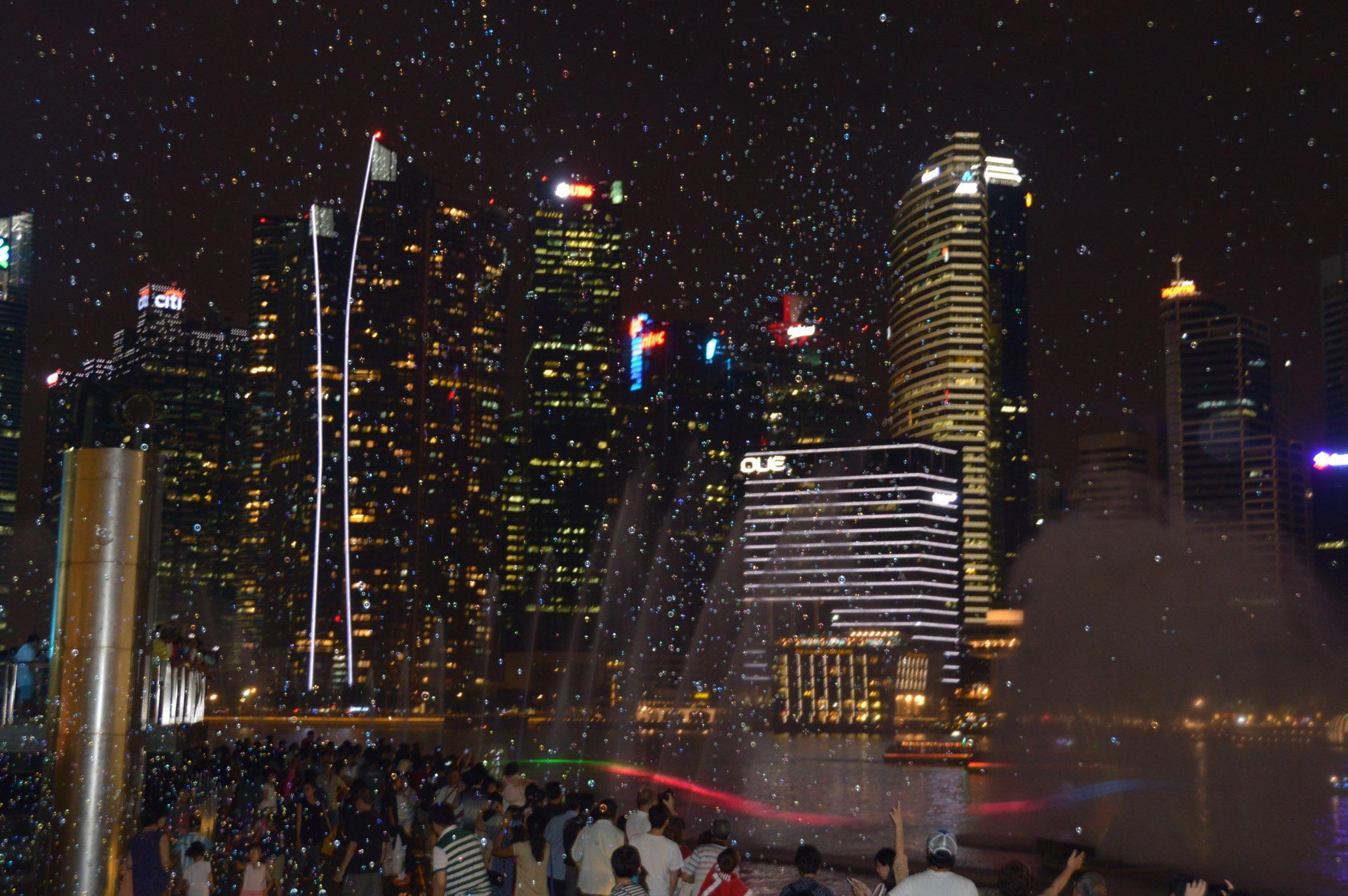 The Marina Bay Sands light show is worth seeing as the Singapore city skyline view is fantastic. There are then loads of sprouting fountains in the bay that explode and have different light colours projected onto them. All to 13 minutes of very Disney style music.
My favourite bit of the Marina Bay Sands light show in Singapore was the many many bubbles that exploded on the land side – always very cute to see small children determinedly chasing bubbles.
10. Grand Palace Thailand
The Grand Palace has been the official residence of the Kings of both Siam and Thailand since 1782. Whilst the King of Thailand and his court are no longer based at the Grand Palace, it is still used for official events.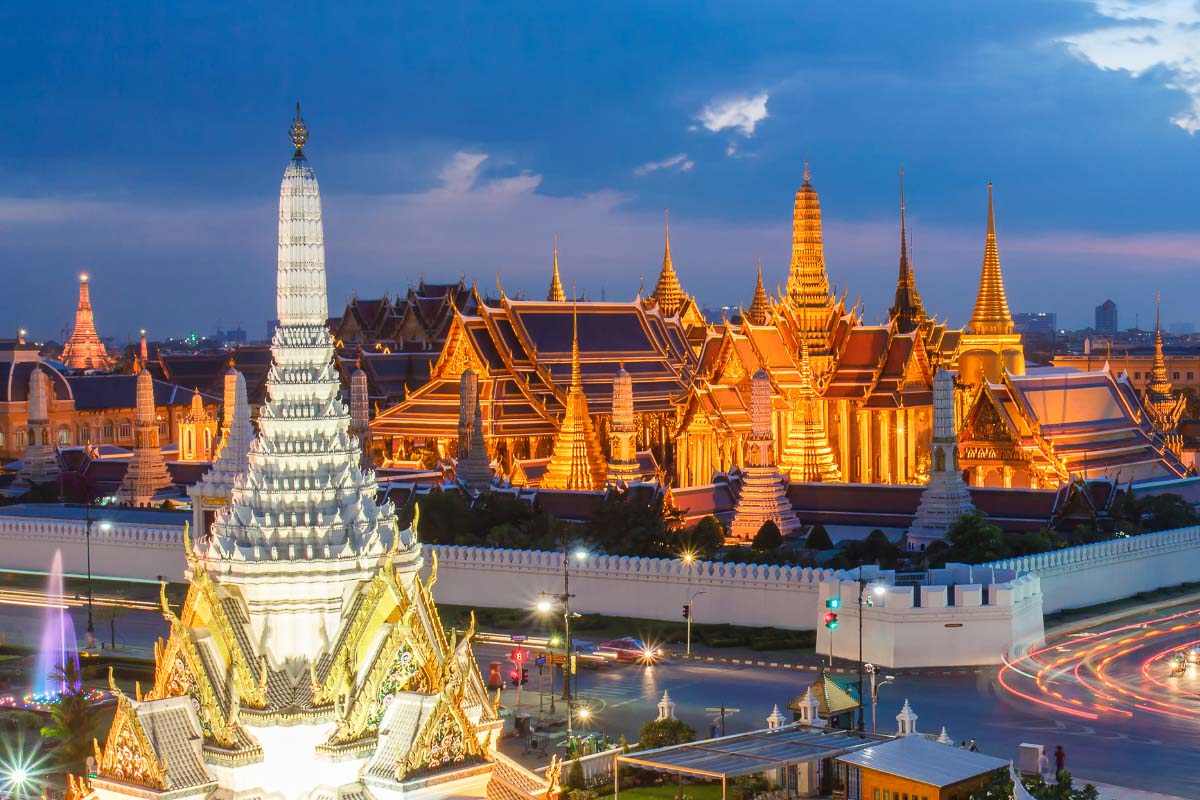 The Grand Palace is located in the heart of Bangkok and consists of a series of buildings. It is spread over more than 218,000 square metres and surrounded by four walls.
The Palace is open every day from 830am to 330pm. The entry fee covers entry into the Grand Palace, Abhisek Dusit Throne Hall and Vimanmek Palace.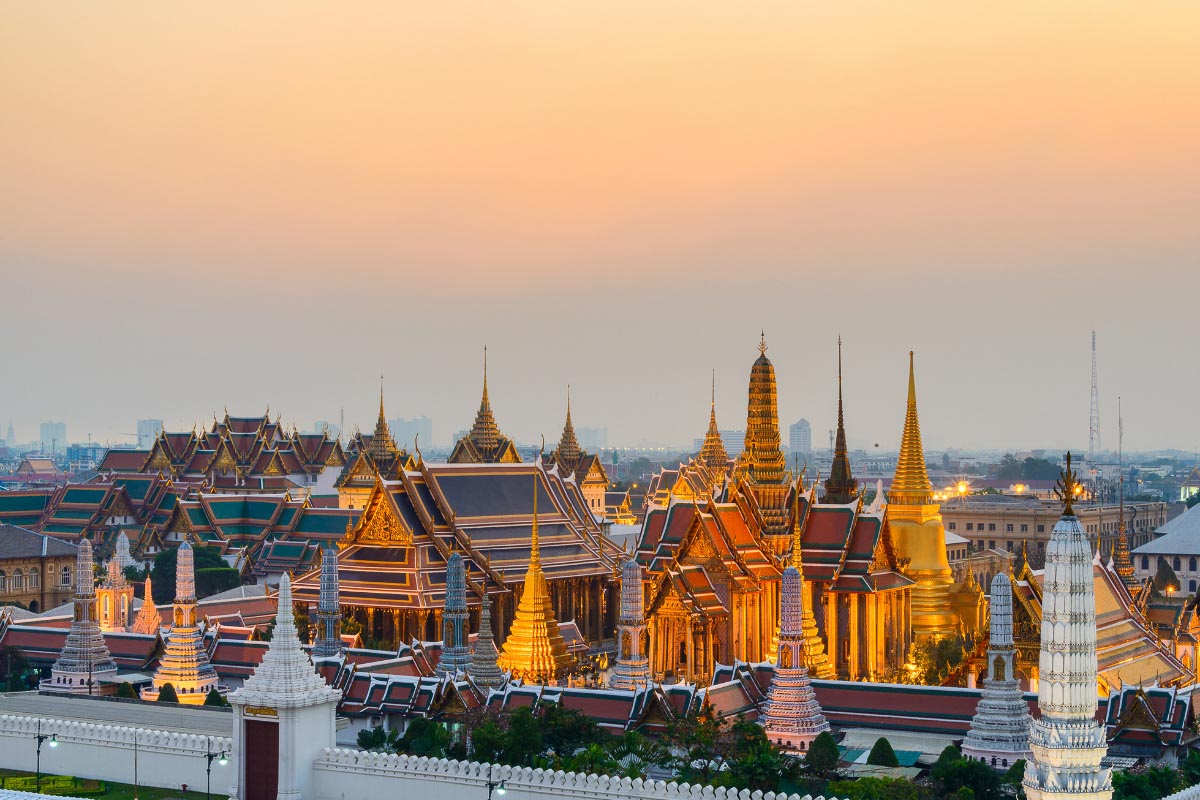 The spiritual centre of Thailand is said to be held at the Grand Palace. The Temple of the Emerald Buddha is one of the buildings on the grounds. It is home to the Emerald Buddha which dates back to the 14th century.
NB: As this is one of the most sacred sites in Thailand there is a strict dress code.
11. Mount Everest, Nepal or China
Where to being with the world's highest mountain? Mount Everest can be approached either from Nepal or China. Most of us won't climb to the actual summit of Mount Everest but it is very much possible to trek to Everest Base Camp.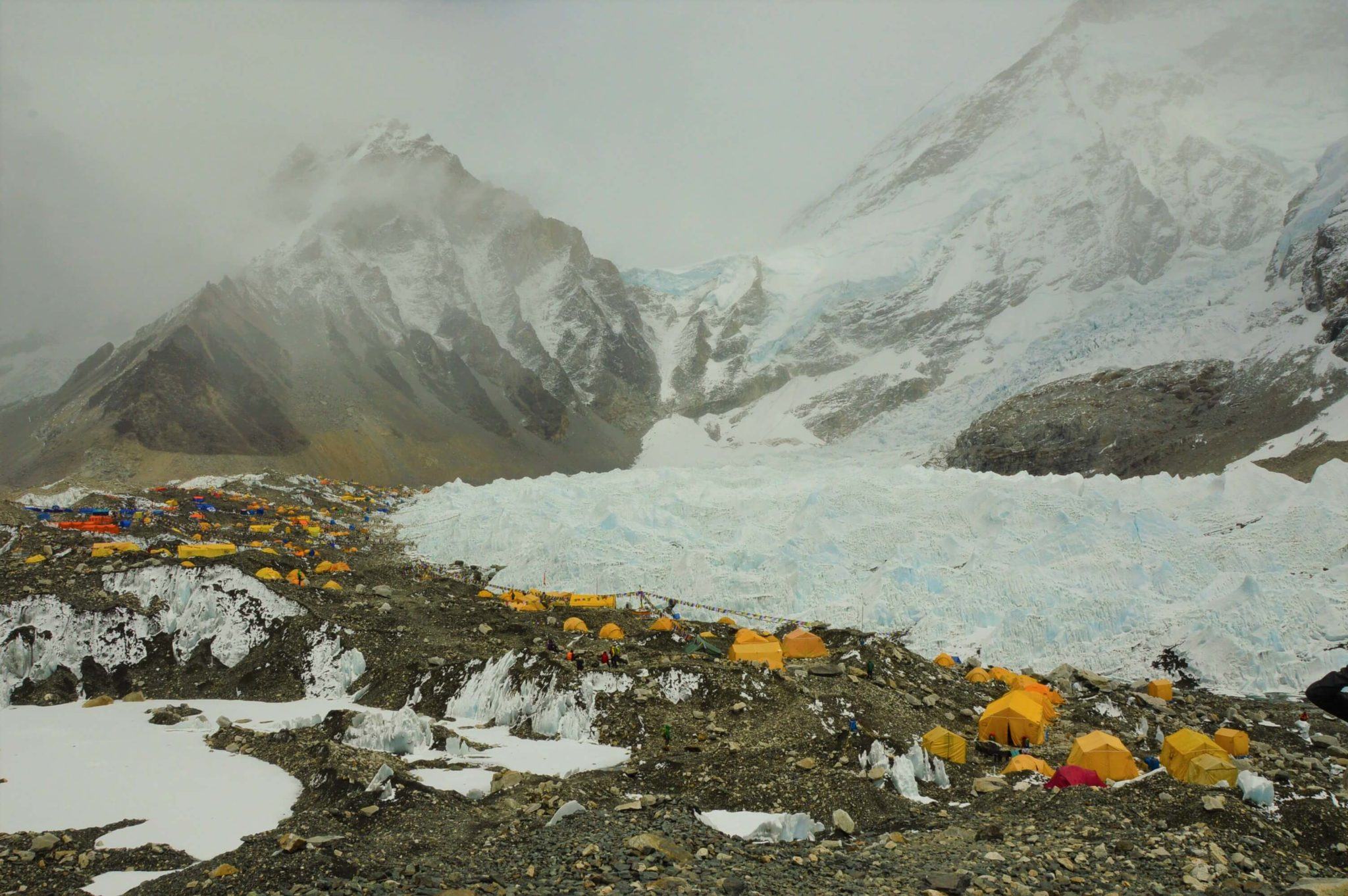 I trekked to Everest Base Camp in 2016 and it was quite an experience. I realised a little too late that I was a bit too old to be sleeping in freezing cold tea houses and dealing with a travel low point in terms of shared drop toilets.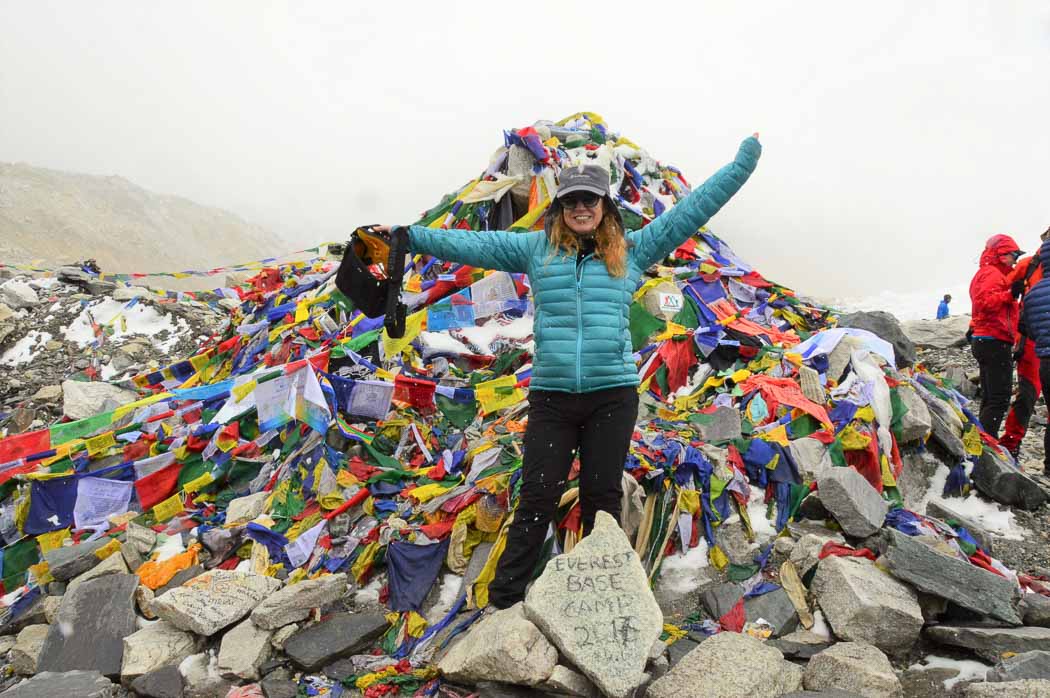 You can read all about my Everest Base Camp experiences in my day by day EBC trek guide, what Nepal Tea Houses are really like (big hint: they aren't as cute as they sound), the EBC itinerary which I should have done as well as my Everest Base Camp packing list.
If you don't want to trek all the way to Everest Base Camp there are quie a few high cost options such as taking a helictoper to base camp (seriously bad headaches) or taking a helicopter to the Everest View Hotel.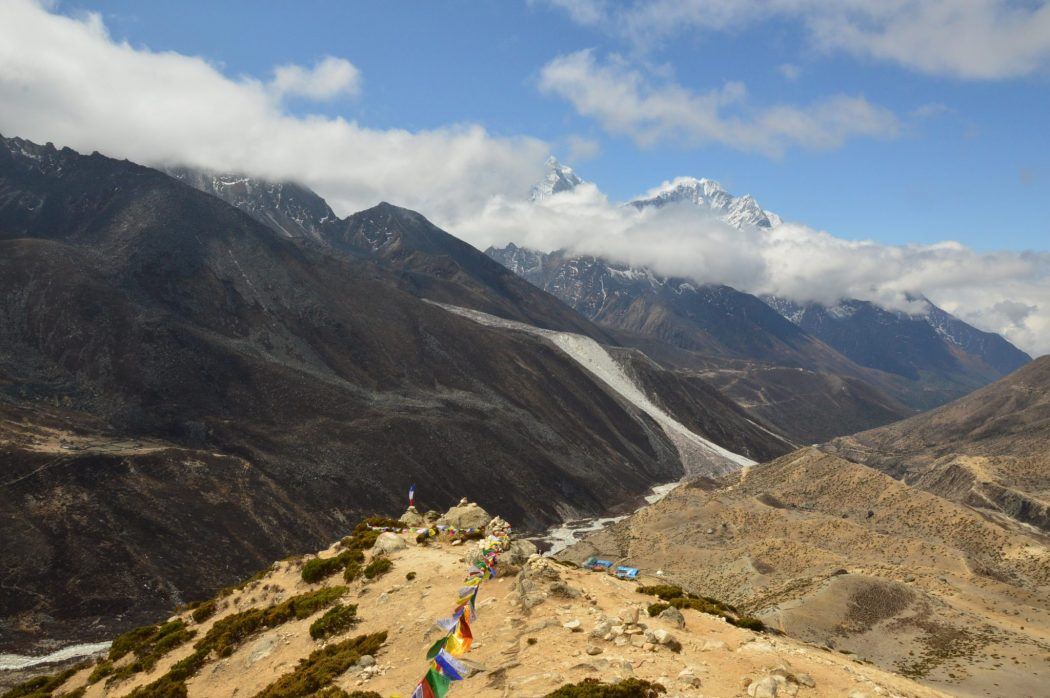 Most travellers base themselves in Kathmandu if they're interested in Mount Everest. So if you would like to get a feel for the world's highest mountain without the risk of severe headaches then why not take a scenic helicopter flight of the Himalayas from Kathmandu?
For all my complaining, seeing the Himalayas from the air (as well as some of the extraordinary views I saw on the way to base camp) is definitely an experience that you will be delighted you had.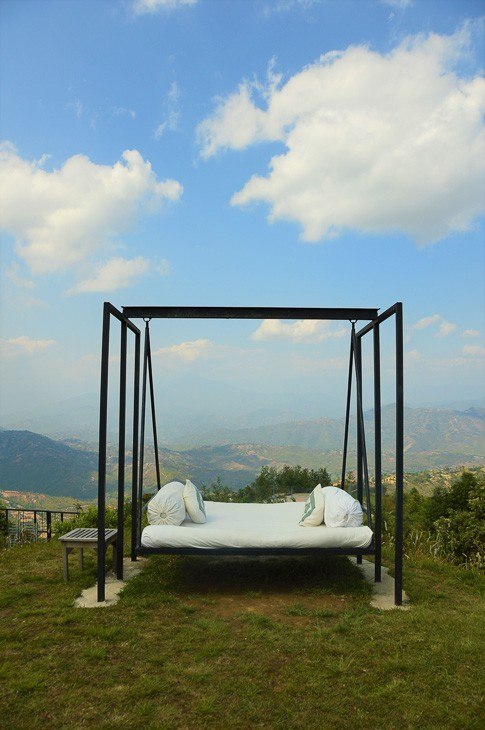 Finally, for a luxury experience in the Himalayas check out the beautiful Dhulikhel Resort where you can have breakfast above the clouds in the Himalayas and try singing bowl treatments and more. And don't miss their brilliant sister hotel in Kathmandu, Dwarika's, one of my favourite boutique hotels in the world.
⇒ Interested in Nepal? Check out my posts on the Nepal tea house, a full Everest Base Camp packing list, an Everest Base Camp trek itinerary and a day by day Everest base camp trek blog And for post-trek the fantastic boutique hotel Dwarika Hotel Kathmandu, the Dhulikhel Resort and the best places to visit in Kathmandu.
12. Shwedagon Pagoda, Myanmar
This jaw droppingly beautiful Pagoda sits on top of Singuttara Hill in Myanmar's capital Yangon. The Pagoda itself is 112 metres high and it stands 170 metres above sea level. Yangon building regulations cap building heights at 127 metres above sea level so Shwedagon Pagoda towers over Yangon.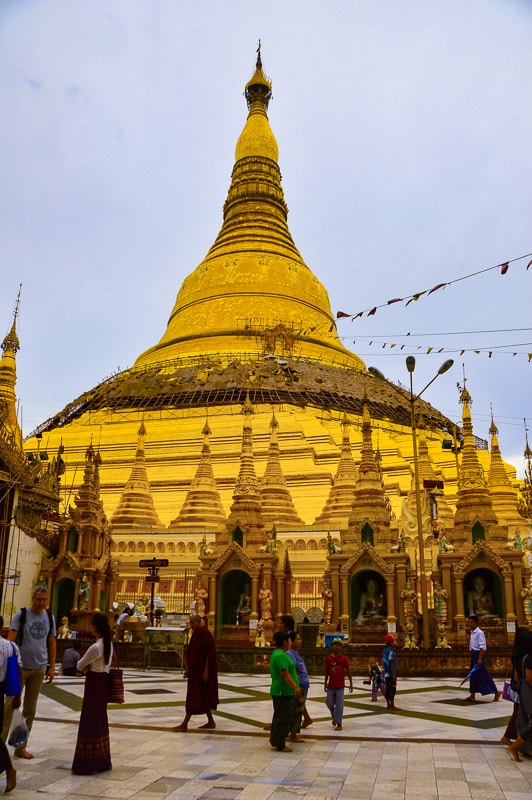 I was genuinely blown away when I visited Shwedagon Pagoda. It is hard to describe the impact of seeing this massive golden pagoda. It is believed that the pagoda is more than 2500 years old and that it is the oldest Buddhist temple in the world.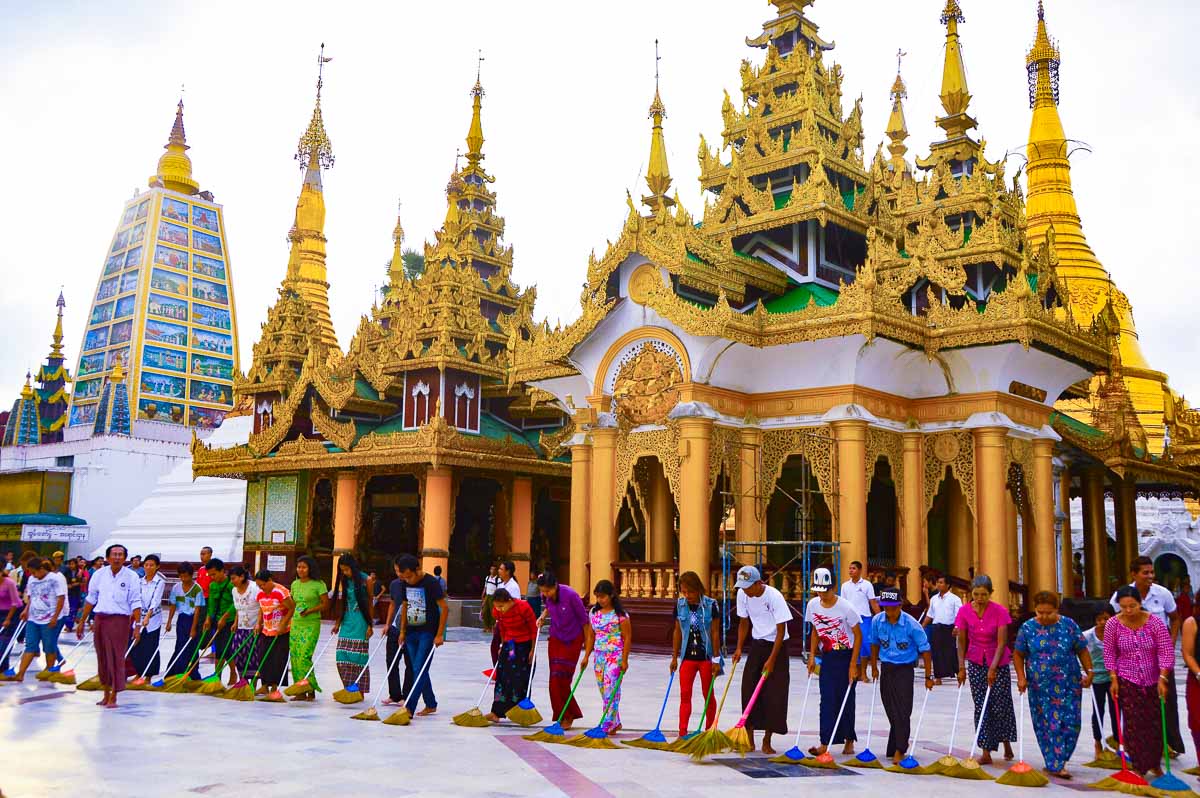 Shwedagon Pagoda is also said to contain relics of four previous Buddhas. The stupa is covered with 8688 sheets of gold and is studded with more than 7000 precious gems. It genuinely glows in the sun during the day and is even more impressive at night.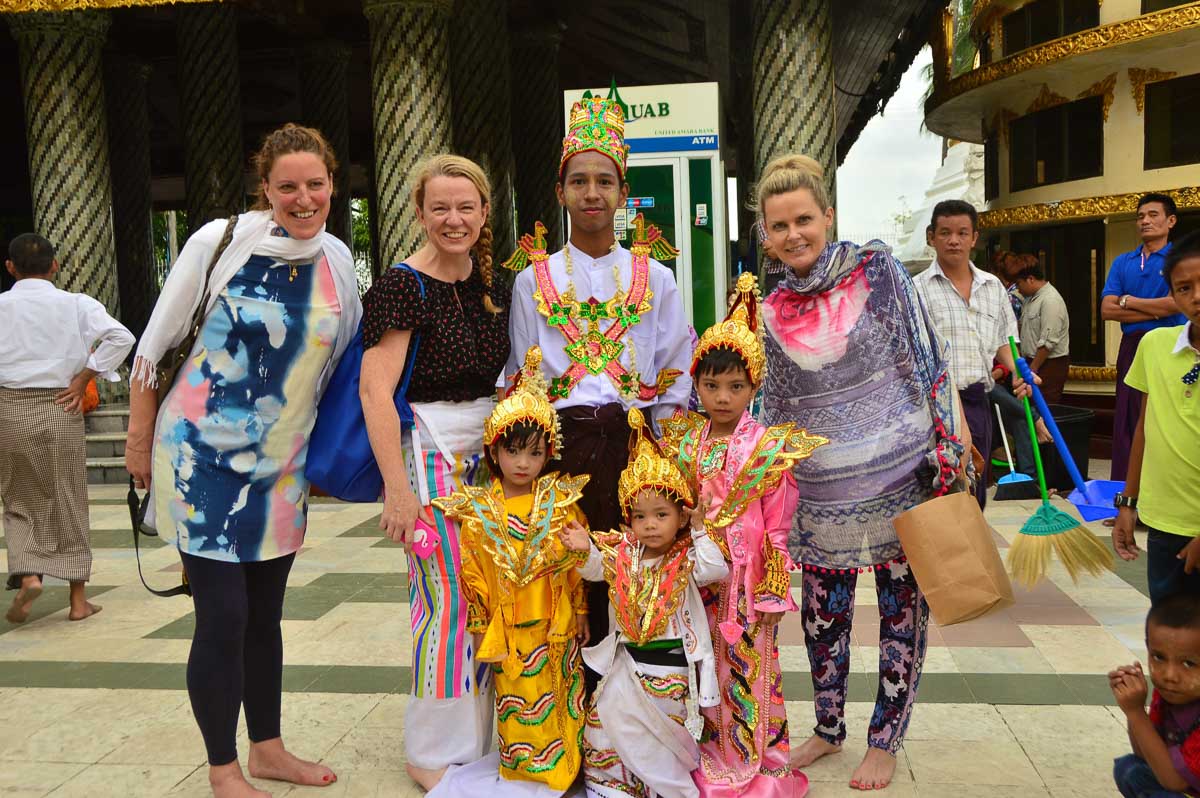 The pagoda is open from 6am to 10pm. It can be enjoyed at all times of the day. One of the things that I enjoyed most about Shwedagon Pagoda is that it is clearly a living temple. In the couple of hours that I spent there I saw numerous little ceremonies and events going on. It appeared that there were far more locals than tourists.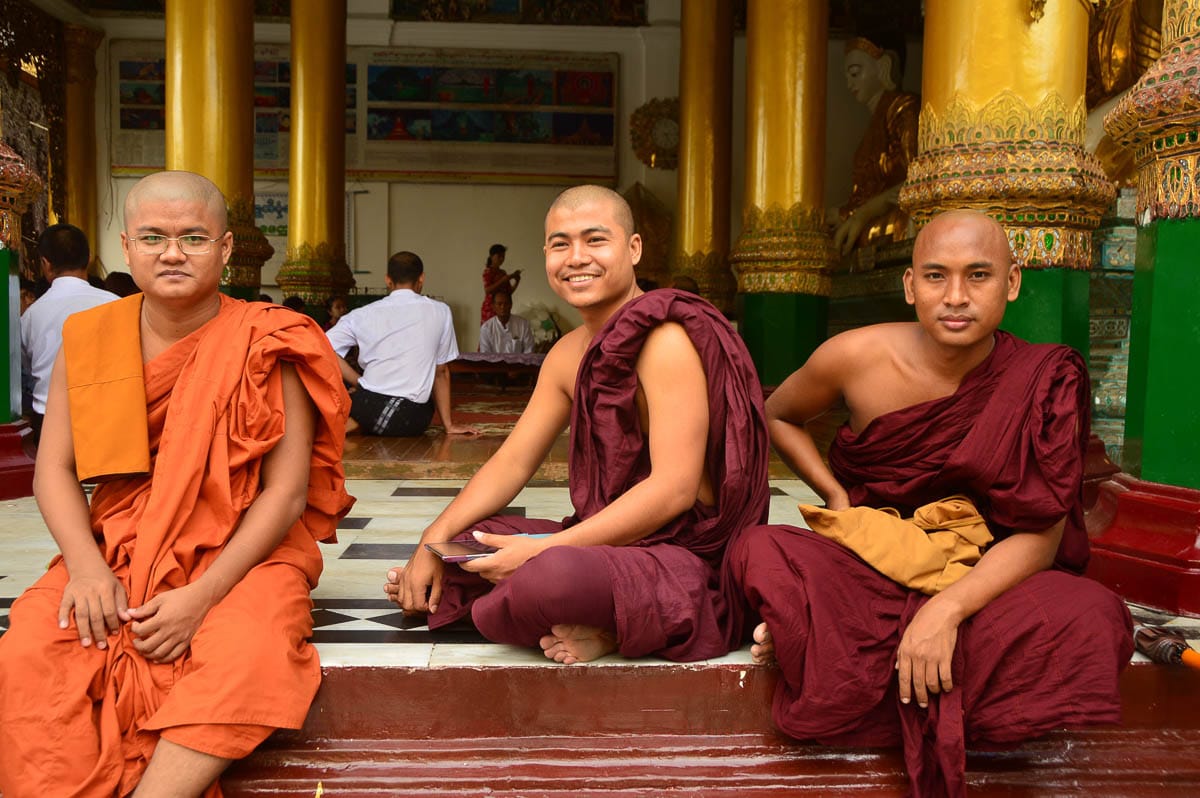 There are four entrances to the pagoda. These require visitors to head up the hill. Each of the climbs up the hill are flanked by many vendors. In hindsight I wished that I had gone with a guide. There was so much to see and appreciate at the actual pagoda. It would have been fantastic to have someone on hand to explain more.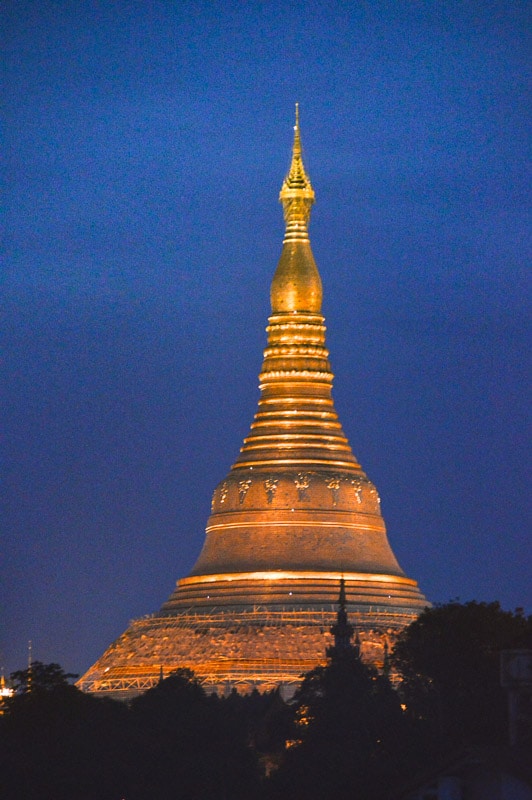 13. Fushimi Inari-taisha Shrine, Japan
Fushimi Inari is a Shito Shrine in Kyoto. It is best known for its instagram friendly torii gates – there are thousands of them on a network of trails behind its main buildings. These trails lead into the forest of Mount Inari.
Inari was the Shinto god of rice and Fushimi is the most important of the several thousand shrines dedicated to him. This shrine is said to have been in place even before Kyoto was capital in 794.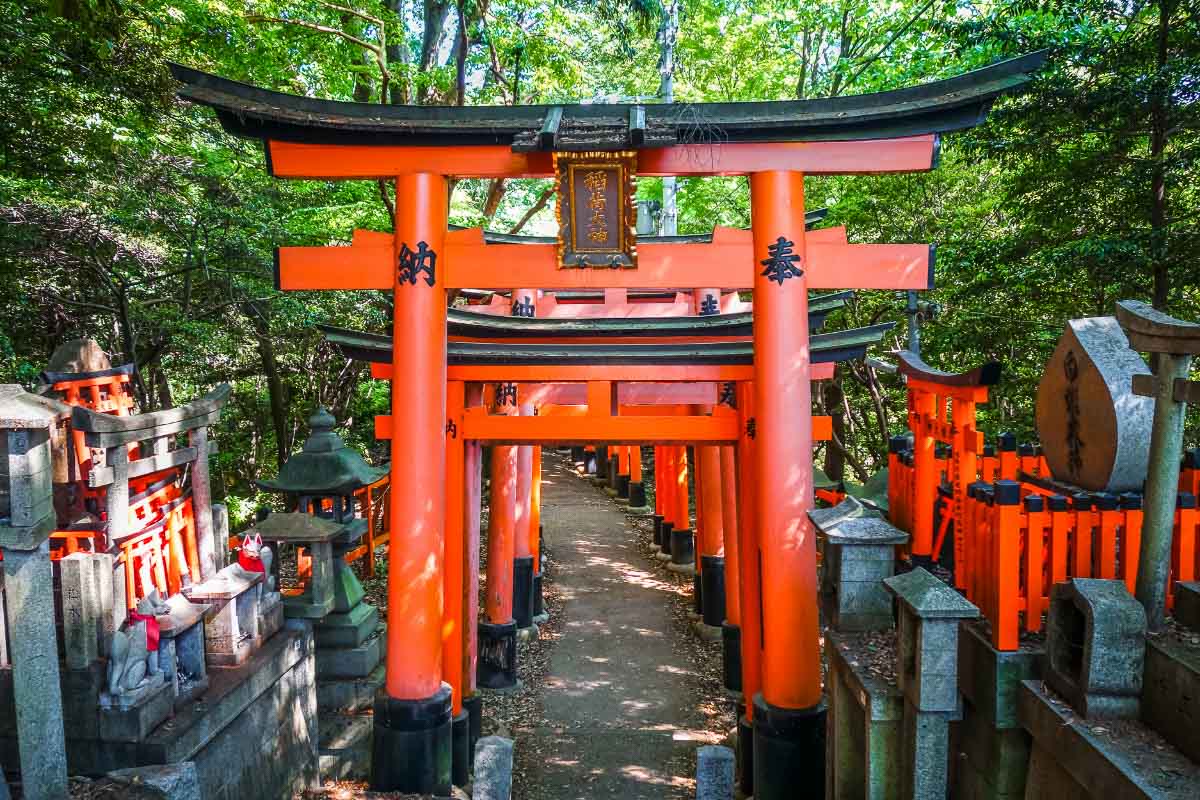 The Shrine itself has several structures to see from the Romon Gate to the main hall to the entrance to its famous hiking trail the Senbon Torii. All of the torii gates along the path have been donated by companies and individuals. The donor's names and dates and inscribed on the gates.
In case you are tempted to purchase the ultimate souvenir, costs for a small sized gate start at 400,000 yen or USD$3,777.00 as I write this post.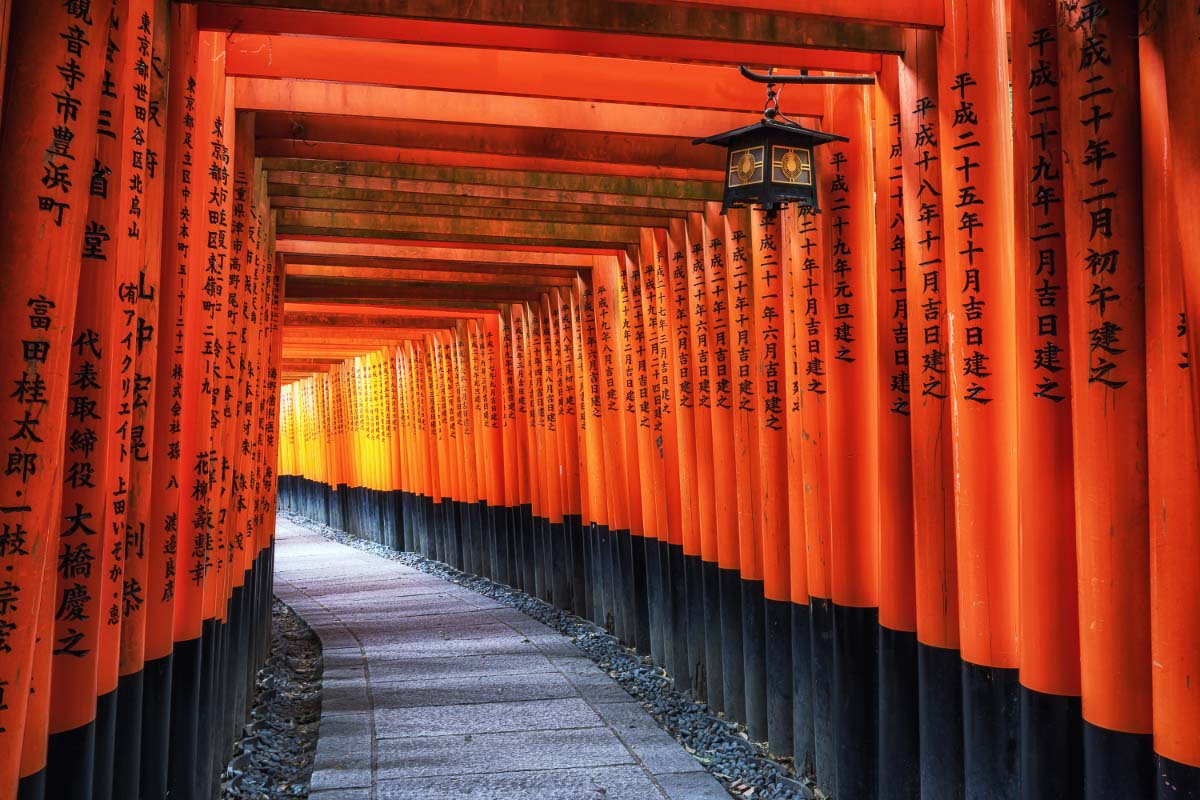 It takes about 2-3 hours to walk to the summit of Mount Inari. Fushimi Inari-taisha is always open and there is no entry fee.
14. Amber Fort, India
The Amber or Amer Fort is located in Rajasthan, India in a town appropriately called Amer. This stunning fort is located high on a hill and is the most popular tourist attraction in Jaipur (it is located 11km north of Jaipur).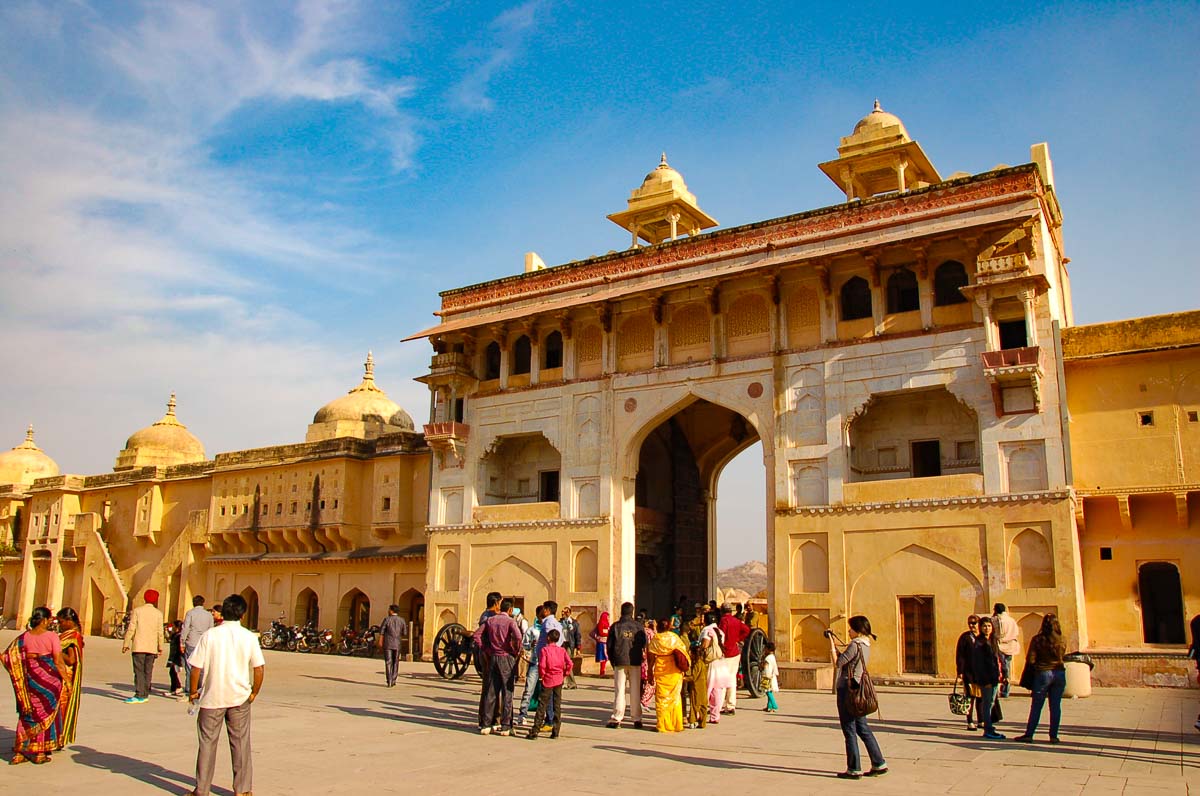 Today's fort dates back to the 16th century and was built by a man named Raja Man Singh. The fort was built from red sandstone and marble. The lovely Maotha lake is at the bottom of the hill on which the fort rests and adds charm and photo opportunities.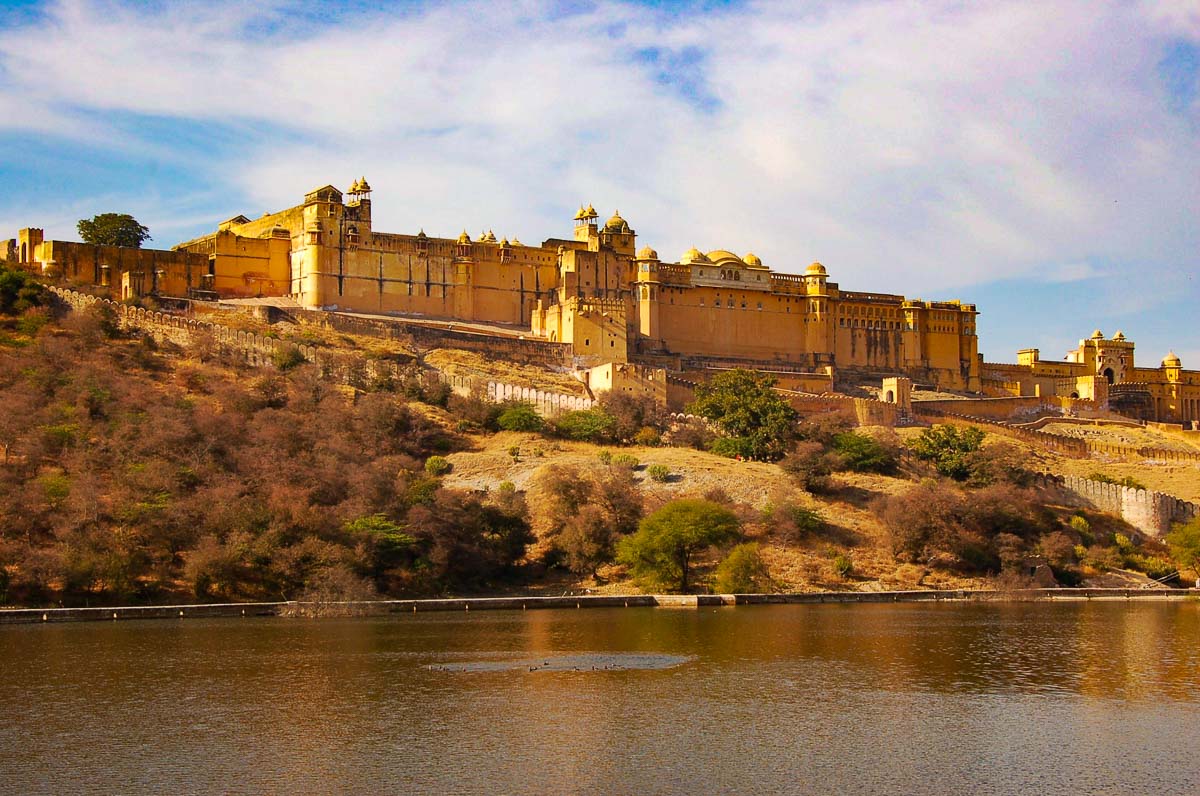 Amber Fort was declared a UNESCO World Heritage site in 2013 and is one of six hill forts in Rajasthan. It consists of four courtyards, the palace, halls and gardens.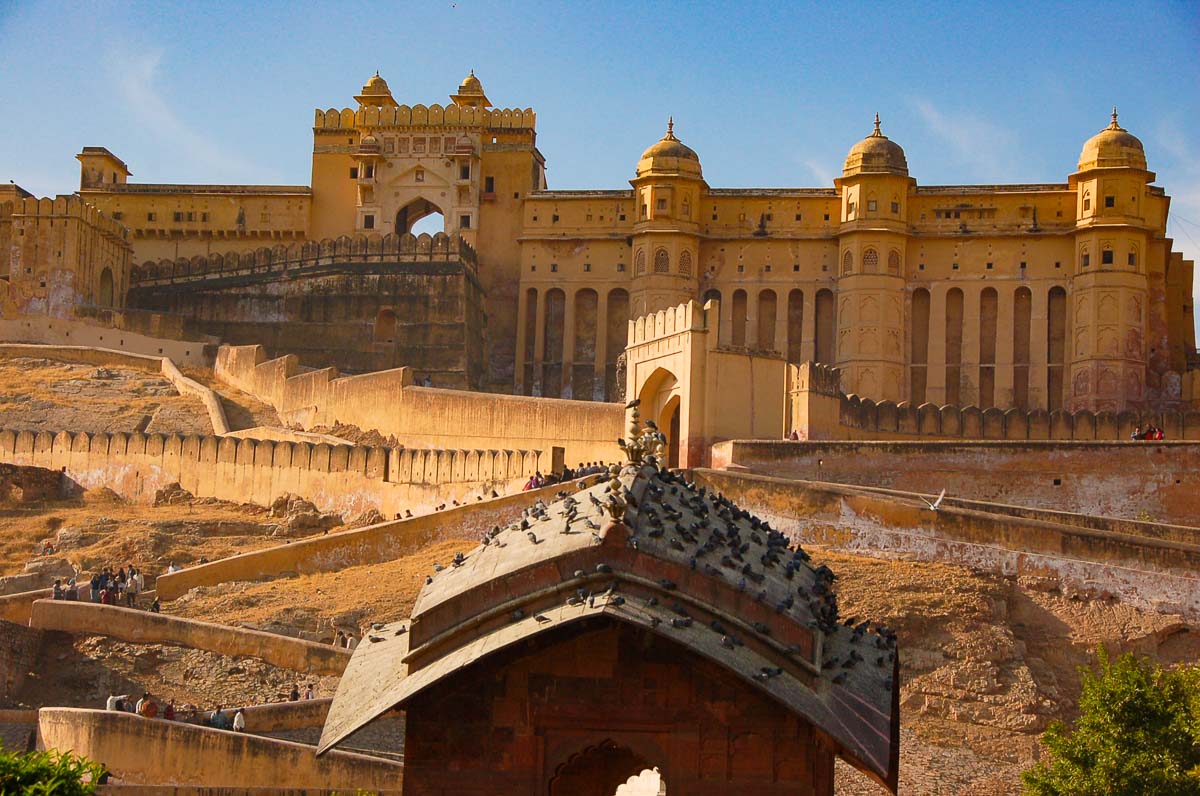 The fort is open daily from 8am till 5:30pm. If you're not keen on the walk up the hill you can choose to be taken by elephant. A light and sound show is also held most evenings at the Amber Fort.
15. Cu Chi Tunnels Vietnam
Located 55 miles north west of Ho Chi Minh City, Cu Chi tunnels are hand carved network of underground paths. The area in which the tunnels are located was a key battleground during the Vietnam War.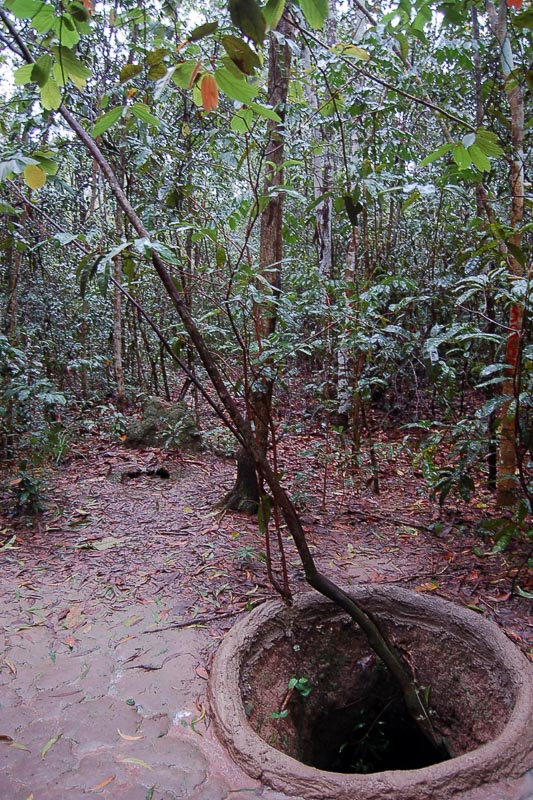 The tunnels were essentially a base for Viet Cong operations during the war. They stretched out all the way to Cambodia covering over 75 miles. They contained everything from hospitals to kitchens to bomb shelters and more.
The US were aware of the tunnels and tried to infiltrate or destroy them several times. However, as they were built by hand by the Viet Cong they were not large enough to accommodate the average American soldier. There were also trip wires and rats along the way to further impede the progress of those who made it through the entrances.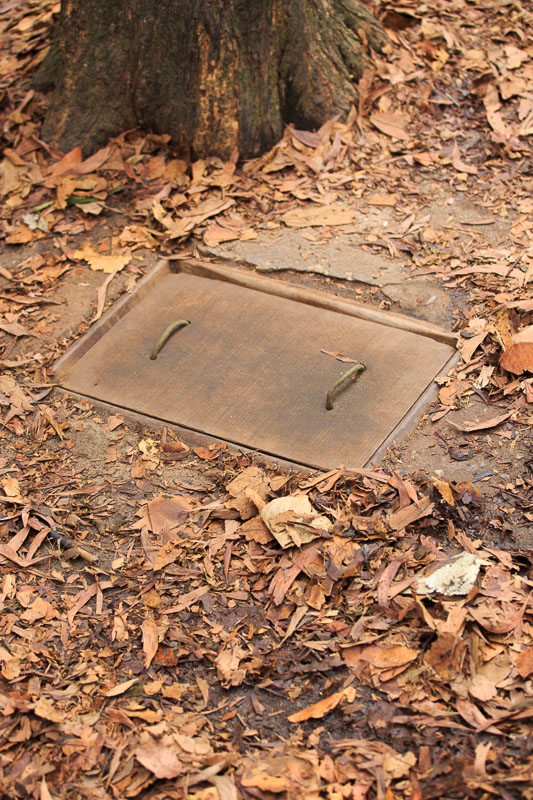 The tunnels have been cleaned up and even expanded today to accommodate tourists. The open sections of Cu Chi tunnels represent only a tiny percentage of the total network of underground tunnels in the region.
Tours to Cu Chi Tunnels can be arranged easily from Ho Chi Minh as a half or full day.
16. Lord Murugan Statue at Batu Caves
Batu Caves is one of the most popular Hindu temples outside of India and one of the most popular places to visit in Kuala Lumpur. The limestone which forms Batu Caves is said to be around 400 million years old. This is one of the best places to visit in Kuala Lumpur in one day.
The caves still contain several Hindu shrines that are used by locals. In 2018 the 272 steps which lead up to the caves were painted in bright colours – perfect for Instagrammers – making this a very popular spot on social media platforms.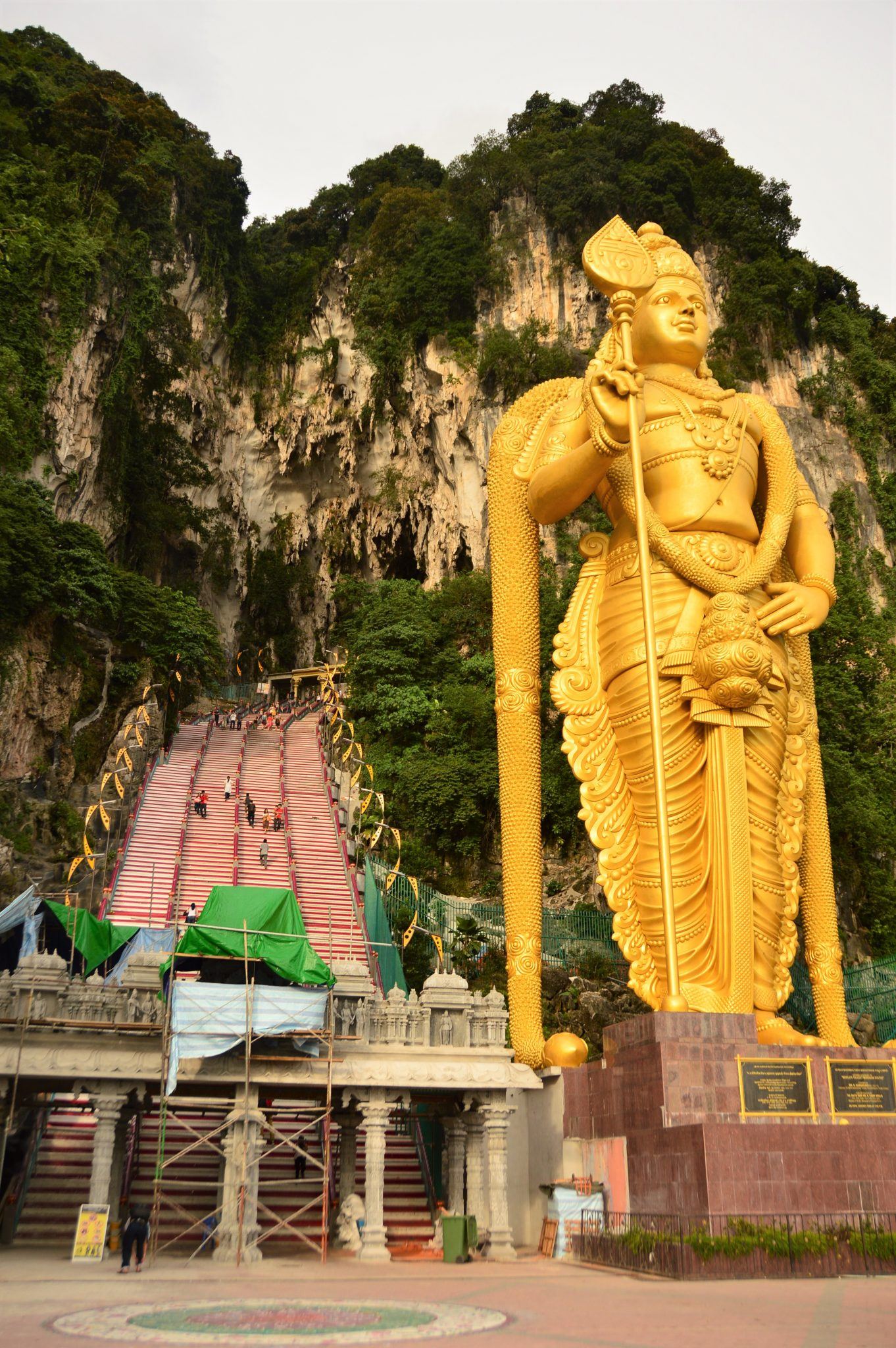 There is no payment for entry to the caves. There is a tourist attraction like a cave museum type thing next door to it but no time for that.
The most impressive thing to see is the main entrance to the caves with the giant Lord Murugan gold statue, massive stairs and monkeys galore. Be careful around the monkeys as they will grab random items from you. And women need to have their arms and legs covered as there are temples in the cave.
Head up the stairs and get a bit of a workout and then you'll be at the entrance to the caves themselves. The caves are very high and have a couple of working temples inside.
There isn't a lot to see, to be honest, but the whole thing makes for a couple of good photos and a bit of a workout.
17. Taipei 101, Taiwan
When it opened in October of 2004, Taipei 101 was the world's tallest building. Its height, inclusive of the spire, is 508 metres. Alas its rule as the world's tallest building didn't last long. When Burj Khalifa opened in 2007 it snatched away the title.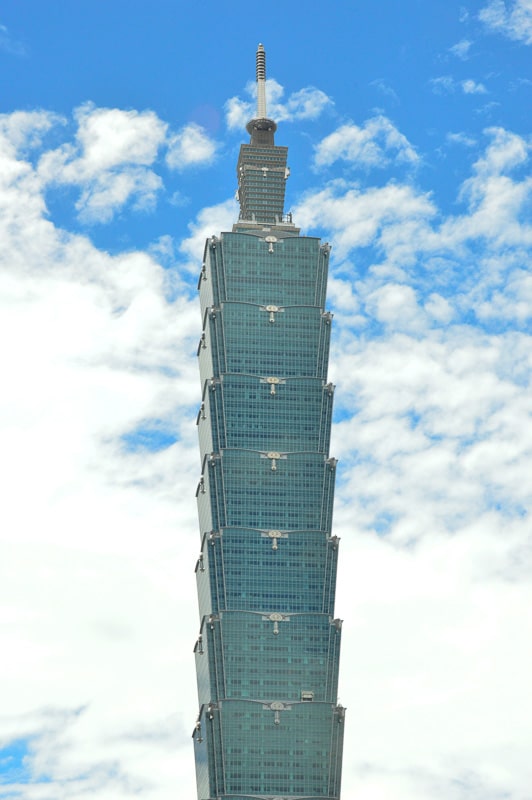 However, Taipei 101 is still one of the most stunning Asia landmarks. The lowest floors of the building are a luxury shopping mall – and they have a Din Tai Fung – and most of the floors above are office space.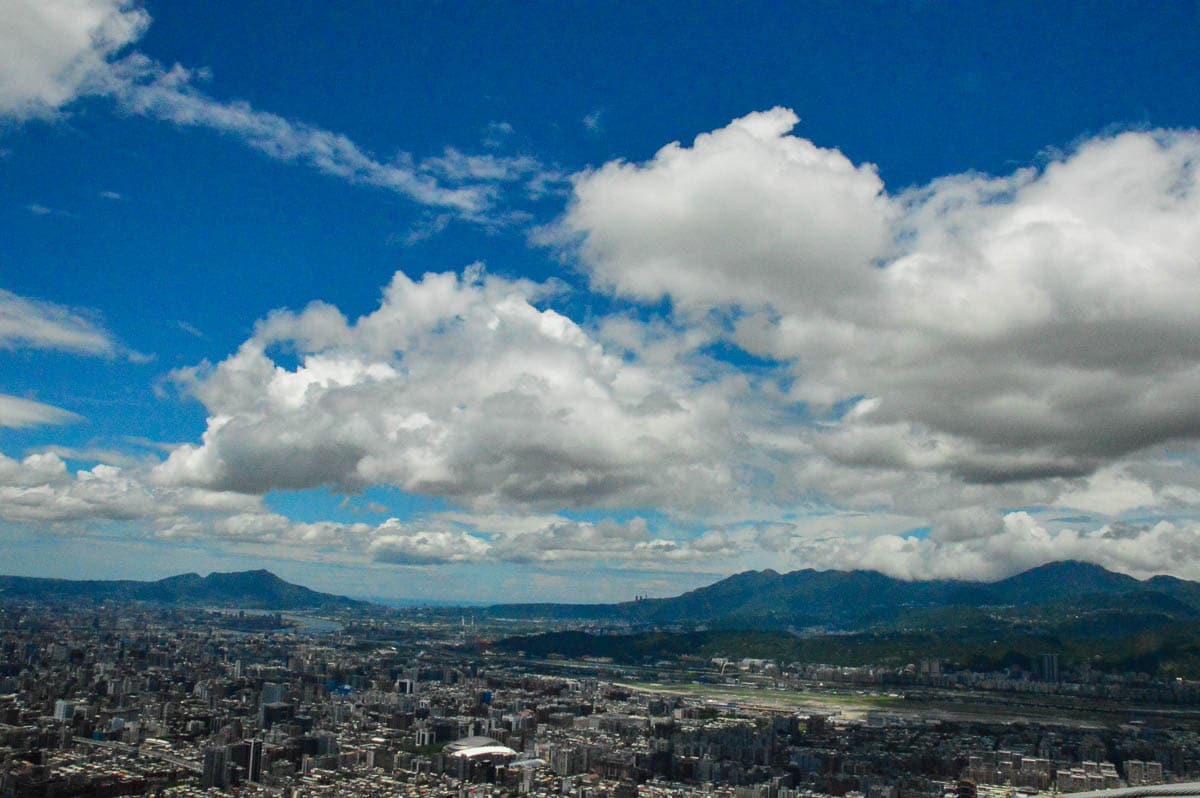 Public observatories are on floors 88 to 91. Level 89 has an indoor observatory and the outdoor observatory is on Level 91. When it was completed, this was the highest outdoor observatory in the world.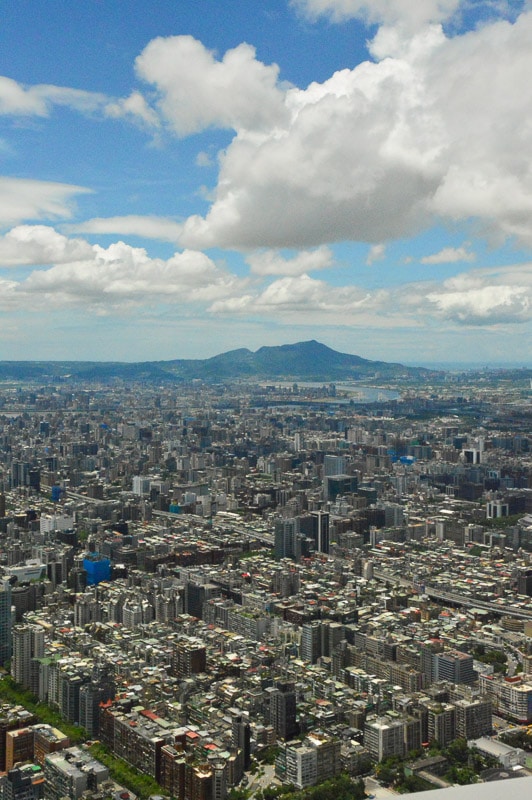 I highly recommend going to Level 91 and heading to where they have the viewing consoles for the best photos. There are fantastic views on the other levels – some may say better – however, the light is nowhere near as good as being on the outside of the building.
⇒ Book your tickets to Taipei 101
18. Gyeongbokgung Palace, Seoul
Opened in 1395, Gyeongbokgung Palace is an integral part of Seoul's history. As the main royal palace of the Joseon dynasty, Gyeongbokgung Palace is commonly referred to as the Northern Palace due to its location in the north of Seoul.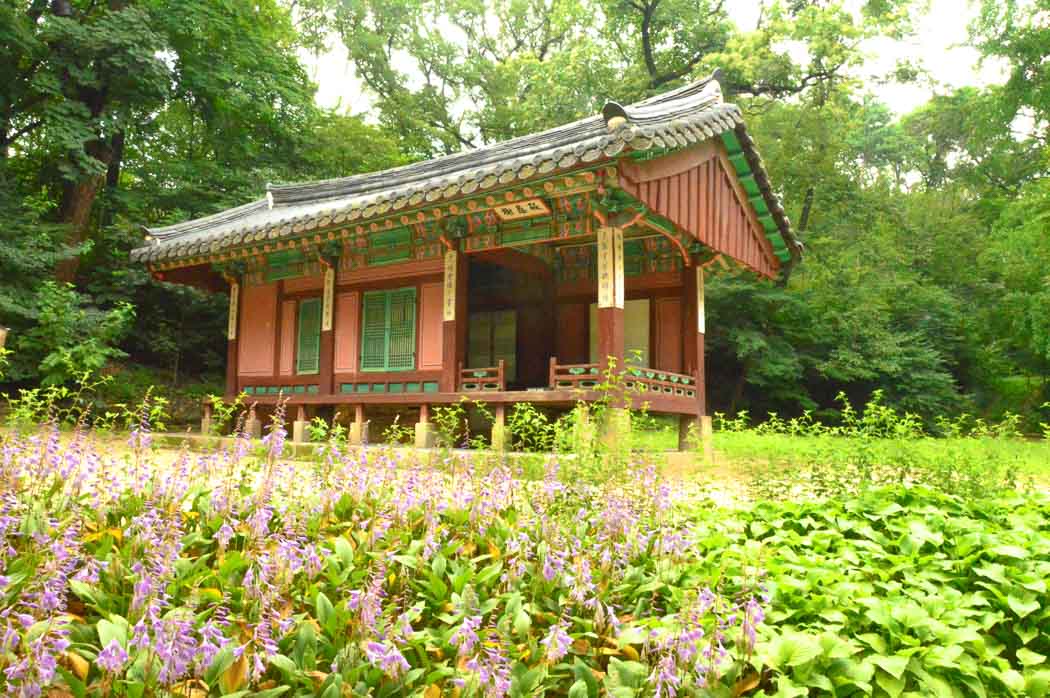 In the early 20th century much of the palace was destroyed by the Japanese. The palace is still on its way to being fully restored but I can vouch for its beauty.
The only way to visit Gyeongbokgung Palace is to take a guided tour. Reserve your spot on the palace website.
Today, this Seoul palace is restored and available for visitors to explore the rich history and beautiful grounds. The National Palace Museum of Korea and the National Folk Museum of Korea are also located on the grounds of the palace.
⇒ Planning on travelling beyond Seoul in Korea? Check out my posts on the best things to do in Daegu , where to stay in Busan, the best things to do in JeJu Island, 26 Beautiful Places in South Korea and plan your trip with my Korea Itinerary, Jeju Itinerary and Busan Itinerary.
19. The Demilitarised Zone Korea
When I was researching this article I didn't see the DMZ listed anywhere else as an Asian landmark. I was quite surprised as the border between North and South Korea is often spoken of and appears on the news so I decided to put it in this post.
Also, visiting the DMZ is definitely in my top 5 ever day trips.
Korea has a fascinating war history, and any visitor to the country should definitely look into it. Full or half day tours are offered from Seoul to explore the Demilitarized Zone (DMZ) which lies on the border between North and South Korea.
Any visiting of this area outside a tour is not allowed. Visiting the DMZ is one of the most popular day trips in Korea.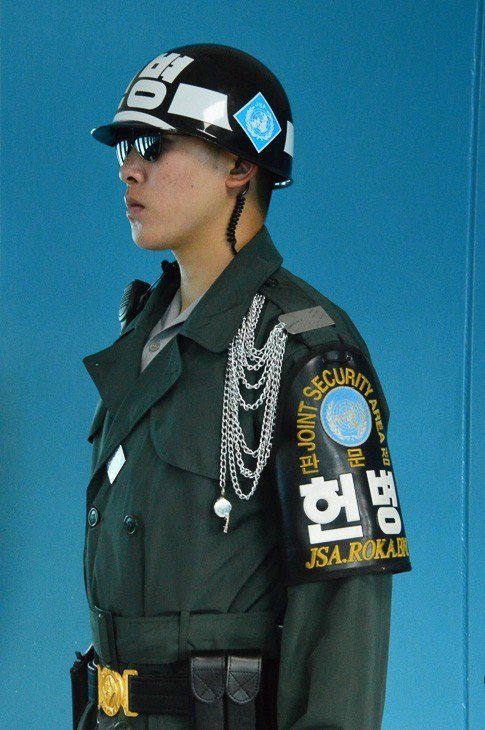 Through this unique experience, you will get to learn all about Korean war history. You will also get to see some sites of major interest, such as the 3rd Infiltration Tunnel, the Dora Observatory, and the Korean War Memorial. These day trips out of Seoul are completely safe and include transport.
It is essential to book your DMZ Korea tour ahead of your visit as they sell out. This one day trip from Seoul is normally an early start with quite a bit of paperwork.
For me, the highlight of the tour was being able to go to the actual border between North and South Korea. The tension in the air is almost visible at the border of the Demilitarized Zone Korea. Soldiers from each side guard the border and are only steps away from each other.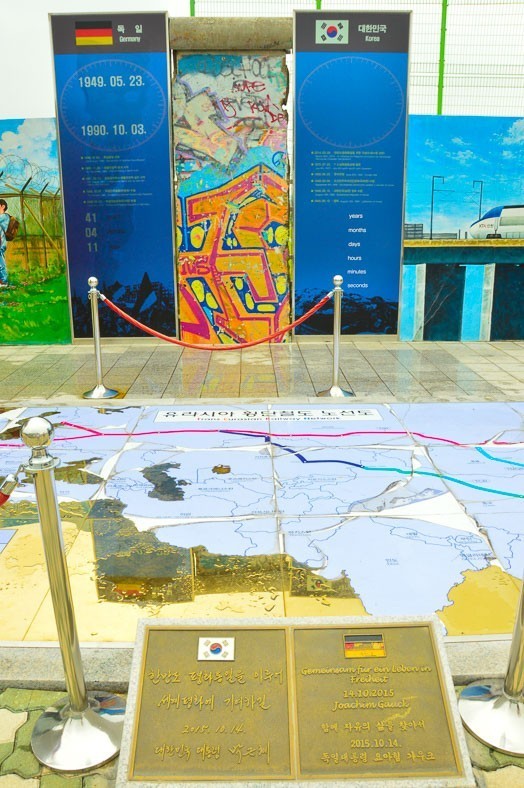 I actually thought the South Korean border guard was a statue as he was so still! Until I saw the perspiration coming down the side of his face.
There are small huts along the border between North and South Korea. These huts were assembled so that meetings could be held with both sides without either side leaving their country.
Inside the huts are standard meeting tables – and this is your one opportunity to stand in North Korea and have your photo taken!
There are some terrific names in Demilitarized Zone of Korea. The Bridge of No Return was named as such because once you chose which side of the bridge you were going to there was no option to return.
There are so many interesting things to see on this Seoul day trip. The stunning and modern Dorasan train station that was created for a border opening and is now virtually never used.
The Freedom House which was built for reunions of families from each side – which never took place. The Fake North Korean village with the doors and windows painted on.
⇒ Check out my posts on the best Seoul Day Trips, 8 fantastic Things to do in Incheon, 13 things to do in Myeongdong, my Seoul Itinerary 5 Days, 7 Fantastic Seoul Boutique Hotels and the best things to do in Gangnam.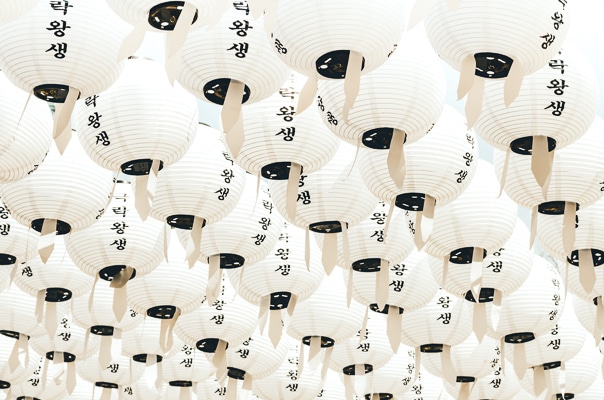 Will I see North Korea on the DMZ tour?
Yes – but from a distance. The observatory offers the best views of North Korea. However, when I went the view that we saw of North Korea showed roads with no cars and countryside with no people.
There are also lots of opportunities to purchase various DMZ souvenirs which all have excellent novelty value.
This was the best thing that I did in Korea – Don't miss it!
⇒ Do make sure you book the DMZ Tour ahead – this Korea tour sells out fast.
20. Seoul Tower
Also known as Namsan Seoul Tower, or just 'N Tower', Seoul Tower was the first tower-styled tourism attraction in Seoul. The tower's height of 236.7 metres makes it one of the tallest towers in the Orient, and definitely worth a visit.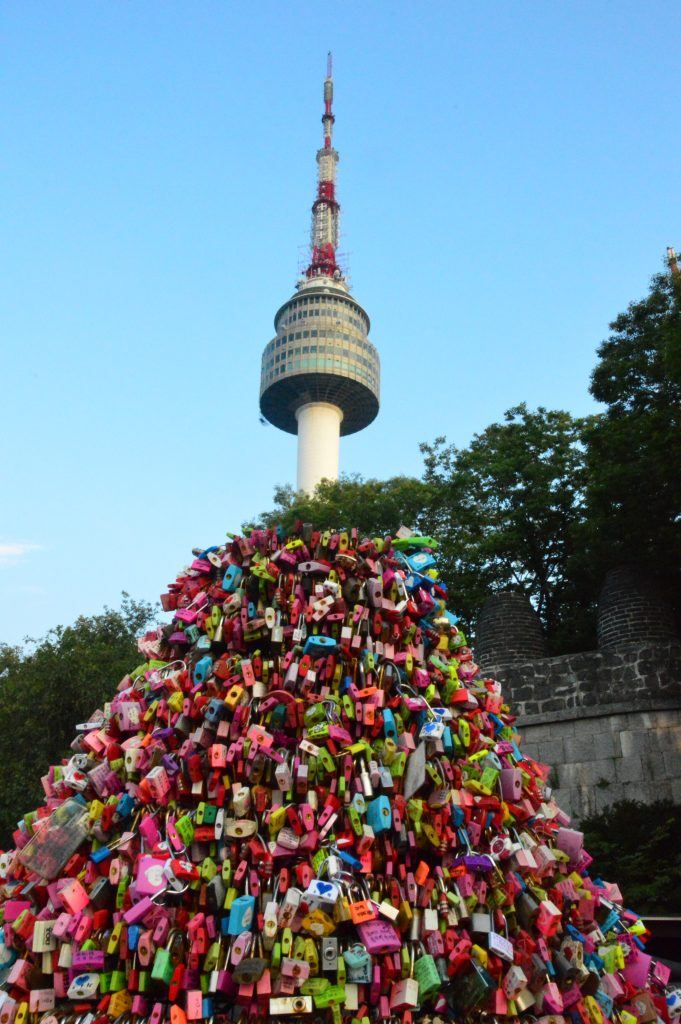 The communication and observation tower can be found on Namsan Moutain in the centre of Seoul. Many visitors use the Namsan cable car to the mountain and then walk to the tower.
Be sure to stick around and catch the nighttime view of Seoul Tower which is truly something special as the entire structure gets brightly lit up in LED lights.
21. Tian Tan Buddha, Hong Kong
Tian Tan Buddha or the Big Buddha is located on Lantau Island in Hong Kong. Tian Tan is one of 5 large Buddha statues in China and it sits on a lotus on top of a three-platform altar.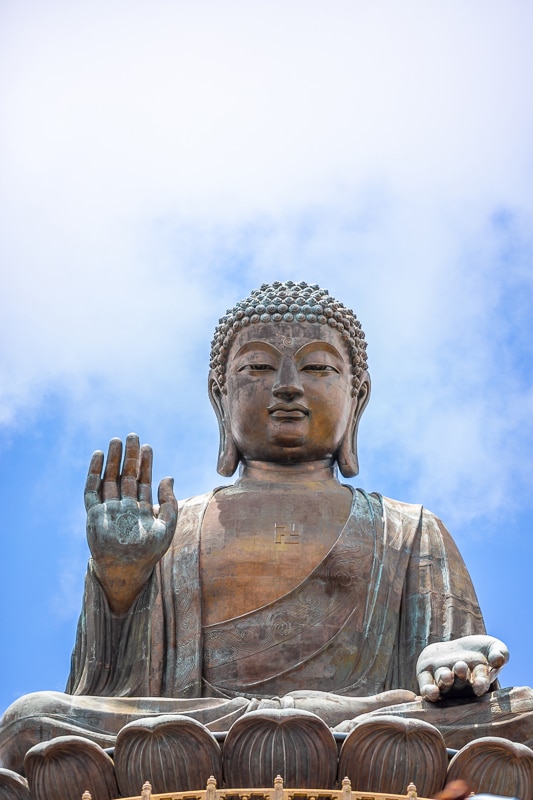 The Big Buddha is surrounded by six smaller bronze statues which represent the Six perfections of generosity, patience, zeal, morality, mediation, patience and wisdom.
This is one of the newest landmarks in this post. Tian Tan Buddha was finished on December 29, 1993. It is located near Po Lin Monastery and easy to combine in one visit.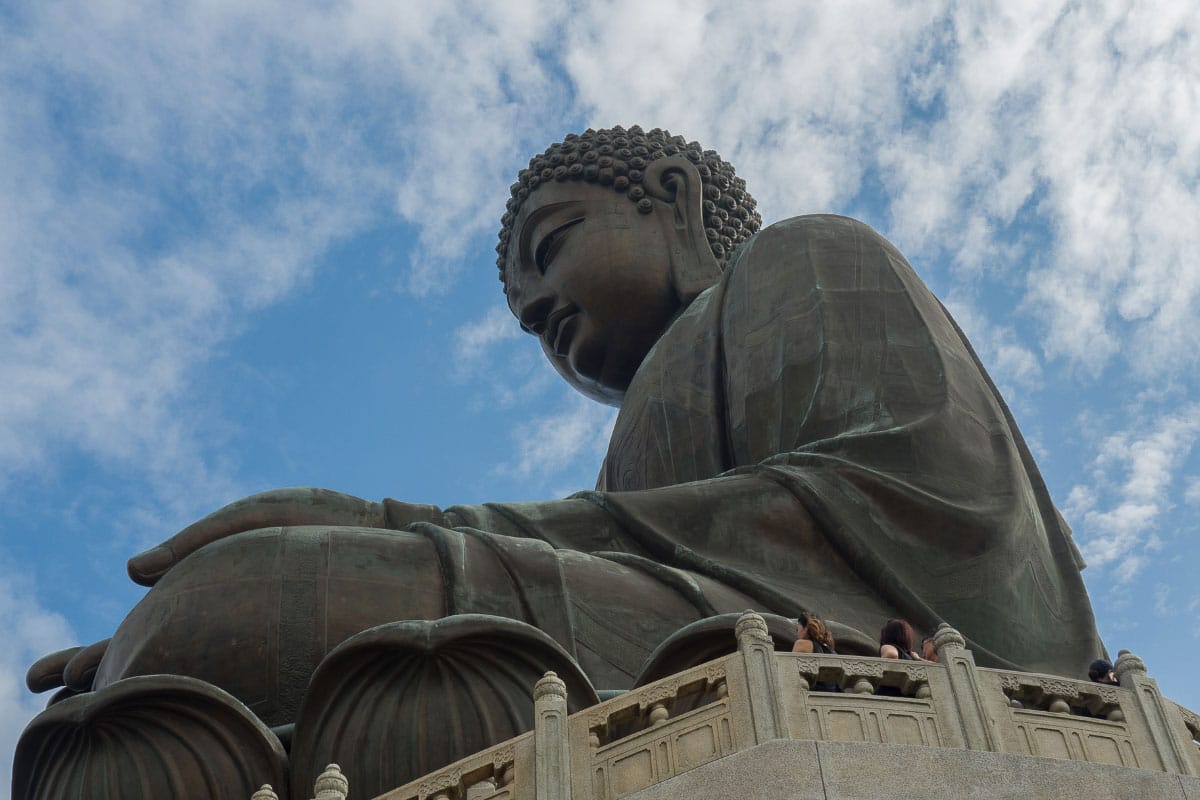 I highly recommend taking the Ngong Ping Cable Car from Tung Chung MTR station to visit the Big Buddha as there are some stunning views and it is good fun. The cable car will take you to Ngong Ping Village.
⇒ If you're planning a trip to Hong Kong check out my Hong Kong Travel Blog.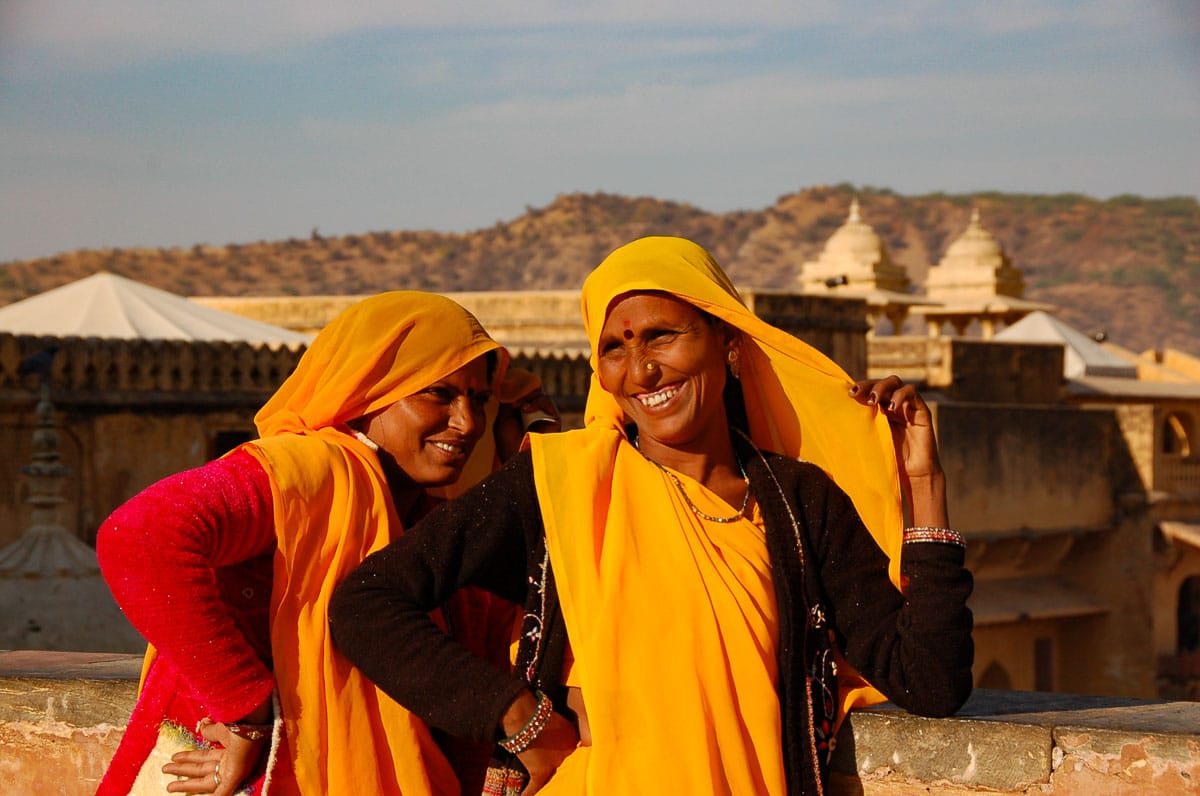 Shortcut Travel Toolkit
Ready to Book? Here are my travel favourites:
⇒ For accommodation Booking.com – great prices, great clear layout of accommodation options & brilliant for cancellation (& good photos!)
⇒ Or feel like a local by staying at an airbnb or having one of their great local experiences Airbnb
⇒ For flights skyscanner.net – always have the cheapest prices and great tools to help easily figure out if it would be better to leave the day before etc
⇒ For car hire rentalcars.com – huge range of options and a price match guarantee
⇒ Every trip is improved if you know at least a little bit of the local language – Rosetta Stone is the best and often have great getting started deals.
⇒ Skip the Line tours – Viator have over 14,000 of these – I am always so happy when I have pre-booked one of these! And you can cancel most Viator tours with full money back if you're more than 24 hours out
⇒ And finally and super important – Roam Right for Travel Insurance have an excellent rating and lots of choice. I particularly like their policies that just cover medical or car rental. They also have great options for adventurous travellers.
Who Paid for What in this Post?
I covered all of the costs involved in writing this post. However, this Asia landmarks post includes affiliate links. That means if you click through and end up making a purchase I will receive a small commission. I wanted to make sure you were aware of this.