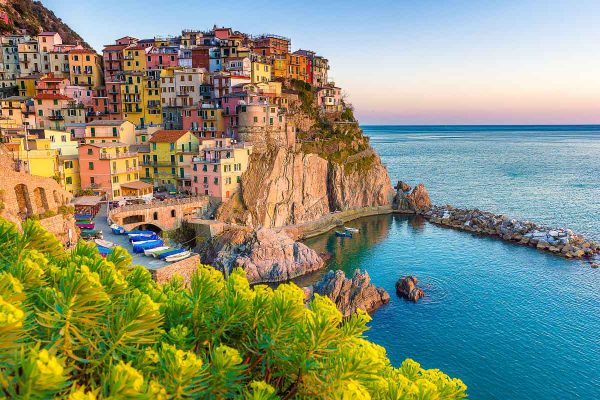 Italy is a truly spectacular country. It's known for its authentic cuisine, breathtaking art, and its abundance of historical landmarks. As a first-time visitor, you'll be spoilt for choice with the number of attractions you can see – you honestly won't know which ones to choose.
This list of famous landmarks in Italy has been put together to ensure you see some of the most spectacular. Visiting these landmarks will guarantee you a memorable travel experience in Italy.
24 Famous Landmarks in Italy
1. Trevi Fountain, Rome
Rome, one of the world's most beautiful cities, is home to this renowned Baroque-style fountain. It's a true artwork, consisting of Carrara marble statues and sea reefs made from travertine. At the centre, you'll see Neptune, flanked by two Tritons and sea horses, which is meant to represent the oceans' alternate moods.
The Trevi Fountain is located at a junction of three roads and was one of the original sources of water in Ancient Rome. A competition was held in the 1700s by Pope Clement XII for a new design for the fountain. Nicola Salvi was awarded the prize.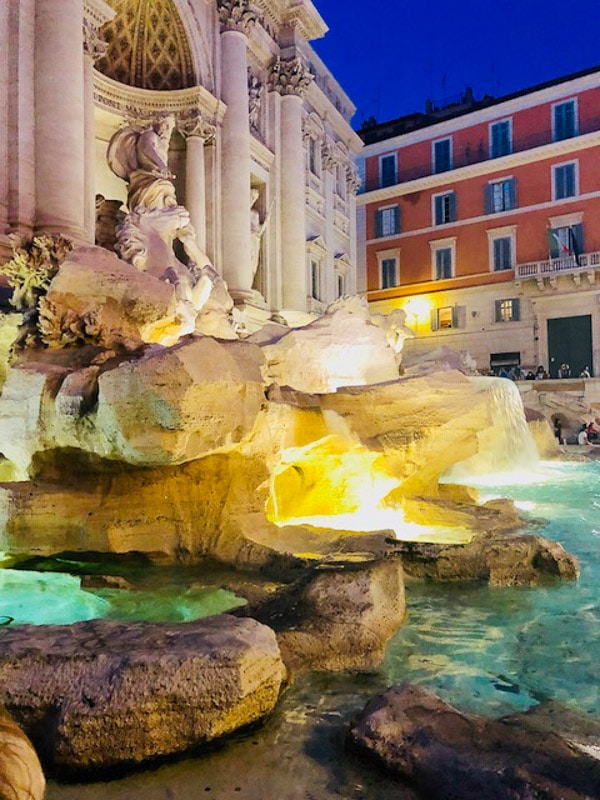 The Trevi Fountain was finished in 1762, 11 years after Salvi died. Work on the fountain was completed by four other sculptors. More recently restorations have been conducted in 1988, 1998 and 2013.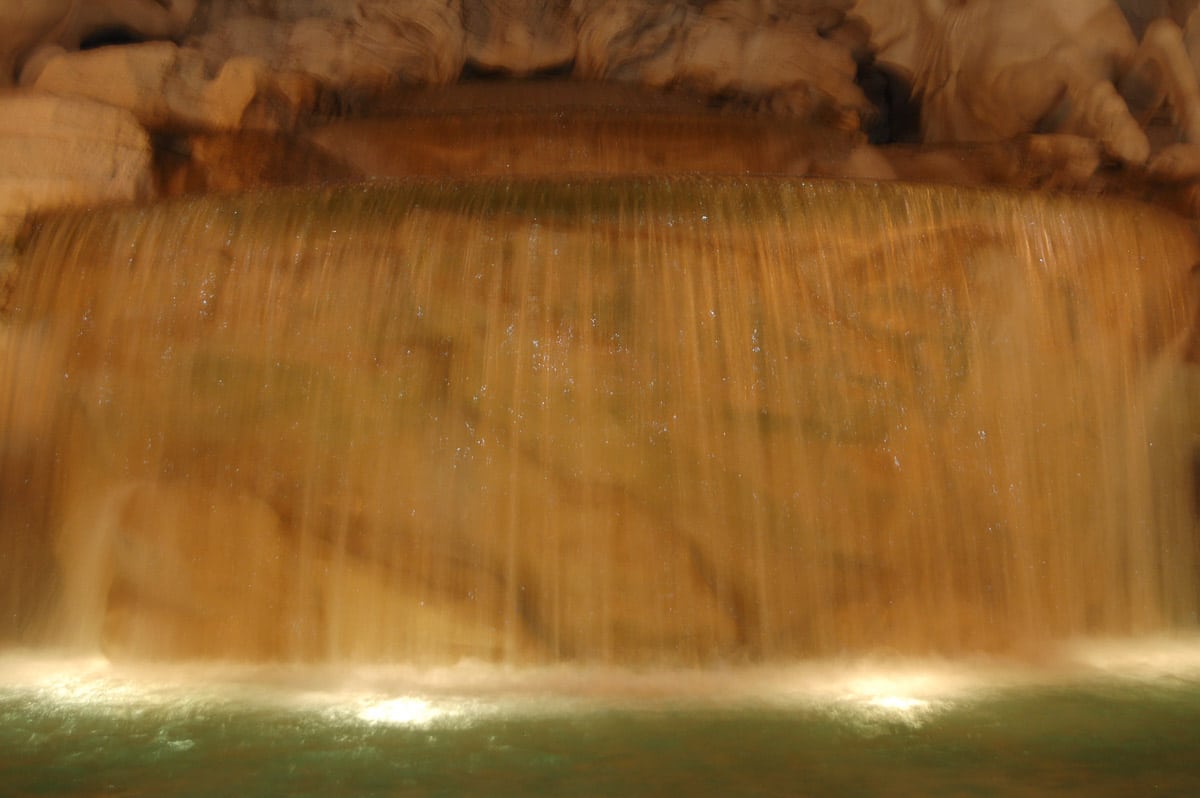 Legend has it that if you throw one coin into the Trevi Fountain you will return to Rome. Two coins mean that you will return to Rome and you will fall in love. Three coins mean you will return to Rome, find love and marry.
The coin is supposed to be thrown by the right hand over the left shoulder for maximum results. In 2016 about USD$1.5 million was thrown into the Trevi Fountain. The money goes to the needy of Rome.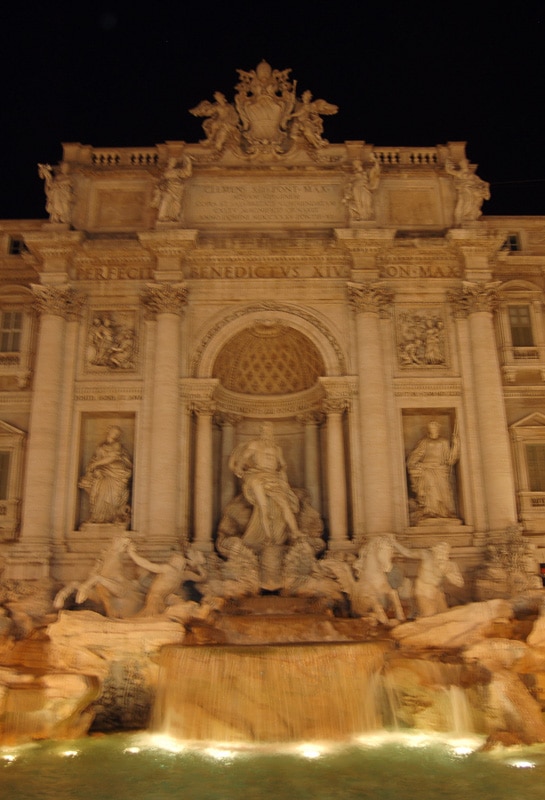 The Trevi Fountain is free to visit and gets very busy. The hours between midday and 7 pm tend to be the busiest so do try to avoid them. The fountain lights up once the sun goes down which can make for some lovely photos.
To reach Trevi Fountain, catch the metro to Piazza Barberini. From here, head west on Via del Tritone, then south on Via Stamperia until you reach the square where the fountain is situated.
2. The Colosseum, Rome
Located in Italy's capital, this attraction should be at the very top of your bucket list. This UNESCO World Heritage Site was completed in 80 AD. Construction first began in 72 AD, by order of Emperor Vespasian. But Titus, his son, was responsible for its completion.
Could over 7 million people be wrong – and that's just in the last 12 months! That is how many people visit Italy's most popular tourist attraction the Colosseum in Rome each year. This ancient amphitheater was the site of Rome's famous public spectacles like those seen in the movie Gladiator.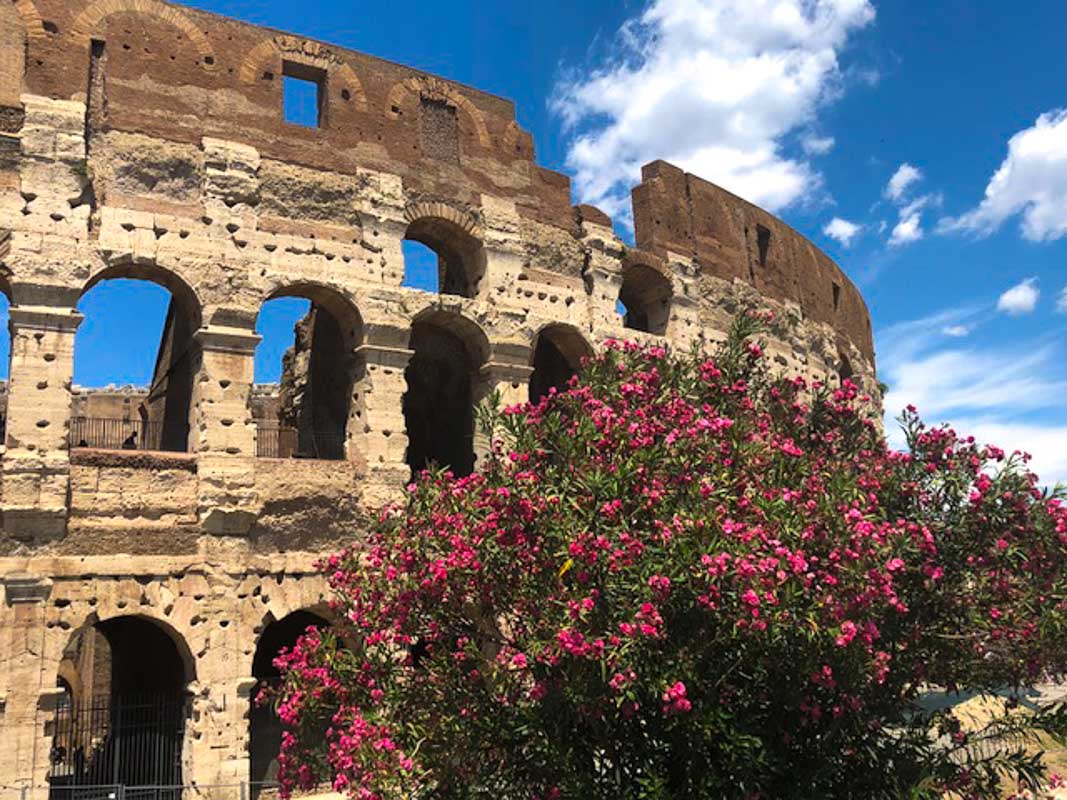 The Colosseum was the biggest amphitheater in the world during its time, seating over 70,000 people. The structure was constructed in 70 AD – yes it's that old. It is 157 feet tall and remarkably well preserved considering its age.
The amphitheatre has seen its fair share of gladiator games, animal hunts and more. Be sure to check out the Hypogeum, where the animals and gladiators were often kept. The Arch of Constantine and Bronze Cross are two other sights to see here.
Every ticket to the Colosseum also includes access to the Roman Forum and Palatine Hill. The Roman Forum is located next door to the Colosseum and Palatine Hill is also part of the area.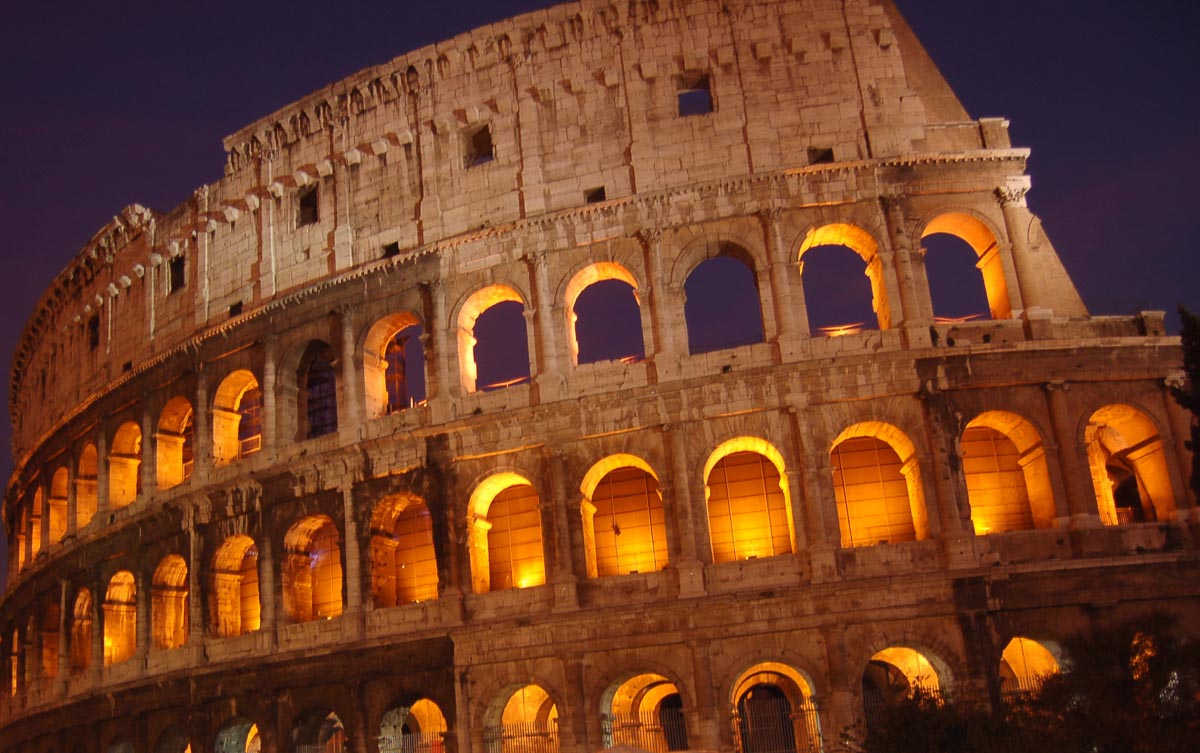 When you purchase this ticket online you will be given options for different times on the day you want to visit. Of course, the further ahead you book the more options will be available.
⇒ Read my Skip the Line Colosseum Complete Guide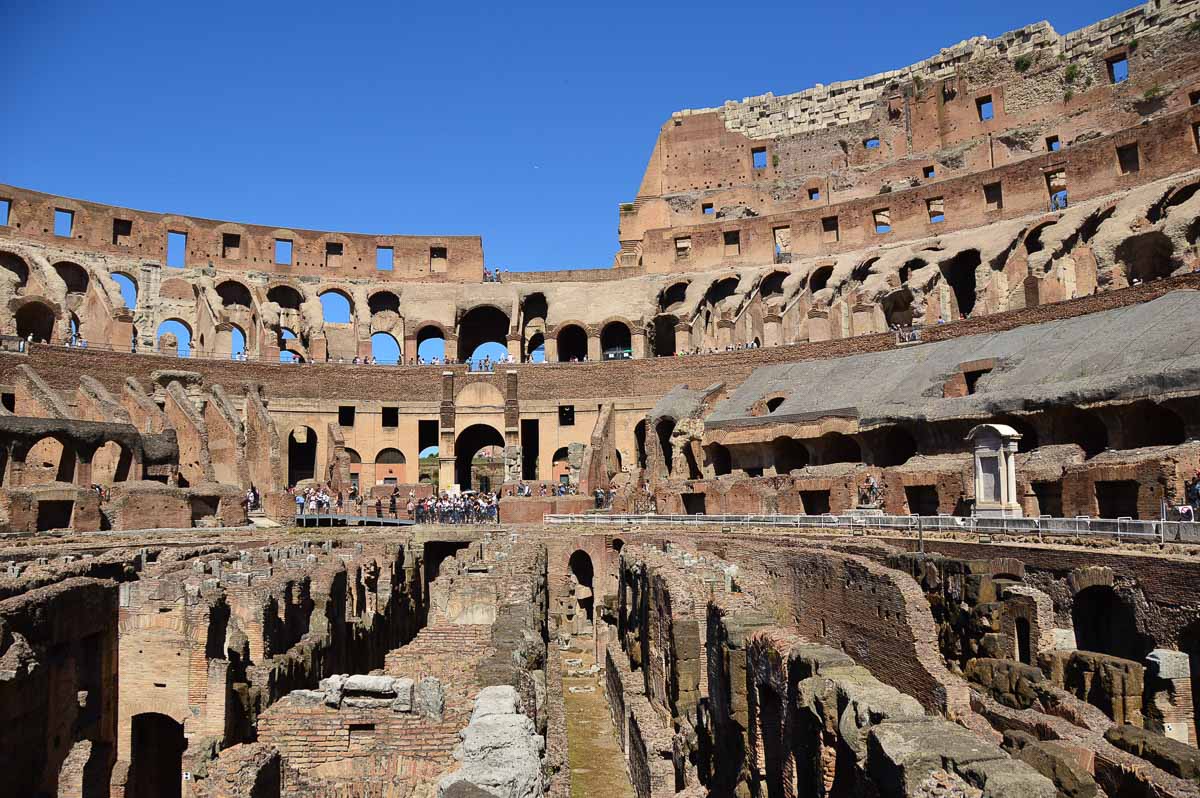 3. Cathedral of Santa Maria del Fiore, Florence
This Renaissance-inspired church is the third-largest in Italy, standing 90 meters wide and 152 meters long. Arnolfo di Cambio was responsible for designing it in 1296, but it was the architect Filippo Brunelleschi who added the cathedral's prominent dome during the 15th century.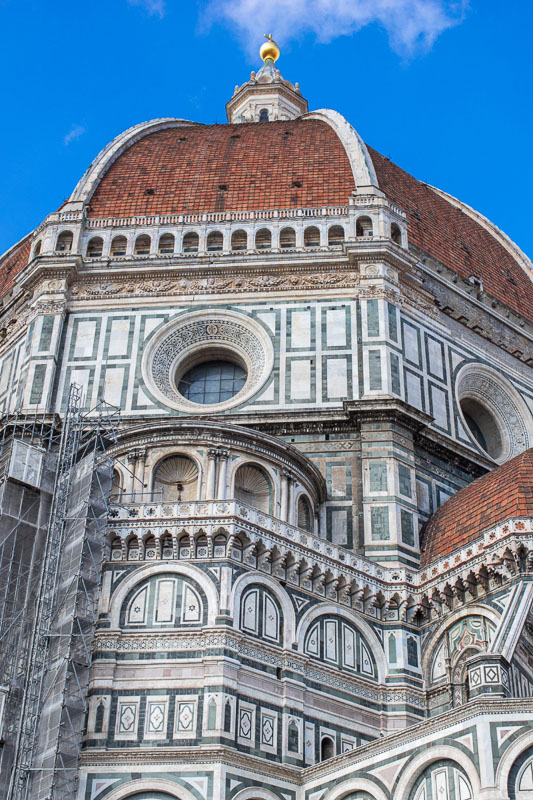 The exterior of the Duomo di Firenze has been done with stunning, colourful marble work. Inside, you'll find spectacular artworks adorning the ceilings.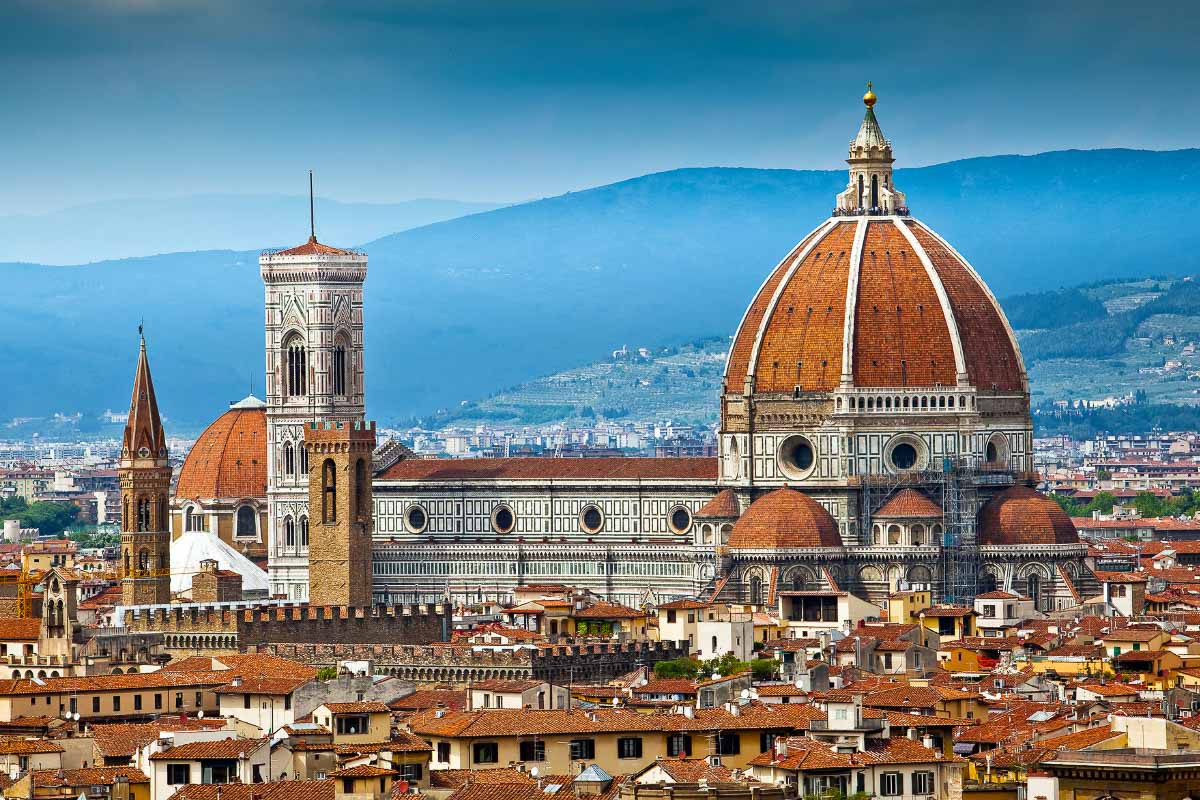 The cathedral is located in the square Piazza del Duomo, and entrance is free. However, you'll need to purchase tickets to see the other monuments in the square, such as Giotto's Campanile. 
4. Pantheon, Rome
This famous landmark in Italy is another must-see sight to put on your list. The Pantheon was first constructed in 27 BC as a temple for the pagan Roman gods. It was later destroyed by a fire and rebuilt by Emperor Hadrian in 120 AD.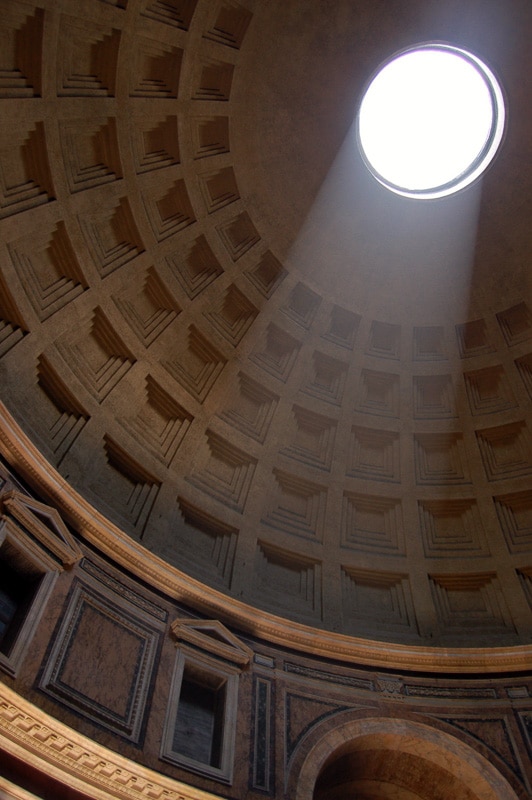 This monument is open to the public, and free of charge every day of the week except during mass and on some national holidays. To get to the Pantheon, you'll have to go on foot as there are no train stations nearby and the streets are far too narrow for buses to pass through. But you're sure to enjoy meandering through the Italian streets, particularly if you stop for gelato.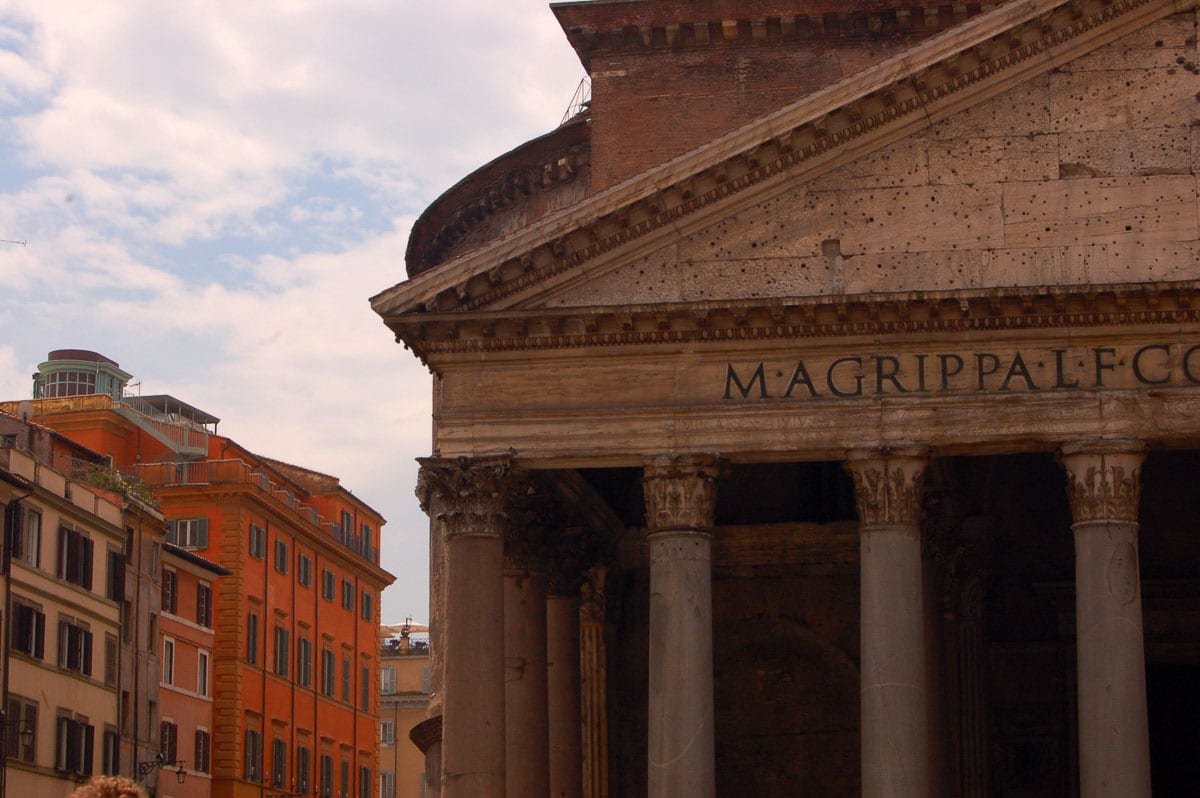 5. Pompeii, Pompeii
This ancient town near Naples is one of Italy's most popular tourist attractions, with around 2.5 million visitors annually. Pompeii was once a lively city until Mount Versuvius erupted – covering everything in larvae and turning the city into an archaeological site.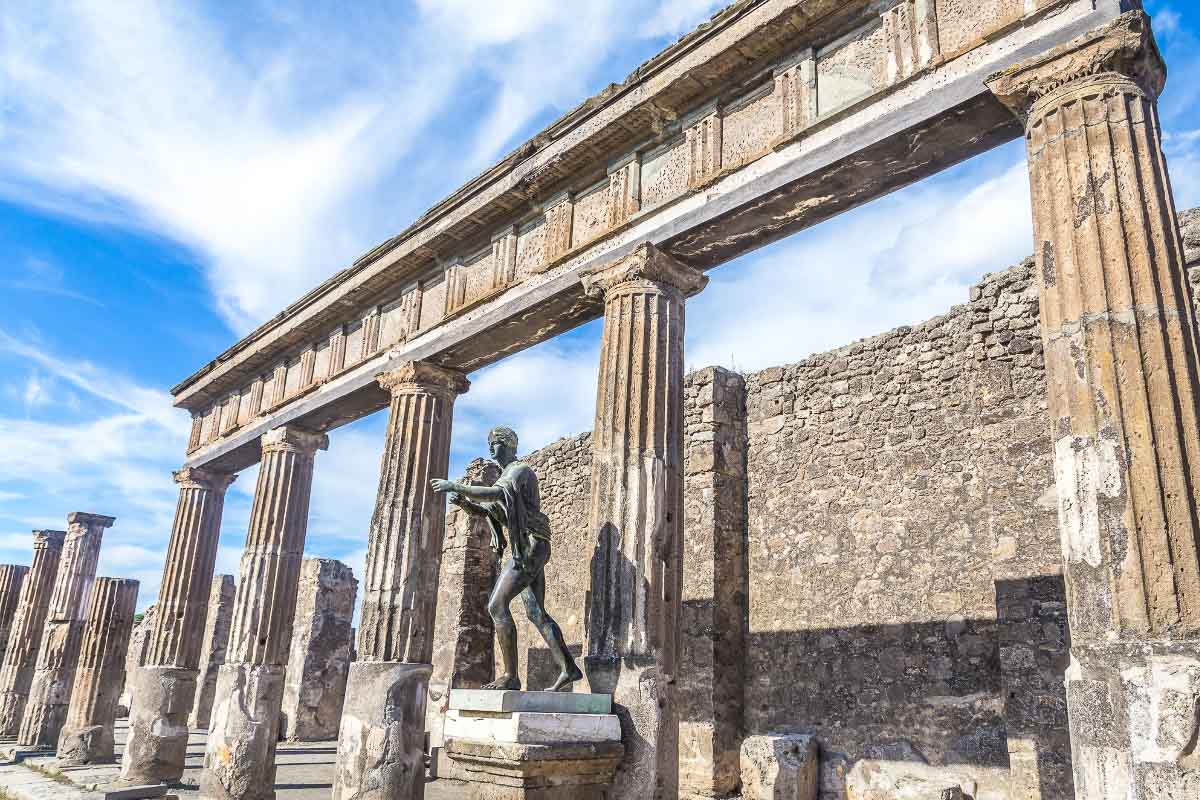 Top attractions to see in Pompeii include the Thermal Baths, Great Theater of Pompeii and Temples. You'll also get to see preserved artworks and mosaics.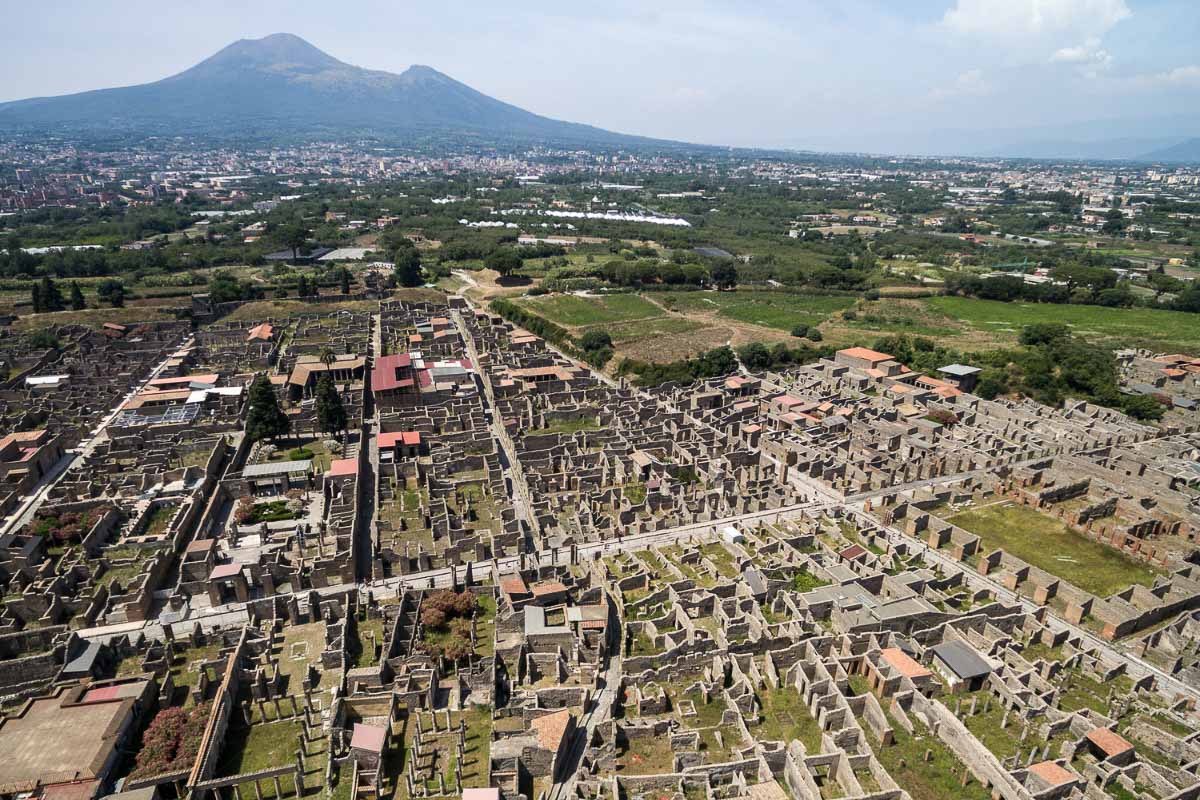 Taking a guided tour here is highly recommended, as you'll not only learn about Pompeii's history but also get to skip most of the queues. If you'd like to discover the ruins on your own, you can easily catch a train from Naples or Rome.
6. Leaning Tower of Pisa, Florence
This gravity-defying tower is certainly something you need to see for yourself. It's located in the Piazza dei Miracoli of Pisa and is the third oldest monument in the town. In the Square of Miracles, you can also visit the Cathedral di Pisa and Baptistery of San Giovanni.
This freestanding bell tower is not just a famous monument but possibly one of the most famous buildings in the world. The "lean" is nearly four degrees and is because the foundation of the building is unstable.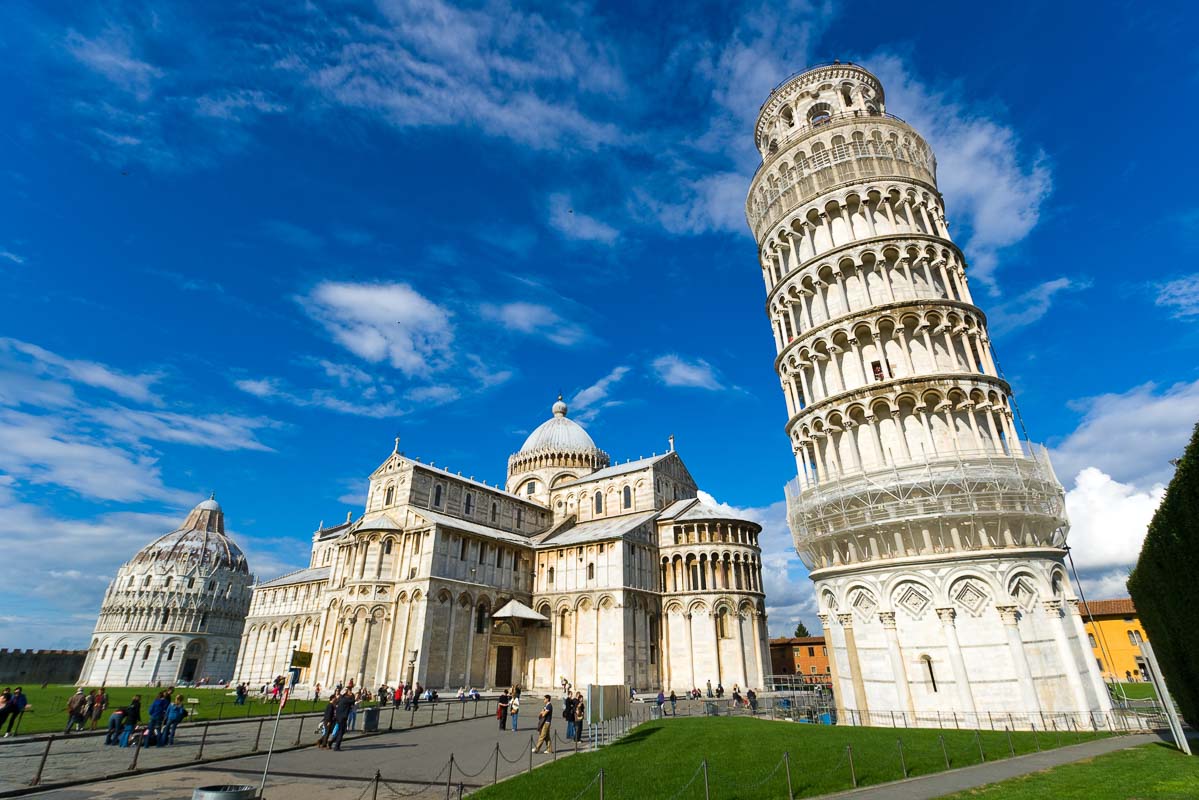 The tower began to lean during its construction in the 12th century and unfortunately got worse up to its official completion in the 14th century. By 1990 the lean was 5.5 degrees. Repairs work took place during 1993 and 2001 that corrected the lean-to just under 4 degrees.
The Leaning Tower of Pisa is not particularly tall at just over 55 metres – I remember being quite surprised at how small it was when I visited. The tower is located in Pisa's Cathedral Square and also includes Pisa Cathedral and Pisa Baptistry.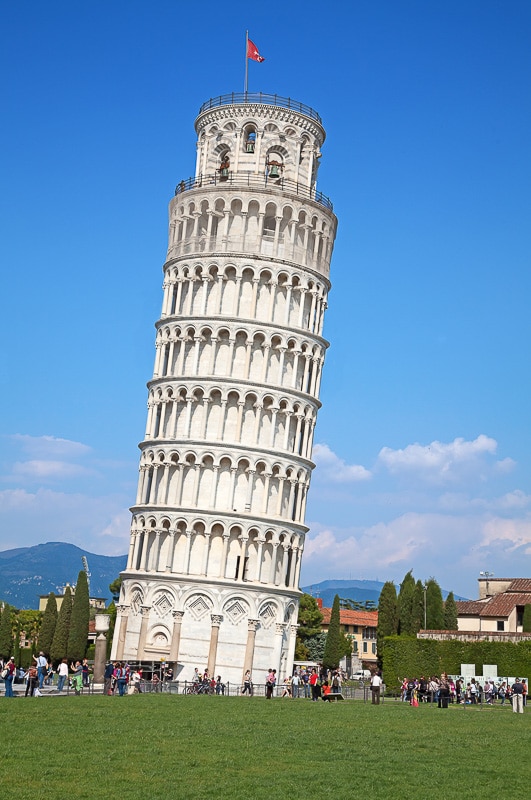 ⇒ There is something about landmarks – I am always a bit awed when I get to see one! 16 Famous Landmarks in Europe You Must See, 12 Beautiful Spain Famous Landmarks, 50 Ideas for your European Bucket List, 11 Stunning Canada Landmarks, 15 North America Landmarks, 16 Australian Landmarks, Top 10 Famous Landmarks in the US, 21 Stunning Asia Landmarks, 10 Bridges in London Not to Miss, 30 Famous Landmarks in France, 18 Landmarks of London, 24 Famous Landmarks in Italy, 40 English Landmarks Not to Miss, 105 Bucket List Ideas for Travel Lovers, 20 Most Beautiful Cities in the World, 9 Picturesque Japan Landmarks and 11 Historic Greek Landmarks.
If you'd like to go inside the tower and climb up to the top paid entry is required. Climb the 251 steps to the top of the tower, where you'll be 50m above the ground and get to enjoy spectacular views of the city. It is possible to book a skip the line ticket for the Leaning Tower of Pisa. Otherwise there is no charge to see the building from the exterior and to take the famous photo where it looks as if you are holding up the tower!
You can easily hop on a train in Florence to reach the city of Pisa. It's best to go in the morning to avoid the crowds.
7. Saint Mark's Basilica, Venice
Venice is an incredible city, filled with impressive churches and beautiful Venetian palaces, but this basilica is definitely the top attraction to see. It was first built in the early 9th century but was rebuilt in 1063 after a fire destroyed it.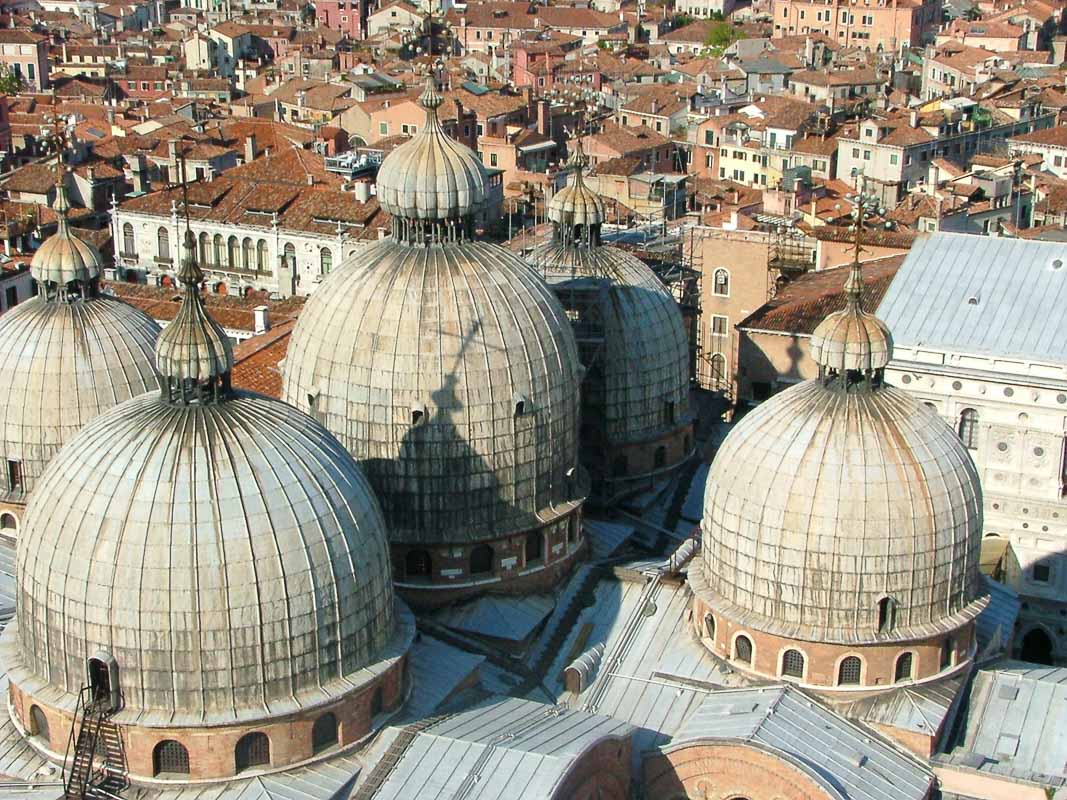 Outside, you'll see gorgeous Byzantine architecture. Inside, you can admire intricate mosaics and other relics. For an unforgettable experience, you should definitely consider a guided tour that takes you to both Saint Mark's Basilica and Doge's Palace.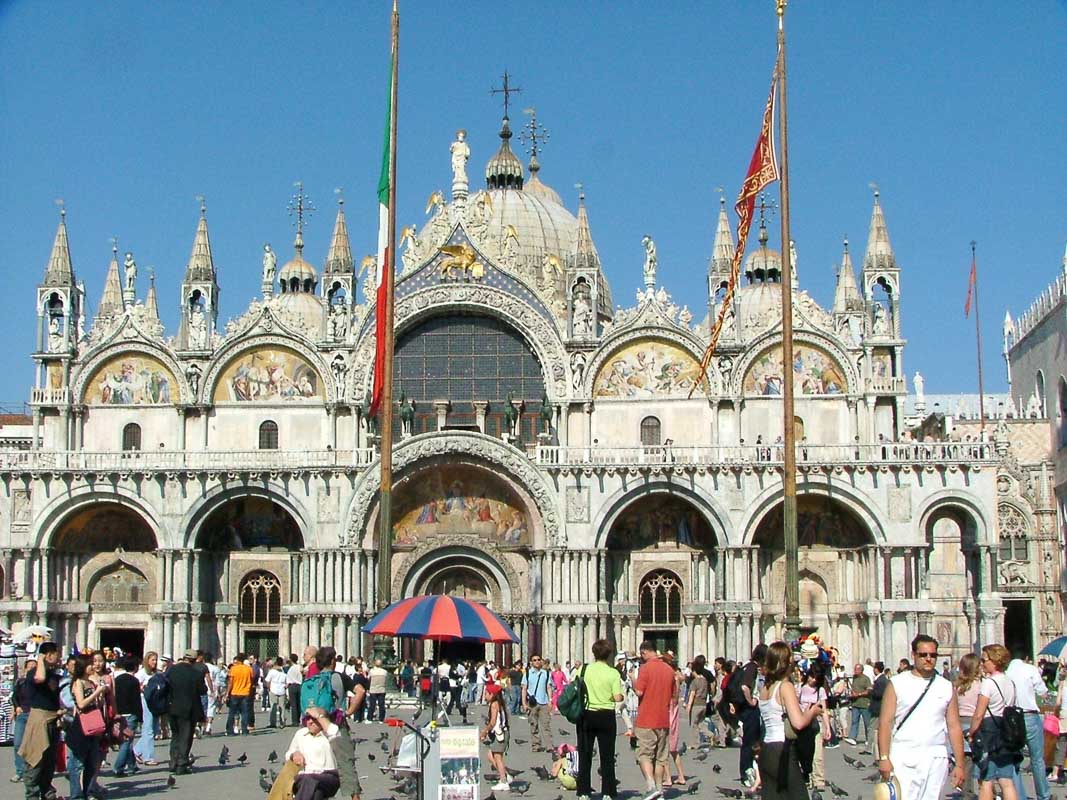 To get to these popular tourist attractions, you can step onto a Vaporetto for a trip (they're quite affordable) through the Venetian canals. Alternatively, you can reach the basilica on foot, but keep in mind that it's on the southern end of Venice. The closest bridge is the Ponte dell'Accademia.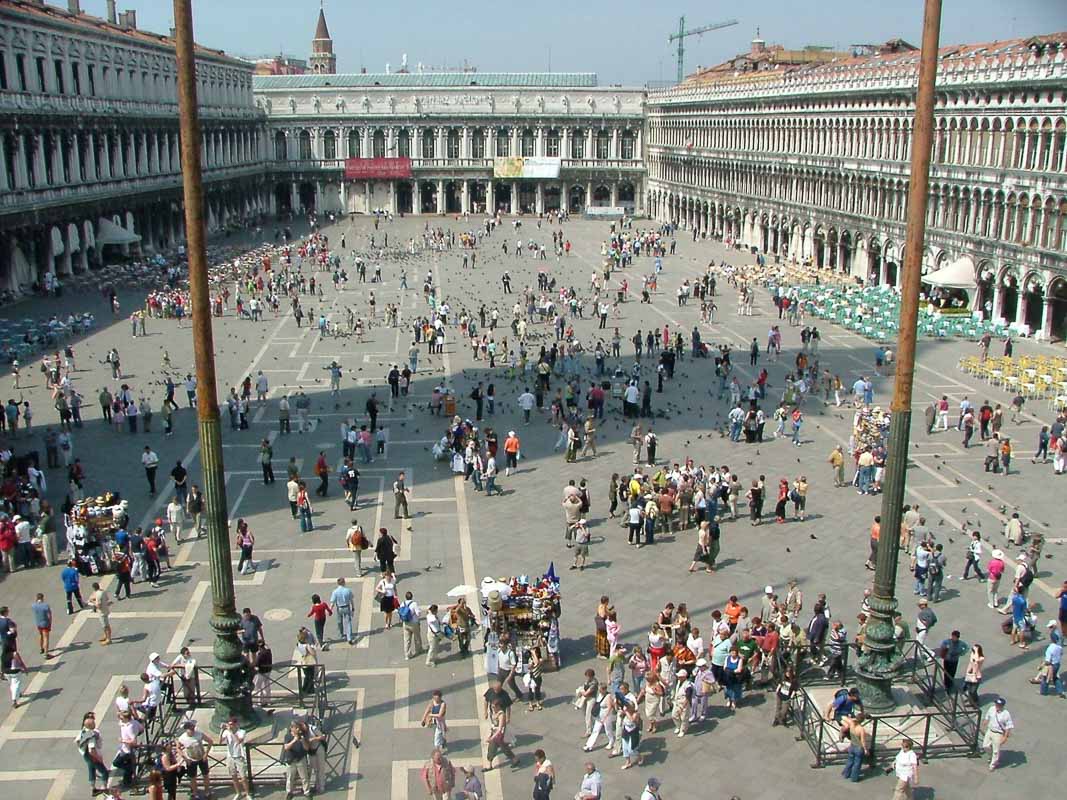 8. Cinque Terre, Liguria
Cinque Terre translates to 'five towns' and this name was given to the five magnificent villages (Monterosso, Vernazza, Corniglia, Manarola and Riomaggiore) located along the Italian Riviera.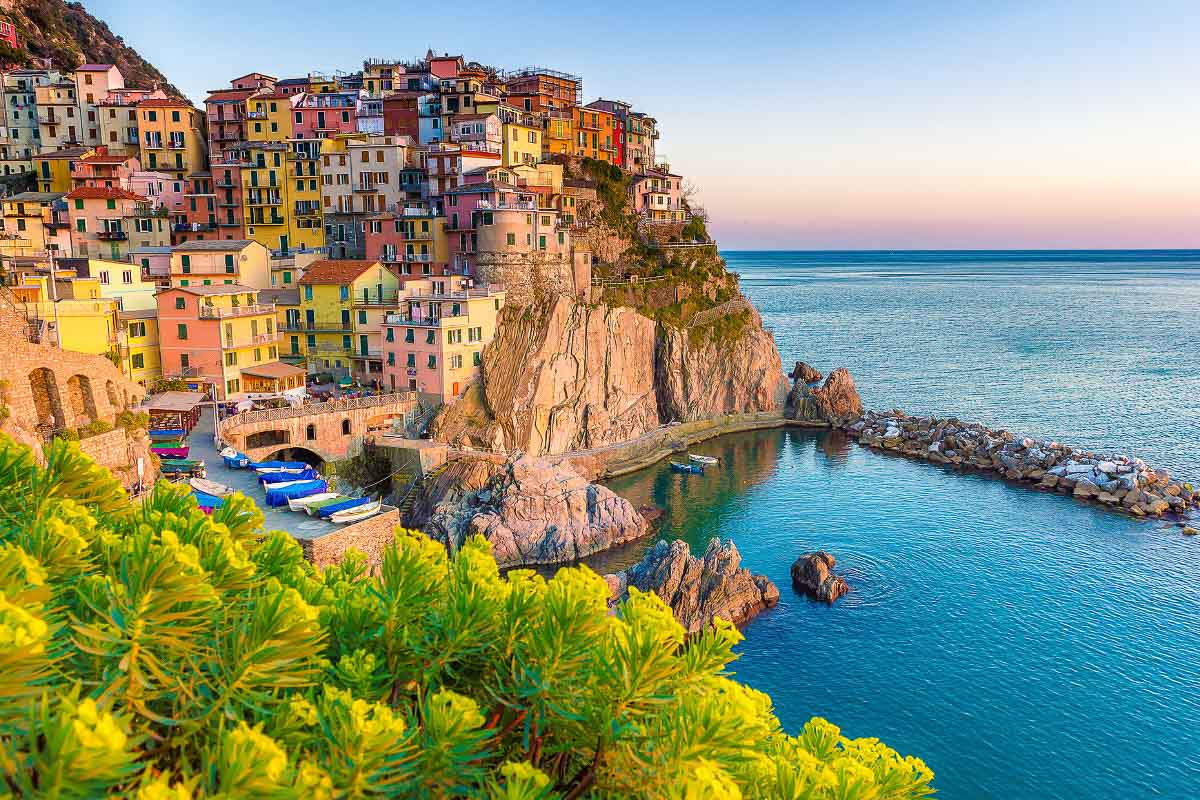 Once you arrive here, you'll quickly appreciate the beauty of this UNESCO World Heritage Site. While visiting Cinque Terre, you can enjoy hearty Italian meals and gelato, take a dip at Manarola beach or go snorkelling near Riomaggiore.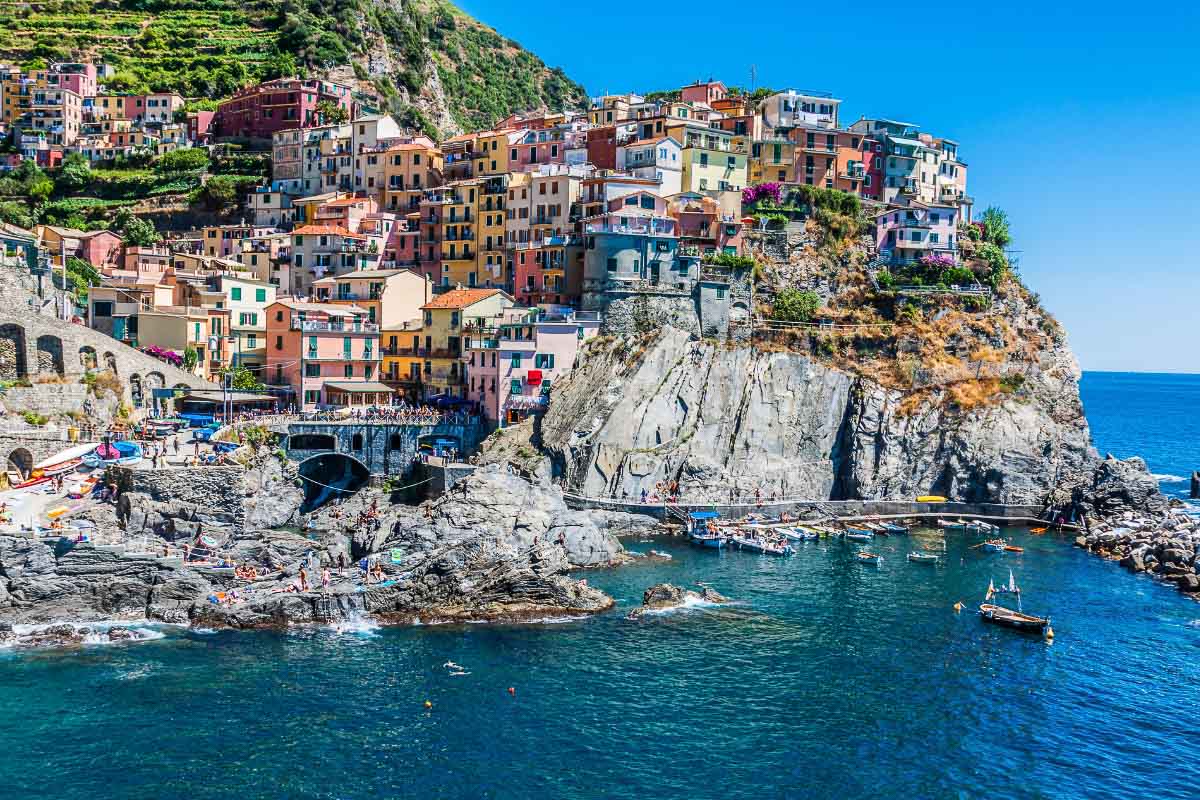 To reach this destination, you can drive along the twisting coastal roads yourself or catch a train from Genoa to La Spezia. If you're planning on travelling here from Florence, then a guided tour is highly recommended.
9. The Sistine Chapel, Rome
The Sistine Chapel is is a chapel in Vatican City. The chapel was restored between 1473 and 1481. However, it was between 1508 and 1512 that Michelangelo painted the ceiling of the chapel in what is regarded as one of the most significant artistic accomplishments of all time.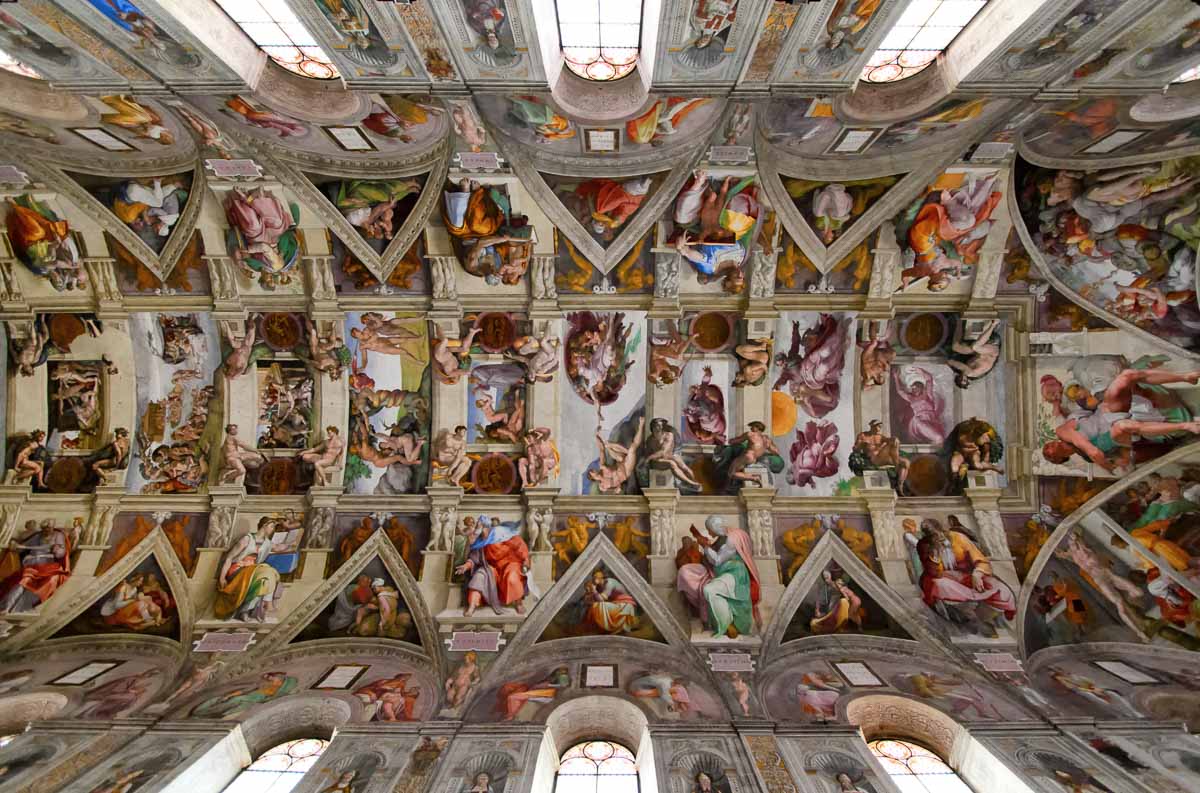 Today the Sistine Chapel is where the papal enclave is held. This is the process by which a new pope is selected.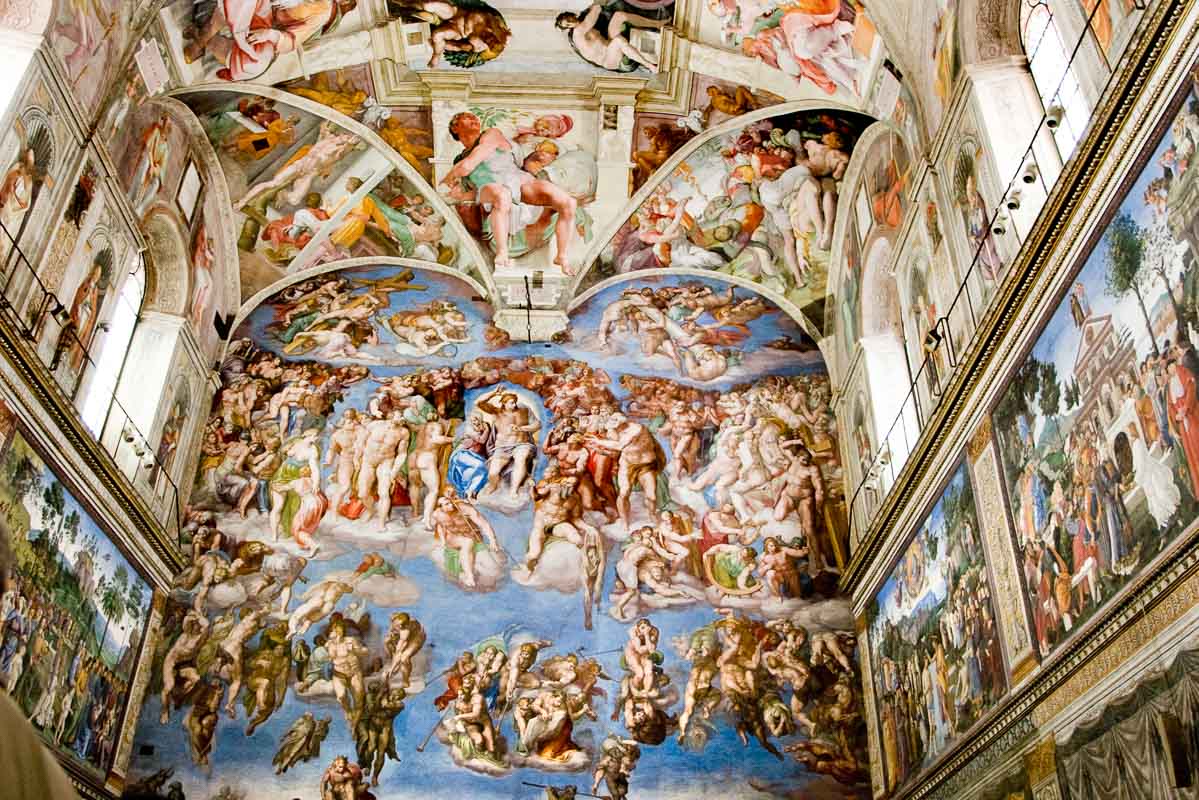 It is not possible to visit The Sistine Chapel on its own – you must have a ticket for the Vatican Museums. The Sistine Chapel is actually free to visit once you have a ticket for the Vatican.
⇒ Book your skip the line ticket for the Vatican.
10. Palazzo Ca' D'Oro, Venice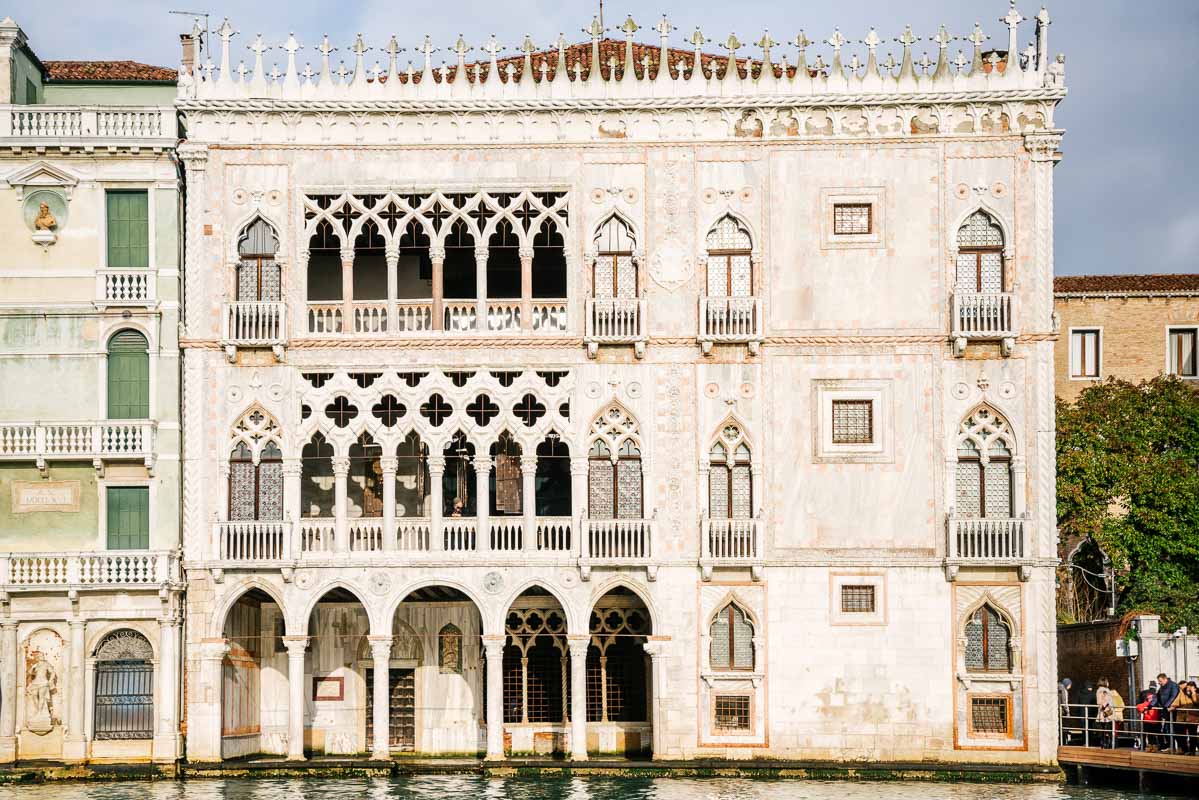 As you may have guessed from the name, the facade of this Venetian palace appears to be gold. Palazzo Ca' D'oro faces the Grand Canal and hosts the Franchetti Gallery. Don't miss the terraces and the inner courtyard.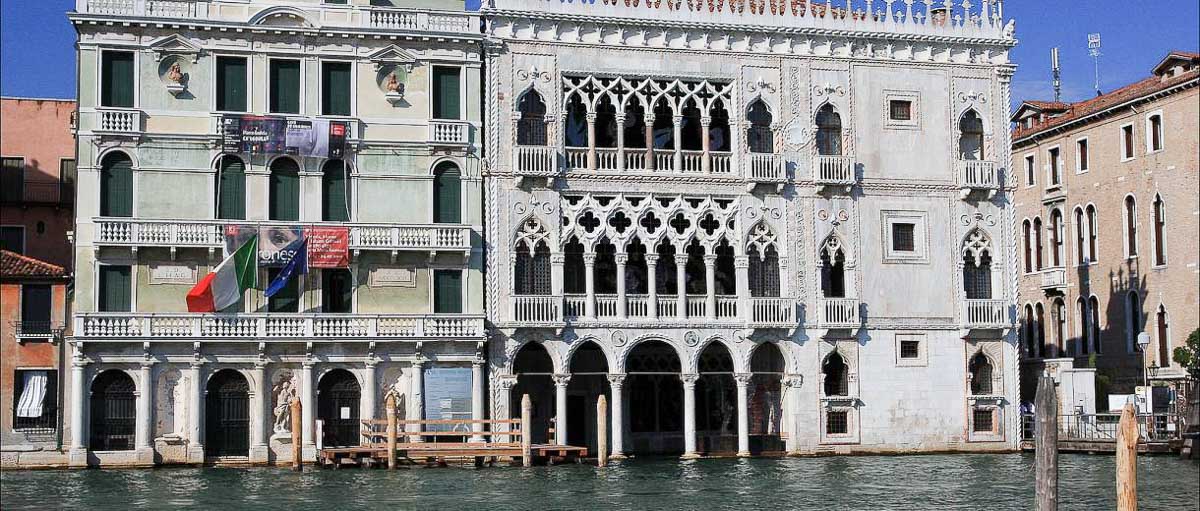 11. The Amalfi Coast
The idyllic weather, charming streets and natural beauty have been drawing people from all parts of the globe to the Amalfi Coast. The mountainous coast is dotted with magical vacation homes, hotels and restaurants.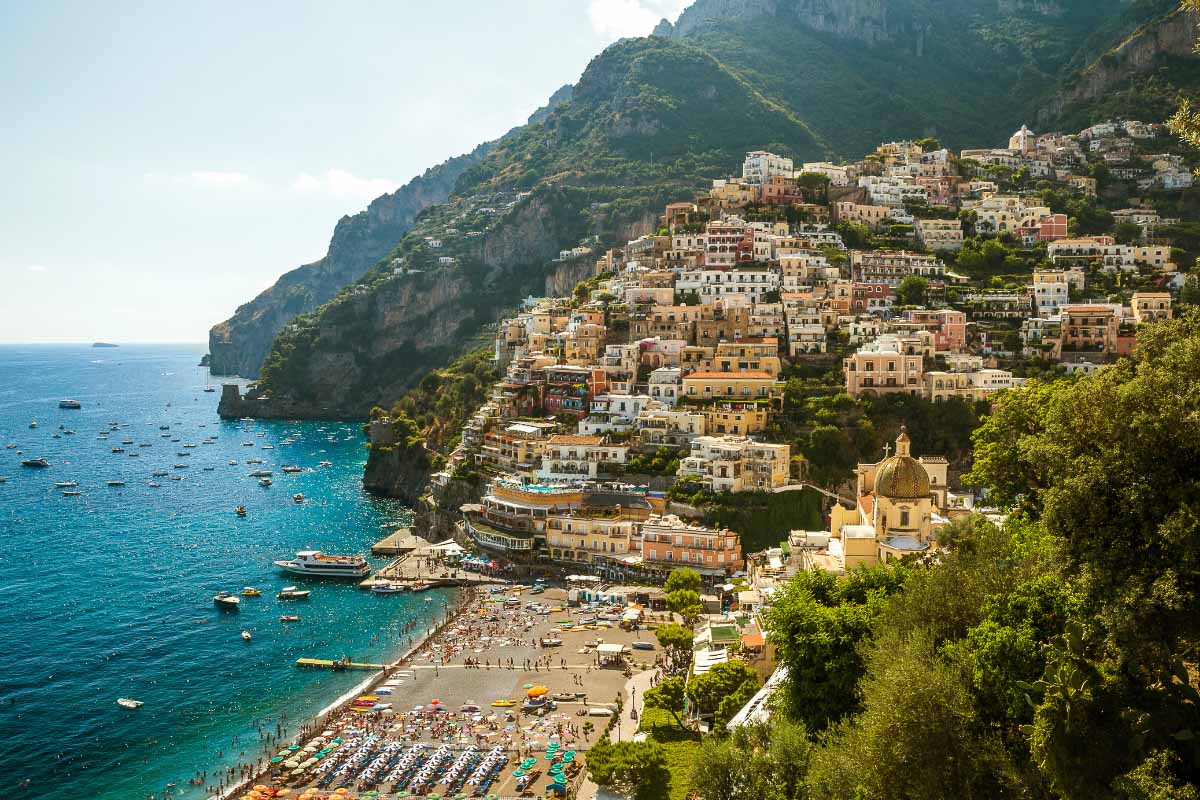 Travelling to the coast between May and October provides you with vibey streets, fantastic weather, cultural events and warm waters. Naturally, the streets and beaches are buzzing with tourists, which means that booking accommodation and transportation is absolutely essential.
The coast is the perfect place for spending an extended trip. The area is made up of 13 different municipalities, each deemed a UNESCO heritage site. Exploring each area reveals new towns with different traditions and aesthetics.
12. Palazzo Ducale (the Doge's Palace), Venice
The Doge's Palace or Palazzo Ducale was the residence of the Doge of Venice, the supreme leader of what was then a republic. It was also home to the Great Council and the Council of Ten. There were law courts, stairways, courtyards, and even prison cells – this is a big palace!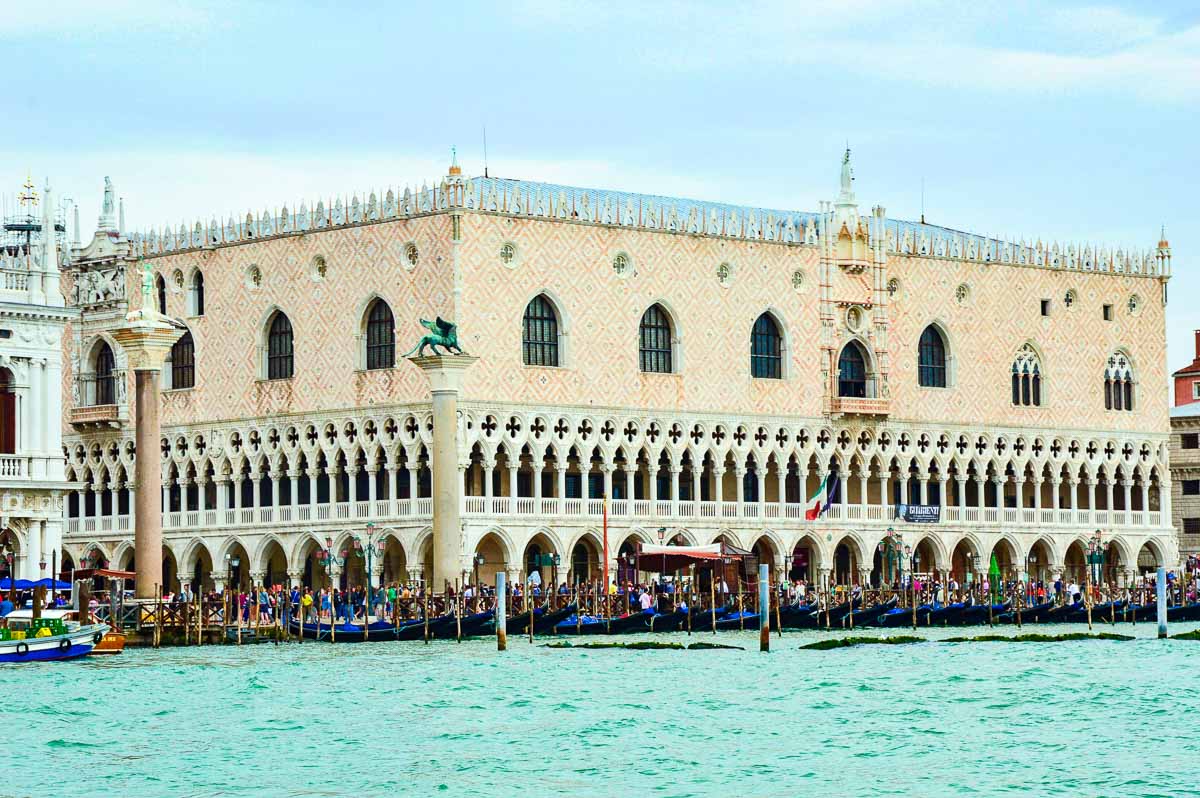 Built in 1340 Palazzo Ducale became a museum in 1923 and the palace is located on St Mark's Square. When it comes to purchasing tickets, Doge's Palace is included in Saint Mark's Square museum pass which represents good value if you intend to visit all of those museums.
Another fantastic option is to book the Secret Itineraries Tour. This tour includes the less well-known elements of the Palazzo Ducale such as secret passageways, prisons, and the gorgeous yet infamous Bridge of Sighs (as the view was the last thing that prisoners saw before being escorted down to their cells).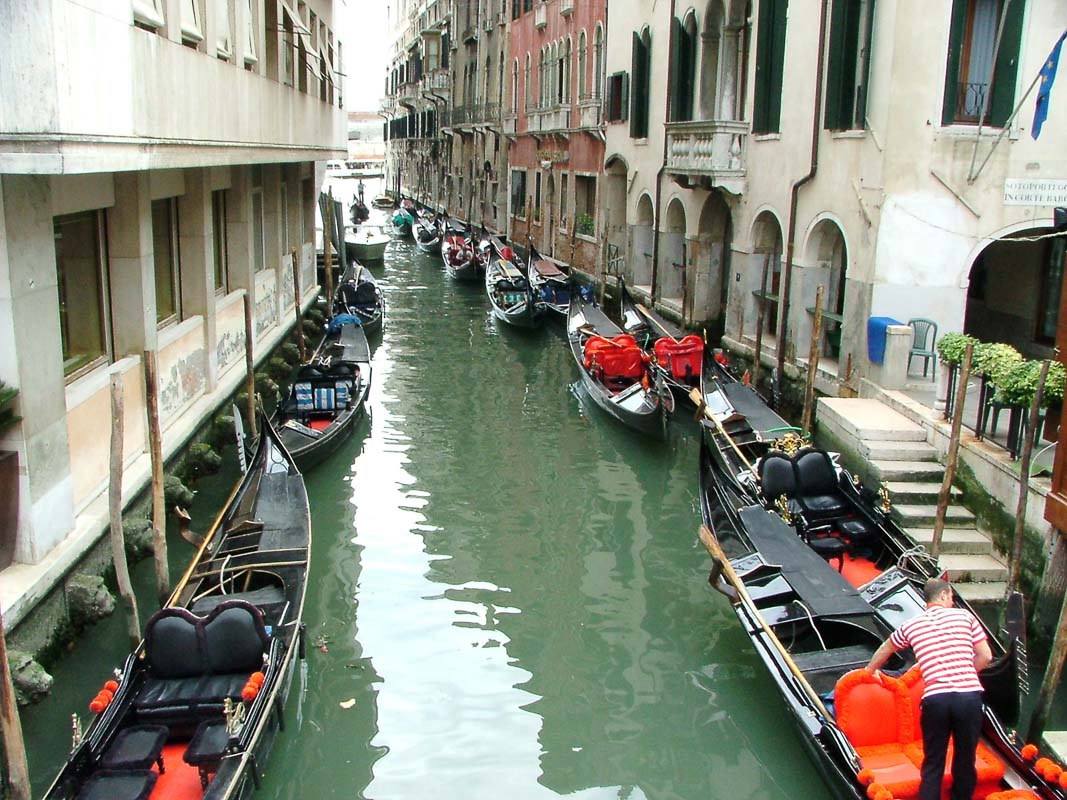 13. The Mosaics of Ravenna
Lovely Ravenna was the capital of the Western Roman Empire from 402 until 476. As such it has some stunning architecture that has been very well preserved and is home to several UNESCO sites.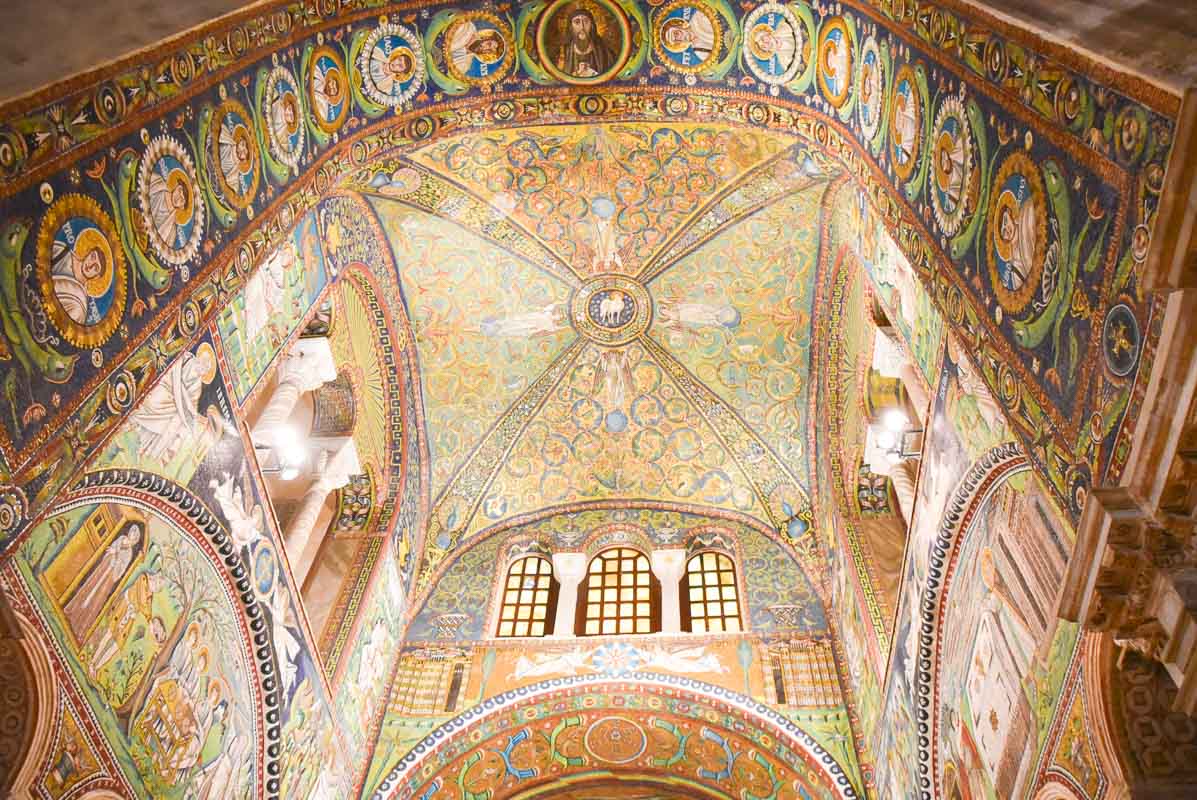 But best of all Ravenna has mosaics. I had heard about the mosaics of Ravenna and in all honesty I had never been particularly excited about them. Until I visited Ravenna.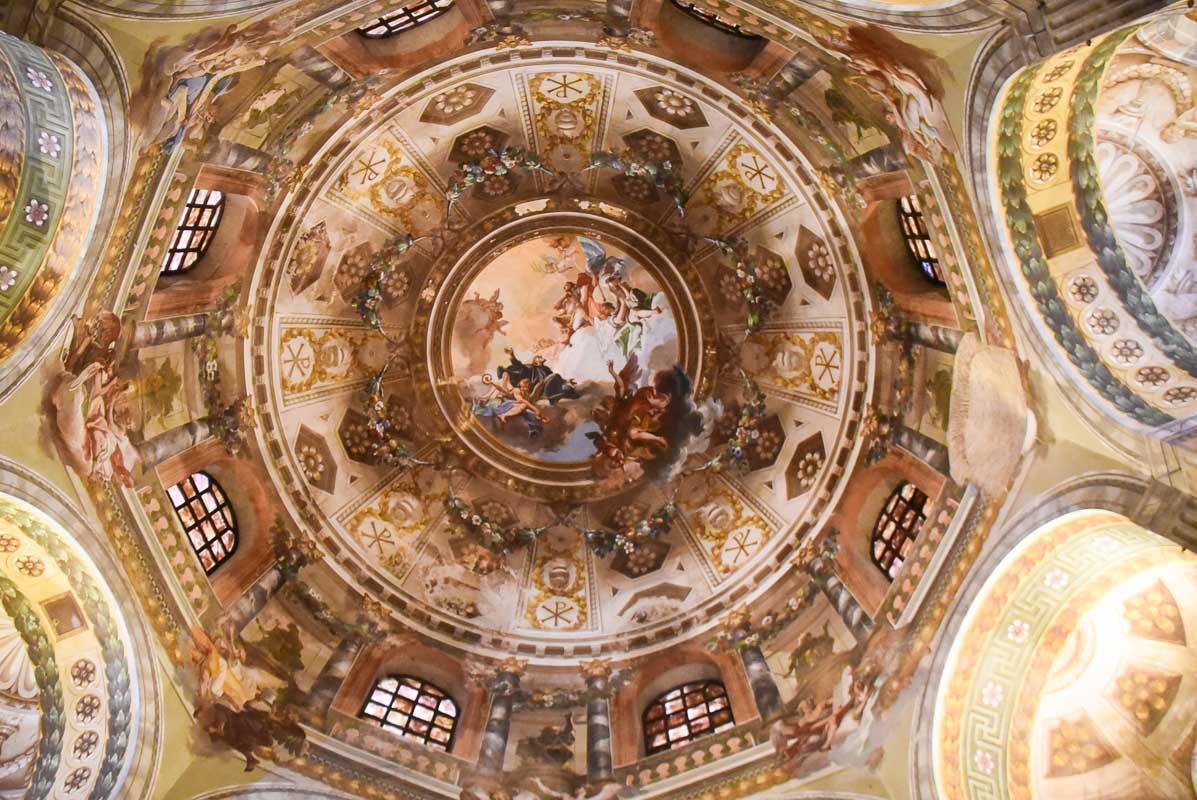 The Basilica di San Vitale, the Basilica di Sant'Apollinare Nuovo and the Galla Placidia Mausoleum all feature what can only be described as jaw droppingly beautiful mosaics over very large areas.
Plus Ravenna is a charming city with lots to explore and some wonderful restaurants.
14. Piazza Maggiore in Bologna
Bologna, Italy is popular as a holiday destination for a variety of reasons. The city has historical appeal, housing the oldest university in the western world.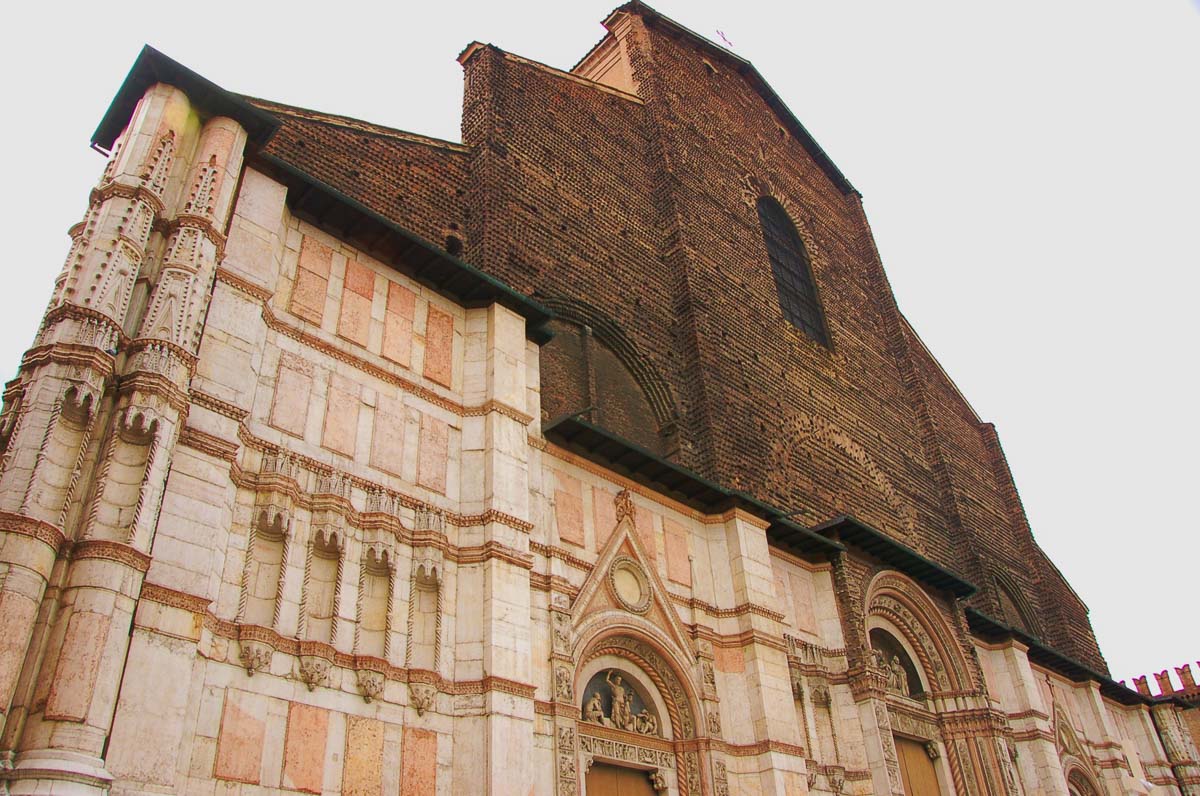 It also features charming architecture, with over 20 towers dotted throughout the area. As well as numerous grand churches and cathedrals. And some of these historic buildings are home to the loveliest boutique hotels in Bologna.
Although Bologna has a well-preserved historical centre, it still exudes a trendy cosmopolitan character owing to its large student population. Its trendy atmosphere is perfectly complemented by its culinary reputation.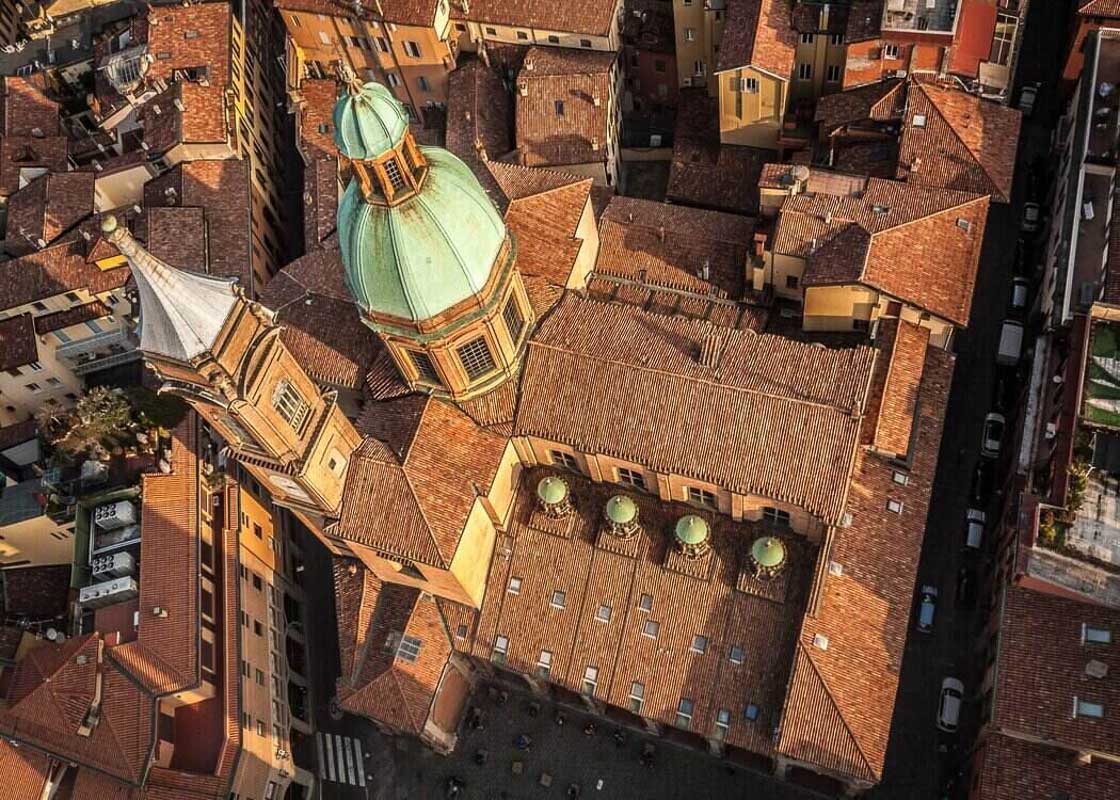 As the capital city of Emilia-Romagna, it forms part of a region with a food history just as old as its celebrated university.
Find out where to stay in my post on Bologna Boutique Hotels.
15. Arena di Verona
Home of Opera and Romeo and Juliet lovely Verona also has bags of Italian charm. It is a very walkable city and easy to get around.
The Arena di Verona is a highlight of any trip to this beautiful city in Italy. Visit during the day to get some great photos. I highly encourage you to book opera tickets before you head to Verona.
I am not the biggest opera fan but attending the opera in Verona in this beautiful amphitheater was a very memorable experience.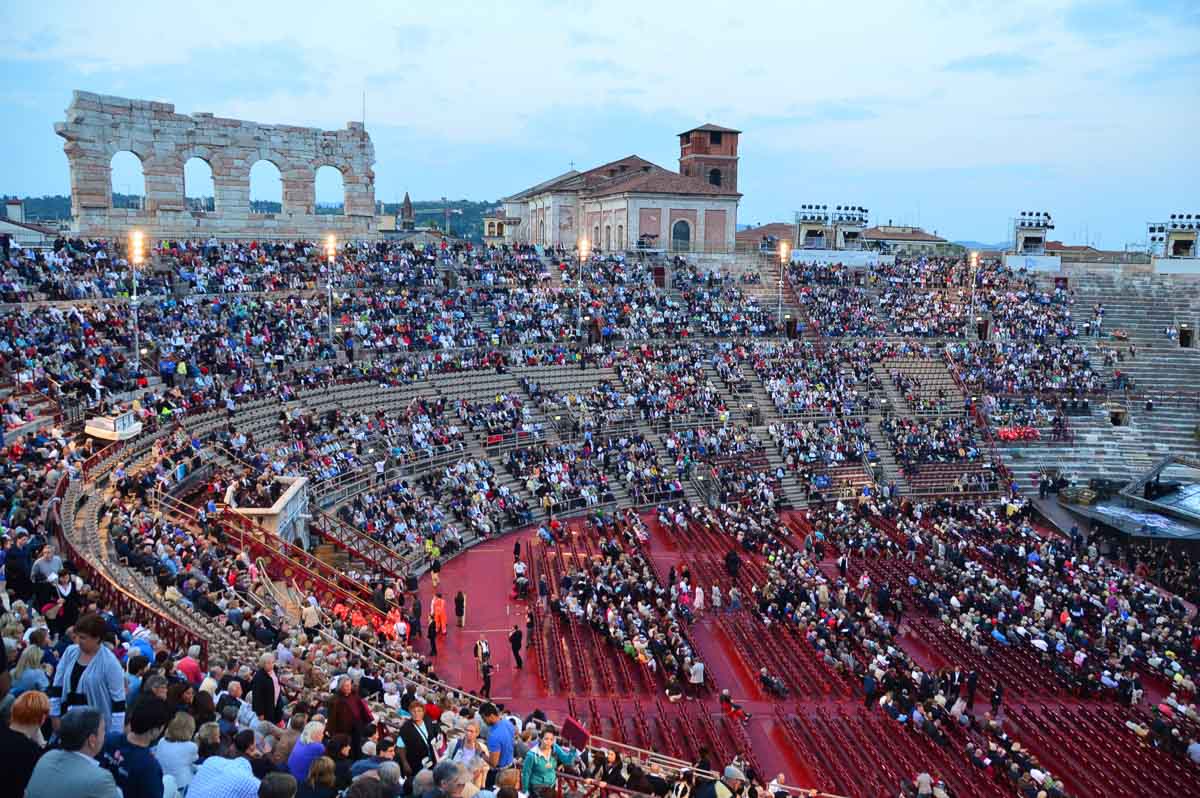 Climb to the top of Torre dei Lamberti for some fantastic views over Verona and enjoy the square where it is located, Piazza Delle Erbe.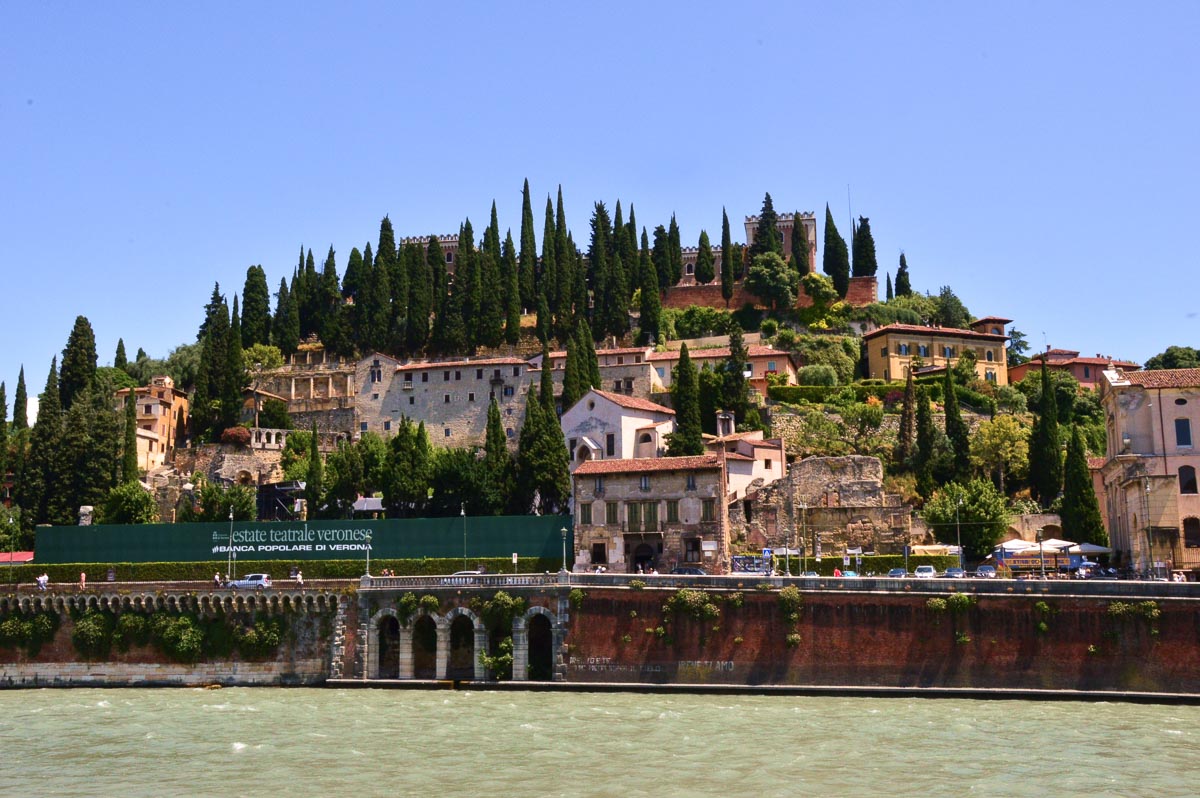 Casa di Giulietta is Juliet's house. The courtyard area is free to visit but you'll need to pay if you want to step onto the balcony. Sure it's a bit cheesy but seeing Juliet's balcony is a must do in Verona.
16. Pitti Palace, Florence
Originally the home of an ambitious banker, this palace was purchased by Florence's famous Medici family in 1549. The Grand Duchy of Tuscany then used Palazzo Pitti as its main residence and as a place to store its many growing treasures.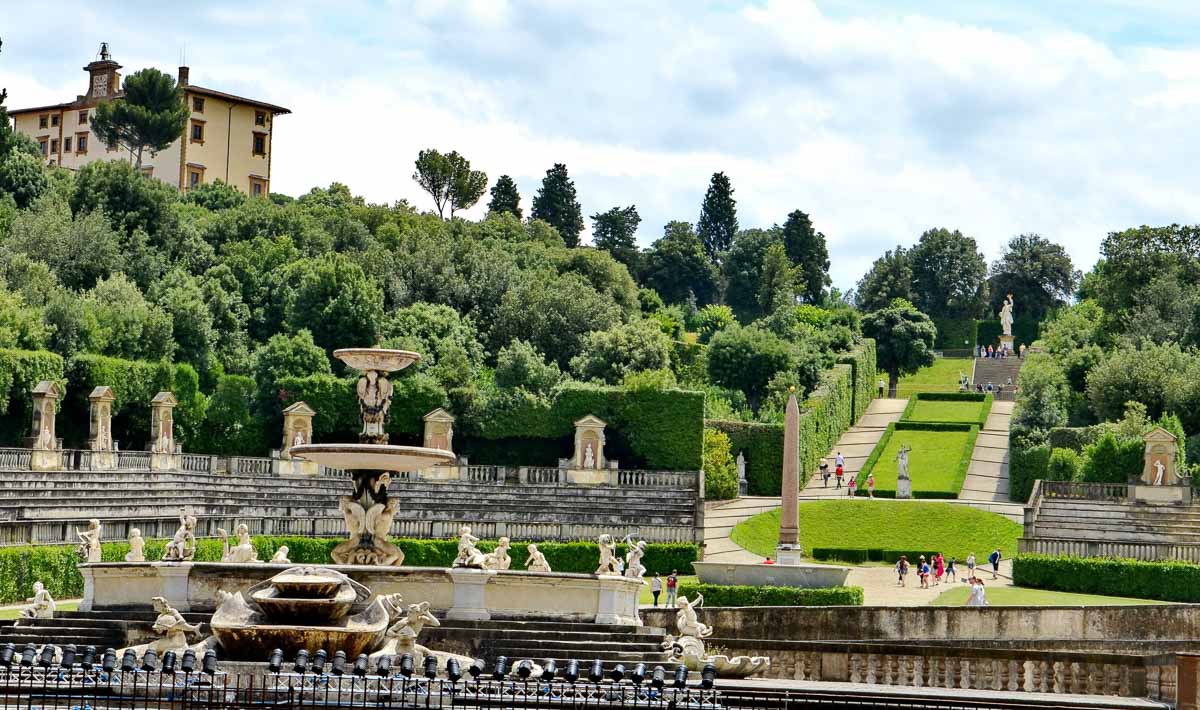 In the late 18th century Napoleon used Palazzo Pitti for a while and the palace was then donated to the people of Italy in 1919.
Today Palazzo Pitti consists of several different galleries and it is now the largest museum complex in Florence. The best known of the galleries is the Palatine Gallery which contains over 500 Renaissance paintings.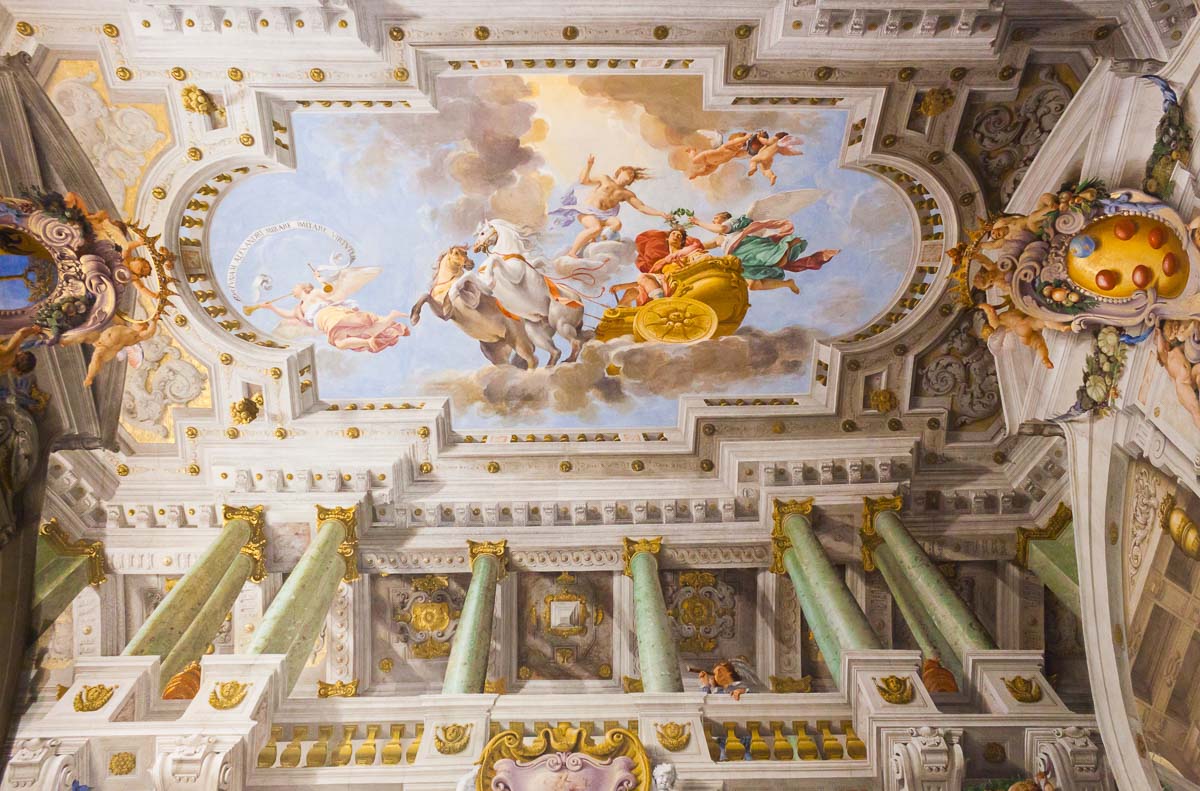 The palace also has a modern art museum, a costume gallery and even a carriages museum. One ticket covers entry to all of the galleries and museums within Pitti Palace.
17. The Trulli Houses of Alberobello, Puglia
There are so many things to do in Puglia – and lovely UNESCO World Heritage Site Alberobello – which is also very fun to say – is one of Puglia's Trulli towns.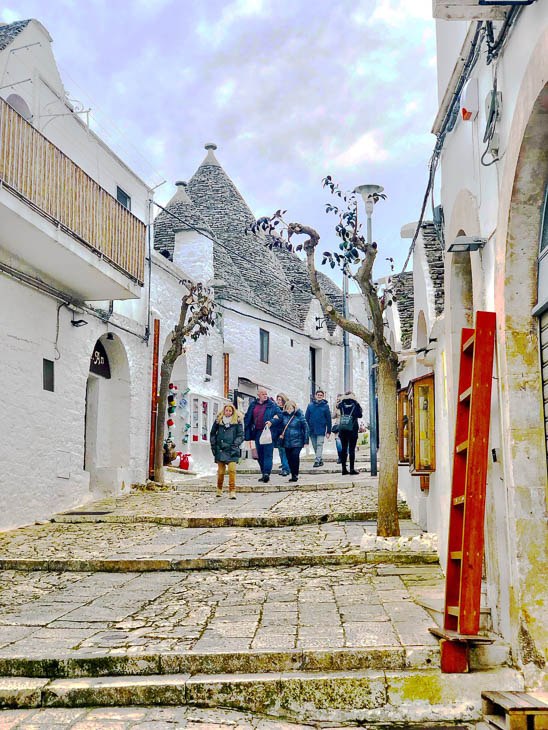 A Trulli is basically a white stone cottage with a cone-shaped roof. They are a cross between something from early Star Wars and the kind of place you would expect to find in a desert in the middle east.
Which is of course why this lovely city is a UNESCO World Heritage site.
There are 1400 Trulli in the old town area of Alberobello. They are mostly located on small cobblestone streets of the historic centre that have been pedestrianized.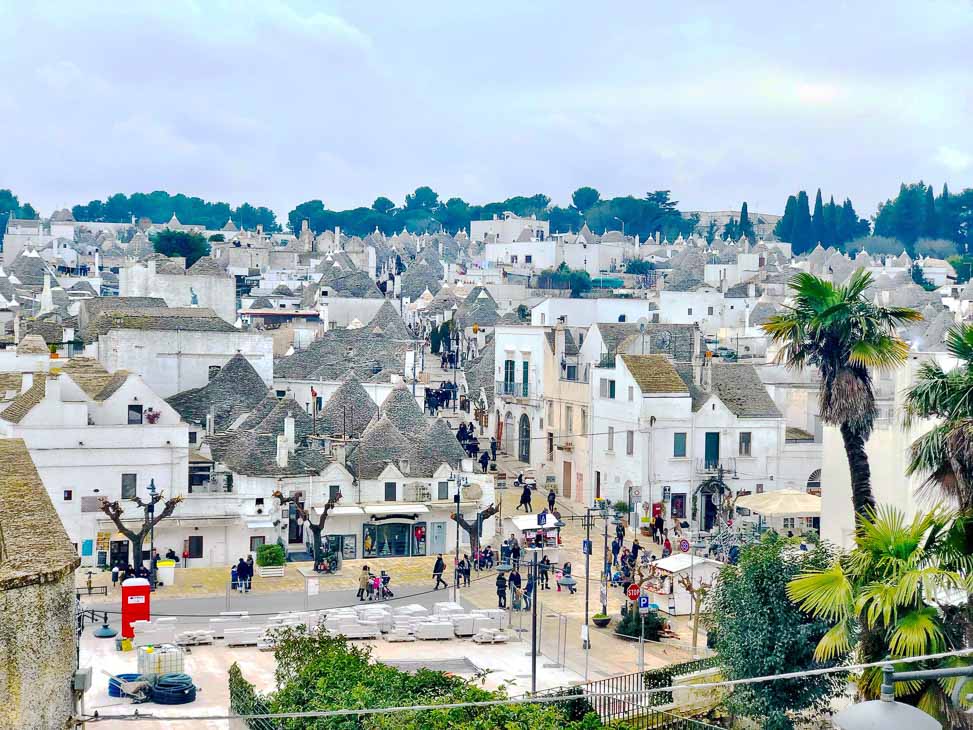 The best thing to do in UNESCO world heritage site Alberobello is wandering its cute streets. We followed the signs for the Centro and once we hit the pedestrianised area found the closest place to park.
From this point, there was a terrific view of the main square and the trulli section of town – great for photos.
18. Mt Etna, Sicily
Mt Etna is stunning and definitely, a Sicily must-see. I originally planned to climb Mt Etna Sicily – however, the August weather put me off. Having said that I had of course forgotten that you start the climb quite a bit above sea level where it was much cooler and this would have been fine.
Indeed I saw many people climbing from the cable car. However, it Mt Etna very steep and the scenery quite same same so not sure how interesting a trek it would have been.
⇒ A wonderful island to visit in Europe is Gran Canaria in the Canary Islands – read about some of the best things to do in Maspalomas, Gran Canaria Excursions and Gran Canaria markets.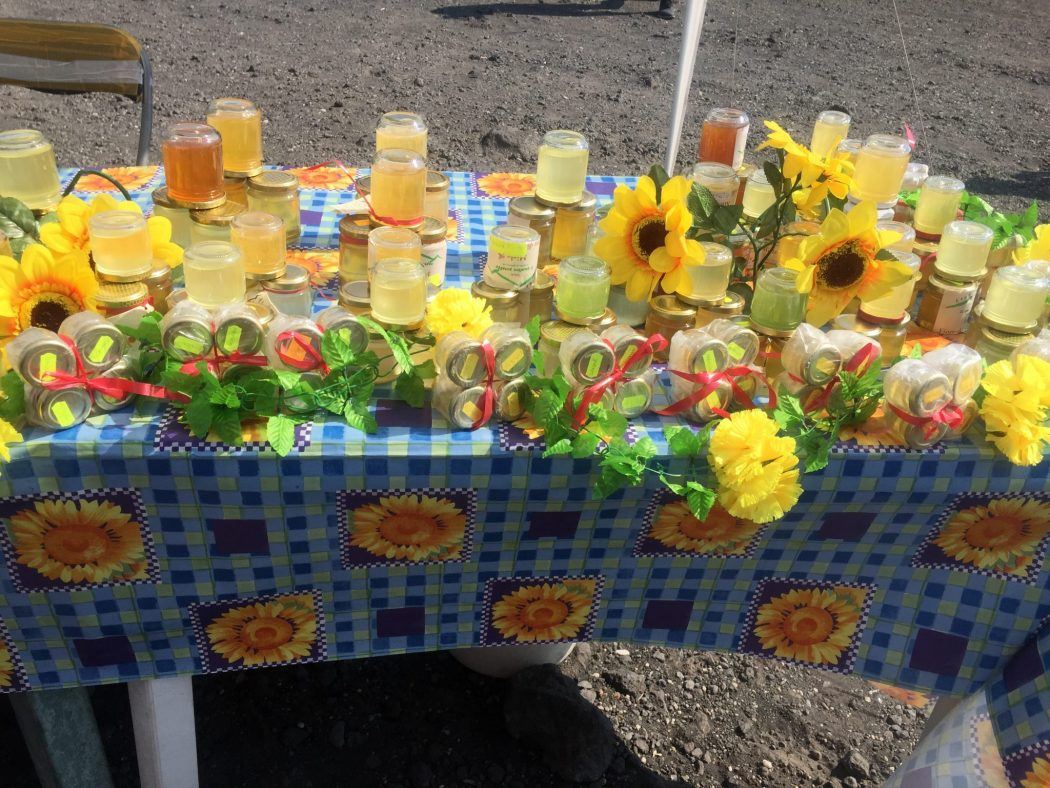 Anyway, whether you climb Mt Etna or not it is still one of the top sights in Sicily and one of the major Sicily tourist attractions. The bus took me up to the base of Mt Etna with a stop for Sicilian food products on the way.
Once there you take a cable car and then a small bus up to the summit. From here you can wander the summit on your own.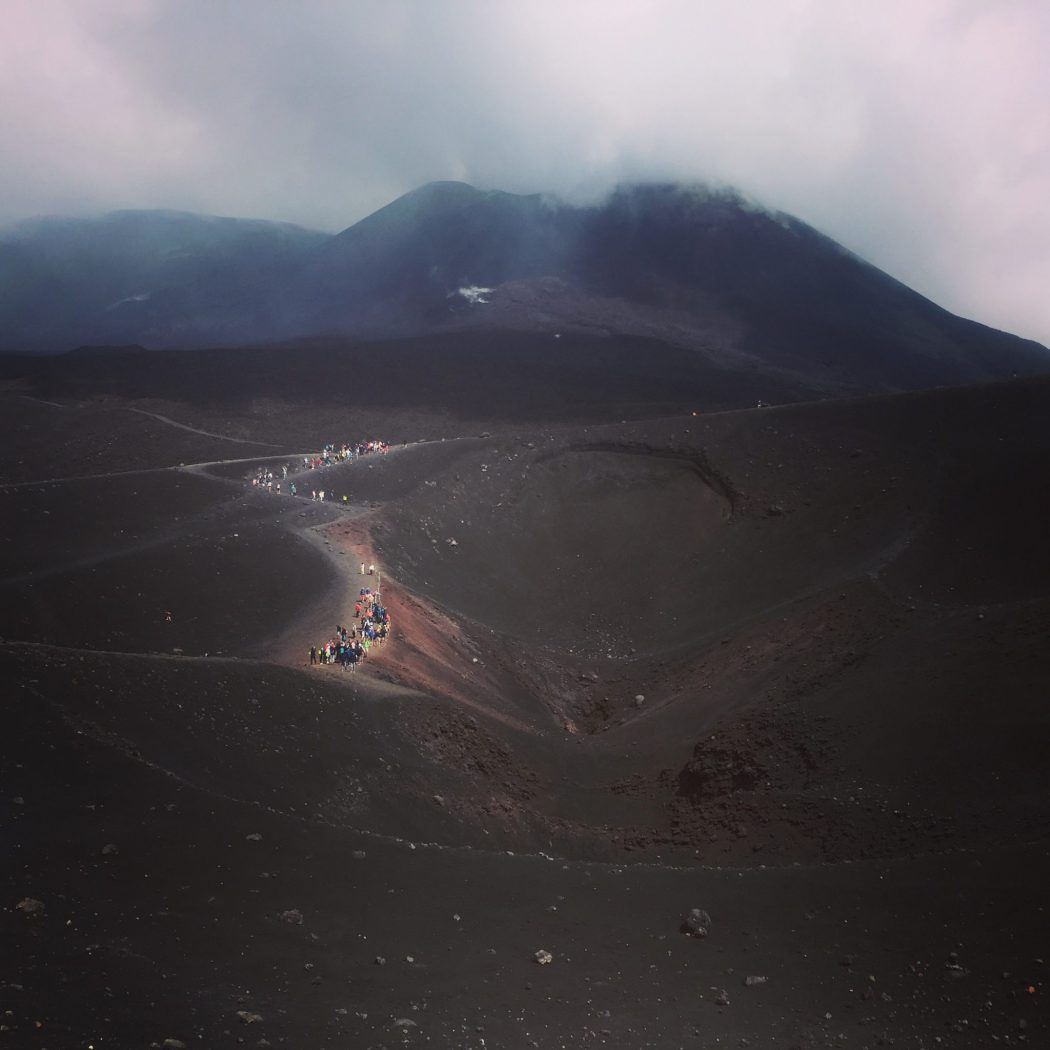 Mt Etna is quite stunning. The summit itself is an unusual and very photogenic landscape. There are also some fantastic views over Sicily.
The Mt Etna hike from the top is very light physically – just wear fairly sensible shoes. After checking out the summit you then head back down the same way. I was back at the main bus station in Taormina by mid-afternoon.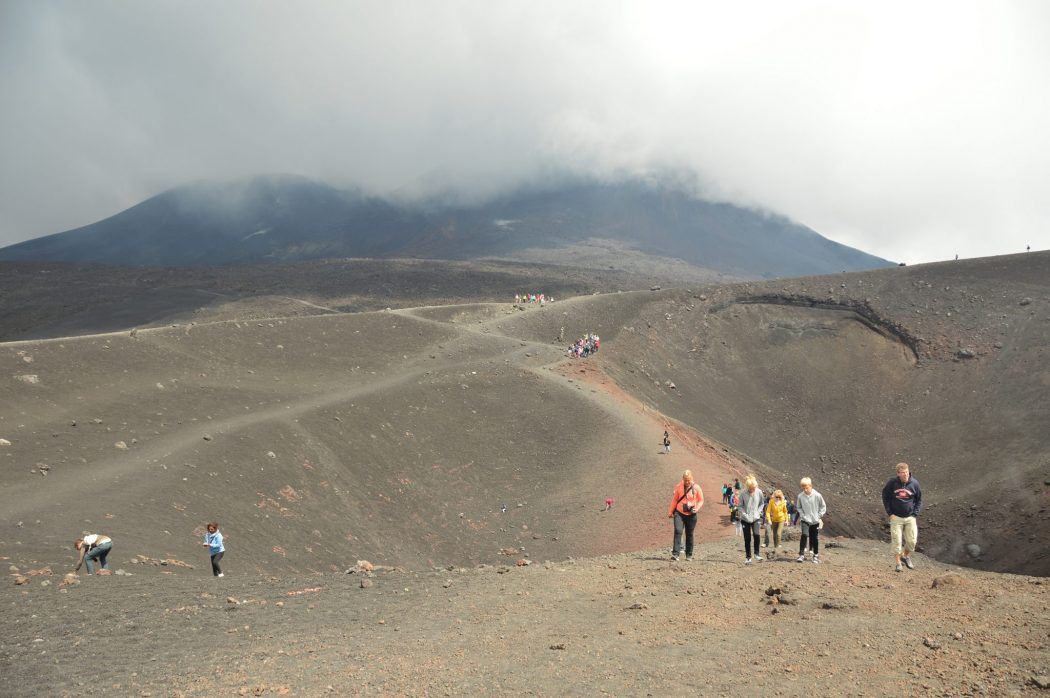 19. Stromboli, Sicily
The best way to experience the island of Stromboli in Sicily is to either stay on it or to take a boat trip from one of the other Aeolian islands. When I visited we were staying on Malfa. The boat trip prices for the Aeolian Islands weren't cheap but we were in a group of 4 so we could split things (was about 280 euros). When it comes to the best beaches in Sicily I was keen to see the black beaches of Stromboli.
We headed out mid-afternoon. Going to Stromboli means you get to sail past some of the other islands. We stopped on the coast of Stromboli Sicily and jumped off the boat into some of the loveliest clearest water I have ever swum in.
The boat took us to Stromboli about one hour before sunset. We saw its startling black beaches, the home of Dolce and Gabbana was pointed out to us (very important) and we got to have a wander around stromboli which is lovely. And of course, we had a cocktail before returning to the boat.
⇒ Another fantastic place to visit in Europe is Greece. Read all about Paxos Greece as well as the best Paxos restaurants and Paxos beaches. Or find out how to get from Santorini to Ios, the best things to do in Ios and a complete guide to Mylopotas Beach. And don't miss 11 Famous Greek Landmarks and my 10 Days in Greece Itinerary.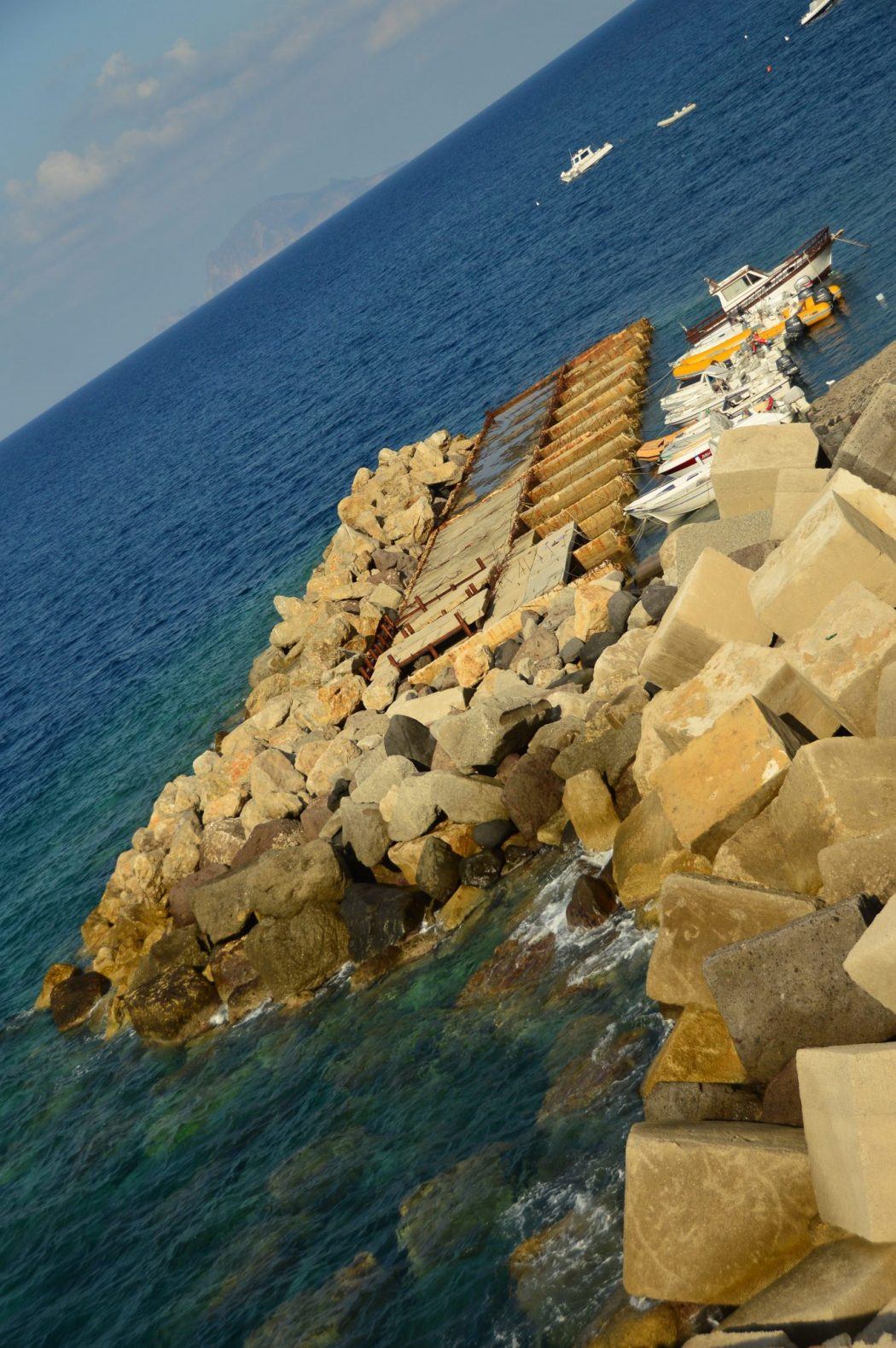 Once back on the boat dinner was served – very impressive to serve pasta on such a small boat. Oh, and of course we had some wine.
We then settled in to watch the volcano bubbling away. It was a bit difficult to see but we did see something.
As we visited the Aeolian Islands in August and it was very hot I had decided against climbing to the top of the volcano (there are many day trips that offer this from Salina). I was then quite jealous of the head torches I could see as we were in our boat.
If the weather was cooler I think this would be a great thing to do. When it comes to where to go in Sicily, Stromboli is one of the highlights.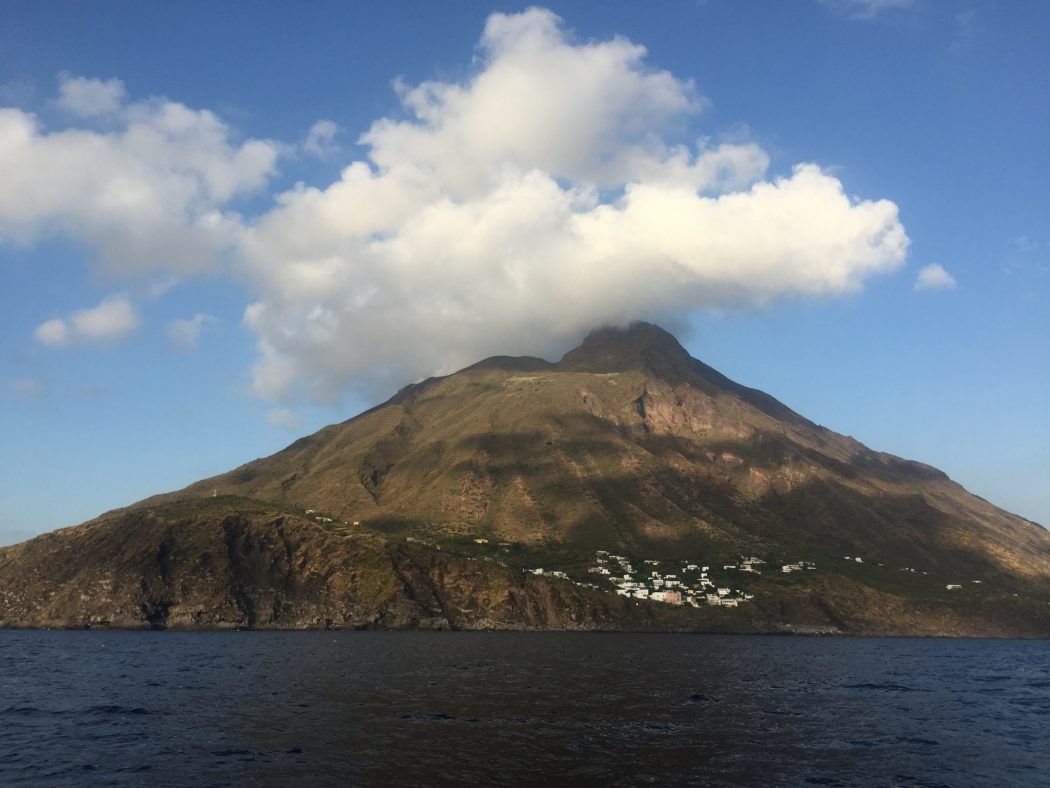 We were back in port and a quick stroll to the hotel by about 10 pm – a lovely lovely experience.
⇒ Book your Aeolian Islands Boat Trip
20. Castello Banfi Winery, Montalcino
Banfi was the first of the big wineries in Tuscany and the one that put the area of Montalcino and Montepulciano on the wine map. It is also a stunning building.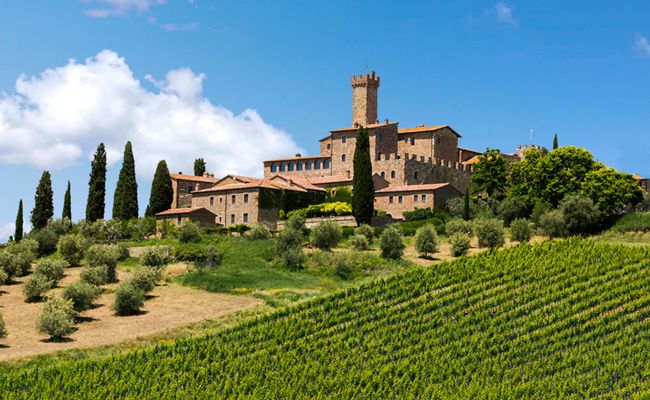 This is a big winery. Very big. But it still felt very personal. Pamela was on the entrance desk and we ended up chatting to her for quite some time.
We were then passed on to the fantastic Lisa for our actual tasting. I think we tasted at least seven wines – I did lose track a bit. I LOVED the chardonnay and the sparkling.
I know this region is supposed to be more about the reds and I very much enjoyed these as well but it was the whites that came home with me.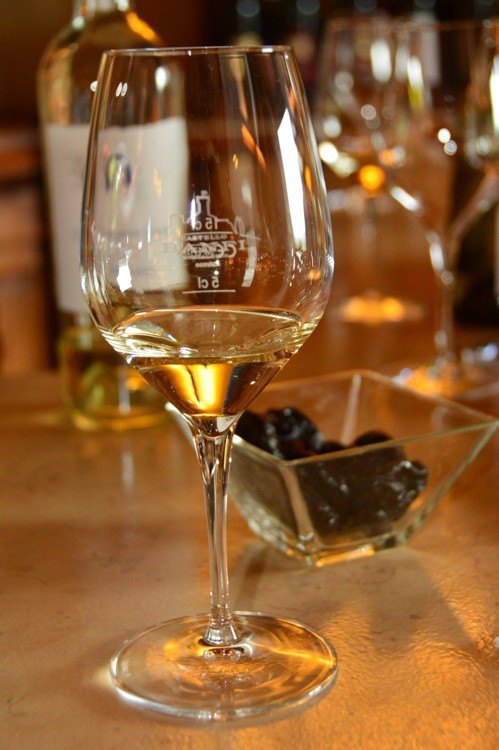 The main tasting room at Banfi is more like a hall and is just lovely. There are also all kinds of produce – olive oils, truffles, ceramics, bread – all the specialties of the region.
I particularly enjoyed the giant bottles – check out the 5 litre Brunellos.
Whilst wine tours etc can be conducted at Banfi it is possible to just turn up and taste as well.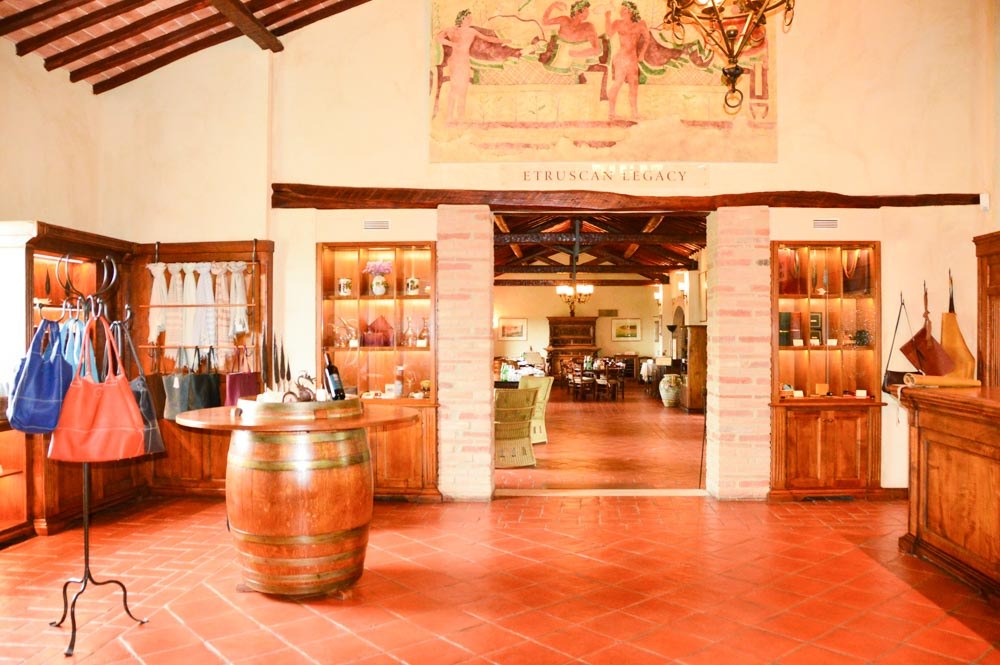 The winery has two restaurants. We visited the Banfi Taverna which was just stunning. It is the most gorgeous room and a wonderful mix of special and comfortable.
There was a tasting menu option but alas we were on a schedule. I enjoyed my first serving of the local Pici pasta with a wild boar ragu – sensational.
And despite our rather sad ordering of only one course, we were brought some very tasty amuse-bouche options. And of course, we had a bottle of wine.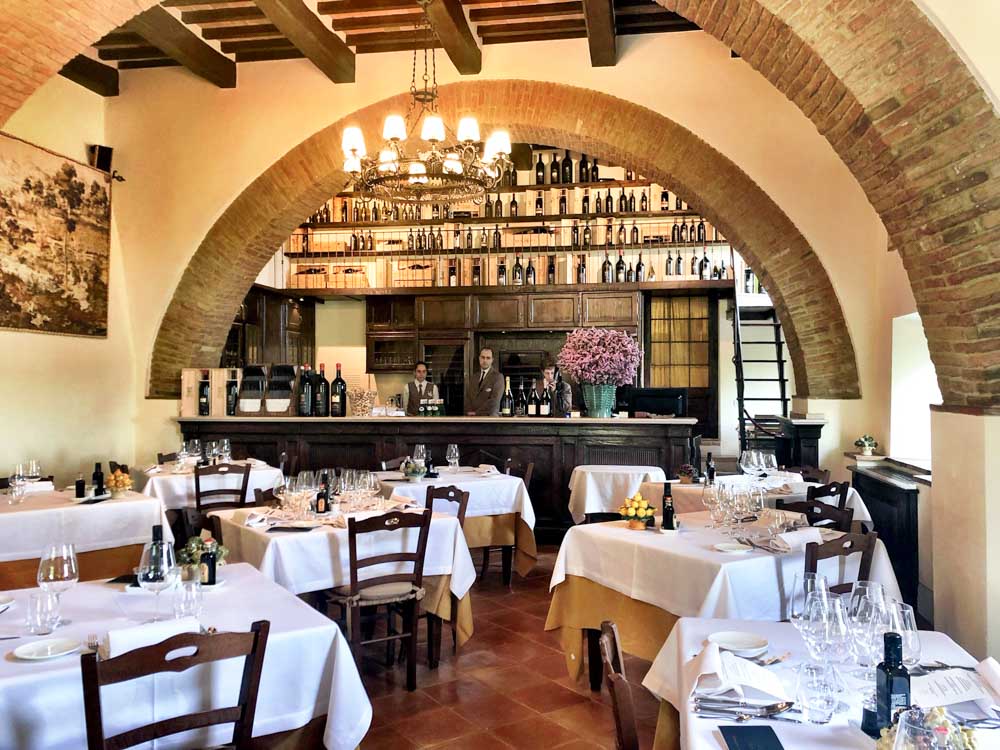 21. Ponte di Tiberio, Rimini
The Ponte di Tiberio was one of the highlights of my Rimini sightseeing. This beautiful bridge was constructed in 20 BC and is still in perfect condition.
Ponte di Tiberio Rimini sits at the end of the canal that runs from the beach to the Parco XXV Aprile.
This was one of my favourite Rimini images and a great thing to do in Rimini at night is to come and photograph the bridge when it is lit up.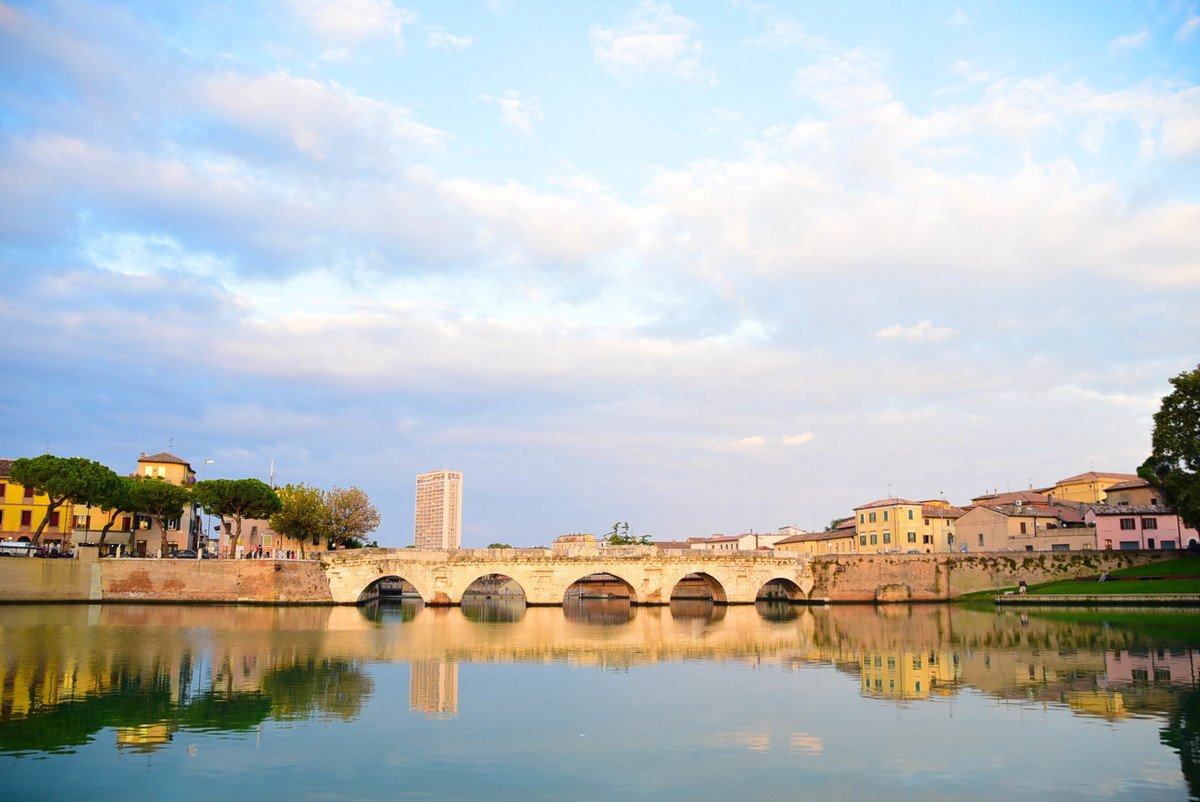 22. The Grand Hotel, Rimini
The Grand Hotel is 110 years old and was made world-famous in Fellini's 1973 film Amarcord. The hotel became an Italian national monument in 1994.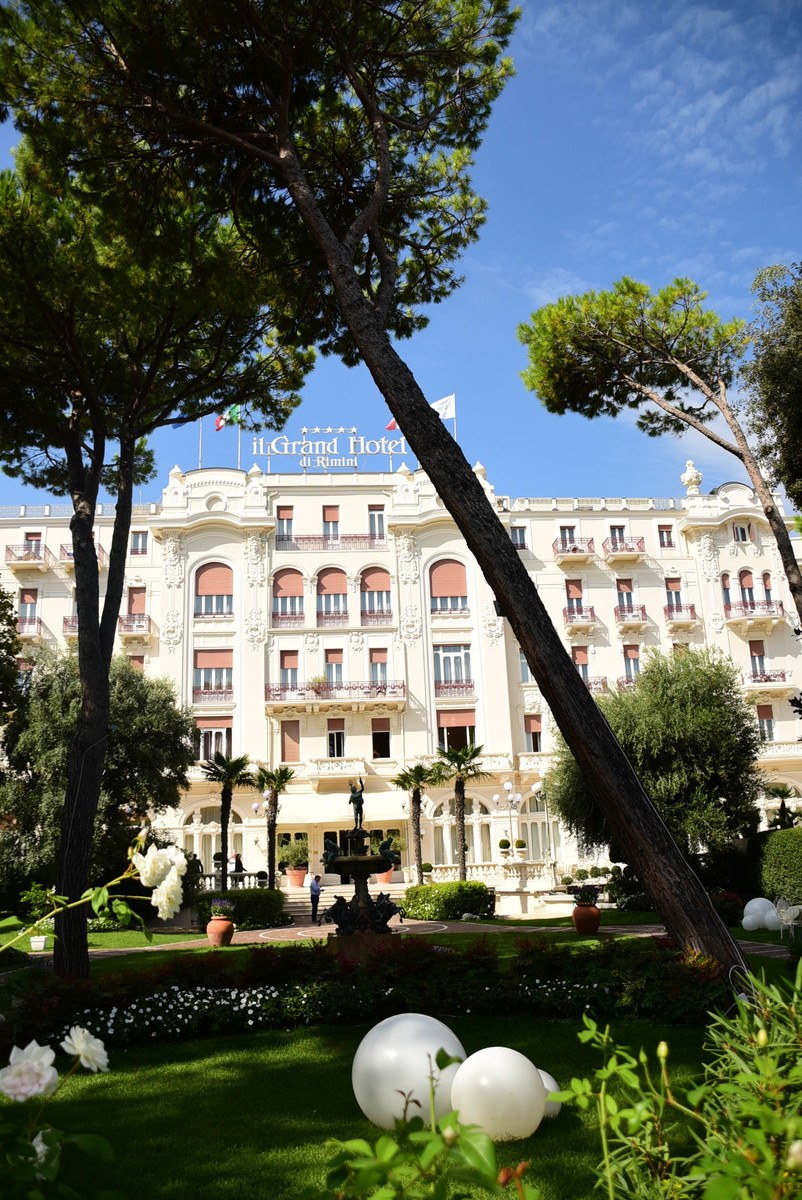 The Grand Hotel Rimini is still in stunning shape. I loved the old world glamour feel of this hotel.
Waiters in white jackets during the day, super high ceilings, decadent shops, old-world charm – the Rimini Grand Hotel is the best combination of stepping back in time and modernity.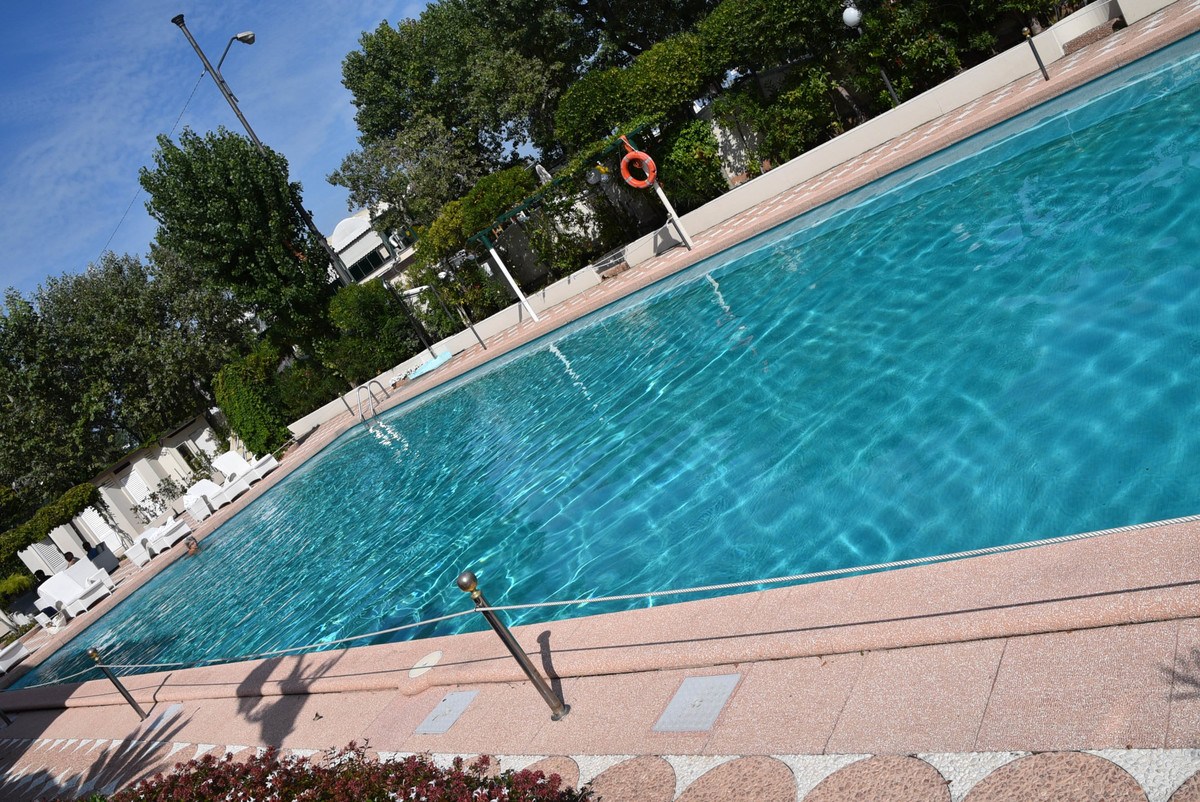 Whilst I wasn't lucky enough to stay at the Grand Hotel, I had a wonderful lunch here. We sat outside by the pool on a sunny day and enjoyed outstanding service and fantastic food.
Lunch began with the most beautiful buffet table of colourful finger foods. We were then served a delicious ricotta and spinach ravioli with a vegetable sauce as our main.
But perhaps best of all was a rather stunning Zuppa Inglese for dessert.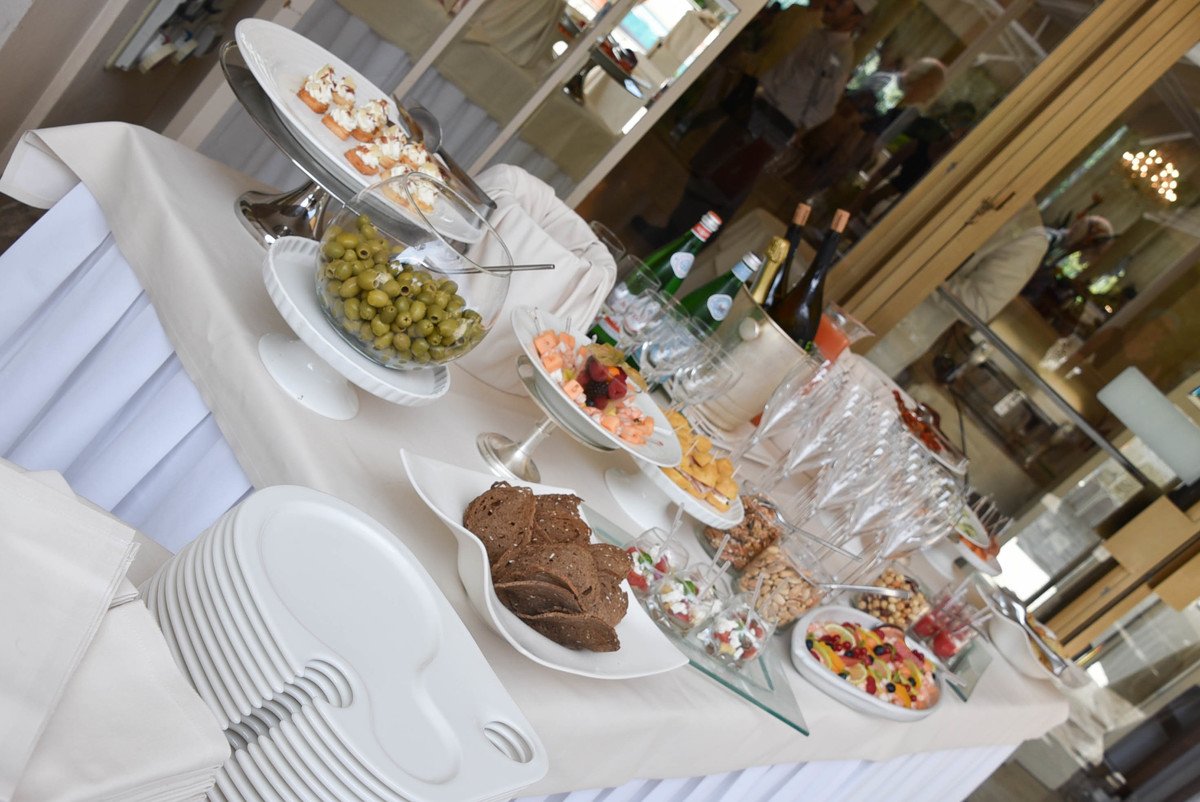 There are Instagram opportunities all over the Grand Hotel Rimini Italy including the beautifully prepared food. A visit here should be on the list for all Rimini holidays.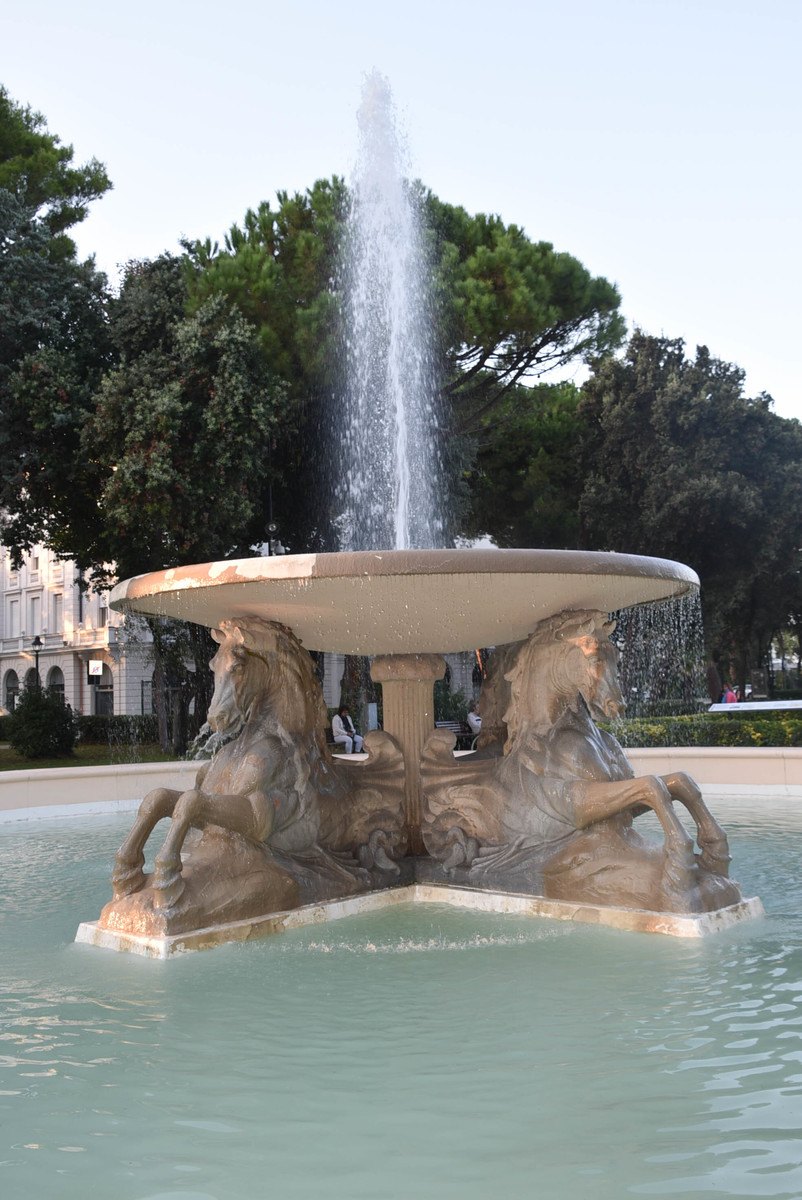 23. Casa Artusi cooking school, Emilia Romagna
Pellegrino Artusi (isn't that a fantastic name) was the father of modern Italian cookery. He was actually a businessman, not a chef.
However, he spent a lot of time touring around Italy for his work. At that time it was unusual for families to share their recipes – they were passed down to the next generation.
Artusi was the first person to convince the people of Italy to give him their recipes. And he then published them in the first-ever Italian national cookbook in 1891.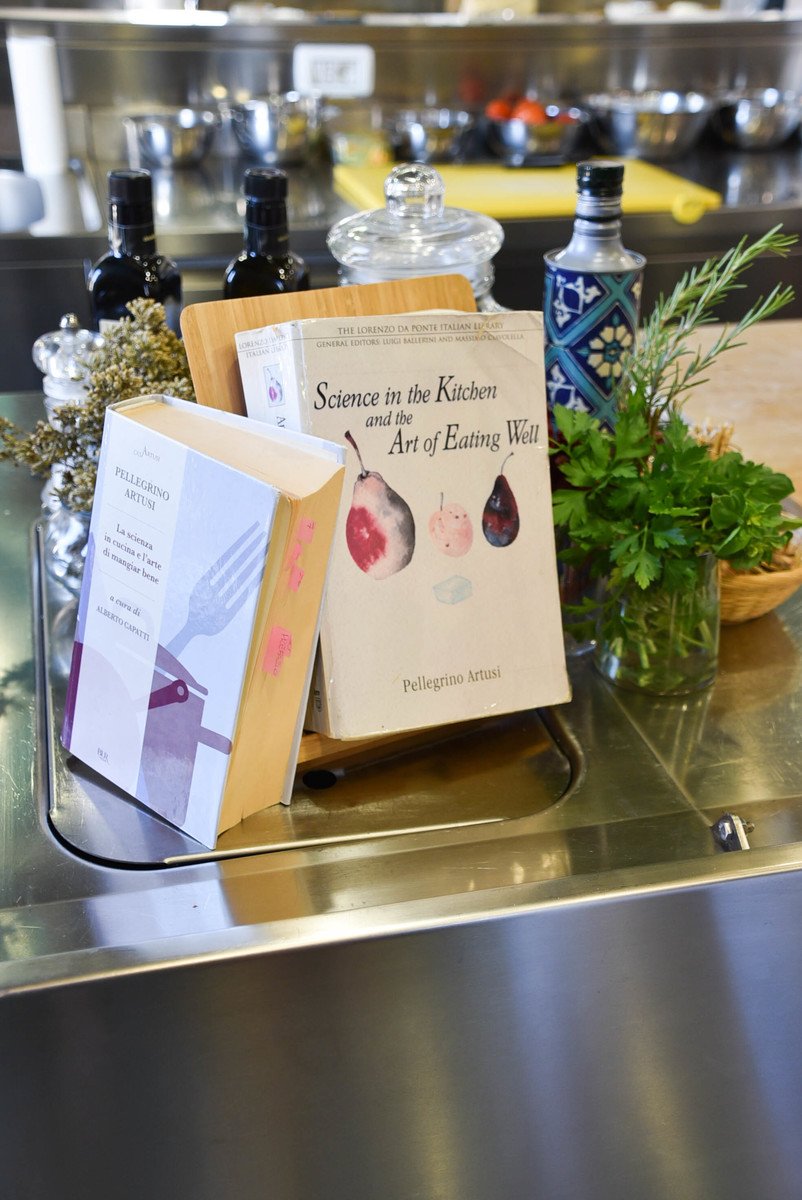 All of the Artusi recipes are numbered and by the time of the 15th edition had reached 790. The book has been translated into multiple languages and is still cited as a critical reference by today's top chefs.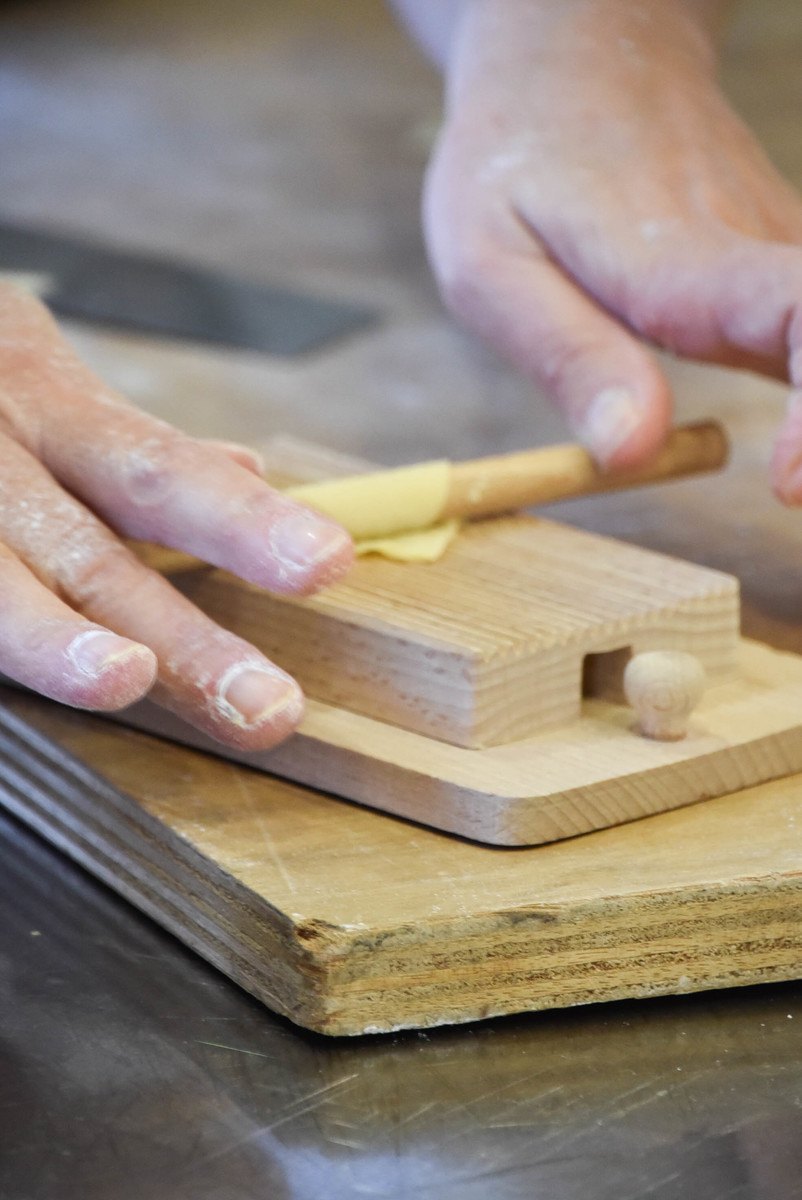 Artusi was born in Forlimpopoli in Emilia Romagna so it is the natural place for the house that now bears his name. Casa Artusi is a cooking school, a museum, an exhibitor of art and a restaurant (always serving the recipes of Artusi) and just a wonderful place.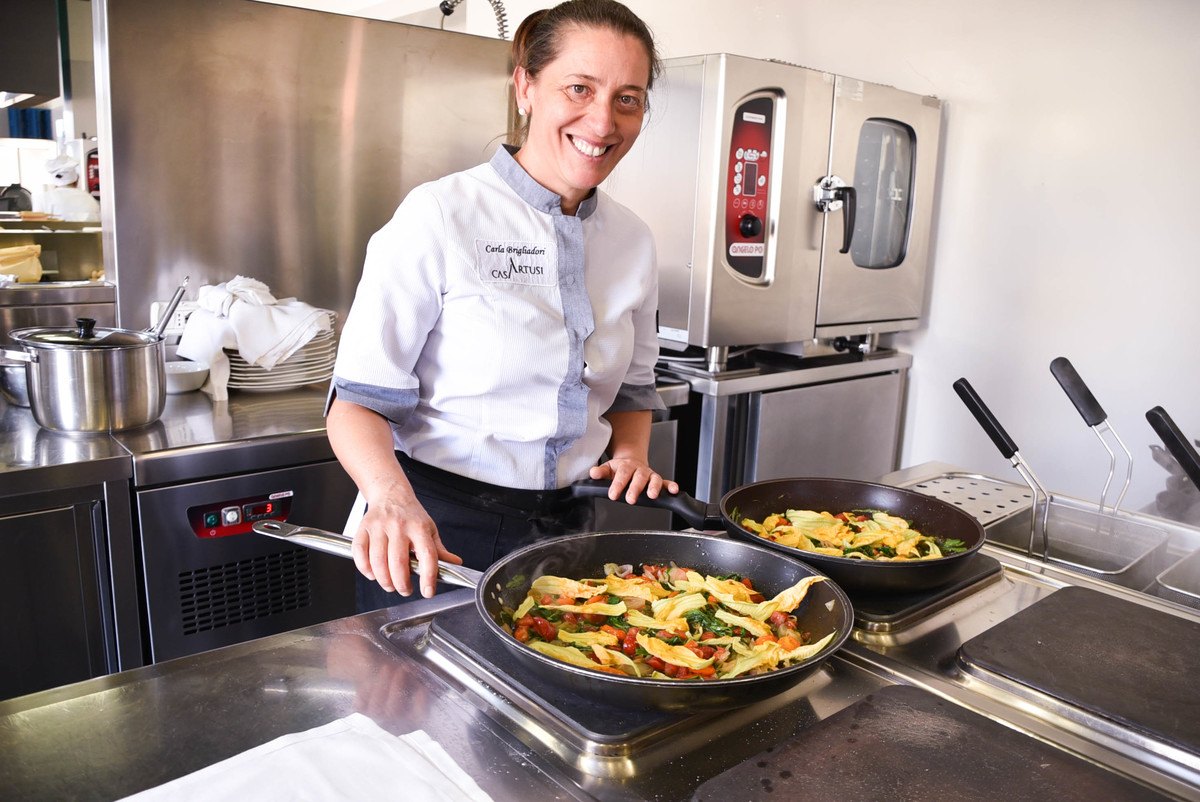 I took a cooking class at Casa Artusi Forlimpopoli and it was a fantastic experience. Not only were we shown how to make pasta by a top chef we were then able to make pasta ourselves with the assistance of the Marietta's.
Pellegrino's collaborator was called Marietta. That name is now given to all the local men and women who now contribute their time to help to teach people like me to learn how to make pasta at Casa Artusi Italy.
For me, having a Marietta showing me the ropes very much added to the total experience.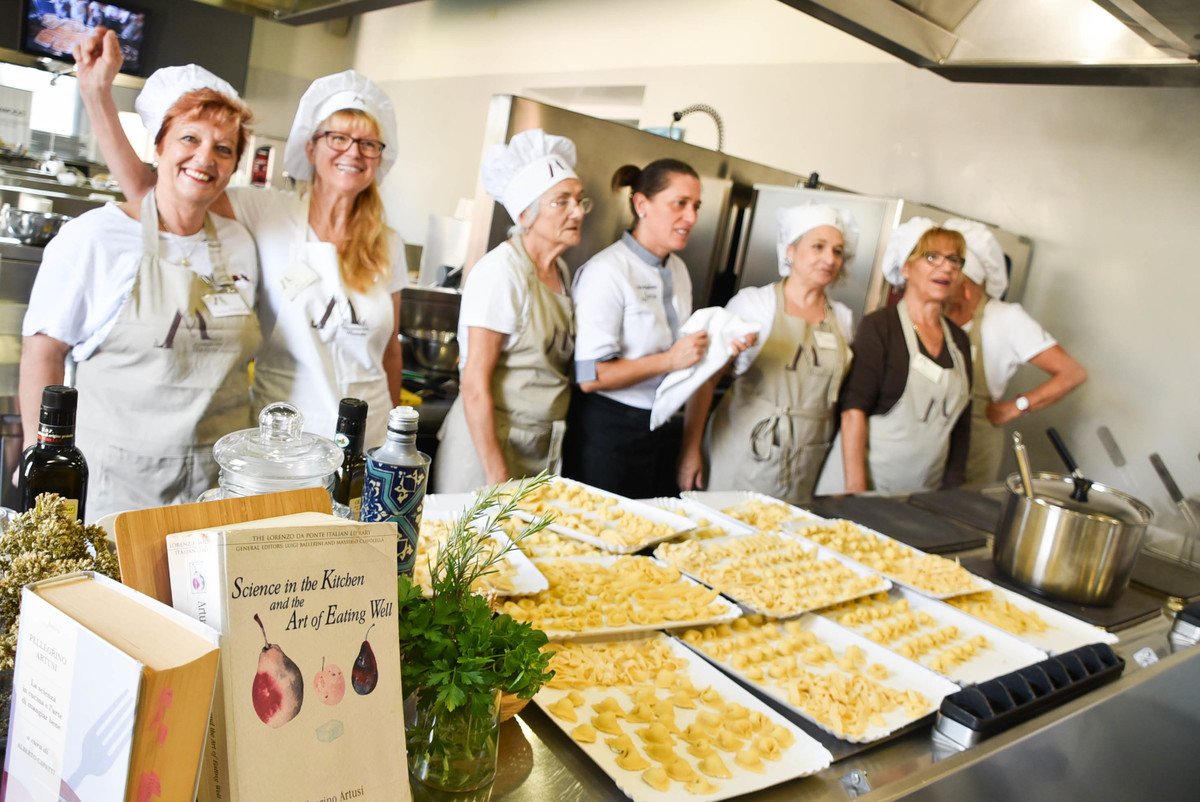 After making several different types of pasta, we were escorted to a beautiful room in Casa Artusi to enjoy the fruits of our labor.
We enjoyed some fantastic local wines with our tortellini with zucchini flowers, shallots, and tomatoes. This was followed by tagliatelle with the most amazing tomato sauce.
As if that wasn't enough we then moved on to black pig salami and more meats and grilled vegetables.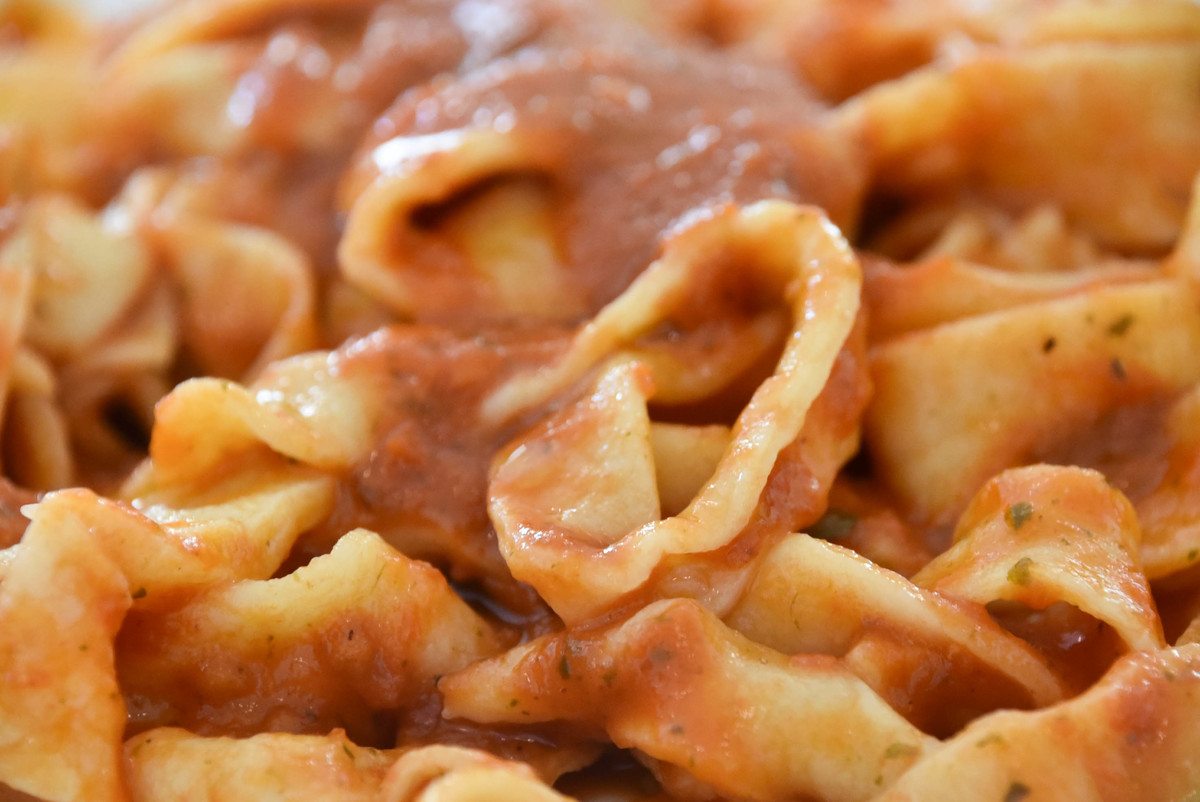 ⇒ Travel Expert Tip 1: Do make sure that you book ahead to learn to make pasta or to enjoy a meal at Casa Artusi – it is very popular.
⇒ Travel Expert Tip 2: If you can't fit Casa Artusi into your schedule there are loads of cooking class opportunities in Rimini as well as food tours and all other foodie things you can think of.
Book your Rimini food experience here.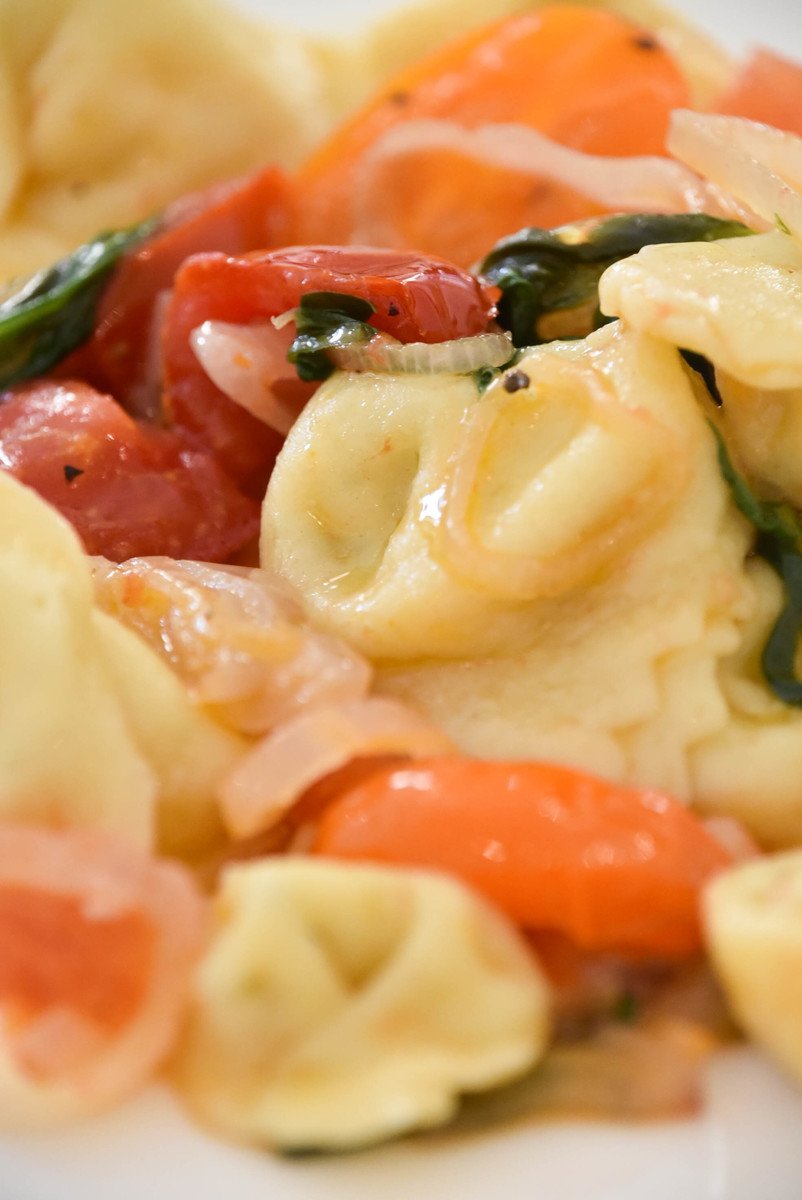 24. The Republic of San Marino
San Marino is the oldest republic in the world and it has never been taken over by anyone. This small country of just 61 square kilometres sits on top of a hill and overlooks the Italian countryside.
San Marino is home to just 30,000 people but has its own police, its own schools and it doesn't belong to the European Union.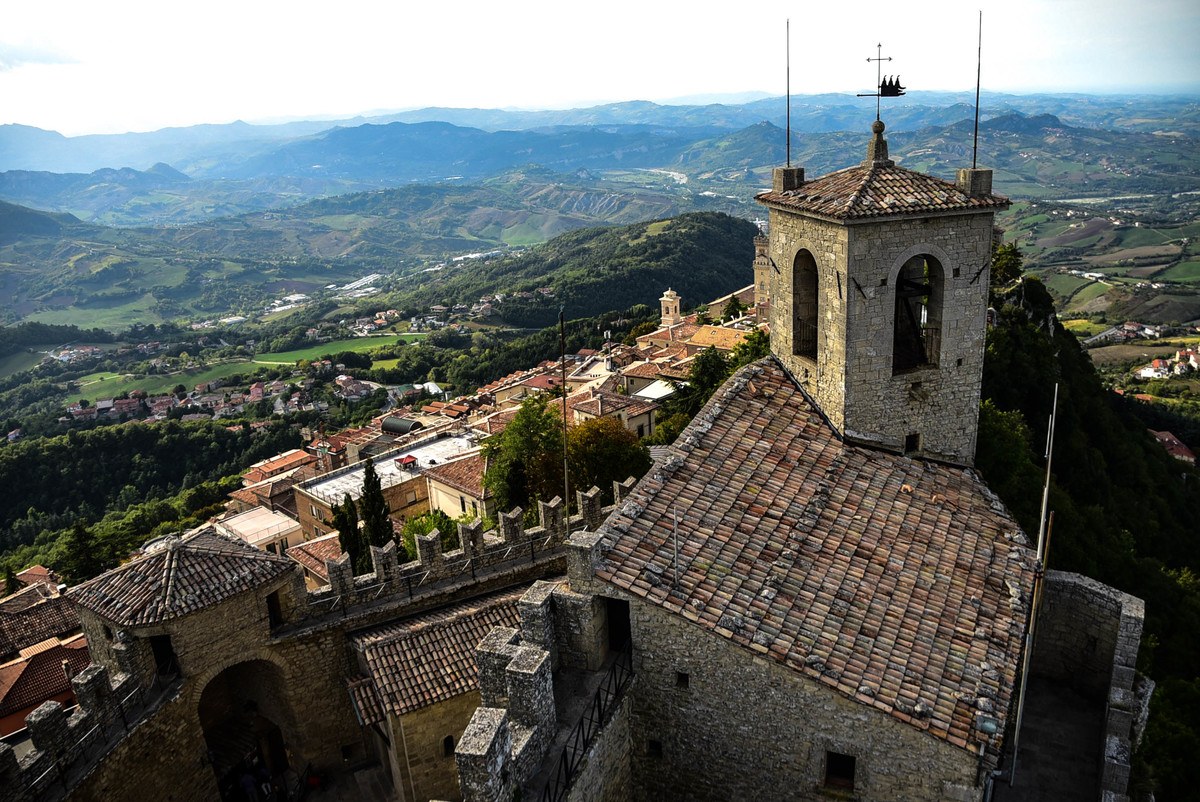 Taxes are lower in San Marino but it is not a tax haven as it is literally impossible to buy your way into the republic. Only citizens of San Marino can rent a house let alone buy one.
Everyone in San Marino has a job and they have 2 presidents at any given time. And the people in these roles change every 6 months.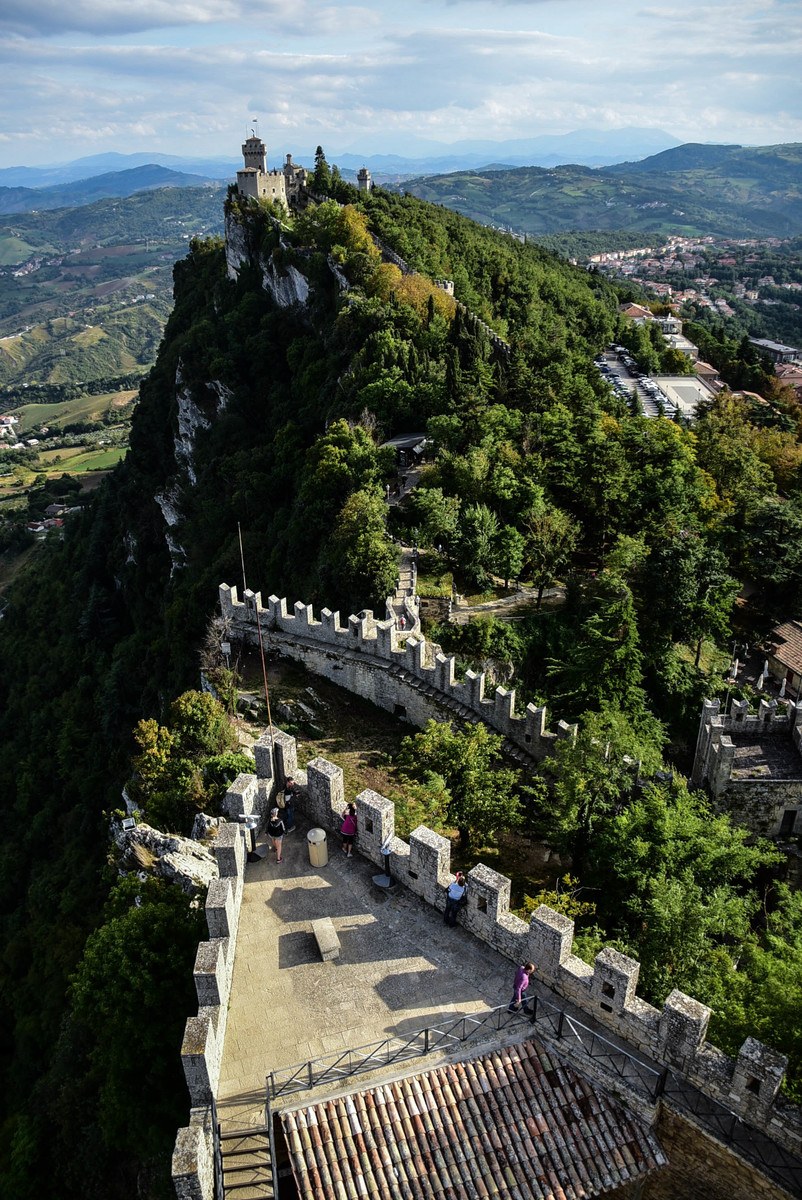 In addition to all of these interesting facts, it is also rather beautiful and there are loads of things to do in San Marino that are very Instagram friendly.
A hilltop town in Italy is always going to be at least a base level of photogenic. San Marino then has multiple sculptures, is mostly pedestrianized with lovely paved streets, excellent use of flowers throughout the country and amazing views everywhere.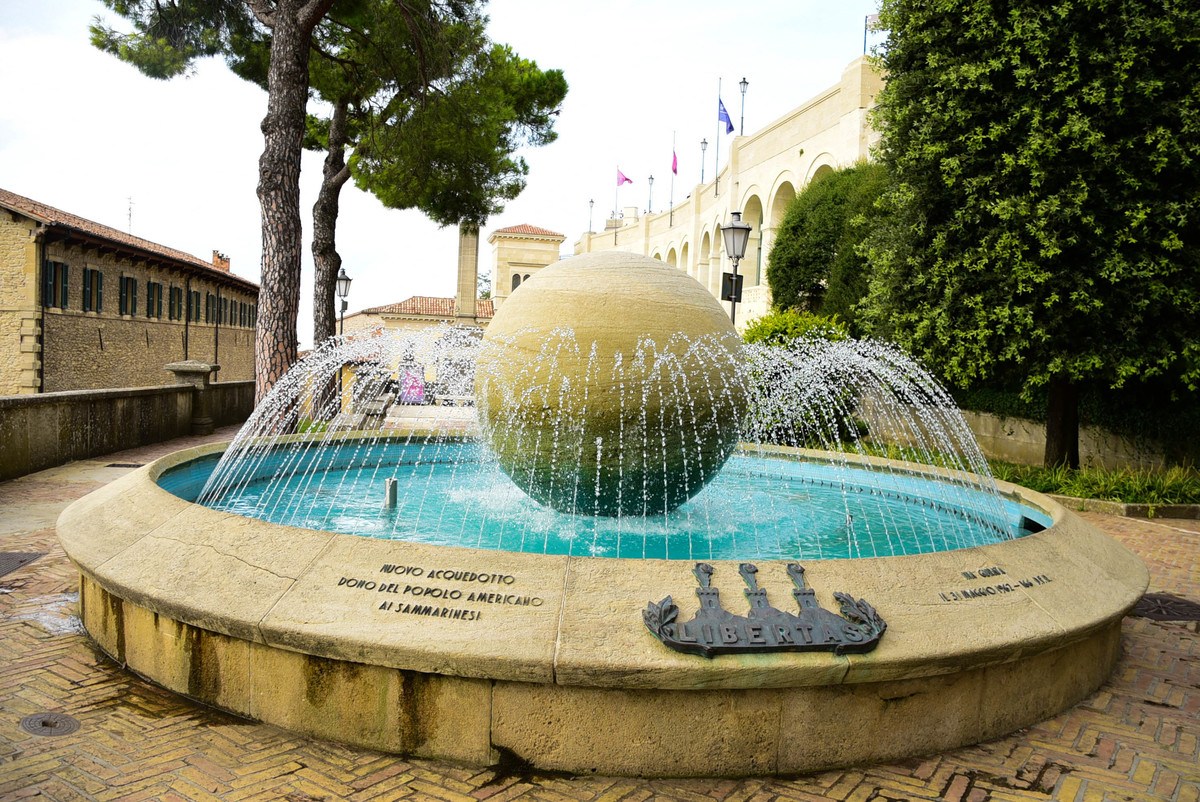 The highlight of San Marino is walking to the very top of the country and its famous three towers which date back to the 11th century.
Two of the towers were still used as prisons up to the 1960s. It is possible to visit 2 of the 3 SanMarino towers and climb high inside (don't if you don't like heights as one involves a ladder) and get some amazing views of both San Marino and the surrounding Italian countryside.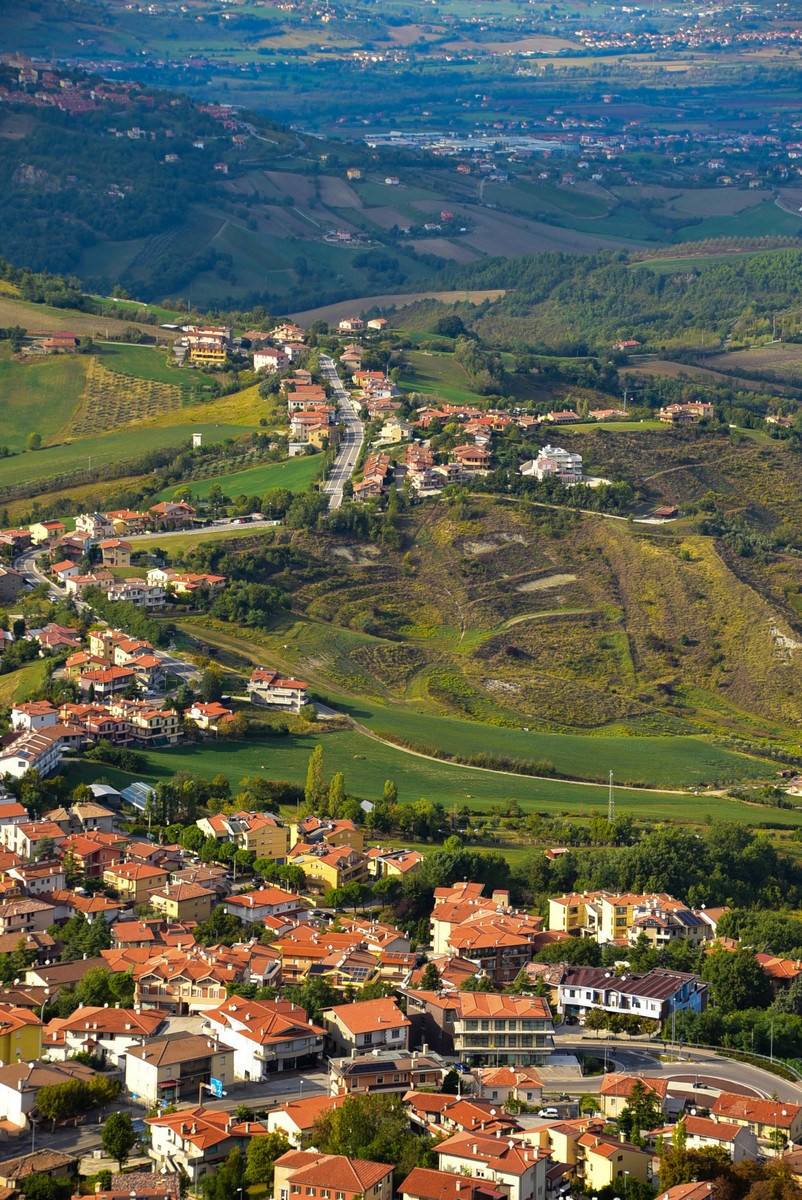 Another way to get some fantastic views of the Italian countryside is to take the compact San Marino funicular. The funicular will bring you up into the main square of San Marino.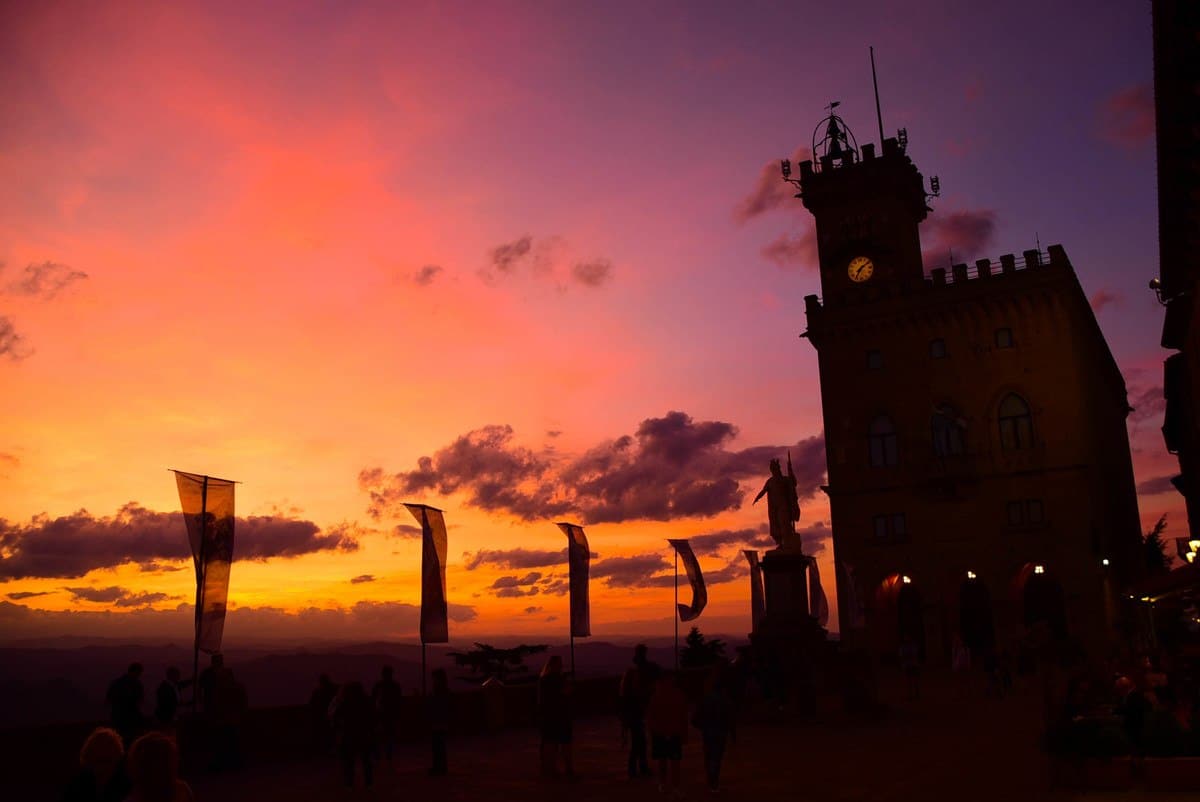 Time For A Trip To Italy?
Italy is a country of culture and history, and its famous landmarks certainly reflect this. These eight monuments are just the tip of the iceberg, but once you've seen them, you'll likely find yourself wanting to see more and more of Italy.
So what are you waiting for? Pack your bags and hop on the next flight to see some of the most famous landmarks in Italy.
Who Paid for What in this Post?
This famous landmarks in Italy post includes affiliate links. That means if you click through and end up making a purchase I will receive a small commission. I wanted to make sure you were aware of this.