California is a mesmerising state on the USA's west coast. It's well known for its sunny weather, incredible wine, and spectacular national parks such as Yosemite. However, California also boasts panoramic sunsets.
With fabulous beaches, hip rooftop bars, and countless hills and mountains, there are plenty of spots to watch sunsets in California. Now, whether you're a local or traveller, you'll want to know when and where you should go to get a glimpse of the golden hour rays of sunsets in California.
Below you'll find everything you need to know about California sunset times and a list of the top places to go.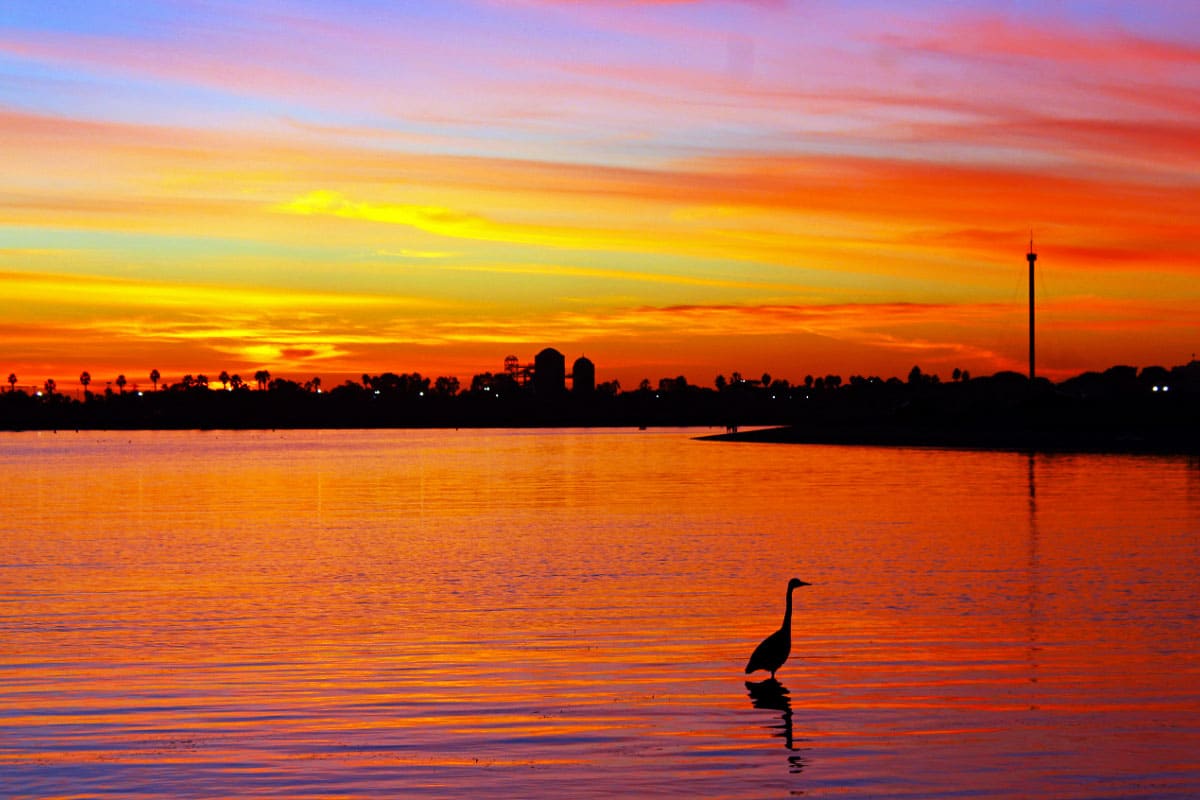 Sunsets in California: Where Do they Happen?
In general, the sun rises in the east and sets in the west. However, the exact direction may vary based on how close you're located to the equator as well as the time of year.
If you are situated a bit further north or if it's summer, the sun may set a bit more towards the south-west.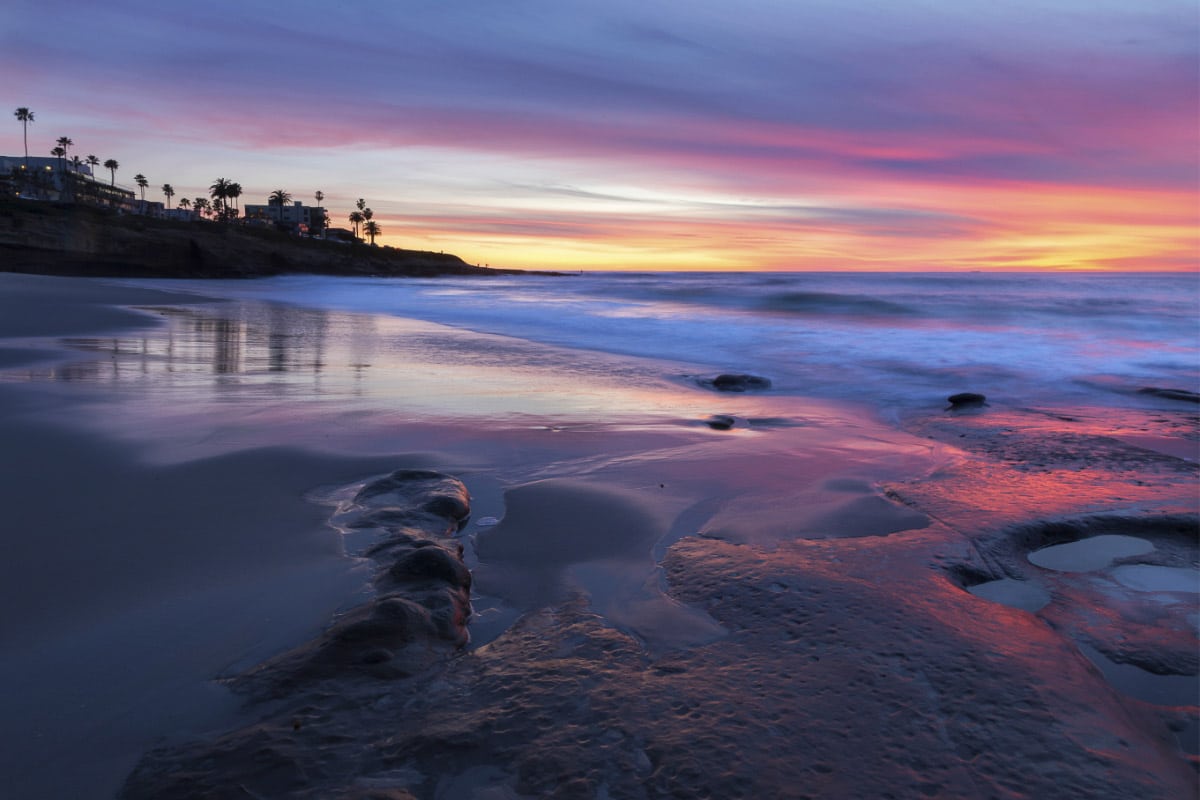 What Time Does the Sunset in California?
The exact time of the sunset will differ by 5 to 10 minutes, depending on whether you're further north or south. In general, the sun will set a couple of minutes earlier in San Diego compared to San Francisco.
The sun will also set much earlier in the winter than in summer. Here is a general guide to sunset times based on the time of year according to San Louis Obispo (which is located in the middle of the California coastline.
January – 17:10
February – 17:40
March – 18:05
April – 19:30
May – 19:55
June – 20:15
July – 20:20
August – 19:55
September – 19:15
October – 18:30
November – 17:00
December – 16:50
Do remember that these are just estimates, so you'll want to check out the exact time of the sunset on the day you're planning to go.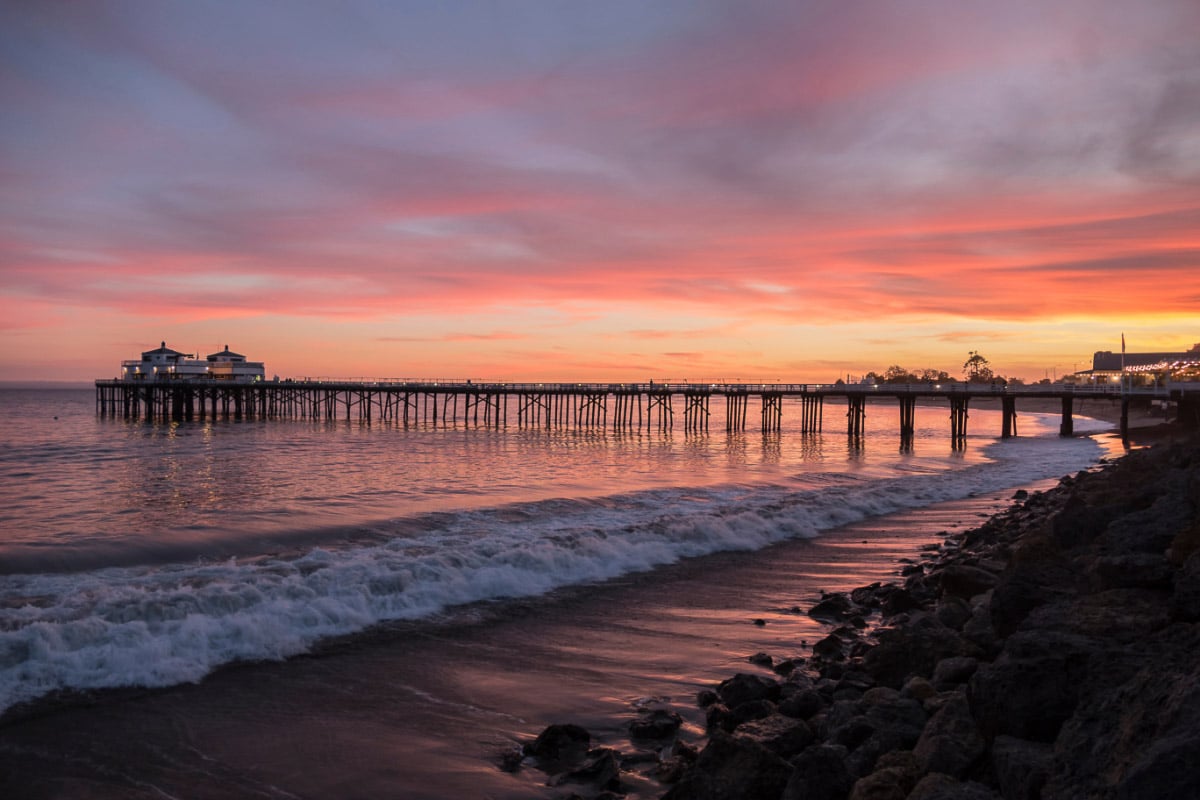 Best 10 Places to Watch a California Sunset
If you think you'll see the same sunset no matter where you are, you're wrong. Evening can be vastly different depending on whether you're in a big city or at the beach.
The following California sunset spots have been carefully chosen based on location and how great the sunsets there are.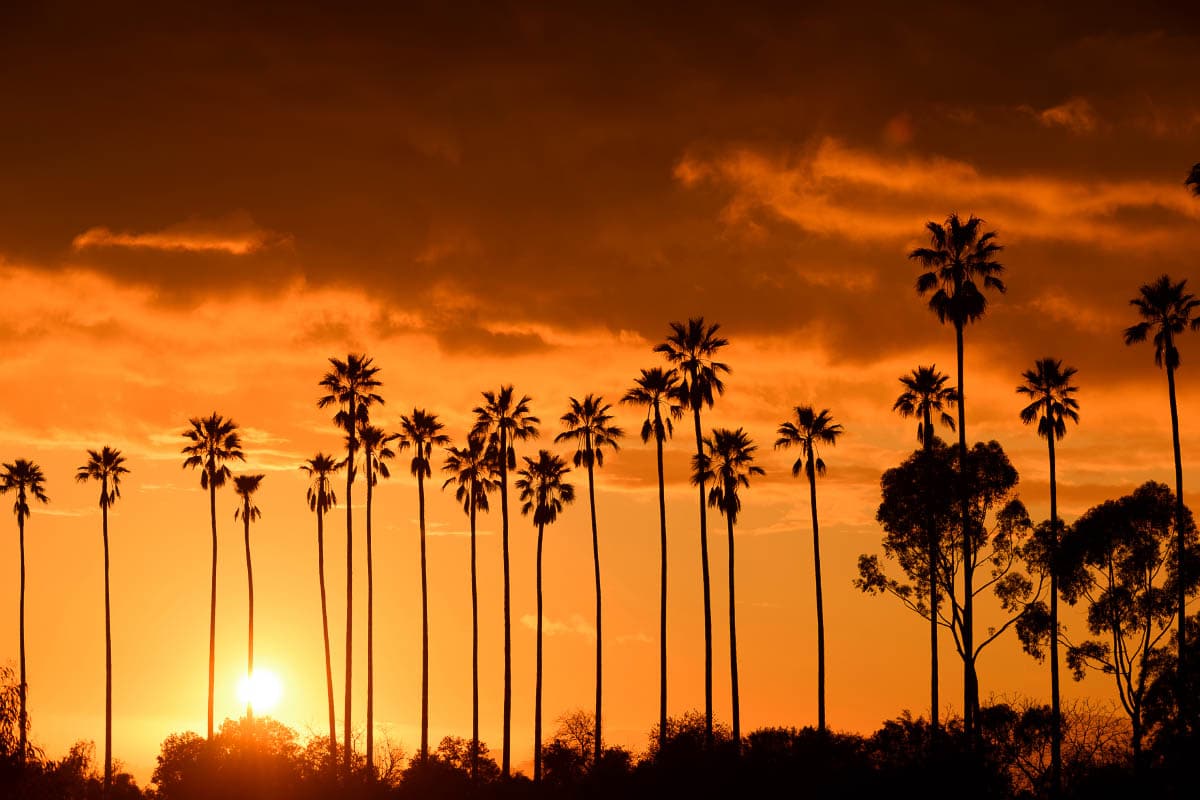 1. Dillon Beach, Bagoda Bay
Dillon Beach in Bagoda Bay is the ideal spot if you're looking for a relaxing sunset view. This stretch of California coast is privately owned, so it's usually only busy over the weekend and holidays.
Its private ownership does, however, mean that it will cost a small fee for you to access the beach.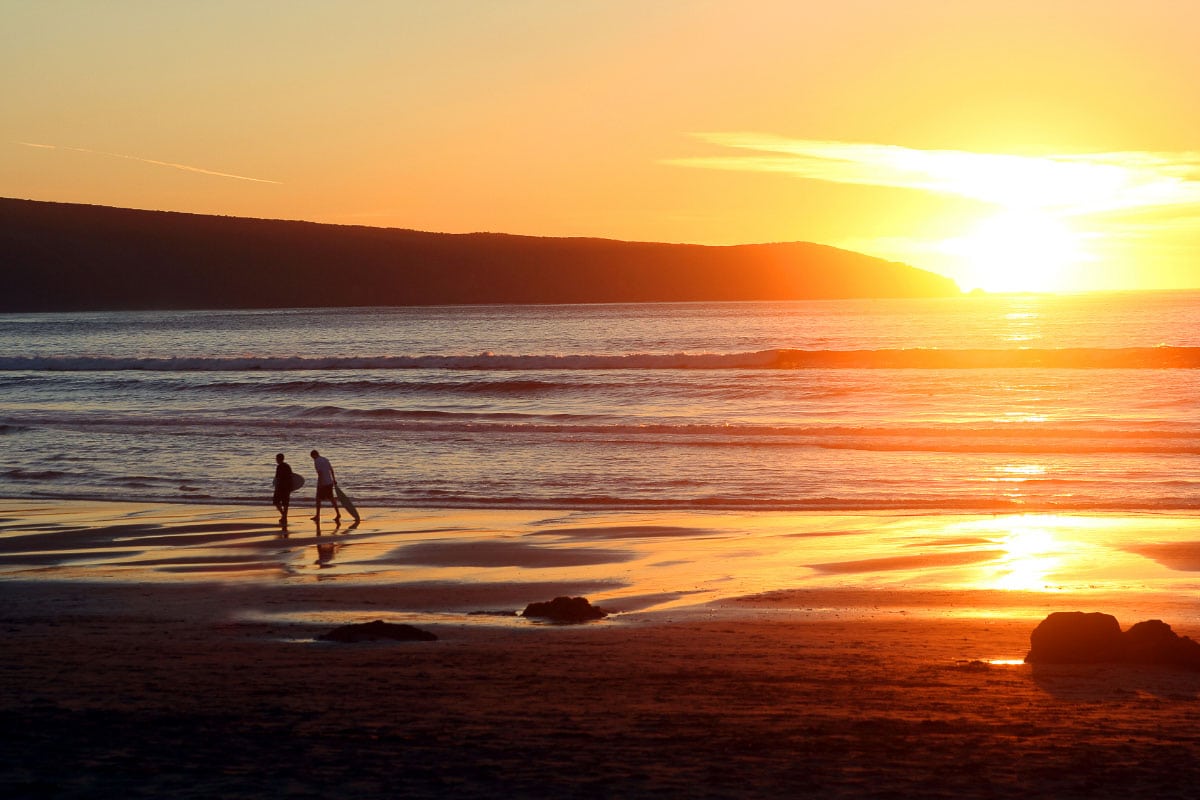 Dillion Beach faces west, so it's perfectly positioned for a gorgeous sunset. From the shore, you'll also have a view of the Point Reyes Peninsula, which adds to the view.
During a beautiful beach sunset here, you'll get to laze on the sand and watch the surfers ride the waves. It's a great place for a sunset picnic and some California wine.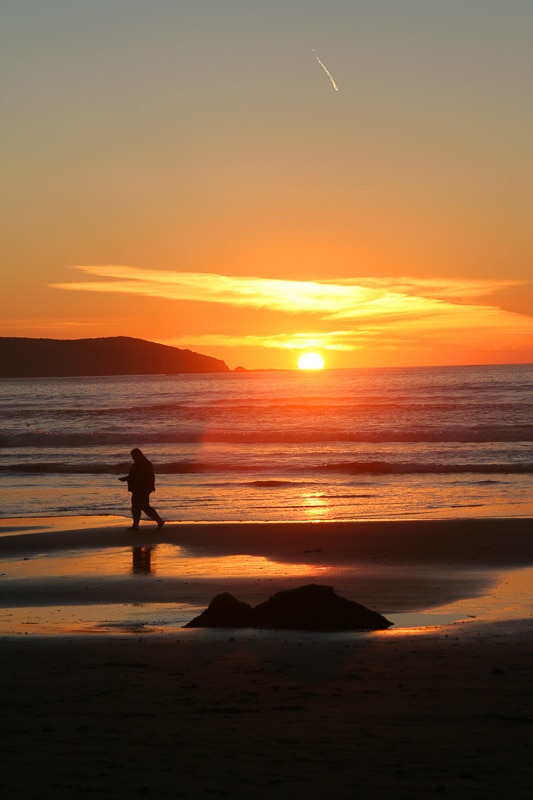 2. Natural Bridges State Beach, Santa Cruz
This beach was given its name due to the natural arch in the huge rock just off the shore. At sundown, you'll get to watch the waves crash through the arch as the golden rays of the sun create a halo around the rock formation.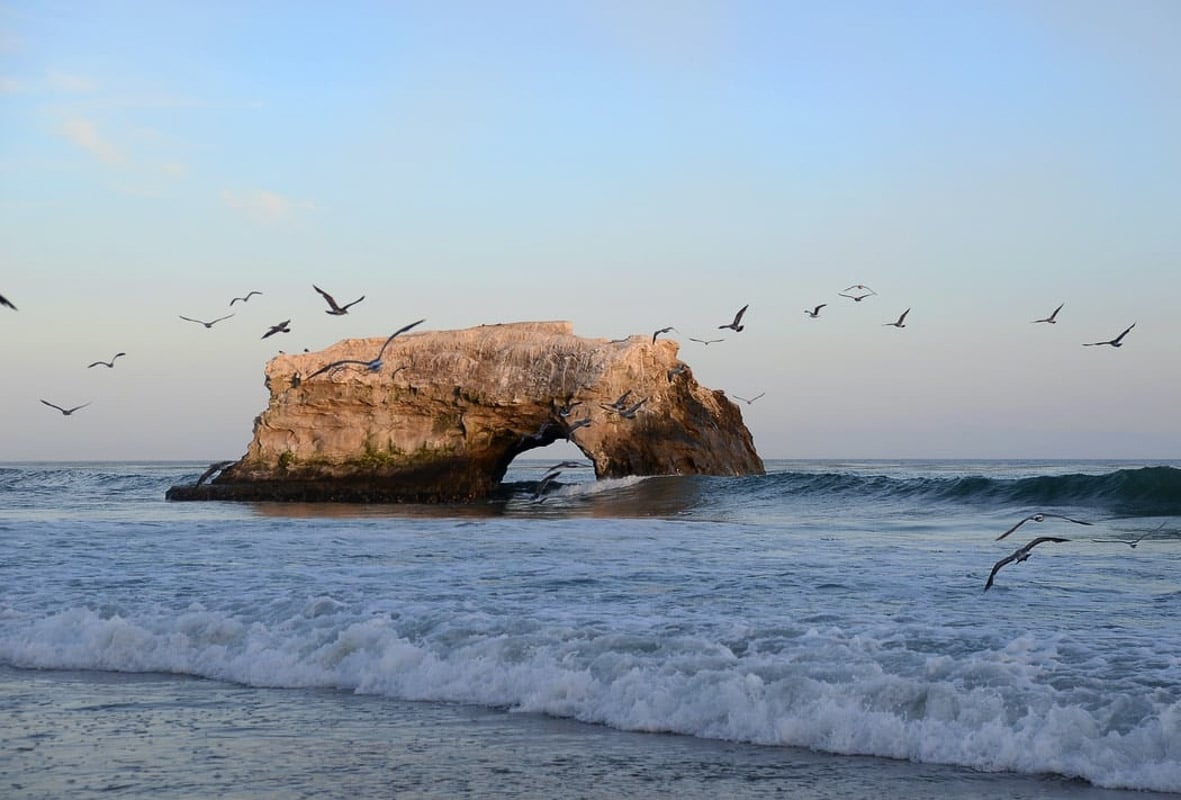 This site has led to this pretty beach sunset being one of the most photographed in California. This large stretch of beach is also great for children – so it's a perfect family sunset spot too.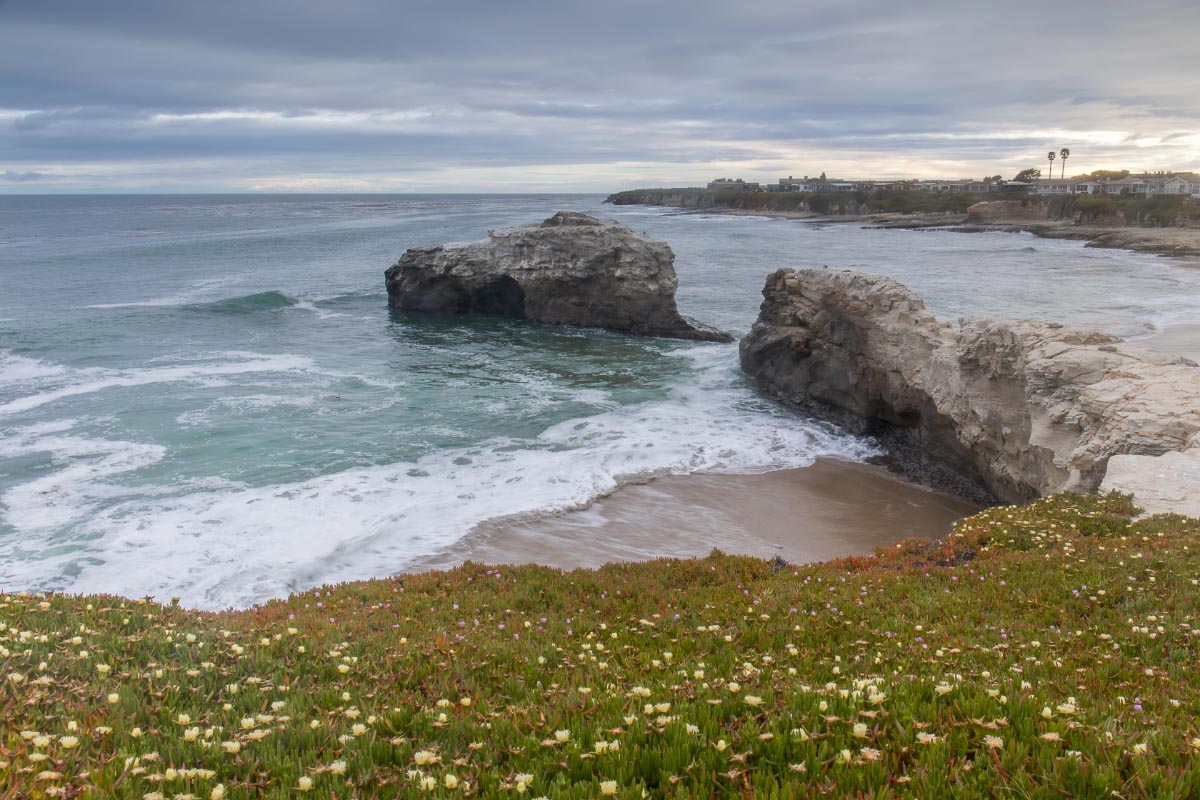 3. Pfeiffer Beach, Big Sur
Hidden along the Big Sur coastal region, this beach has one of the best sunsets in California. You can reach this sunset beach spot via Highway 1 – just keep a lookout for the Sycamore Canyon Road south of Big Sur Station.
This sunset spot's greatest attraction is the keyhole – a perfect hole formed by an arch in the huge rock just off the shore. At the right time of year, the rays of the setting sun can be captured shining through this arch.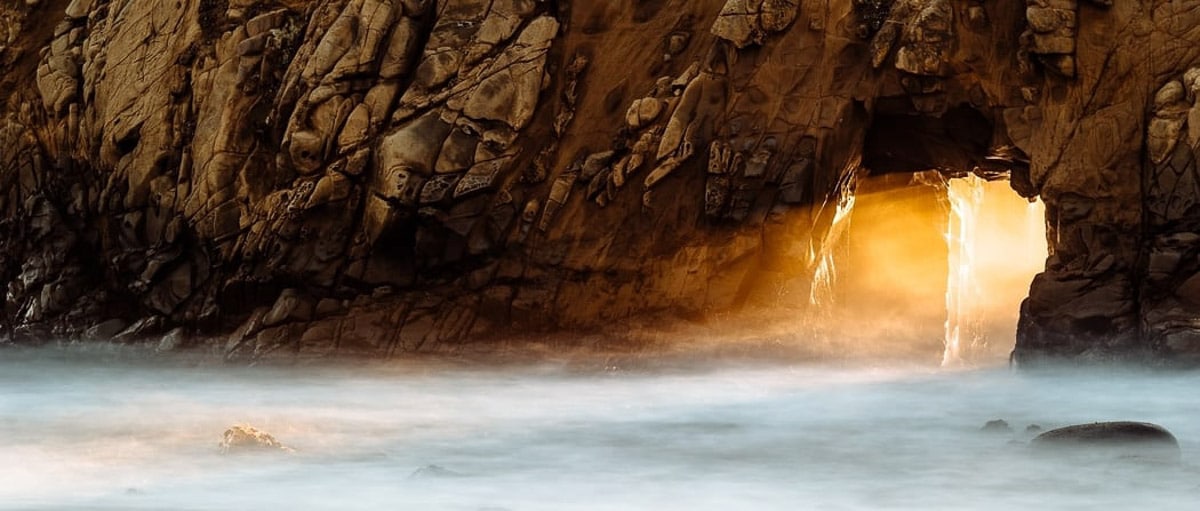 Pfeiffer Beach is also known for its beautifully coloured sand in the northern section of the beach. Over the years, Manganese garnet (a purple coloured gemstone) in the surrounding cliffs has filtered down and given the sand a stunning purple hue.
This, combined with the sky's changing colours, makes for a spectacular California sunset on the beach.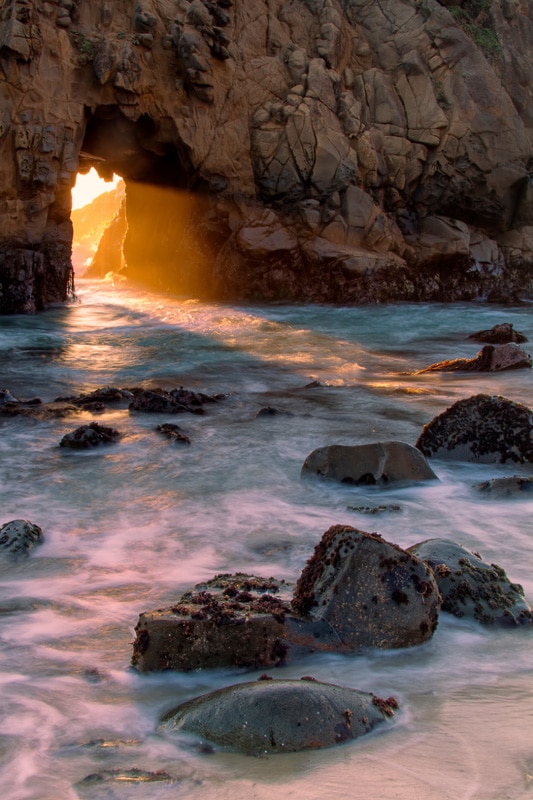 ⇒ Looking for some travel inspiration? Check out my posts on the 15 North America Landmarks, Top Ten Famous Landmarks in the US, 11 Beautiful Canada Landmarks and the 20 Most Beautiful Cities in United States.
4. Twin Peaks Boulevard, San Francisco
If you're looking for a bit of a different sunset view, then Twin Peaks Boulevard is just the place you're looking for. Sitting at 925 feet above sea level, this sunset spot offers sweeping views of the city below as well as the pacific ocean beyond.
On crystal clear nights, you'll be able to see as far as San Jose.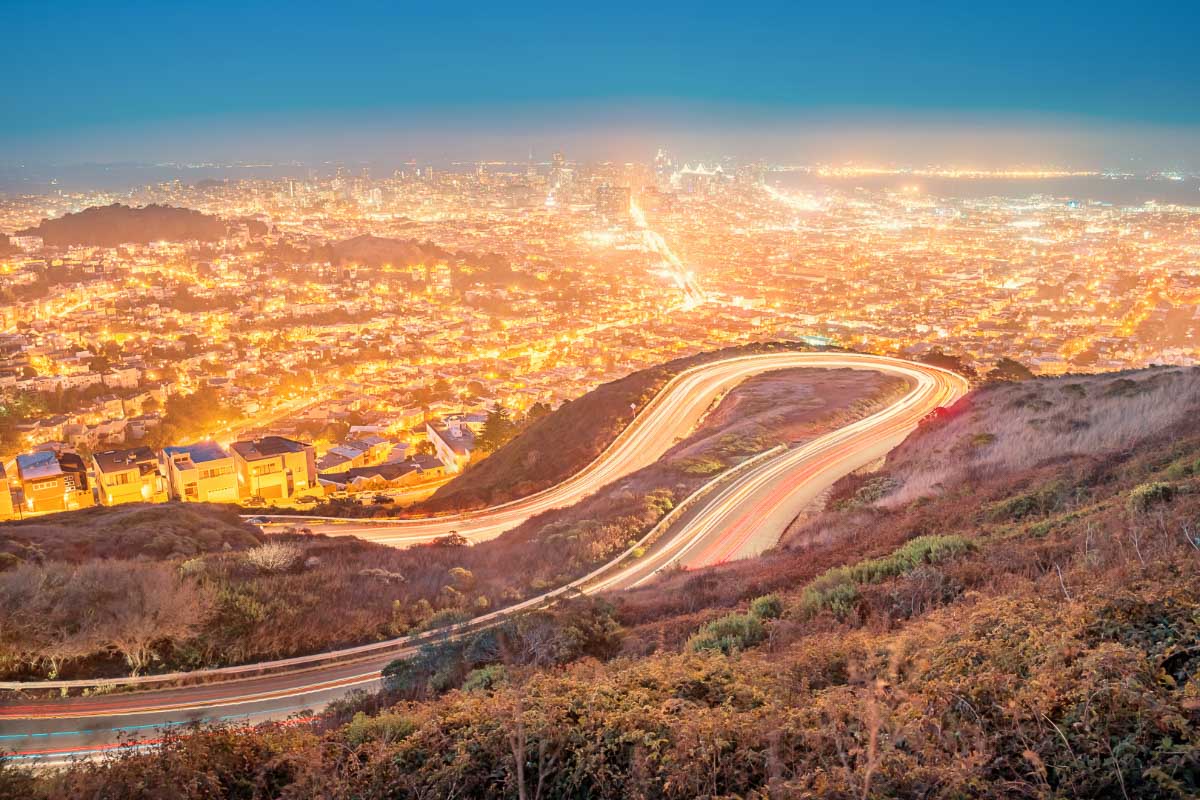 So, as the sun dips below the horizon and the sky changes from vivid colours to a dark blue, you'll be able to watch the lights of the city flicker on. After watching this particularly unique sunset, you can head down into the city for dinner at one of San Francisco's unique restaurants.
Another unique way to experience a San Francisco sunset is by taking a sunset flight tour.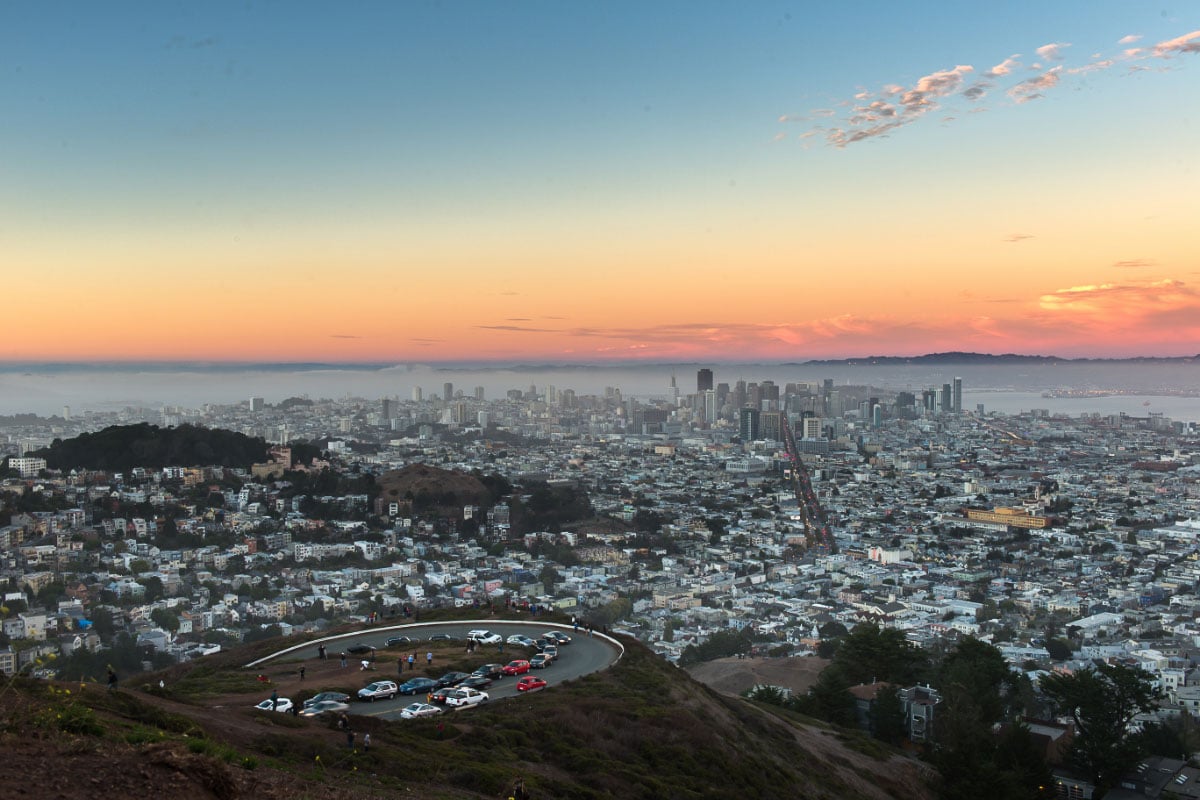 5. Point Reyes Lighthouse, North of San Francisco
It may be close to a 2-hour drive to Point Reyes National Seashore, but the sunset will most certainly make up for it. The lighthouse sits on a bluff out at the park's furthest point. This means that you'll be rewarded an uninterrupted view of the sunset over the pacific ocean.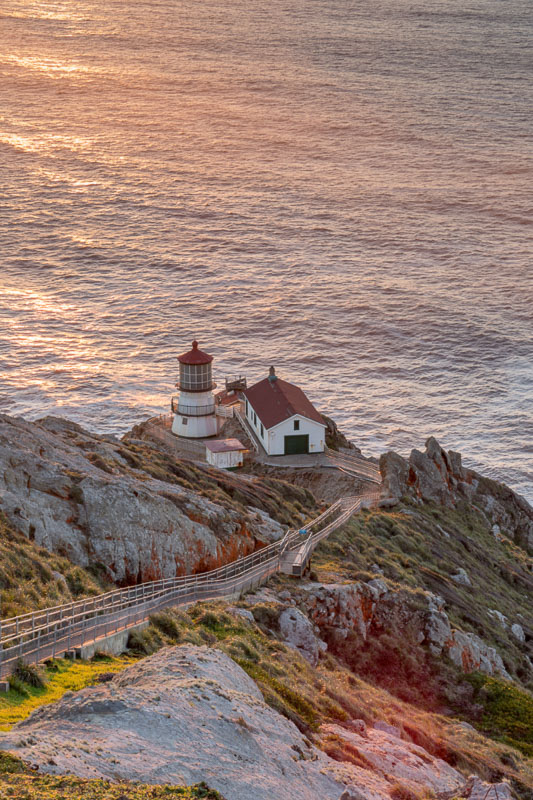 Point Reyes Lighthouse isn't only an excellent spot for a California sunset; it's also a great place to go for whale watching. To reach the lighthouse, you'll have to drive through the park to the nearby parking lot and then take the steps down to the bluff.
It isn't always the most sheltered sunset spot, so be sure to take some warm clothing with you.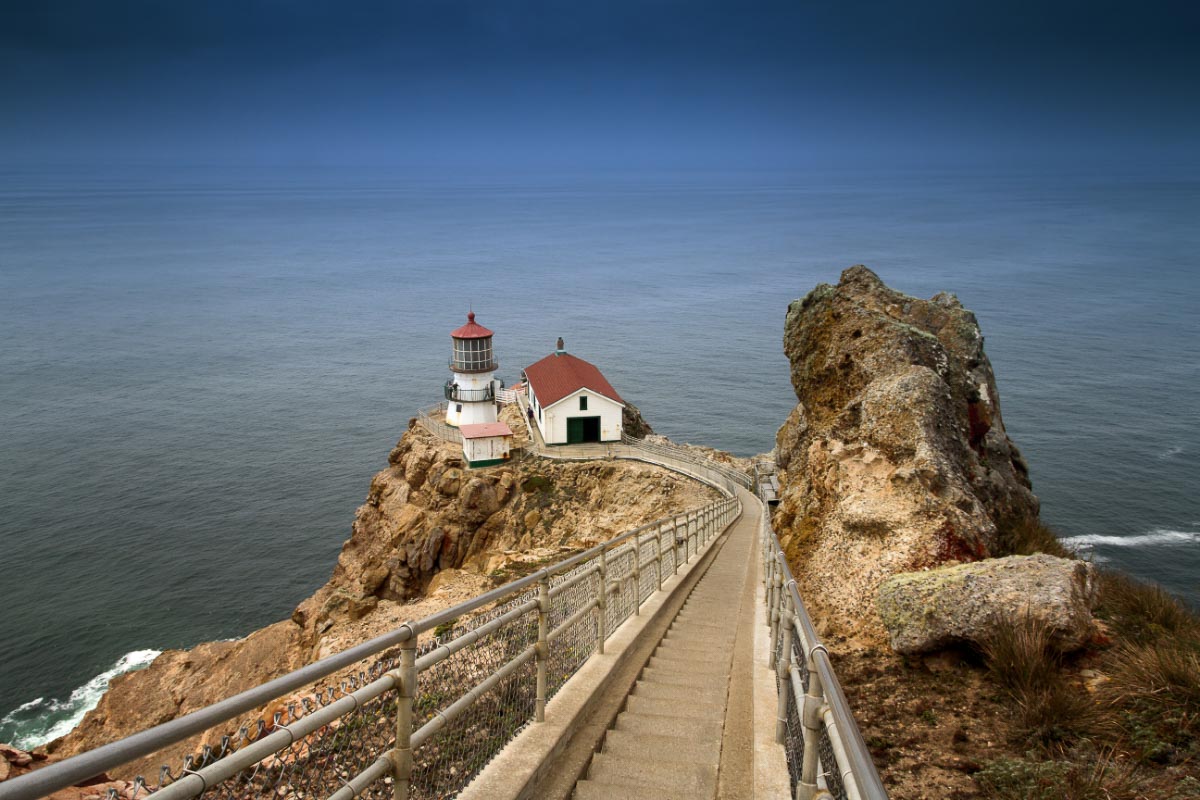 ⇒ There is something about landmarks – I am always a bit awed when I get to see one! 16 Famous Landmarks in Europe You Must See, 12 Beautiful Spain Famous Landmarks, 11 Stunning Canada Landmarks, 15 North America Landmarks, 16 Australian Landmarks, Top 10 Famous Landmarks in the US, 10 Bridges in London Not to Miss, 9 Picturesque Japan Landmarks and 11 Historic Greek Landmarks.
6. Griffith Observatory, Los Angeles
While there are numerous places to watch the sunset in LA, Griffith Observatory is by far one of the best sunsets in California. This is because this sunset spot won't only give you a gorgeous view of the sunset over the pacific ocean, but also the Hollywood sign, the city of Los Angeles and the impressive Griffith Observatory.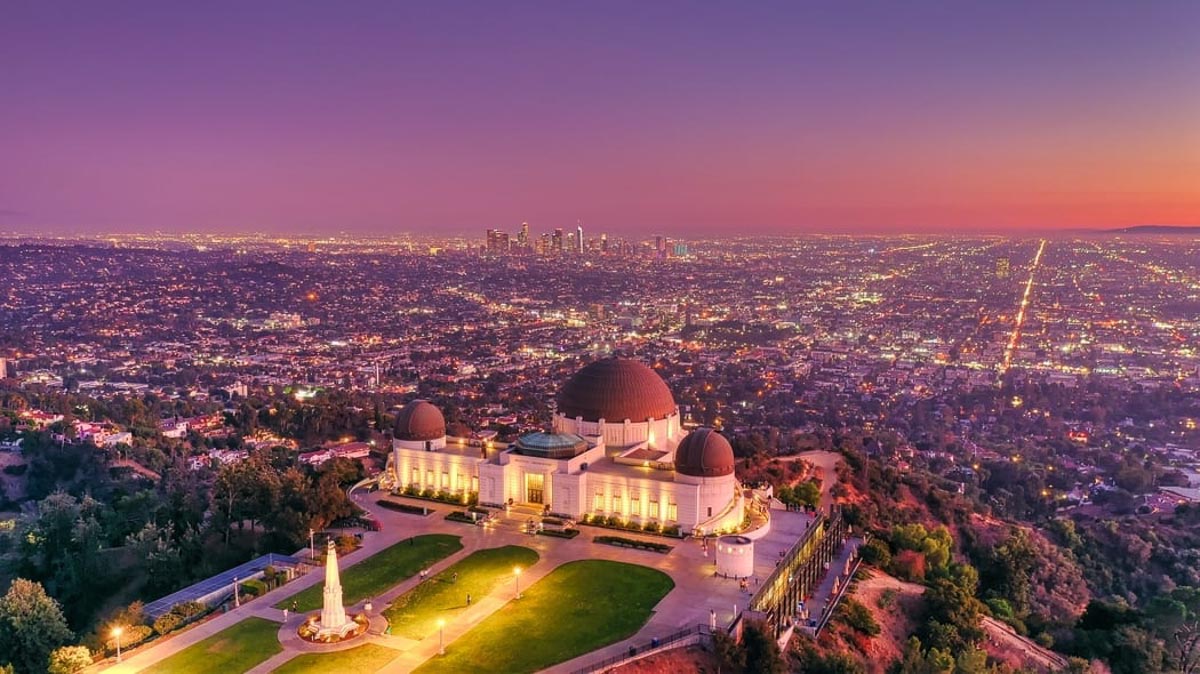 This certainly makes for a romantic setting – so be sure to bring someone special along with you.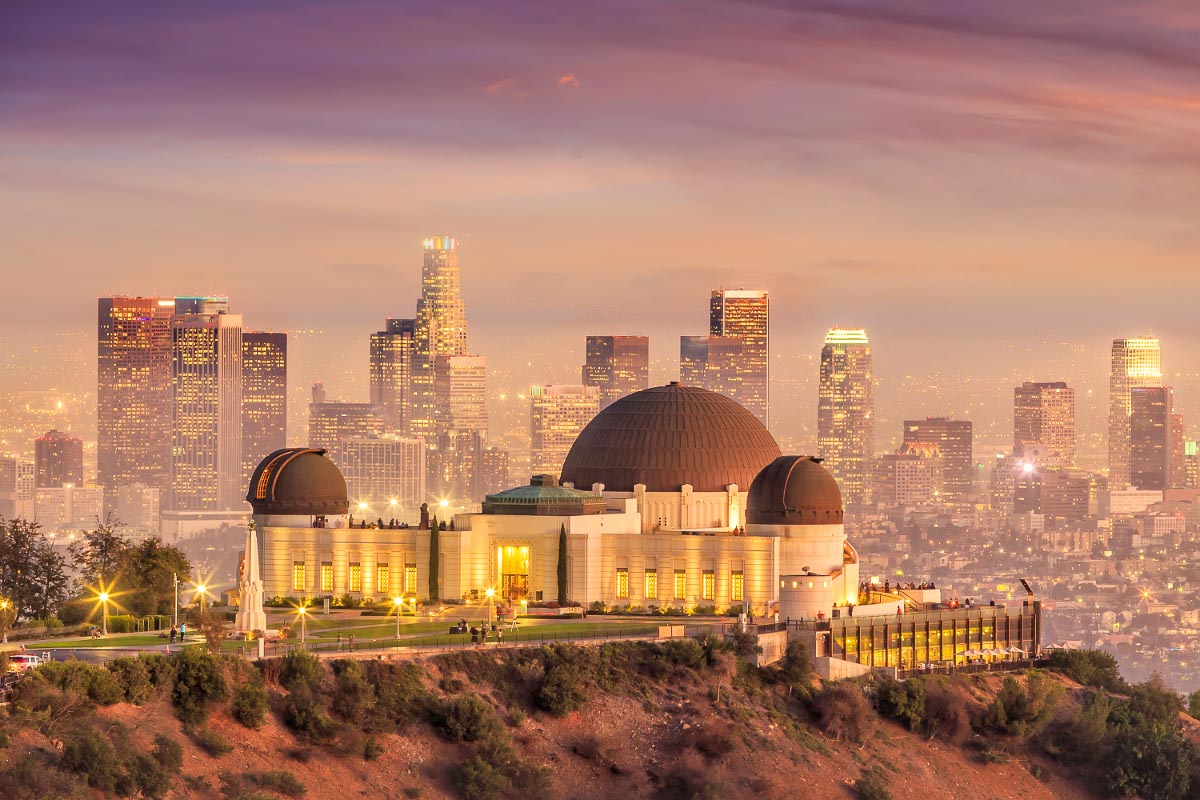 7. El Matador Beach Sunset, Malibu
Located between Point Dume and Leo Carrillo, this Robert H. Meyer Memorial State Beach is a truly spectacular spot to watch a pacific ocean sunset. You can take in the golden hour from atop the bluff or walk down the stairs and lay on a blanket on the beach.
This rugged coastline of rocky outcrops, arches, and caves attracts plenty of photographers who try to capture this gorgeous sunset.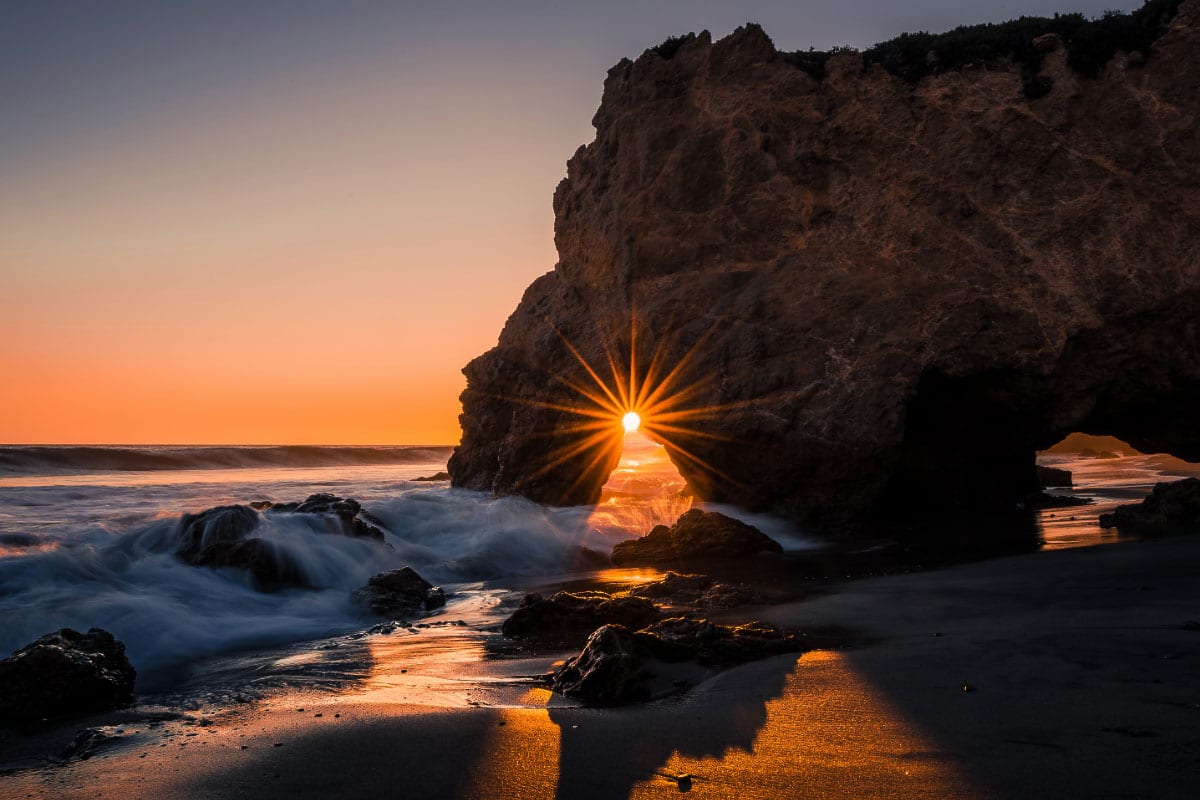 You'll understand why this west coast sunset is so popular –  as the horizon takes on a honey-coloured hue, the cream-coloured rock formations take on the rich colours of the sunset.
El Matador makes for a romantic beach sunset spot, so be sure to bring along a picnic and some sundowners.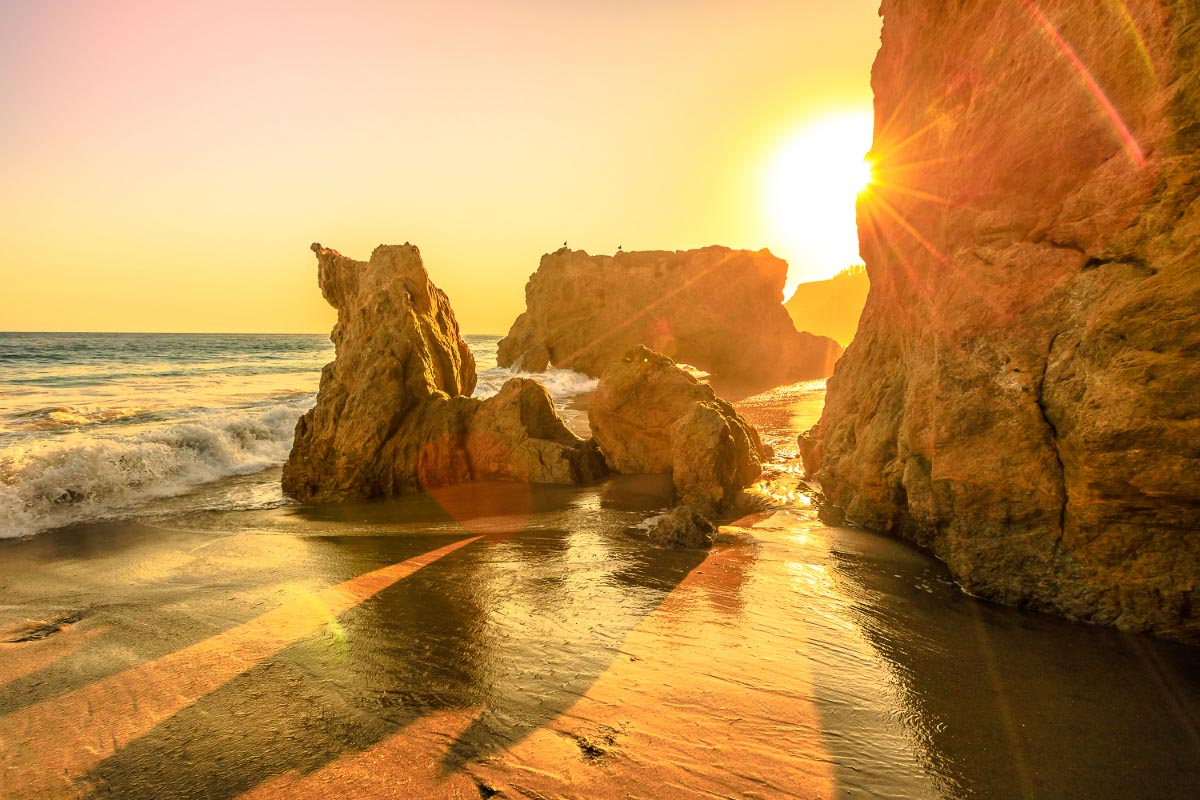 ⇒ Love watching the sunsets and sunrises? Check out my posts on the 6 Places to watch Sunsets in Seattle, 7 Spots for Sedona Sunsets, 6 Sunrise in Paris Spots, 8 Places to watch Sunsets in Ibiza, Where to watch Santorini Sunsets and Where to find the best Sunsets in California.
8. Sunset at Huntington Beach, Near Los Angeles
Huntington Beach, or Surf City USA, is a 3.5-mile-long beach near Los Angeles. While this beach does get busy, you'll always be able to find a spot to watch the sunset.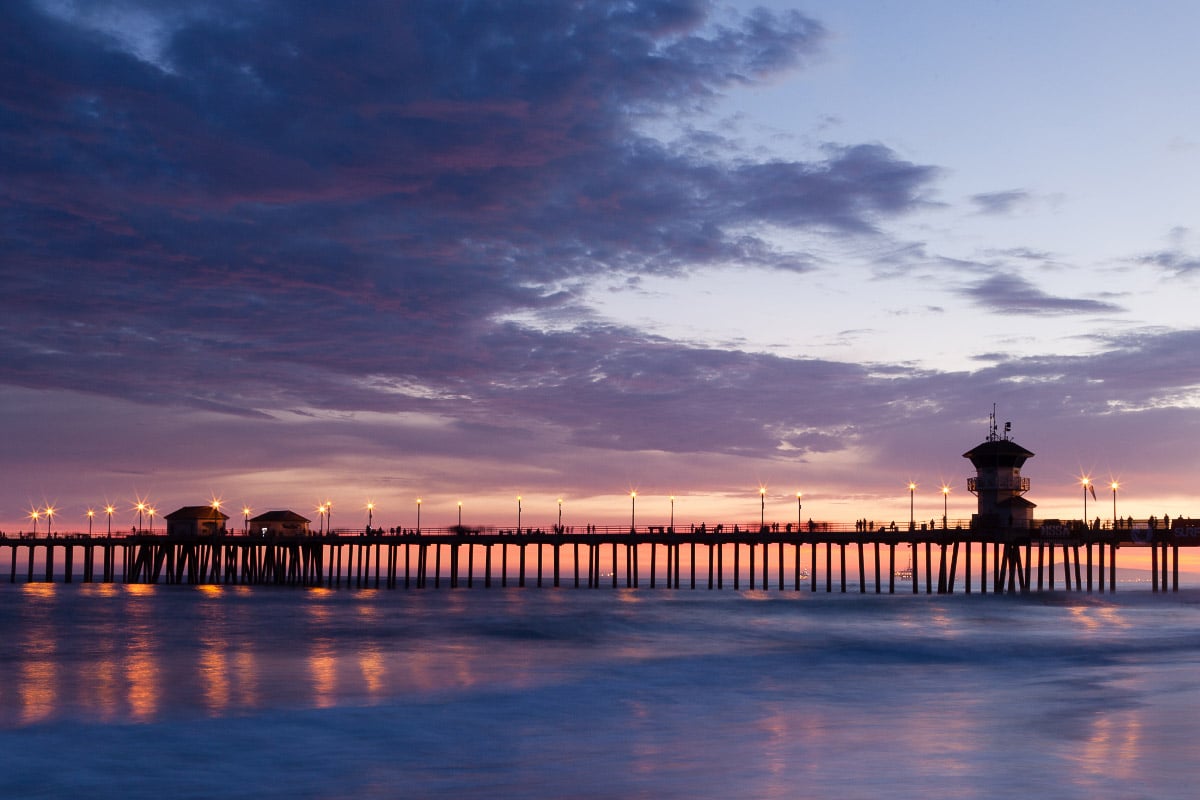 The best sunset view on this stretch of California coast is near the Huntington Beach Pier. Seeing the reds, oranges, and purples of the sunset behind the pier's silhouette make for a breathtaking view.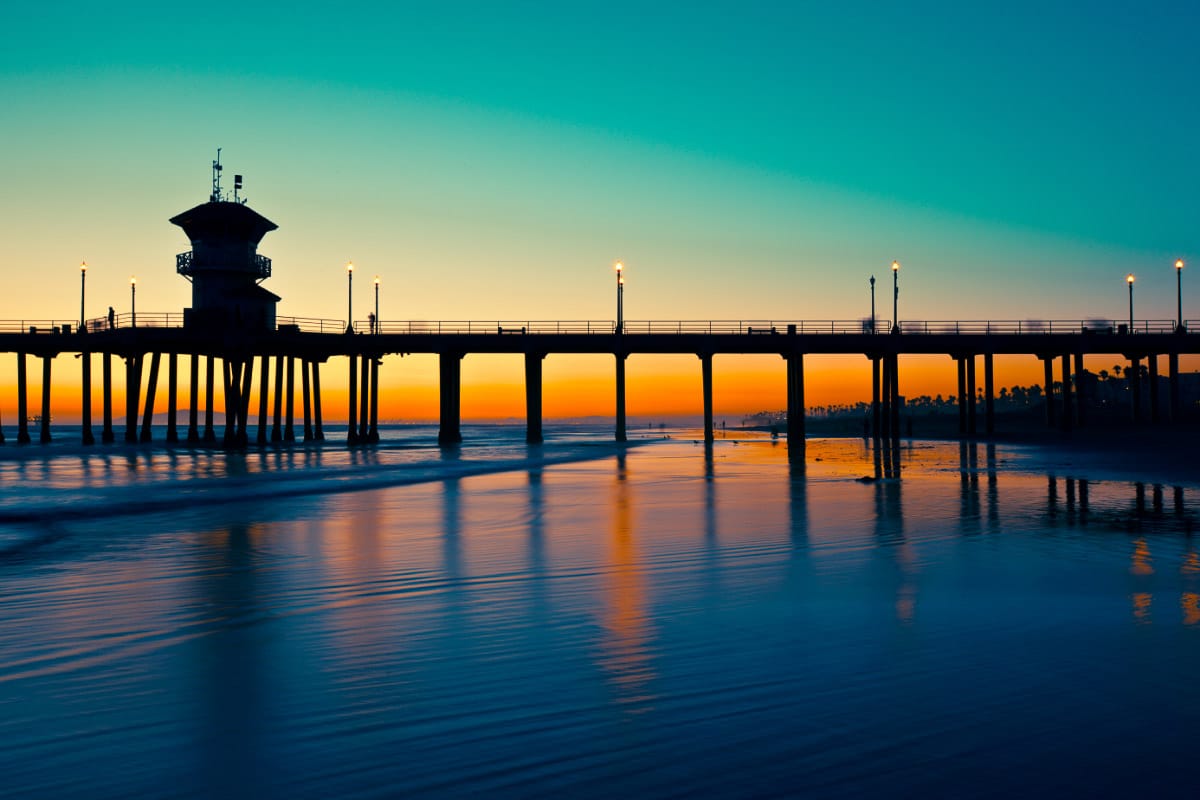 ⇒ Interested in heading to California? Check out my posts on Unique Restaurants in San Francisco, Things to do in Calistoga review of the great Solage Spa, visiting Yosemite in One Day, 10 Stunning Sunsets in California and in Yosemite in October and my guide to a Livermore Wine Tasting.
9. Santa Monica Pier, Los Angeles
Sunset at Santa Monica Pier can go one of three ways. You can stroll along the 1,600-foot long pier while watching the sun dip below the pacific ocean.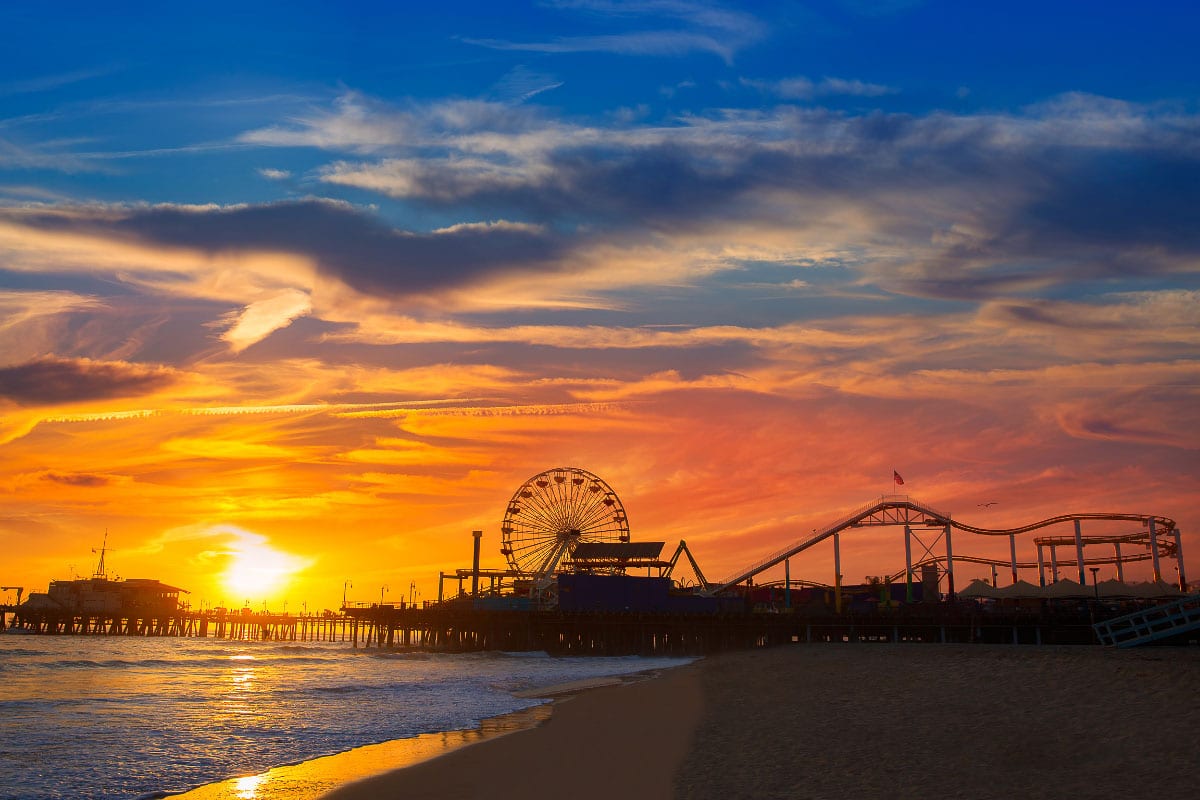 Or you can head into the fairgrounds to meander between the stalls and have some fun before hopping onto the Ferris Wheel for a unique California sunset experience.
Alternatively, you can lie back with an ice cold drink and enjoy this Los Angeles beach sunset. The bright, flashing colours of the Ferris Wheel in Pacific Park, backed by the faded hues of a Californian sunset make for a spectacular sight.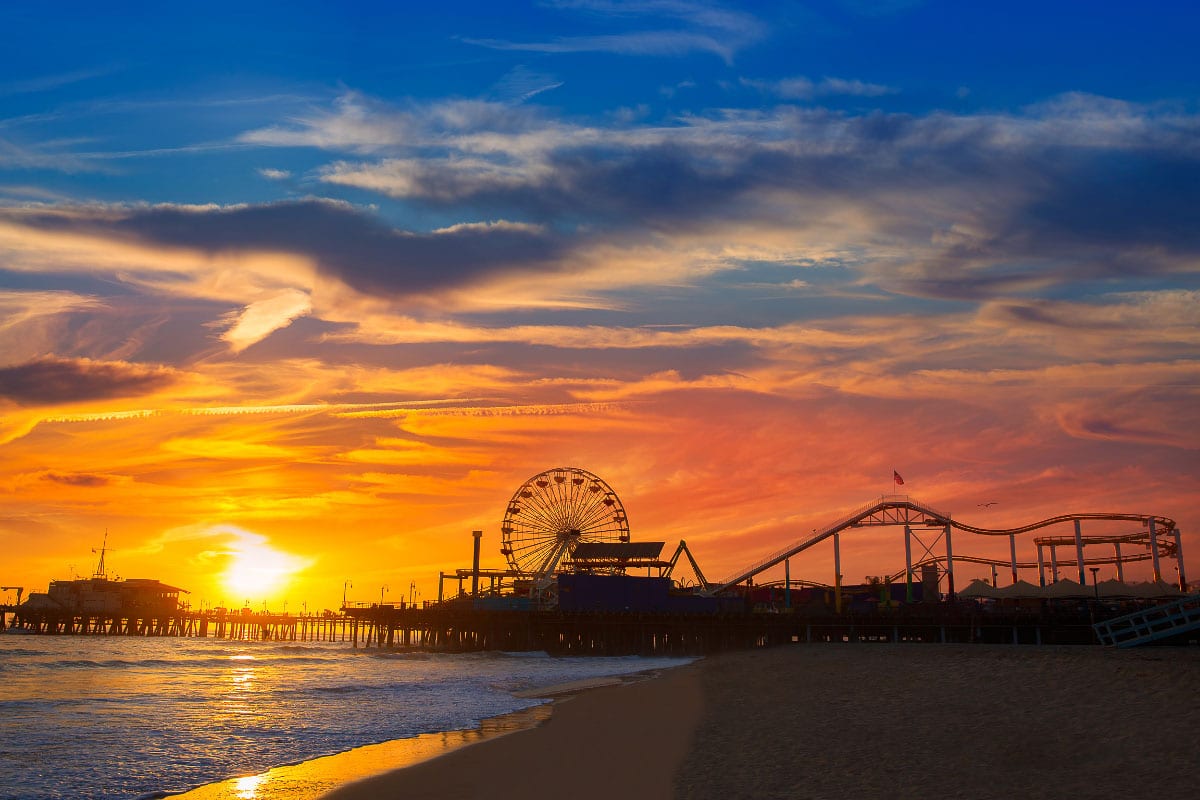 10. Windansea Beach, La Jolla
North of San Diego is the beach of Windansea (short for "wind and sea"). This little stretch of California coast is a hidden gem which isn't as crowded as other La Jolla beaches.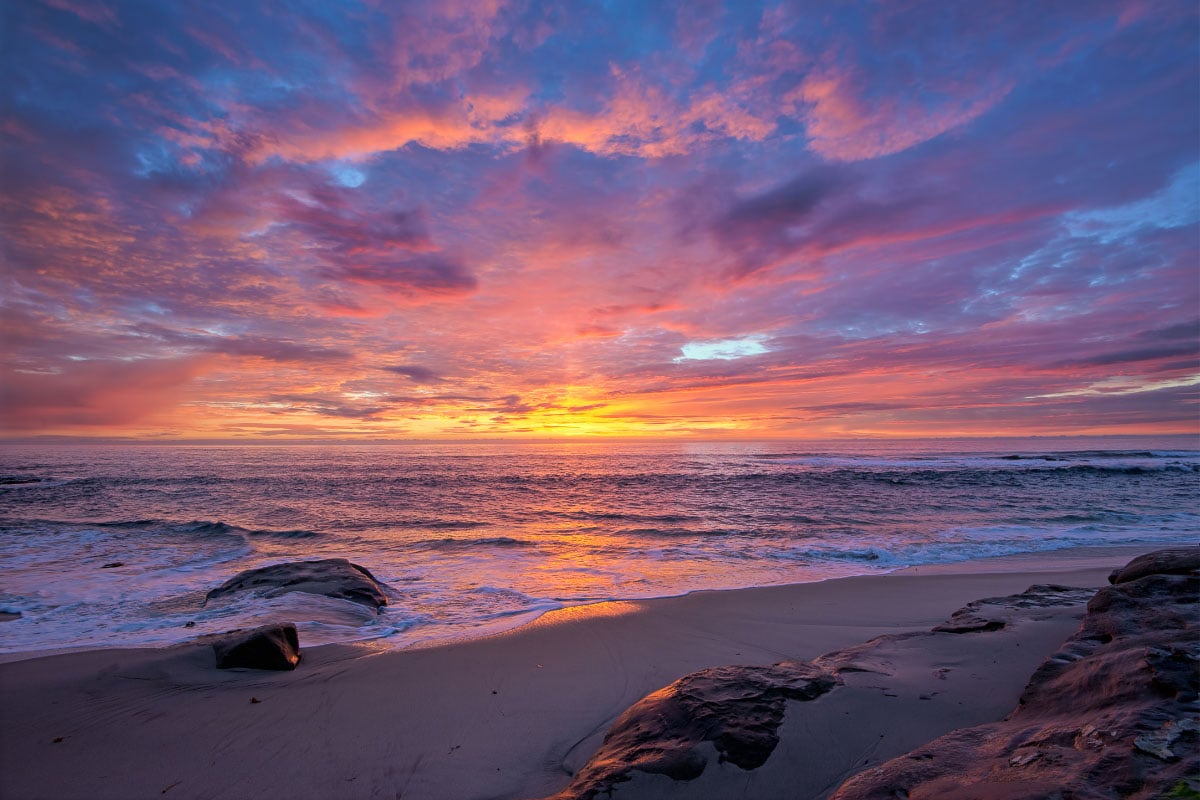 However, it is popular amongst other sunset enthusiasts – so be sure to get here an hour before the sun is expected to sink below the horizon to guarantee yourself a spot.
Windansea Beach is also a favourite among local surfers. So sunsets here consist of watching them play in the surf while the sky changes from intense orange to light pink.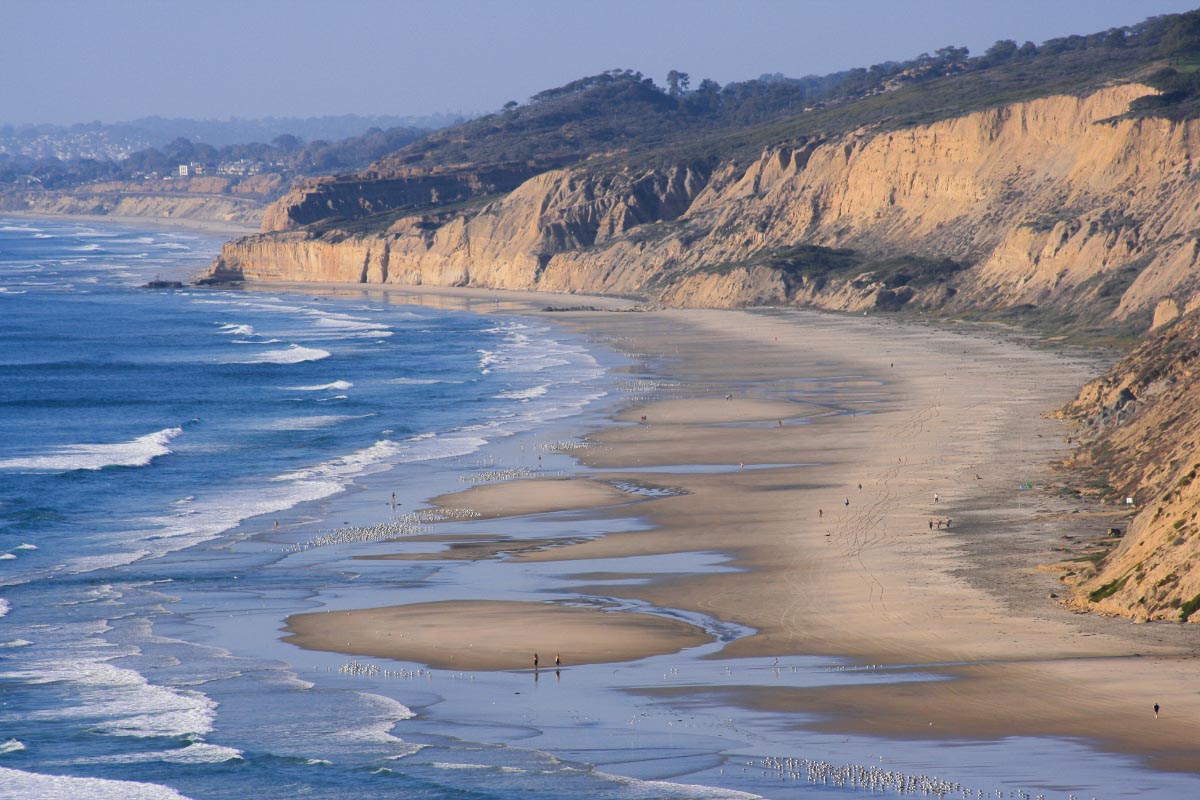 ⇒ Heading to the East Coast of the US? Check out my posts on the best things to do in Lower Manhattan, the most instagrammable places to visit in Philadelphia, and great Philadelphia food tours, and the best coffee shops Baltimore has on offer, more fab Baltimore food tour options, Hotel Indigo Baltimore and some very Instagram worthy Baltimore attractions! 
Final Thoughts on Sunsets in California
Sunsets are magical things. No matter where you are in California or across the world, the ever-changing colours of a sunset sky will mesmerise you.
But to truly appreciate a sunset in California, you need the perfect place to go – and you're bound to find that ideal spot here.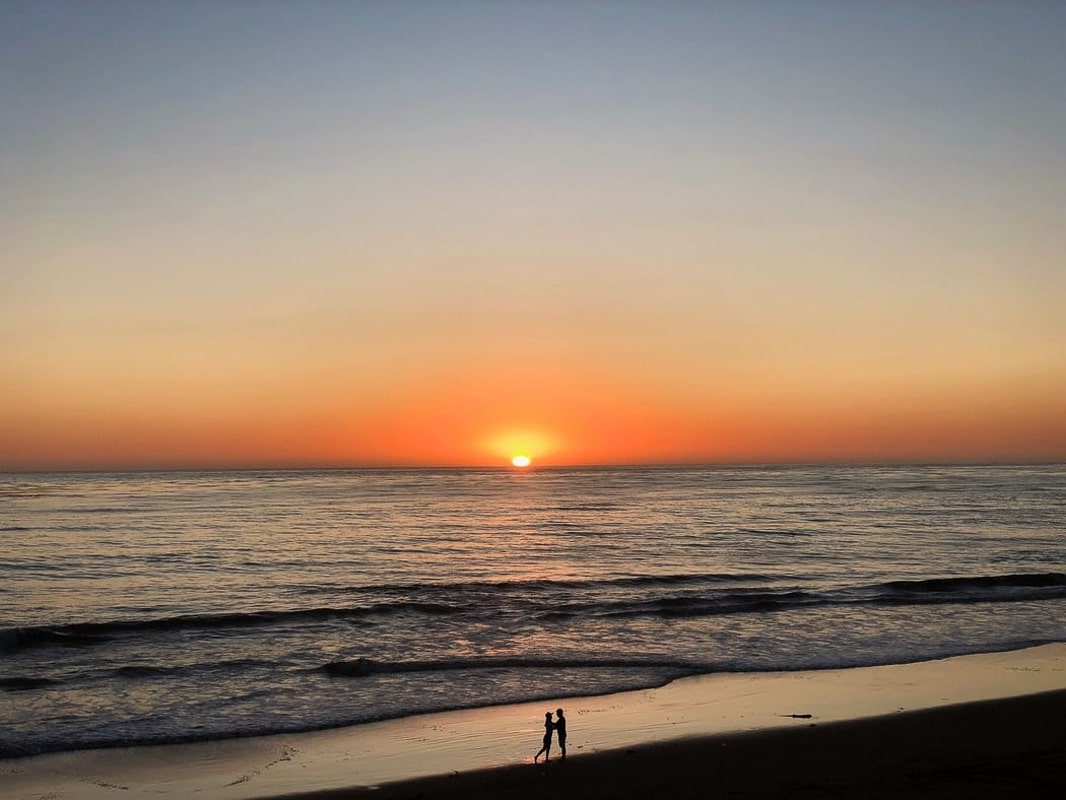 Who Paid for What in this Post?
This Sunsets in California post includes affiliate links. That means if you click through and end up making a purchase I will receive a small commission. I wanted to make sure you were aware of this.
Check out my Sunsets in California Web Story
⇒ Interested in heading to California? Check out my posts on Unique Restaurants in San Francisco, Things to do in Calistoga review of the great Solage Spa, visiting Yosemite in One Day, 10 Stunning Sunsets in California and in Yosemite in October and my guide to a Livermore Wine Tasting.