A$AP Rocky and Rihanna are as stylish individually as they are together. Since the two started their romantic relationship, they've had the industry  — us included — locked in on their every style move.
Rocky's "Fashion Killa" essentially teased what the couple's fashion reign would look like if they were to become an item (sounds more like a manifestation to me). Then, there was the moment at the 2019 British Fashion Awards where the two looked like the flyest pair on the red carpet. And they weren't even dating at the time!
Simply, Rihanna and Rocky look effortlessly good together, even more now with romance adding some oomph to their 'fits.
From their first public appearance to present-day as the cool mom and dad, we're keeping pace with Rihanna and A$AP Rocky's best style moments together. So, gather 'round as we take a scroll — yes, scroll — through the lovers' lessons in couple dressing.
June 24, 2021
After incognito outings, Rihanna and A$AP Rocky stepped out together, in style of course.
Rihanna donned a pink slip dress paired with an oversized leather jacket and fur bucket hat. Rocky opted for a purple sweater vest and leather trousers.
At this moment, we knew that we were in for a fashionable ride with these two.
July 10, 2021
Rihanna and A$AP Rocky, dressed to the nines, filmed scenes for what would become Rocky's "DMB" music video.
Leave to the two style icons to make fur work in the middle of summer.
July 28, 2021
The night-out 'fits? Flames (and I'm not just talking about Rihanna's top).
The Savage X Fenty founder brought the heat in a Vetements flame print top and Fenty hot pants. Meanwhile, Rocky went for a super relaxed vibe with UNDERCOVER and Needles steez.
September 13, 2021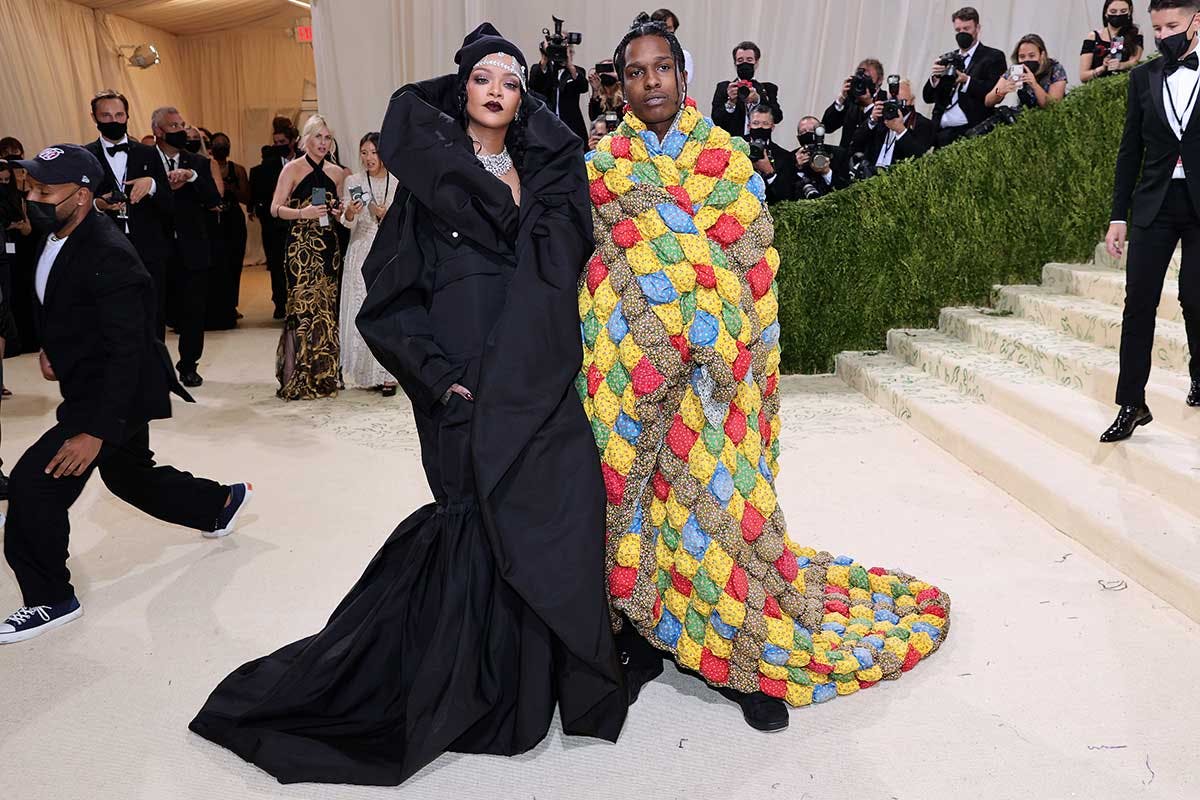 How could we forget when Rihanna and A$AP Rocky arrived fashionably late to the 2021 Met Gala?
It was a wrap for fashion's biggest night out as the two were bundled and boo'd up in Balenciaga and ERL looks.
September 17, 2021
That time Rih and Rocky took a late-night shopping trip to Rick Owens, wearing — wait for it — Rick Owens. Because, why not?
December 02, 2021
Another shopping day, another A1 style moment from Rihanna and A$AP Rocky. This time, Rihanna went for an all-black vibe with a Martine Rose tracksuit, Miu Miu jacket and gloves, and Balenciaga boots.
A$AP Rcoky preserved his cozy status with a Gucci bomber jacket, jeans, and Prada x adidas sneakers.
December 03, 2021
Oh nothing, just A$AP Rocky looking uber-cozy and Rihanna braving NY's winter in a mini skirt.
January 11, 2022
A dinner date at Giorgio Baldi, Rihanna's favorite restaurant, called for Gucci-aga and Dior drip.
January 19
Rocky's flannel-hoodie combo was cool and all, but Rihanna's leather display does the job for both.
January 21
Rihanna and A$AP Rocky brought the big energy this night (literally), wearing Demna's Balenciaga & Vetements SS17 gear.
Interestingly, Rihanna also wore the Vetements x Canada Goose jacket in the past. Either she and Rocky have the same good taste or two have been in each other's closets.
January 22
While A$AP Rocky got into his fluffy bag with ERL, Martine Rose led Rihanna's pre-bump (and post-bump) 'fit supremacy.
January 27
The couple who embraces furry friends together stays together.
January 31
Rihanna and A$AP Rocky announced that they're expecting a fly bundle of joy together.
Of course, the two made the announcement in stylish fashion, with Rihanna rocking Chanel and kickstarting her maternity style tour. Rocky, on the other hand, sported Carhartt and Celine layers and Bottega boots.
February 11
Behold! The fashionable parents attended Rih's Fenty Beauty event, with Rih in The Attico and Rocky in Louis Vuitton (wearing that varsity jacket, at that).
February 13
Date night — more like Savage X Fenty LA store's opening night — saw Rihanna and A$AP Rocky deliver a couple style moment in Alaïa and Celine, respectively.
February 25
It's all Gucci for mom and dad.
March 23
No thoughts, just Rihanna and Rocky casually strolling and getting looks off together.
April 1
In prime April Fool's Day fashion, a pregnant Rihanna trolls A$AP Rocky's dad status with a "Who Dat Is? That's Just My Baby Daddy" tee.
While Rocky opted for those fluffy boots again, I must admit the matching AWGE hats are a nice twinning touch.
April 24
Rih and Rocky are one icy couple, to say the least, as the Fenty Beauty CEO sported truly dazzling ensemble and the A$AP Mob member flexed a shimmering Denim Tears set.
July 25
Fresh off delivering their newborn star, the parents were out, about, and looking cool as ever in navy and black 'fits.
August 3
Rih and Rocky tried to keep things lowkey in black outfits during a late-night run. While they failed to remain incognito, the two undoubtedly delivered calm flexes.
August 7
That time the pair confirmed that couple dressing is as easy as a walk in the park.
August 11
Don't mind us, just exploring the dichotomy of the couple's 'fits here, as Rih was cocktail hour-ready and Rocky looked fit for a rave and rage.
August 12
Girlfriend who wears baggy Y/Project boots meets boyfriend who wears baggy jeans: a short story on Rihanna and A$AP Rocky's couple 'fit.
August 23
Steal his hoodie? Nah, Rihanna takes her boyfriend's adidas x Gucci clogs.
Paired with Marni trousers and a vintage TLC jersey, Rihanna looked cool as usual. And it was a calm flex for Rocky, who opted for a Y/Project tee, Gucci monogram jeans, and Jordan 15s.
September 15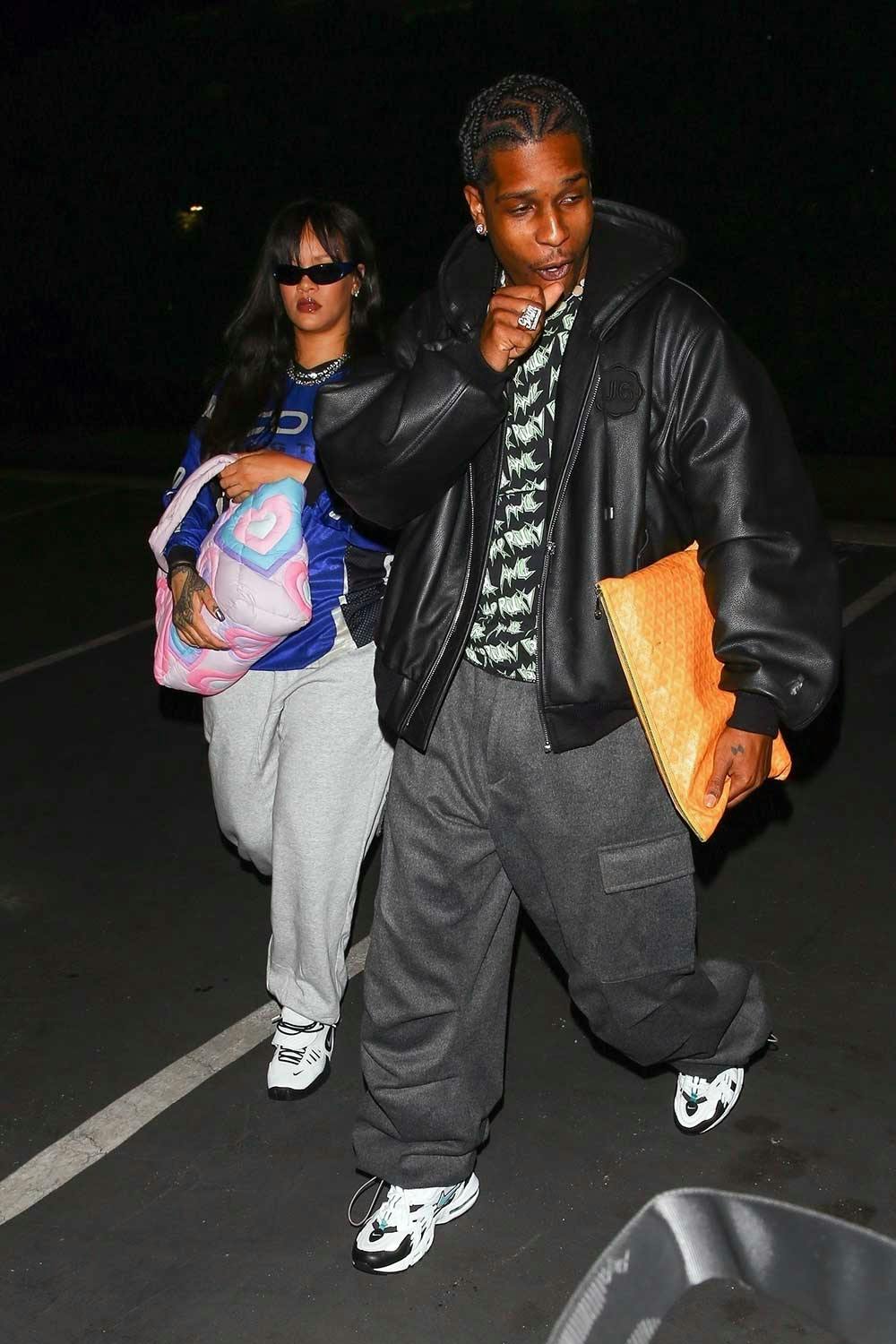 The two headed to the studio in comfy-casual looks, assumably to knock off another couple goal: a music collab.
Septembr 24
Oh, to be looked at like how Rocky and Rihanna look at each other while wearing fresh-off-the-runway looks.
October 3
It was an all-black affair for the fashion killas as they celebrated Rocky's birthday.
October 26
Rihanna and A$AP Rocky supplied iconic couple coordination at the Black Panther 2: Wakanda Forever premiere.
On top of the looks, we also got new music from Rihanna (no joke).
Shop our favorite products