Cassio is back. The buzzy Wyndham Street mainstay unveils brand new interiors, its first since opening in 2016; a sleek, art deco-inspired space that envisions endless evenings backtracked by pulsating tunes.
It's the work of Hervet Manufacturier, a Parisian luxury furniture brand founded by cousins Nicholas Hervet and Cédric Hervet. Both a continuation of the Hervet family heritage spanning four generations in design and craftsmanship, Nicholas is an acclaimed master woodworker, while Cédric, happens to be the former creative director of Daft Punk — with a notable hand in establishing the electronic duo's signature visual identity.
A design re-haul for a space dedicated to the pure enjoyment of good music and a great atmosphere, then, is no foreign concept for the Hervets. In fact, Cédric previously oversaw the stage set design for Daft Punk's 2014 Grammy performance. With the restaurant and bar's owner, Gilbert Yeung, a fervent fan of the duo's retro-futuristic aesthetic, it was a collaboration that simply had to be made a reality.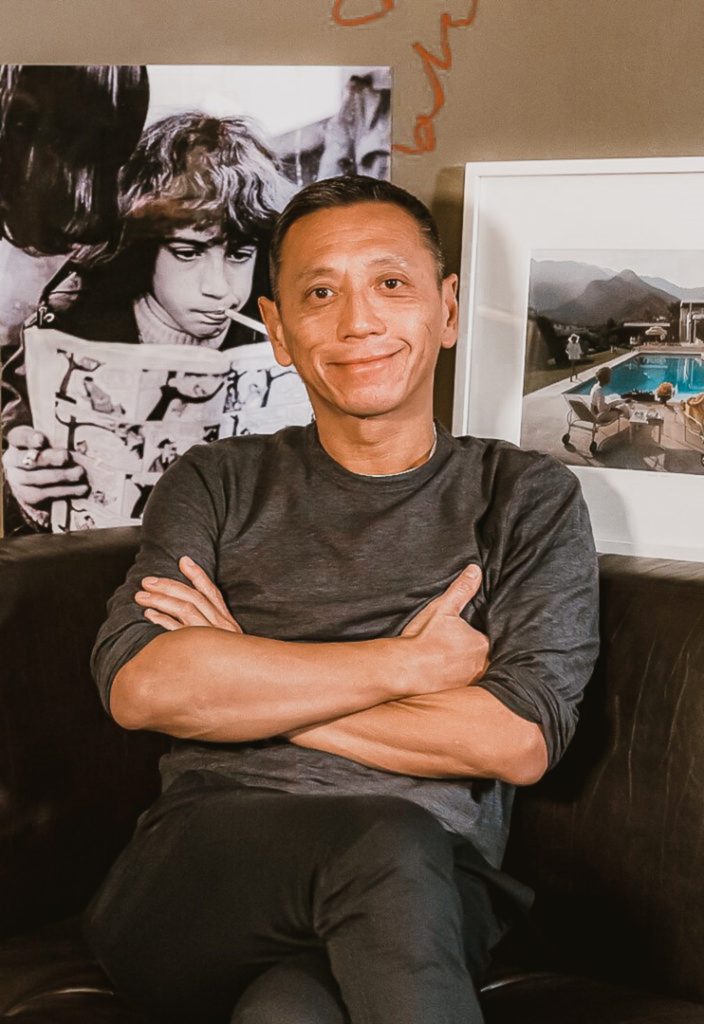 Saunter your way past the familiar amber-tinged marbled entry, and pause to admire the impressive new space: The former seated area is replaced with a spacious lounge tinged in deep jewelled tones set against gleaming touches of brass, brought out via the sizeable lot of geometric detailing à la Art Deco era. From the spiralling chandelier intermittently dotted by multi-coloured lamps to the symmetrical panels of staggering lights beams lining the velvet turquoise walls, it's a staunch celebration of the period's stylised decadence.
"When we first discovered Cassio and the elegance of the place combined with the festive atmosphere, we immediately pictured The Great Gatsby," Cédric explains, "We thought it could be interesting to create a bridge between the 1920s and today." 
But it's not solely an opulent past that informs the design blueprint, and includes touches of present day. Future, even. Through a considered decision to mix materials — one that conveniently adds function to the multi-hyphenated space — it bestows a welcomed renewal to the trite 1920s muse. A touch of modernity. One more attuned to the retro-futurism that Hervet is known, and beloved, for.
Case in point: The tables, with cutaway corners, appear in the shape of diamonds rather than regular cuboids — a Hervet Manufacturier signature — and are moulded from Krion, a new-generation, highly resistant material that share similarities to natural stone. Designed to be raised or lowered with a swift push of a button, it's a thoughtful feature that prophetically foresees and prevents careless spills during boisterous nights. Broad benches, which run along the walls, mirror the similar sloping, angular edges and are upholstered in a practical, scratch-resistant vinyl in deep midnight navy, simultaneously adding a sleek, seamless finish.
Anchoring the newly revamped space is the custom DJ booth, the crown jewel of the overhaul, with similar shaved-off angles and mid-century character. To which Cédric humorously refers as "a spaceship that landed on the dance floor." A sculptural black of smooth walnut wood that will undoubtedly magnetise crowds, especially with the fitted d&b Audiotechnik sound system, the spectacular trapezoid shape is cut with slick, hairline brass edges with a carved-out trough beaming with LEDs.
Behind, sits one of the many customised art piece — unnamed — crafted from five layers of plexiglass and LED, looping an entrancing illusion of vinyl records. Eclectic pieces, like so, some of which share intimate ties to Yeung himself — sourced personally or picked out from his own curated collection — fill up the interesting room. The three-screen-wide video artwork hung over the back bar, designed by Marco Brambilla after one of his pieces was spotted by Yeung during a lift ride up New York's Standard Hotel, is one. While the bathroom's pink banana leaf wallpaper, akin to the one plastered on the walls at The Beverly Hills Hotel, with mid-century antique door-locks, is another.
For those planning a visit, it's worth noting of the newest addition: A surreptitious private bar that's exclusively accessible to bookings for the two VIP tables adjacent to the room — named Tony and Montana, after the protagonist in Yeung's favourite film, Scarface (There's also a cocktail named after it!). No crowds; a personal bartender; the undeterred secret to a memorable evening.
Fascinated by the stunning new space, we catch up with Gilbert Yeung to find out more about the design process and ask him his most favourite part of Hervet Manufacturier's vision:
What was your initial brief to Hervet Manufacturier?
The initial brief to Hervet was to create a space which was more casual than our previous dining area. An intimate and warm space where people would feel comfortable whether for week-night casual tapas and hanging out with friends – or enjoying dinner, drinks and dancing till closing time on weekends. Our terrace is always very popular, and we wanted to align the inside to be more fluid and better connected with the outdoor terrace.
Can you share some of your favourite details about the new Cassio revamp?
We are very pleased with the overall design by Hervet which reflects many of the interests we (Cédric and Nico Hervet and I) grew up with. We found that we share the same tastes and the result was a joint design with which we are very happy and excited about! Some of my favourite parts include the hidden bar, you never know who you will meet in there. The DJ booth is of course one of my favourite pieces — it was a bespoke design by Hervet to be the linking point between the retro and sci-fi elements of their work and I loved their idea of making it like a spaceship landing on the dance floor! 
I hear that some of the pieces are actually from your personal collection, any interesting stories behind them?
I like to collect interesting pieces on my travels, whether it's quirky art, antiques or vintage items which stand out to me. When you come into Cassio, in the front room, you'll find some of my Naijel Graph Artworks which I picked up in Tokyo. I was at Son of the Cheese one day where I saw some really cool artwork by the artist so I found him and bought some of his pieces and he actually designed Cassio's logo for me later on. I think his style of art reflects the cheekiness of Cassio and taps into music that is close to our DNA.
I love antiques and some of the pieces you wouldn't normally notice in Cassio were picked up when I was in Europe. At the entrance are some chandeliers I bought at an auction in Austria. On the terrace, you'll find a small sconce table which I found at Les Puces near Paris and I loved the craftsmanship and the detail on it so I bought it without knowing where I would put it. It just seemed right here. The green fabric in the foyer was originally going to go in my house but I decided to put it in Cassio as it's my second home.
Are there any of their pieces you'd like to have in your own home?
Hervet Manufacturier are amazing craftsmen of woodwork, with a family heritage of four generations of artisan cabinetmakers. I recently had an opportunity to see and touch their collection currently on show at Lane Crawford IFC and would certainly like to have a couple of them in my home.
Your go-to drink at Cassio?
Beer and Tequila are my drinks of choice. At Cassio we have a great selection of tequilas, including my favourite, Don Julio 1942.
What's next? Any exciting upcoming events at Cassio?
With the current government restrictions we are not able to confirm anything specific, however we have planned a fun retro-futuristic Disco night for Wednesdays. It's Cassio's interpretation of 'Disco' which we hope to launch end of April.
Cassio, 2/F, LKF Tower, 33 Wyndham Street, Central, Hong Kong, +852 3792 0129