Each month we're hand-picking and sharing with you a couple of our favourite products that we have tried, tested and fallen in love with. Ready for a little retail therapy?
OLE HENRIKSEN Dewtopia Night Serum (HK$480)
A big fan of OLE HENRISKEN products since its Hong Kong debut, it came as no shock to myself when I found myself sampling the newest product to launch – Dewtopia. A 20 percent acid night serum and treatment, the formula promises to retexturise, renew and brighten skin literally overnight. Bold claims. The kicker? It's clean, vegan and cruelty-free.
This potent overnight potion has become a new step in my skincare, and although I can't yet reveal that I'm waking up a whole new woman, my skin feels somewhat smoother and surprisingly fresh come sunrise. – Lexi Davey, Managing Editor
Laura Mercier's Pure Canvas Power Primer Supercharged Essence ($460) 
As the old adage preaches: with great age comes great responsibility – or words to that effect. Growing up in an Asian household, my mum has always drilled into us that prevention is better than cure, a sentiment towards skincare that I still carry today. I've definitely become more concerned with fine lines and wrinkles now that I'm in my 30s, so finding products that offer the right amount of hydration and function is key. Visually, this primer is housed in a luxurious, baby pink glass bottle which, if we're honest, was already enough to win me over. Functionally, it is a highly silky and soothing concoction, infused with peptides and Marino pearls for a natural glow. Having sensitive skin, I love that this product is sulfate, fragrance and silicone free. I've never had a staple primer in my arsenal, but this has been in my line-up for a while now. 'Nuff said.  – Sandra Kwong, Features Editor
Salvatone Ferragamo Giungle di Seta ($650)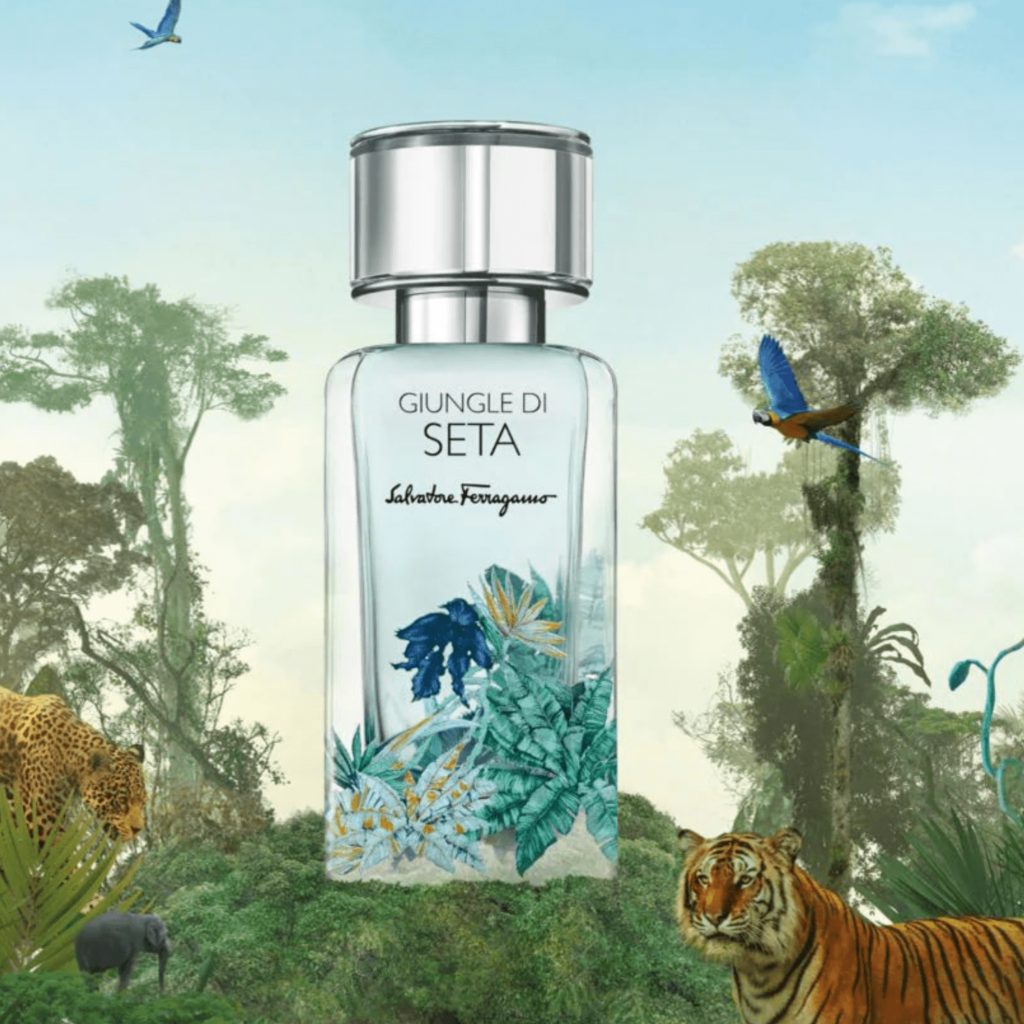 Ferragamo's new fragrances are inspired by silk — four unisex styles reflecting different landscapes (garden, jungle, savannah and ocean), and made to be mixed to manifest your own signature scent. But the Giungle di Seta on its own had me hooked. King Louie, eat your heart out.
Through to the end of September, you can sample them with @langhamhk's STORIE DI SETA Afternoon Tea for a food and fragrance pairing that offers a true feast for the senses. – Nathan Erickson, Editor-in-chief
Jurlique Rare Rose Serum (HK$450)
Frankly when it comes to skincare, I like my packaging cute and labelling crystal clear. Tell me exactly what I'm smearing all over my face, please: Hyaluronic Acid (which should absolutely always be a staple day and night!)? AHA? An overnight mask? Which is why Jurlique's Rare Rose Serum, simply named with a generic "serum", arrived first with a cloud of doubt — what type of serum are you and what kind of skincare magic can you add to my life? Needless to say, that cloud has now been casted to a land far far away. One small pump of this Rare Rose Serum, seated in the Australian brand's new Moisture Plus range, releases a light, floral aroma that lingers as you delicately smooth it allover with your fingertips. Infused with Jurlique Rose and Dwarf Lilyturf Root, the texture is light and silky soft, instantly hydrating to leave behind a luminous dewy glow. It's hasn't garnered status as a 'must-have' just yet, but it's truly, genuinely, a 'really-like-to-have' for any routine. – Lorria Sahmet, Style Editor
Rare Beauty's Soft Pinch Liquid Blush (HK$172) 
Blush and I, we've had a tumultuous relationship. My childhood dance classes' recital make-up insists upon using lipstick as blush on the apples of the cheeks; smudged, but barely blended in. Looking like a baby clown is an unfortunate part of my formative memory concerning make-up, so blush was never a must-have in my repertoire. Unlike more pertinent titbits, like eyeliner. So much eyeliner. And mascara. Then, I realised how nice it was to not look extremely pale (read: sickly) so blush was a late-comer to my routine — but now, a firm favourite. Rare Beauty's Soft Pinch Liquid Blush takes no effort whatsoever. Which, if you know anything about me and my five-minute-top make-up routine, is important. It blends in and somehow melts and lands exactly where you need it to. I prefer using a dense cheek brush for sport, but fingers work just as well, too. My favourite shade is Biss, a powdery pink, but I've also tried Love, a bright red, and you only need a tiniest dot for a huge impact. It'll last forever! Thanks Selena Gomez. — Joey Wong, Editor
Image courtesy of Free Creative Stuff via Pexels