"Ithaca Is Gorges," the city's motto says, and with 150 waterfalls within a 10-mile radius, it comes by its moniker honestly. A one-third-mile hike uphill — the Cascadilla Gorge Trail — was exhilarating not only because of the trek itself but also for the vastness and variety of six different freely flowing cascading waterfalls.
Tree canopies and small fairy-tale-like cottages characterize the entire town, and the fact that top-rated colleges are hidden among all the greenery is a surprising bonus. Ithaca is so compact that you can experience an unexpectedly large number of diverse activities within minutes of each other — from huge waterfalls to beautiful gardens to history museums and goat farms. And Cayuga Lake is almost always at your side.
I usually do my best to avoid bees, so I wasn't sure what to expect at the Honeybee Embassy. Fortunately, the emphasis in on the luscious products these creatures produce rather than personal interaction with the bees. Much of Ithaca, it seems, is encouraging pollinators such as bees to further the reproduction of flowers and plants. And the flowers are produced to attract said pollinators. A win-win for the earth.
The Honeybee Embassy produces truly raw varietal honey, meaning no additives, heat or pressure are used in the processing, as is true for most American honeys. Owner Teresa Vanek smiled disparagingly.
"That's like taking whole foods and turning them into white bread," she said.
The samplings bring a variety of tastes, textures and colors to the table. The goal, Vanek said, is "to educate people about the wild world of honey," which her Czech grandmother first started doing under Nazi occupation. Who knew that honey nectar smells range from sweaty socks to cat urine to fruity and floral varieties — but fortunately none of that is evident at the tastings. The honey names resonate differently: Basswood, Goldenrod and Japanese Knotwood, for example.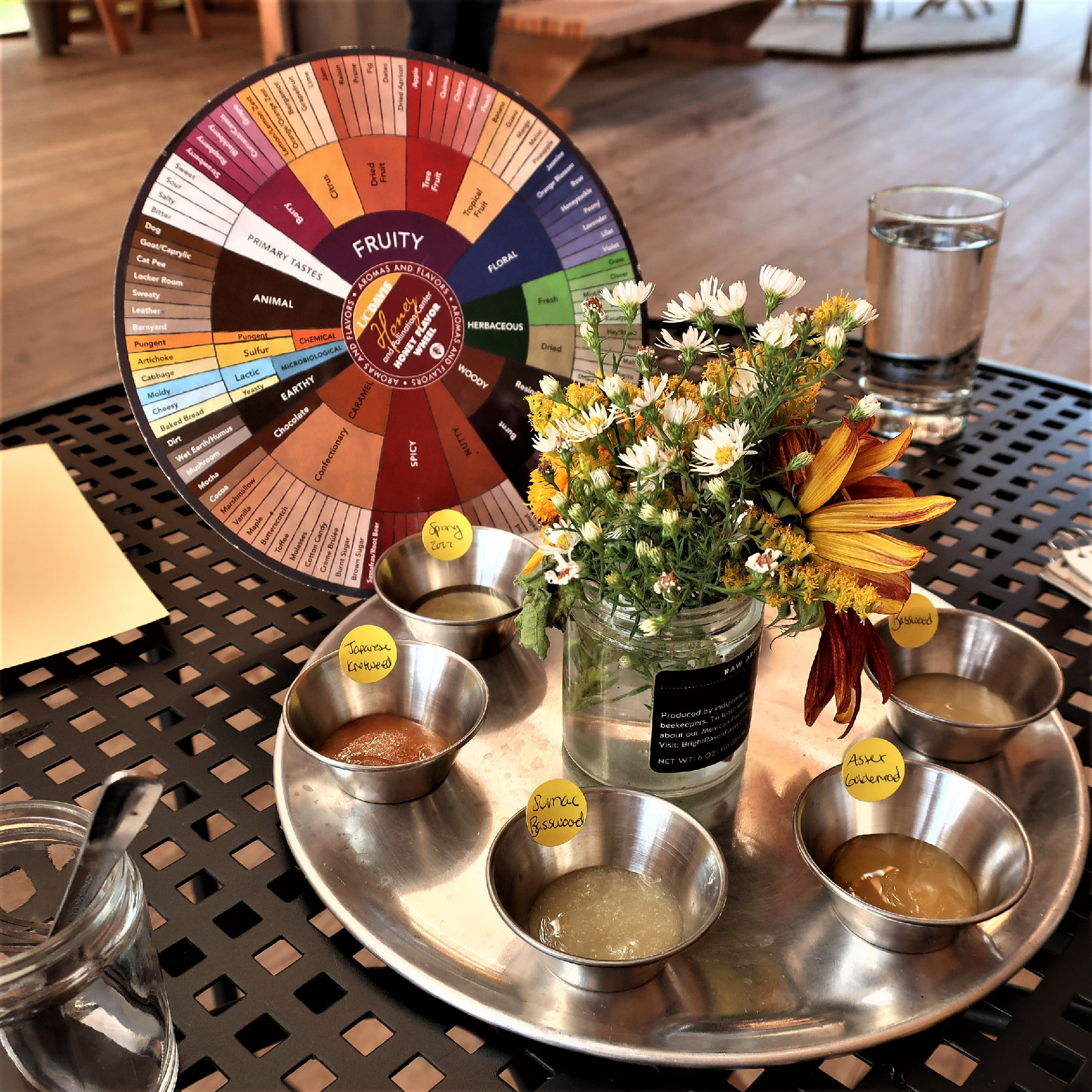 Just as a diversion since we hadn't been to a waterfall in a while, we visited the nearby Taughannock Falls Overlook, the largest single-drop waterfall east of the Rocky Mountains. That makes it taller than Niagara Falls — at 215 feet, three stories higher.
A visit to the Cabin View Alpaca Farm had more to do with the actual residents than what they produce. Christine Houseworth started the farm in 2009 with three alpacas and now there are 50, with whom visitors can interact in various ways from taking them for a walk to feeding them. We chose just to amble among the nine females and eight babies in the nearby pasture, all in shades of brown, white, gray, fawn and black. My favorite was Patience, who at 5 years of age sported a beautiful sandy brown tuft of hair, perfectly coiffed. She was her own version of Ithaca gorgeous.
We were close enough to watch the kids gamboling about while the moms gathered to gossip among themselves. We spent a lot of time oohing and aahing at their adorableness.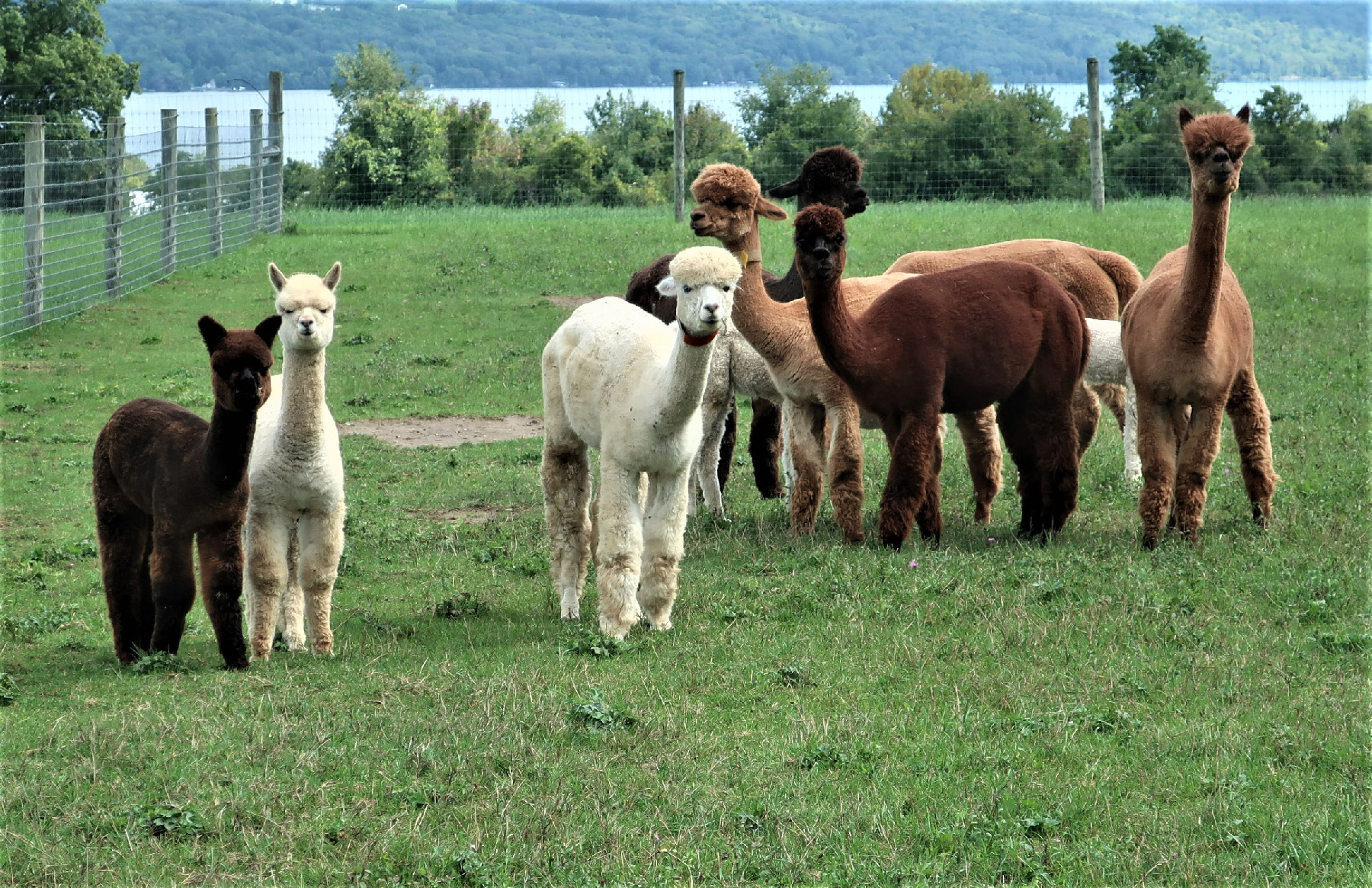 Alpacas do make products, although not edible ones. Alpaca yarn is said to be warmer, softer and more hypoallergenic than sheep's wool. Not surprisingly, a wide variety of scarves, socks, hats, mittens and adorable stuffed animals are available in the gift shop.
And although I don't find goats as intrinsically appealing as alpacas, a visit to Lively Run Dairy has its own advantages — among them a lot of cheese. Goats were one of the first animals to be tamed by humans more than 9,000 years ago, although they don't seem to have learned all that much. If you have something in your hand — anything at all — they think it's for them and will come running after you.
In addition to cheese-sampling, there are petting and feeding, goat-shearing and spinning demonstrations. But what really got my goat were the yoga classes they offer during the summer that five to seven baby goats attend with you. So yes, you might be doing a downward dog with a goat on your back. On the other hand, dangly earrings might provide an unwelcome diversion from your warrior pose.
When it's time for some liquid refreshment, any number of wineries and breweries beckon, but Ithaca is better known for its cideries. South Hill Cidery has its de rigueur tastings several times a week, plus a smorgasbord of delectables to accompany the flights. On those three nights a week South Hill resembles a hoedown, which makes it especially fun.
Local bands come to play, a wood-fired oven radiates the smell of pizza and musician-owner Steve Selin circulates to make sure everyone is having a good time — but only when he's not playing in one of the bands himself. The outdoor concerts are only available six months a year, but drinking cider is always in season.
When You Go
For more information: www.visit brightravenfarm.com, www.cabinviewalpacas.com, www.livelyrun.com, www.southhillcider.com, www.visitithaca.com.