The taxi driver is apologetic. "Sir, this is as close I can get," he tells me, as I climb out more than a mile from my destination. And then, moving in the same direction as everyone else, I join the pilgrimage. The crowd thickens as I get closer. Some travel on foot, others buzz past on the backs of noisy little motorbikes. A whole extended family waves from a wagon being pulled by a tractor. The air is heavy with humidity, but light with a festive spirit, despite the fact that many have traveled long distances to be here. Small, impromptu stands sell essentials—one merchant of opportunity, his place piled high with bananas, calls out to me on a microphone, asking if I'd like a bunch.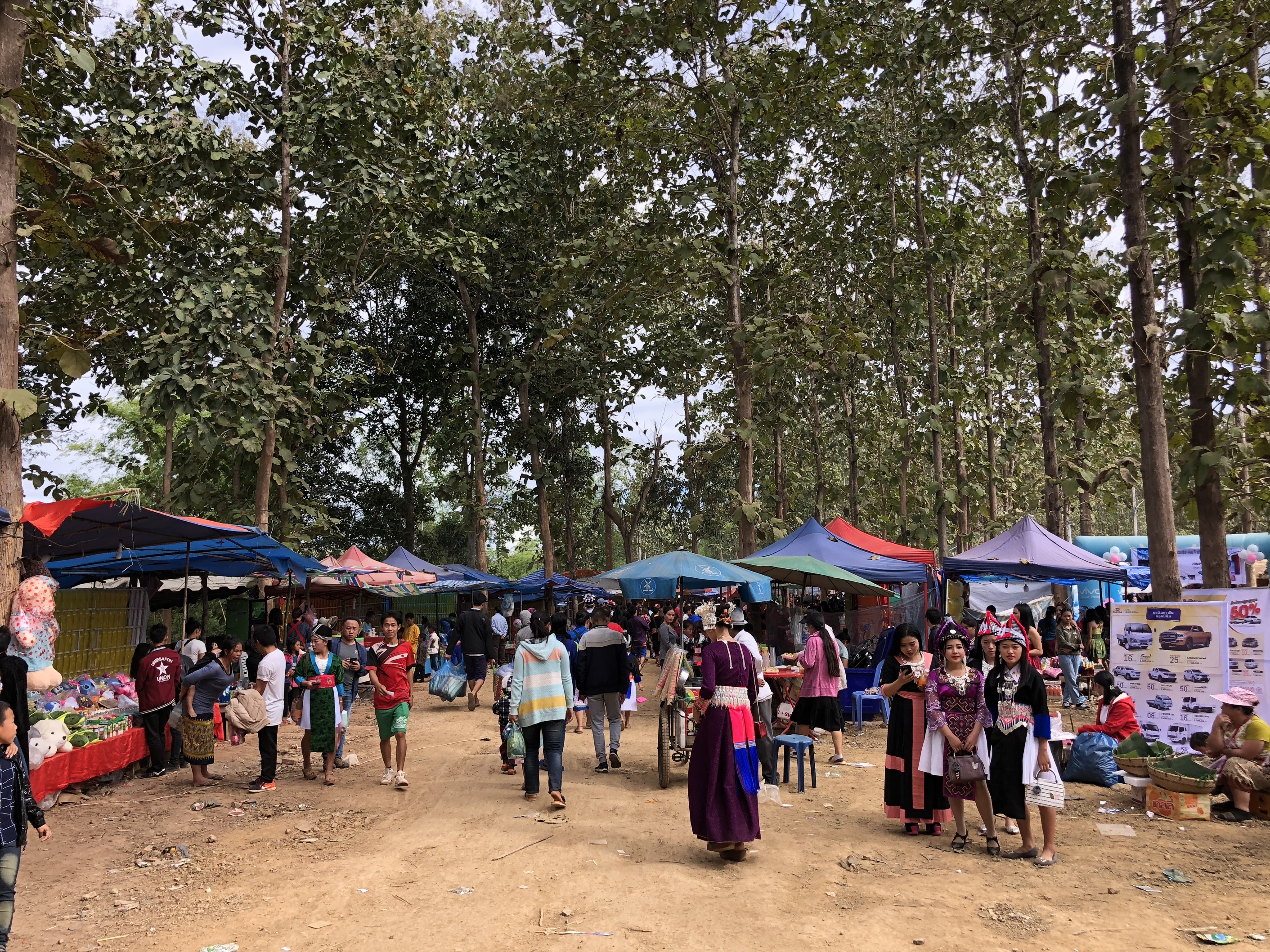 Packed With Thousands
Striding toward the scent of frying food and the cacophony of the crowd, this area wouldn't look like much, ordinarily—no beach, no scenic view, just a field filled with trees. But the place is packed with thousands, many of them dressed in ornate and sparkling costumes. And then, rounding a corner, I see it for the first time—a twin line of mostly 20-something young men and women, snaking out of sight. It's the biggest game of catch that I've ever seen, with the highest stakes—one that will create lifelong bonds for many of the happy ball-throwers.
I'm in Laos, near the former royal capital of Luang Prabang, set on the broad Mekong River. Here to tour its famous temples and palaces, browse at the night market and enjoy the town's culinary charms, I meet a young man named Adam (his English name) in a small clothing store catering to tourists. After a brief chat, he invites me to a special event—Hmong New Year—promising to introduce me to his family, friends, and maybe, a prospective wife. I have no idea what to expect. But getting a chance to spend a day immersed in another culture, one rarely experienced in this way by westerners, is rare and special. This won't be some sort of folkloric show, prepared and presented for tourists, but a real expression of culture. I immediately accept his invitation.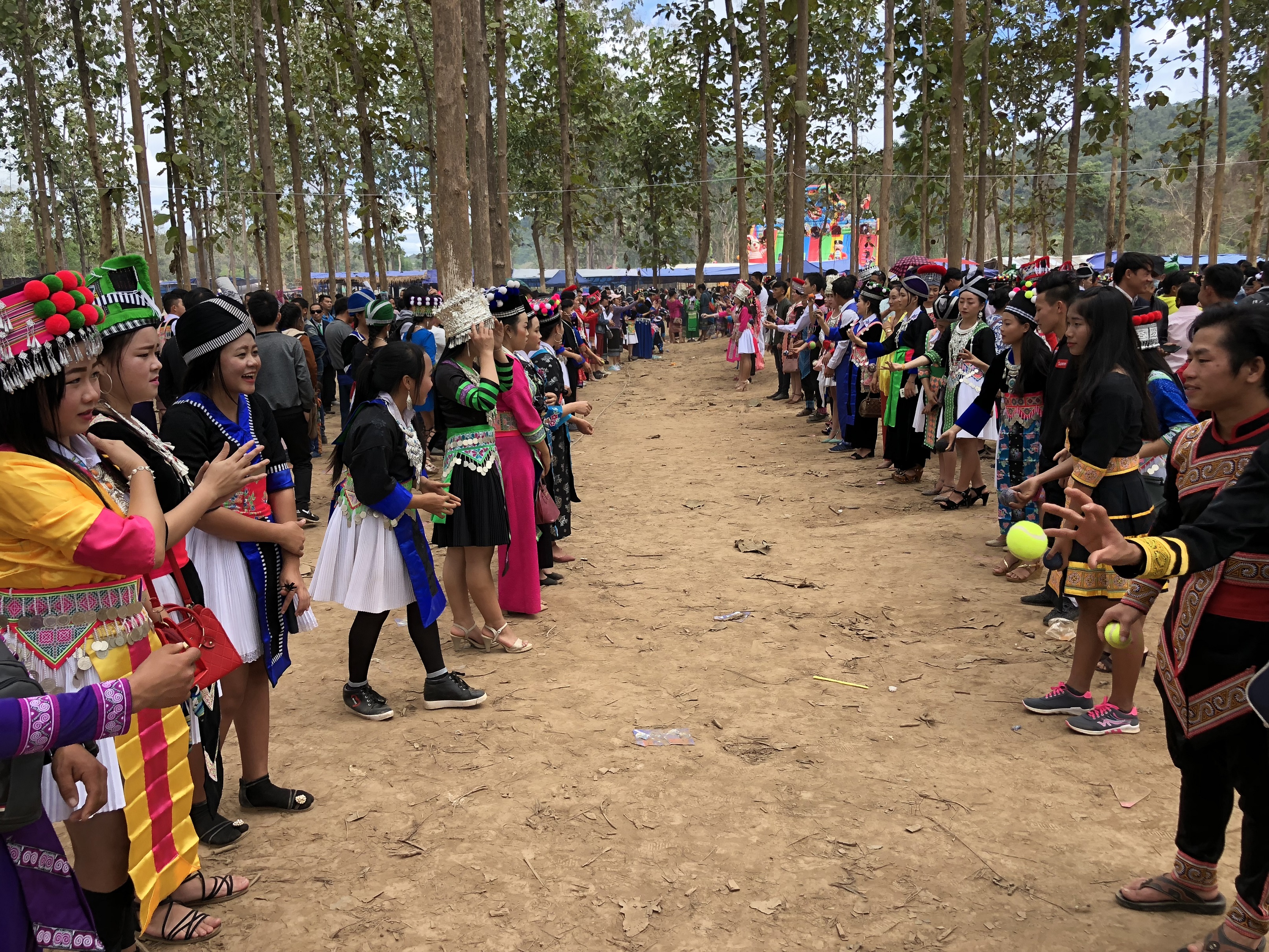 The Hmong
A small nation without a state, the Hmong, whose collective history dates back some 8,000 years, live in disparate communities across several countries, including China, Thailand, Vietnam, Myanmar, and Laos. While citizens of these countries, they have their own religion and language. Opportunities to bring everyone together are few, and far between, and New Year celebrations, undertaken at the end of the harvest season, present a chance to unite and celebrate. Many here haven't seen one another in a year, or perhaps longer. And with strong rules against marrying within your own clan, this is prime time to find your spouse.

That's what Adam has in mind—perhaps for both of us—today. Emerging through the crowd to meet me, he's dressed to the nines in a flashy blue suit, complete with skinny tie, and I'm immediately self-conscious about my creased, almost-ready-for-the-wash polo shirt and well-traveled cargo shorts. Adam doesn't say anything about my apparel—he's got other things on his mind. Pausing for a moment to coif his hair and check his appearance in a hand-held mirror, he then leads me into the thick of it.
Now surrounded by thousands, the atmosphere feels part state fair, part living history, with most of the Hmong dressed in traditional garb. (Some have patterns unique to their clan; others have used the time-honored costumes as inspiration, modernizing them in various ways.) Families play games (tossing rings, and darts), and squealing kids rocket down bouncy-slide rides. The hungry line up at dozens of food stands, some of them with tented seating areas stacked with speakers blasting syrupy Hmong love songs, while patrons lunch on whole fish and sticky rice. On a main stage, the live show alternates between groups performing energetic song-and-dance numbers, and others conducting ceremonial chants. "It's to bring positive spirits," Adam tells me.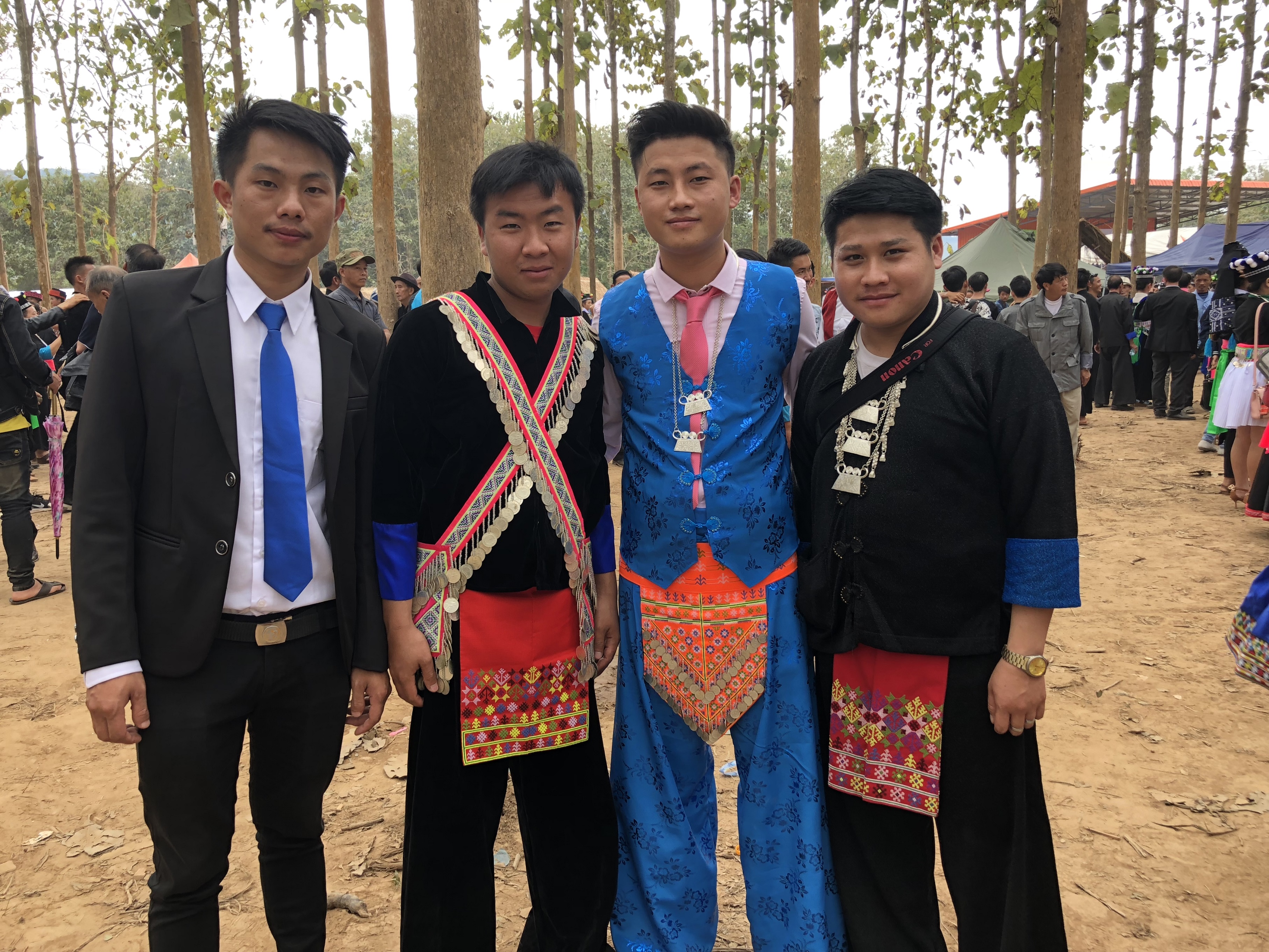 The Main Event
First, I meet the family. Adam introduces me to his parents, who have come a long way from their village for the festival. Then, his brothers, cousins, and friends, everyone smiling and having fun. After he fixes his hair one final time, Adam leads me toward the main event. I quickly realize that he has invited me not just as a new friend, but as a wingman. I'm an oddity here, one of a small handful of westerners, and my mere presence attracts a lot of attention. As we walk, he's constantly on the lookout for someone special. Several times we stop, and he approaches a young woman using a clever trick—asking me to take his photo with her, then asking for her number. They always say yes.
Soon, we arrive at the long, double line of young men and women, the latter in ornate, shimmering hats and gowns, many in delicate-looking high heels, despite the dust. Everyone is throwing fabric balls back and forth, back and forth. The deal is: the woman is the holder of the ball. If you're a guy, and you think you'd like to get to know her better, you approach and ask whether she'd like to play catch.
If she consents, you toss the ball back and forth for maybe half an hour, breaking the ice, chatting a little. If she likes you, the two of you will go grab a coffee, or frogs legs, at one of the nearby tents. And then? The conversation continues on WhatsApp.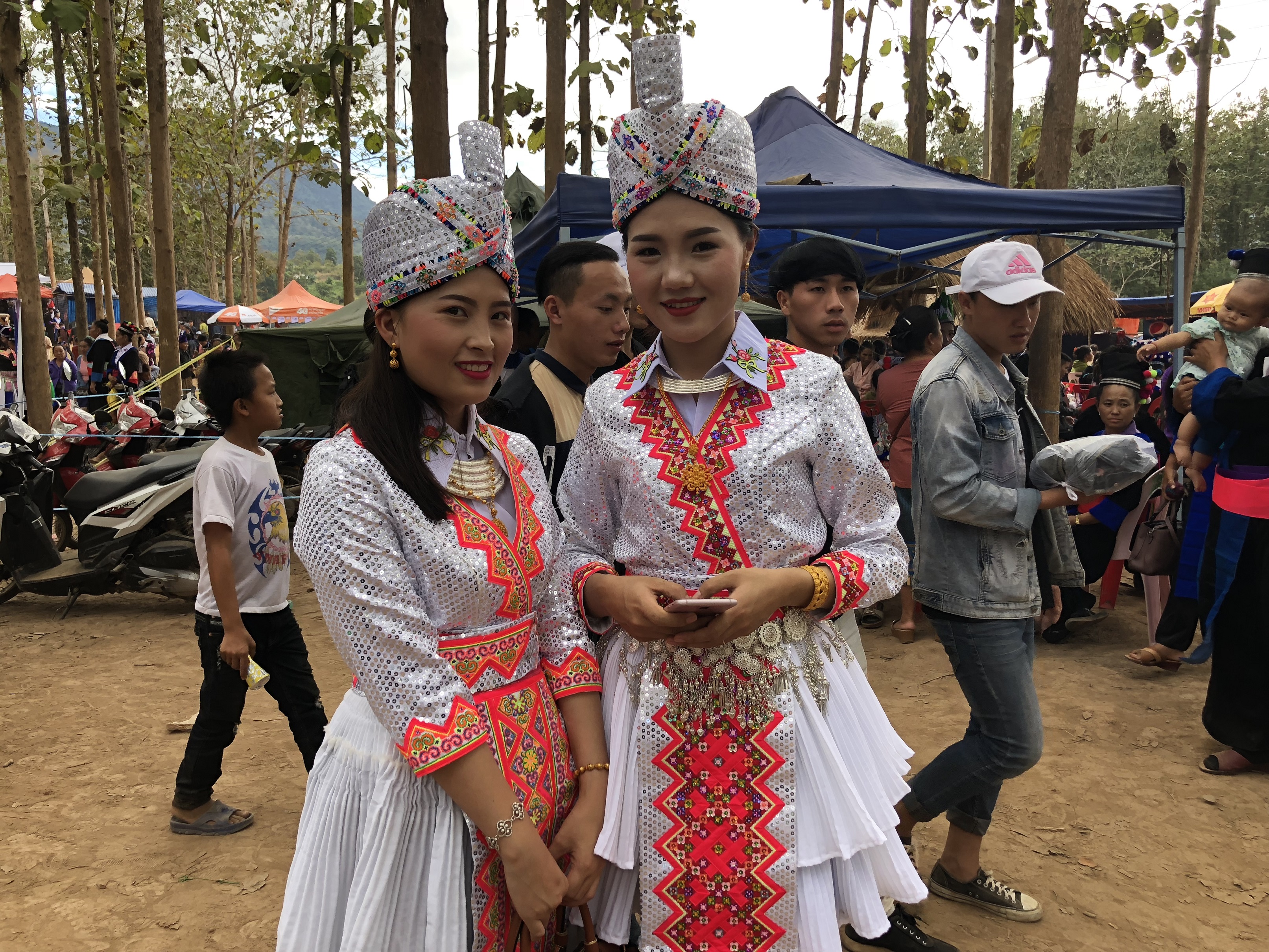 First, Adam throws the ball with a couple different women, swapping information afterward. I join in. I'm not sure if ball skills are valued—if the better you throw, the more attractive you appear. I've played a little baseball in my time, so I try to show off a bit, backhanding the ball, then flipping it across like a shortstop making a double-play. On another toss, I put some backspin on it. Inevitably, I drop the ball. The woman across from me, with her shy smile under an elaborate hat, laughs as if I've made a nice joke.
At the end of the day, Adam has gathered three numbers for me, and probably seven for himself. He takes the liberty of WhatsApp texting my contacts from my phone. Two text back: "Hi!"
I don't find a wife, not today, but I'm hopeful that Adam will find the right connection among the many he's made here. Leaving everything behind, I catch a ride back to Luang Prabang in the bed of a pickup truck. Back in my hotel room, it all quickly feels far away, like a dream, this giant game of catch, everyone in their finery, in the middle of the forest. Closing my eyes, all I can see, as I drift off to sleep, are hundreds of fabric balls arcing through the air, back and forth, back and forth.
Toronto-based writer Tim Johnson is always traveling, in search of the next great story. Having visited 140 countries across all seven continents, he's tracked lions on foot in Botswana, dug for dinosaur bones in Mongolia, and walked among a half-million penguins on South Georgia Island. He contributes to some of North America's largest publications, including CNN Travel, Bloomberg, and The Globe and Mail.