While trekking a city is full of delights, sometimes the hotel has its own host of captivating activities
Believe me, I had plans. Waking up for a sunny Saturday in America's fourth-largest city, I was fueled by the anticipation of exploring a place I hadn't visited in years. Striding to the floor-to-ceiling windows in my executive suite at the Four Seasons Houston, the downtown skyline spread out at my feet. So much to see. So little time.
But here's the thing—travel days often unfold very differently from what we had planned. And the best ones? Those go completely off the rails. This would be one of the latter. Standing there at the window, feeling the energy and dynamism of The Bayou City surging up at me, I never imagined I wouldn't take one step outside today.
That's right: I never left the hotel. It wasn't a weather thing—torrential rains or high winds didn't keep me inside. And I had a number of cool options for tours and attractions. It certainly wasn't some sort of personal challenge, either, like in the 2000 low-budget indie movie "Waydowntown" where a group of young office workers make a bet on who can stay inside their web of interconnected offices, condos, and food courts for the longest. (Although maybe there was some inspiration there.)
In truth, I just got busy. Because I found plenty to keep me occupied inside the hotel, which sits in the heart of downtown, and just completed a major, multi-million dollar renovation. The updates transformed the guest rooms and suites as well as the lobby, creating "Houston's living room." They also added a secret special feature—a place where I ended my night. More on that later.
Hotel Extravaganza
But first, I went golfing. After a hearty, Texas-sized breakfast, I made my way down to the Topgolf Swing Suite, the first simulator of its kind. Now, I am a terrible golfer. And here, I had a chance to (virtually) hack my way through some of the world's greatest courses, from Banff Springs to Pebble Beach. It did not go well, my ball veering—just like in real life—deep into the fescue. I switched games to one where you take a hockey stick and shoot on a net—a sport I had played fairly well in my youth.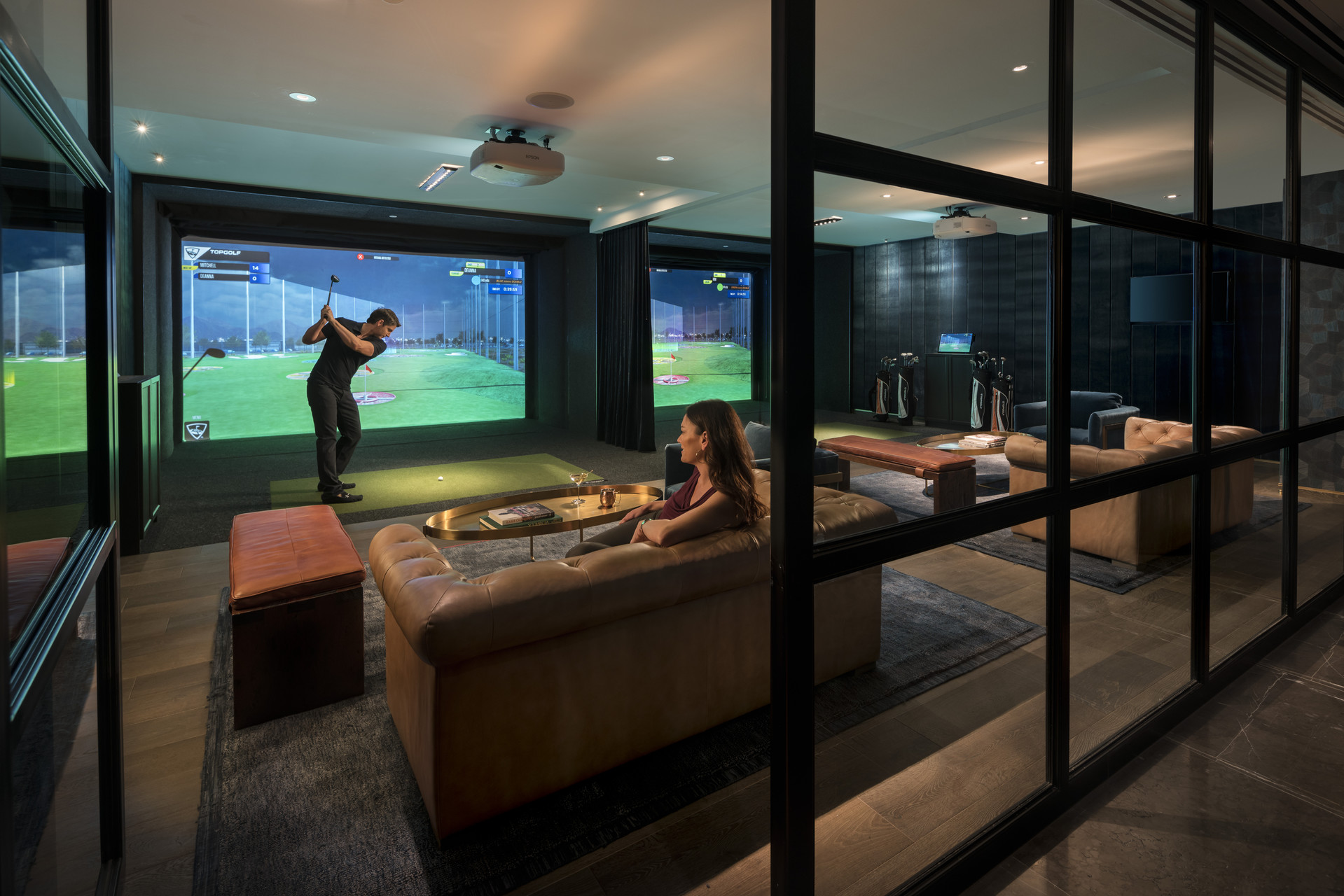 I made a few shots, and left satisfied. Time to explore the city. Just about to emerge from the front door to complete a self-guided tour of Houston's downtown, I bumped into the hotel's GM. After a chat, he mentioned that the hotel hosts a resident magician, who performs periodically. Would I like to go? Of course. When is the show starting? Well, right now.
I got the last seat in the house. This was not the kind of magic you'd find at a kid's birthday party. With a regular residency at the hotel, Ben Jackson's shows are almost always sold out. It's a Saturday dress-up affair, an occasion.
"This is an evening of sophistication. We bring together art, science, even engineering and design," the besuited magician told men during a quick chat before showtime. He did his first trick at the age of 15 and was hooked. Since then, he has appeared on the Today Show and Candid Camera. He went on to study biomedical science, but magic kept drawing him back. Today, this is the number one, top-rated show in the city. I would soon see why—his sleight of hand simply wowed everyone in the crowd.
Staying in the hotel afterward, the hours just slipped by. I sipped bourbon at the backlit bar of Bayou and Bottle, where they serve 180 different whiskies. At one point I popped by the Krigler boutique, just off the main lobby, and the heir to a storied perfume legacy just happened to be standing there, behind the counter.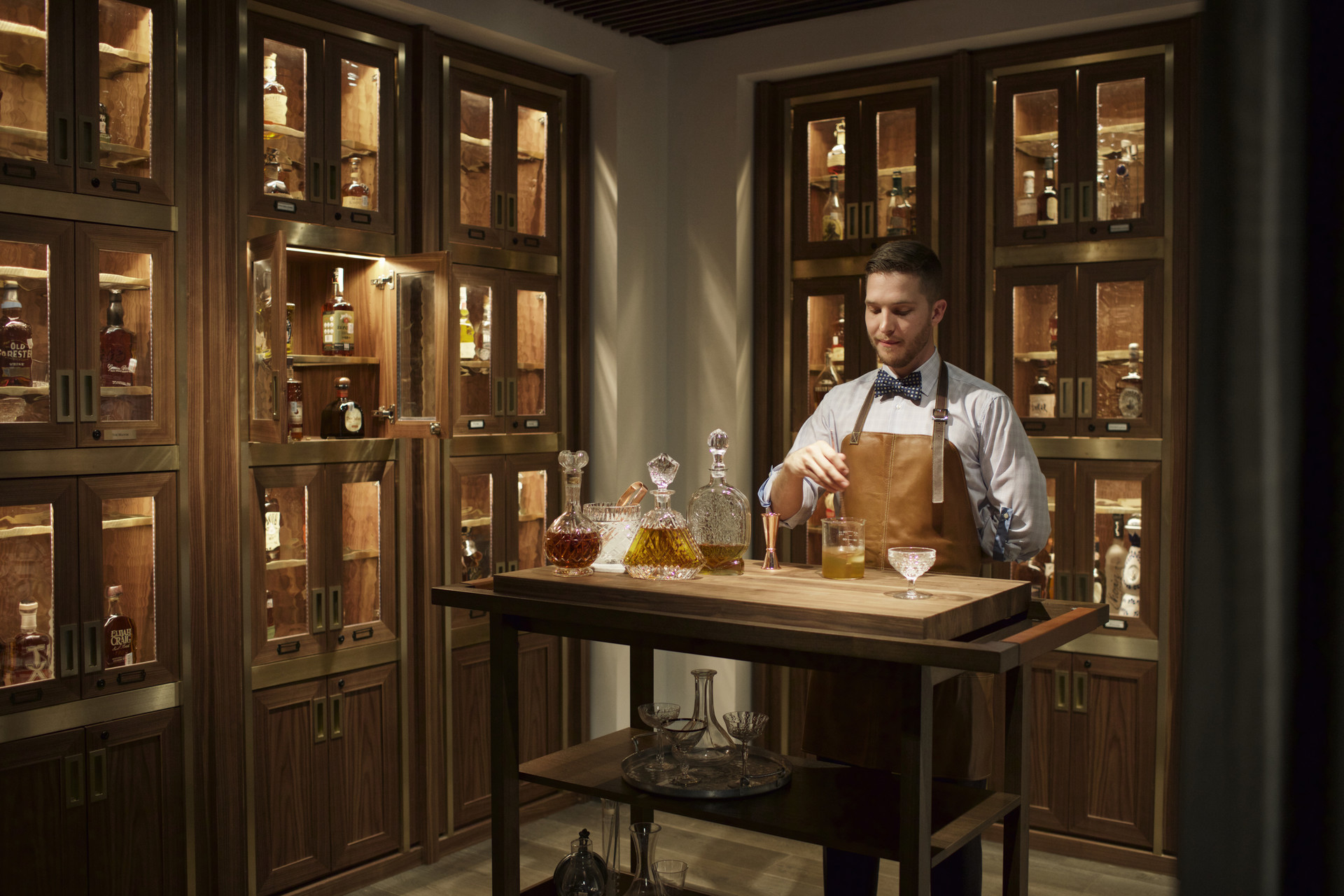 The company's history dates to Berlin and Moscow in the second half of the 19th century, and the company, which currently has 11 stores worldwide, has created bespoke scents for movie stars and royalty all over the world. For Ben Krigler, it's simply the family business, with secrets and recipes handed down for five generations. "It's like a family of chefs, passing on their knowledge," he said. "Except, where they made cakes and soups, we made perfume." We chatted for some time, and I eventually walked away with a far deeper knowledge of the scented arts. Plus, a bottle of the good stuff, a cologne made especially for King Hussein of Jordan.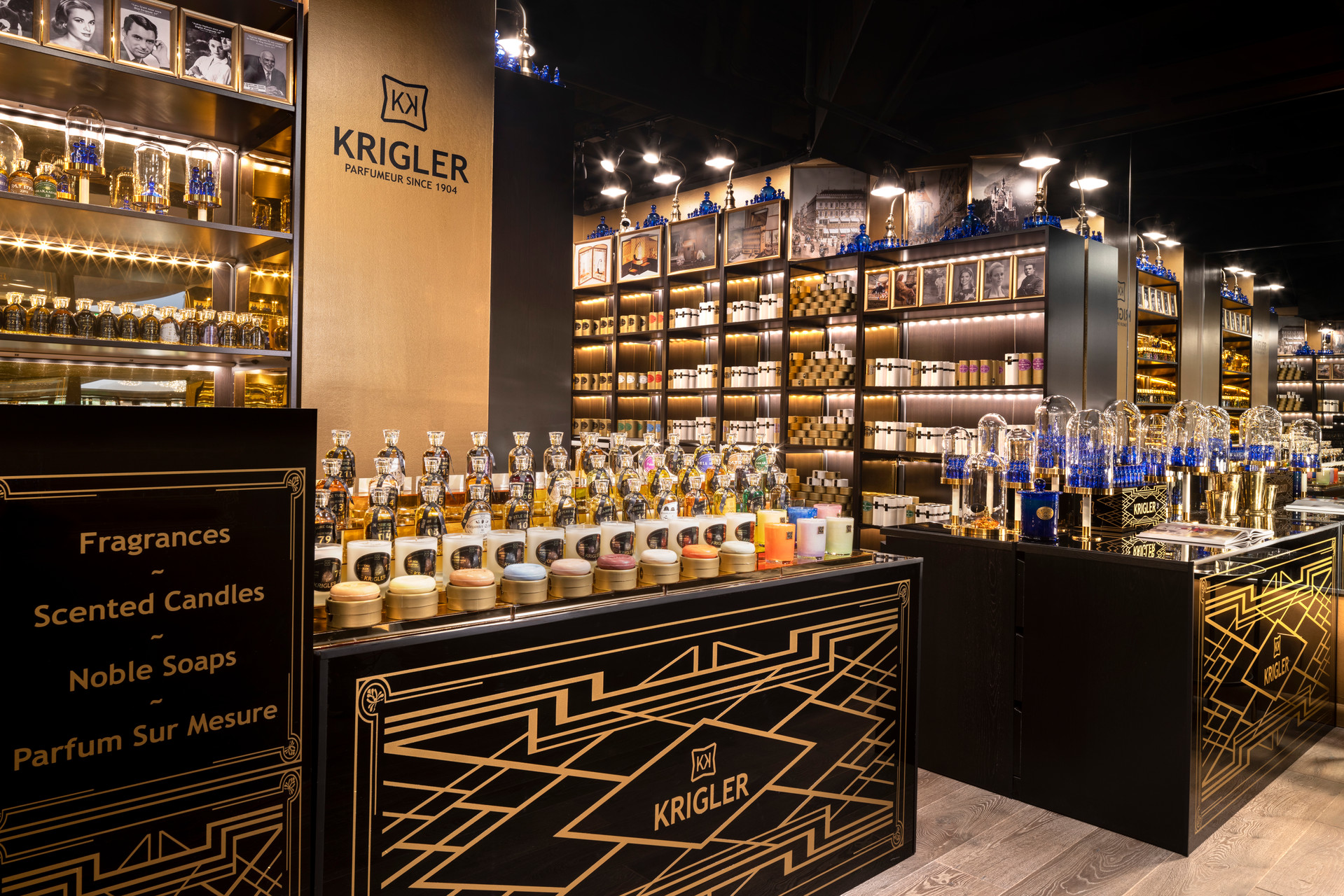 Dinner time arrived, and I feasted at Chef Richard Sandoval's Latin steakhouse, Toro Toro. Moving from a swordfish dip to a super-tender wagyu, dipping into lobster Mac and cheese on the side, I decided to skip dessert. Because I knew something more was just ahead.
After my final bite, a server met me at the table, then led me through an darkened, empty dining room. We arrived at a wall that was covered in bookshelves. Without a word, she found a small, tucked away keypad.
The wall swung open. This was Bandista, the hotel's gilded, invite-only speakeasy. Walking through the secret door, it felt like I was emerging from a time machine. "The inspiration here is the 'tequileros' who brought agave-based liquor across the border during 1920s prohibition," bartender Jennifer Allbritton explained to me as she poured a flight that included tequila, rye, and cognac. "We have fun with it, give it a Latin twist."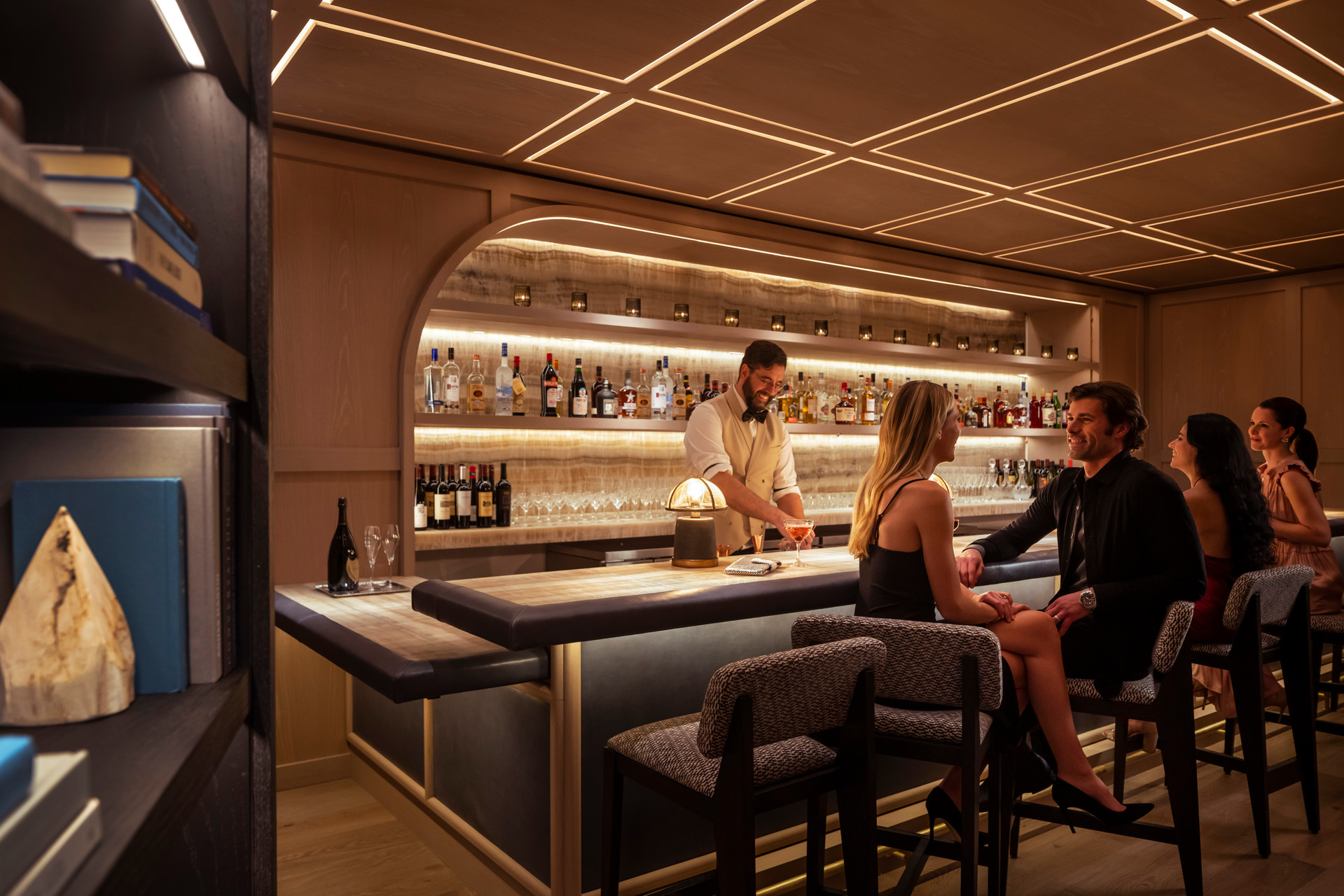 I looked at my watch. Midnight was approaching. I hadn't made any bets on staying inside, like the character in the movie. But still, I felt like I had won. A whole day inside, complete with surprises, a drink in front of me, and even a little magic.
If You Go
Fly: Houston's George Bush Intercontinental Airport (IAH) is connected to major cities around the world. A major hub for United Airlines, nonstop flights land here from across Europe, Asia, and even Australia (as well as many U.S. cities).
Getting Around: Houston's public transit system includes light rail and buses. But of course, you won't need to get around, if you don't plan on leaving the hotel!
Stay: The Four Seasons Houston sits within walking distance of most downtown attractions, but it's also a fine place to settle in and enjoy. Get a massage in the full-service spa, relax at the rooftop oasis pool, and look out over the towers of the city from the windows of a newly renovated executive suite.
Take Note: Bandista isn't open every night—for details (and maybe an invite), inquire with the concierge.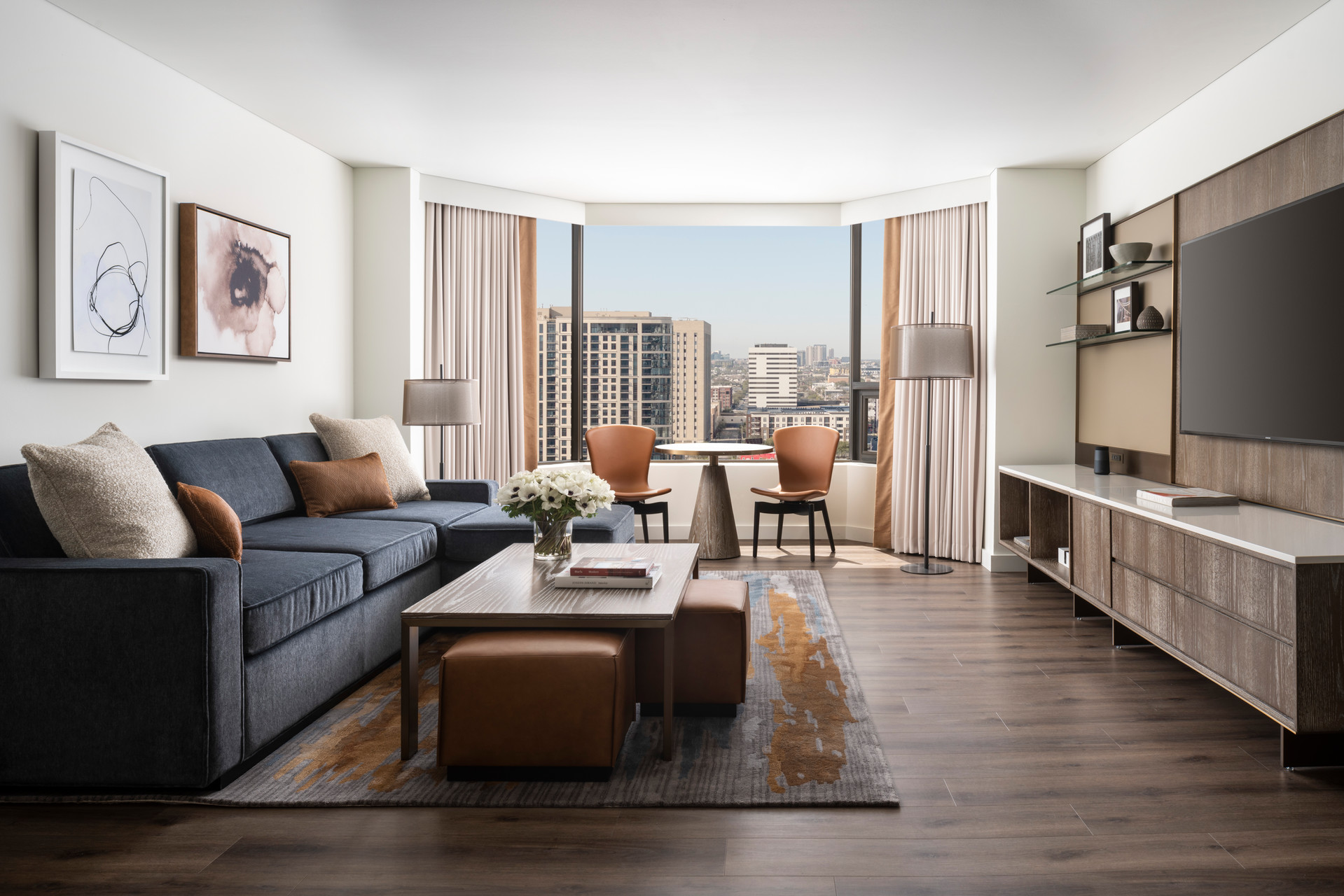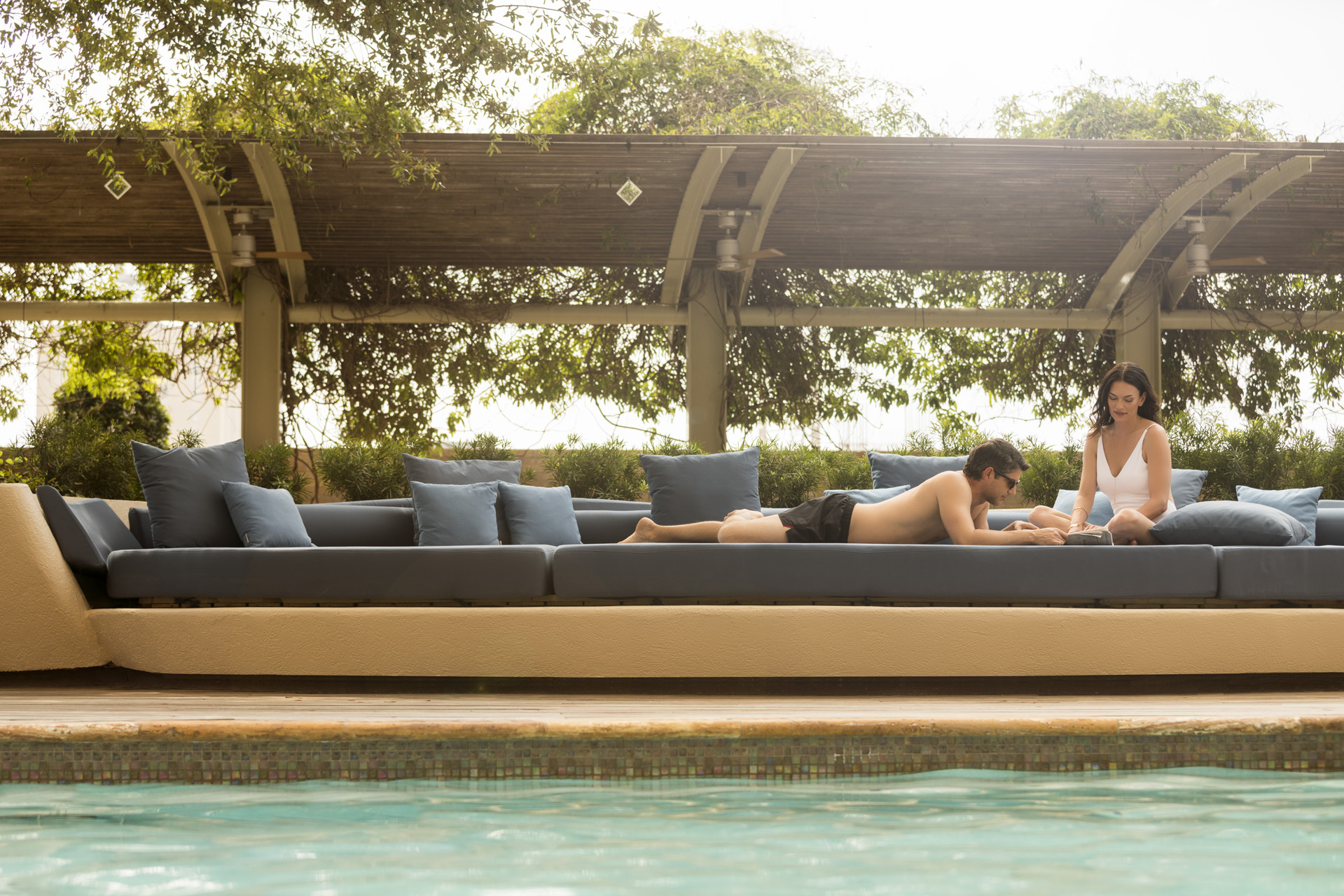 Toronto-based writer Tim Johnson is always traveling in search of the next great story. Having visited 140 countries across all seven continents, he's tracked lions on foot in Botswana, dug for dinosaur bones in Mongolia, and walked among a half-million penguins on South Georgia Island. He contributes to some of North America's largest publications, including CNN Travel, Bloomberg, and The Globe and Mail.