If you ask youngsters whether they would like some okra, chances are most of them would cringe. However, cooking okra the right way can create many lip-smacking dishes that are not only delicious but are packed with health benefits. And with summer approaching, try some of the best and easy okra recipes that will make your family and guests take another helping. Happy cooking!
Also commonly known as gumbo or ladies' finger, okra is a green summer vegetable rich in many essential vitamins such as C, B6, K and A; minerals such as potassium, sodium, iron and calcium; antioxidants and fibre. The green portion that we eat is the seed pod of the Abelmoschus esculentus plant.
The slimy texture of fresh okra seeds and the soft velvety feel of the vegetable makes it stand out among other veggies, but it is by no means less flavourful and versatile. Whether you cook okra in curries with spices, simply have it boiled or stewed, fry them as chips, or savour pickled okra, every recipe is easy, scrumptious and filled with healthy goodness.
Here's more about okra, the summer star, and the best recipes to make it
Where is okra found?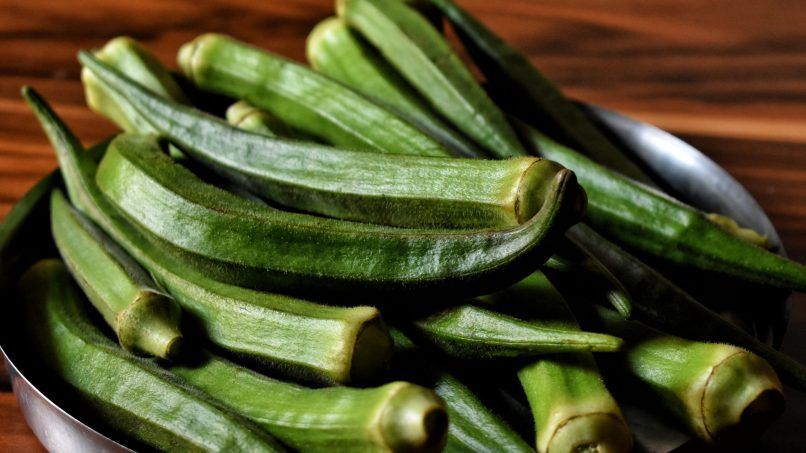 Typically, okra plants are native to Ethiopia and were introduced to the USA by enslaved people from the African nation. Since then, okra seeds have been harvested in large parts of America. Leading global producers include tropical countries such as India, Nigeria, Sudan, Pakistan, Ghana, Egypt, Benin, Saudi Arabia, Mexico and Cameroon.
The crop is highly drought resistant and thrives extremely well in warm and humid weather. Before the edible seed pods emerge, the plant blooms with red, white, yellow or purple okra flowers.
How to choose fresh okra and cook them?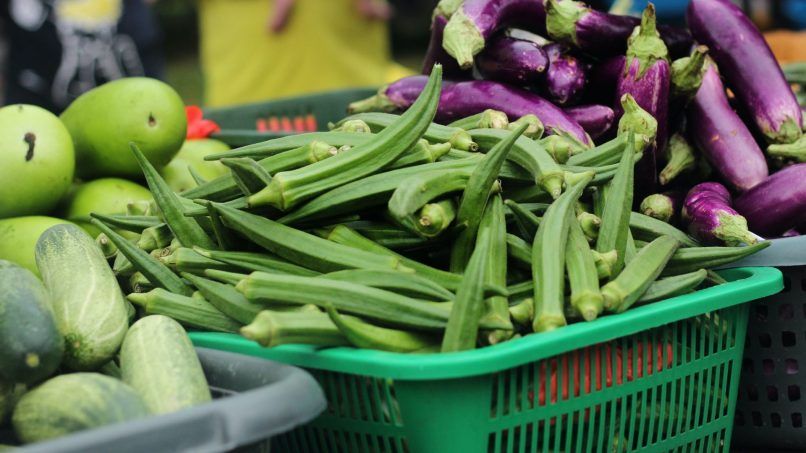 Choosing the right variety is essential to any okra recipe. And if the okra pods are tender, then you can easily whip up a delicious dish in no time.
One of the key indicators to check if the popular vegetable is good to use is that you break an okra at the tail, and it snaps effortlessly. This means, the vegetable is fresh and not old or dry. If the body feels rough and grainy, then the okra could be slightly old. Try to look for a soft, velvety, slightly short variation to ensure the rightly aged okra.
If the tender vegetable is cooked properly, even easy okra recipes that are homemade with no gourmet touches can taste incredible. Saute, grill, fry or make curries — there are endless possibilities with okra that will make you want more.
Easy okra recipes that anyone can make
Just a squeeze of lemon juice, some salt, a little pepper and some olive oil — the ingredients needed to make okra are fairly simple. And don't worry, if you are not an expert in whipping up delicacies in the kitchen, these okra recipes are simple, flavourful and will serve as a perfect side dish that is high on health benefits (okra helps in preventing cancer, improves gut health, is good for fighting obesity and diabetes, as per Medical News Today).
So, if you are looking to take the tasty yet healthy route, here are some easy homemade okra recipes to flaunt your cooking skills and impress everyone.
Air-fried okra
Ingredients: 20 okras, 2 tbsp oil, ½ tsp salt, ¼ tsp turmeric powder, 1 tsp red chilli powder, 1 tbsp gram flour or besan, 1 tsp rice flour, 1 tsp garam masala powder, ½ tsp water
Method: Cut the okra into thin strips. If you are unable to julienne them, then cut them into thin discs. Place the okra in a large bowl and add all the dry ingredients. Sprinkle a few drops of water to bind them and mix well. Once the vegetable is well coated, keep it aside.
Preheat your air fryer to 350 degrees Fahrenheit for five minutes. Place the coated okra in it and cook for 10 minutes. Flip and shake it midway. Once done, serve hot with ketchup.
If it's your first time cooking okra, this fried okra recipe is the one for you. In case you don't have an air fryer, you can also heat some oil and fry the mix over medium heat till the okra is crispy golden brown.
Cornmeal breaded fried okra
Ingredients: 1 kg fresh or frozen okra (if using frozen, defrost and pat them dry beforehand), 1 lt buttermilk, 1 egg, 1 cup of all-purpose flour, 3-quarter cups of cornmeal, 1 tsp of cajun seasoning, salt to taste
Method: Dice the okra into small pieces, and place them on a paper towel or cloth to remove extra moisture. In a large bowl, pour the buttermilk and whisk an egg into it. Soak the okra in this mixture.
In another bowl or plastic bag, mix all-purpose flour, cornmeal, cajun seasoning and salt to taste. Take the soaked okra and start breading it in this dry mix. In small batches, deep-fry it in hot oil over medium-high heat. If needed, sprinkle some salt over it and serve hot.
This pan-fried okra is the perfect dish as a healthy game-night snack, a party appetiser or even as crispy toppings on salads and is a classic, yet easy, recipe from the American South.
Bhindi masala
Ingredients: 250 g okra, salt bay leaf, cardamom, clove, cinnamon, mace, 2 large finely chopped onions, 1 large chopped green chilli, 2 tsp finely chopped garlic, 2 tsp finely chopped ginger, 3 small tomato puree, ¼ tsp turmeric powder, 2 tsp chilli powder, 1 tsp cumin powder, 1 tsp coriander powder, ½ whisked curd, ½ tsp sugar, coriander leaves, kasuri methi
Method: To begin this easy okra recipe, remove their heads and tails and chop the okra in halves. In a pan, add a little oil and fry them with a pinch of salt. Once brown, keep them aside. In the same pan, pour some more oil and add the whole spices — bay leaf, cardamom, cloves, cinnamon and mace. Sauté them and add the onion, green chilli, ginger and garlic and continue to sauté.
Once the onion is nice and brown, add the tomato puree. When the excess moisture has evaporated, add the chilli powder, turmeric powder, some salt, cumin powder and coriander powder. Mix it well and after two minutes add the whisked curd. Once the oil begins to separate, add some water and cook for a few minutes.
Then, add the cooked okra, sugar and some coriander leaves. Close the pan with a lid and cook for another five minutes. Garnish with some crushed kasuri methi and serve hot.
This easy, delicious Indian spicy okra curry goes extremely well with roti, paratha and rice.
Pickled okra
Ingredients: 250 g okra, 8 cups cider vinegar, 2 cups water, water, ½ cup of canning salt, 1 tsp mustard seeds, 1 garlic clove per jar (poach it in some simmering water beforehand to avoid oxidising), 1 jalapeno split in each jar (the recipe shown uses 1 serrano pepper), 1 tsp dill seed in each jar.
Method: In a large saucepan, add the cider vinegar, 1 cup water and salt, and let it come to a boil. In another large pot, pour some water and bring it to a boil.
As for the jars, it is important to distil the vessels well. To each jar, add some mustard seeds, dill seeds, garlic clove and jalapeno for some spice. Then, stuff the whole okras as tightly as possible in each jar in an alternating pattern of head-up and head-down.
Once the spiced liquid comes to a boil, pour it into the pickle jars and shut their lids tight. Place the jars in the other pot of boiling water. Wait for 10 minutes and remove them. Allow them to rest inverted.
Cool and store them to relish later. Make sure to use heat-resistant jars to avoid any breakage.
Grilled okra
Ingredients: 250 g okra, 2 tbsp olive oil, flake salt, cracked pepper and cayenne pepper powder.
Method: Wash okras well and season the vegetables; then, drizzle a generous amount of olive oil on them. Add the other spices and throw them on a nice hot grill. Cover the grill and cook for five to seven minutes. Flip them midway, and check if they are thoroughly done. Leave them on the grill if needed, for a few more minutes. Once a nice charr appears on the okras, remove them and serve the grilled okras hot.
You can also add some salt, or squeeze lemon juice before serving. If you don't have a grill, this easy okra recipe can also be made by roasting them in an oven.
Okra bamya
Ingredients: 800 g of small-sized okra, 2 large onions finely chopped, 2 tbsp oil, 10-12 cloves of garlic (minced), 1 kg lamb leg, 800 g canned tomato (or tomato puree), 3 tbsp lime juice, green chilli, water, salt, pepper
Method: In a large pan, add some oil and sauté the onions along with the garlic. Once the onions are halfway cooked, add the meat and cook till they get a brownish tinge. Deglaze the pan by adding the tomatoes. Add nearly 500 ml of water, and bring the whole thing to a light boil. Lower the flame and cover it.
After nearly 45 to 60 minutes, open the lid, and check if the meat is nice and tender with a fork. Once done, add the okra and some water. Turn the flame to medium and bring it to a boil.
To this, add 1 tbsp salt and 1 ½ tsp black pepper, and cook for 10 minutes. Once done, add whole green chillies, four cloves of garlic and lime juice.
This classic Mediterranean-style easy okra recipe is typically served with tomato pickle and vermicelli or can be had with rice. You can also make a vegan version by omitting the meat.
Crispy okra and tomato stir-fry
Ingredients: 250 g okra, 2 cloves of finely chopped garlic, 1 red onion, 250 g cherry tomatoes, 1/2 cup canned chickpeas, olive oil, salt and pepper to taste, 1/2 cup vegetable stock, 2 lemon wedges
Method: Slice the okras in halves, roughly dice the onion and slice the cherry tomatoes in halves.
Heat a nonstick pan over medium heat and drizzle some olive oil. Sauté the red onions and half a cup of chickpeas with some salt and pepper for three to four minutes. Then add the okras and garlic and continue to cook for two to three minutes. Next, add the tomatoes and season well with salt and pepper and sauté for another one to two minutes.
Pour the vegetable stock and sauté for just about another minute. Cover and cook for five to six mins. Add some lime juice for some added zest and serve hot.
Seafood gumbo
Ingredients: For roux: 1 cup all-purpose flour, 1 cup vegetable oil, 2 cups chicken broth.
For the gumbo: 500 g large raw shrimp (peeled and deveined), 1 tsp onion powder, 1 tsp garlic powder, 1 tsp creole seasoning, 1/2 tsp black pepper, 2 cups frozen seasoning blend (or 1 diced white onion, 1 diced green or red bell pepper, 2 ribs of celery diced), 1 cup frozen okra, 1 can tomatoes, 1 cup roux, 4 cups chicken broth, 1 tbsp garlic powder, 1 tbsp onion powder, 2 tbsp creole seasoning, 1 tbsp minced garlic, 2 bay leaves, 1 tsp dried thyme, 1 tsp black pepper, butter, 1 tbsp gumbo file, blue crabs as needed, crab meat (optional)
Method: To make the roux, toast the all-purpose flour in a heated oven and mix the broth one cup at a time, till it attains a thick consistency. Once done, keep it aside.
In a large pan, heat some butter and fry the shrimp. Add the garlic, onion and creole seasoning. Once cooked, remove them and keep them aside. In the same pan, heat some more butter and add the seasoning blend or the other ingredients mentioned and cook.
To this, add the okras, tomatoes, minced garlic, one cup roux, chicken broth, garlic powder, creole seasoning, bay leaves, black pepper, thyme and gumbo file. Let it cook and remove the excess fat if needed. Once it comes to a boil, add the crab, shrimp and crabmeat and cook well. Lower the heat, cover the pan and cook over a low flame.
Once done, serve the gumbo hot with coriander garnishing. If you are looking for a stewed okra recipe with no chicken and meat, this seafood gumbo is ideal.
15-minute spicy okra
Ingredients: 450 g okra, 30 g firm tofu mashed, 4 garlic cloves finely chopped, 3 Thai chillis chopped, 1 tbsp soy sauce, 1 tbsp vegan oyster sauce, a splash of toasted sesame oil, ½ tsp cornstarch, ¼ cup of water, neutral oil, ½ tsp salt or more to taste
Method: For the sauce: In a bowl, add soy sauce, vegan oyster sauce and toasted sesame oil, and whisk well. In another bowl, mix cornstarch and water to make a slurry. Keep both mixtures aside.
For the okra: Wash and clean the vegetable. Fill a big wok with water and bring it to a boil. Add a drizzle of oil and salt and cook the okras for two minutes. Once done, remove it from heat and place the okras in a bowl with cold water, and let it rest for two to three minutes. Then drain. Cut the heads of the okras and place the whole vegetable on a plate.
In a small non-stick skillet, heat a little oil and sauté the mashed tofu over a medium flame until it turns golden brown. In the same pan, add some more oil and sauté garlic and chilli. To this, add the cornstarch slurry and stir continuously. Once a viscous consistency is achieved, pour the mixture over the okras and serve at room temperature or cold.
Dahi bhindi
Ingredients: ½ kg okra (trim the head & tail) 2 green chilli (slit into half) less spicy, 2 tsp red chilli powder, 1 tsp turmeric powder, 1 tsp coriander powder, 2 tbsp mustard oil, 1 tsp oil, salt to taste, 1 medium-sized tomato (roughly chopped), 1 tbsp beaten curd (dahi), 1 tsp gram flour, 1 tsp cumin seeds, ½ tsp fennel seeds, 1 tsp coriander seeds, few fresh fenugreek leaves, ½ cup water, ½ tsp sugar, 2 tbsp ghee, 5-6 cashew nuts, 5-6 raisins.
Method: Sautéing: In a large bowl, mix the okras with green chilli, red chilli powder, turmeric powder and coriander powder. Add mustard oil and salt to taste and mix well.
Heat a pan on a medium flame, transfer the marinated okras and sauté them well. Add tomato and sauté for a minute.
In a big bowl, prepare the curd mixture. Combine the beaten curd with turmeric powder, red chilli powder, coriander powder, salt to taste, mustard oil and gram flour and mix well. Set it aside.
Also, prepare a ginger-garlic paste. In a mortar pestle, add ginger, green chilli, salt to taste and grind them into a rough paste.
In a wok, add mustard oil. Once it gets hot, add cumin seeds, fennel seeds and coriander seeds, and let it splutter. Add the prepared ginger-garlic paste and sauté well. Once the oil separates, add the curd mixture and combine everything well. Cook on medium heat for two to three minutes.
Add fenugreek leaves and water and stir well. Once it simmers, add sugar, sautéed okras and tomatoes and cook on a low flame. Once done, transfer it into a serving bowl, and pour the tadka (heated oil, ghee, cashew nuts, raisin and button chilli) over it.
Garnish with coriander sprigs and serve hot with rotis.
(Main and feature image credit: Neha Deshmukh/ @nehadeshmukh/ Unsplash)
Frequently Asked Questions (FAQs)
Question: What is the best way to eat okras?
Answer: Okra is an extremely healthy and nutritional summer vegetable and can be made in several ways. From air frying and making vegan stir-fry dishes to Indian curries or simply having it boiled, there are many easy okra recipes that anyone can whip up.
Question: How do you cook okra so it is not slimy?
Answer: The sliminess in okra comes from its seeds. Frying or sautéing okra reduces its sliminess. Another easy way to cook okras is by soaking them in vinegar for 30-40 minutes before starting preparation for a dish.
Question: What takes the slime out of okras?
Answer: Soaking in vinegar, deep frying, breading and pickling are some of the easy ways to reduce the sliminess of okras. While storing them, keep the okras in paper or plastic bags to prevent them from becoming slimy or catching mould.
Question: What is the healthiest way to eat okras?
Answer: The healthiest and easiest way to eat okras is to simply boil them and have them with a pinch of salt. However, several recipes such as curry, pickle and air frying are equally healthy and delicious.
Trinetra Paul
Trinetra is an ardent foodie and bibliophile who writes about films, travel, food and lifestyle. As a writer and literature student, slam poetry and storytelling are her go to jam. When not working, Trinetra is busy looking for her next place to visit or binge-watching Instagram videos for travel inspiration.
---
Subscribe to our newsletter to get the latest updates.
You're all set
Thank you for your subscription.