When anyone thinks of Adam Sandler, they are most likely to picture a funny man doing a madcap slapstick comedy or a hilarious rom-com. Primarily known for his iconic comedy roles, Sandler is a versatile actor who often does not get the credit he deserves for his dramatic acting chops. In fact, the actor has given Oscar-worthy performances in a few of his recent drama films and shouldn't be boxed in in a certain, stereotypical image.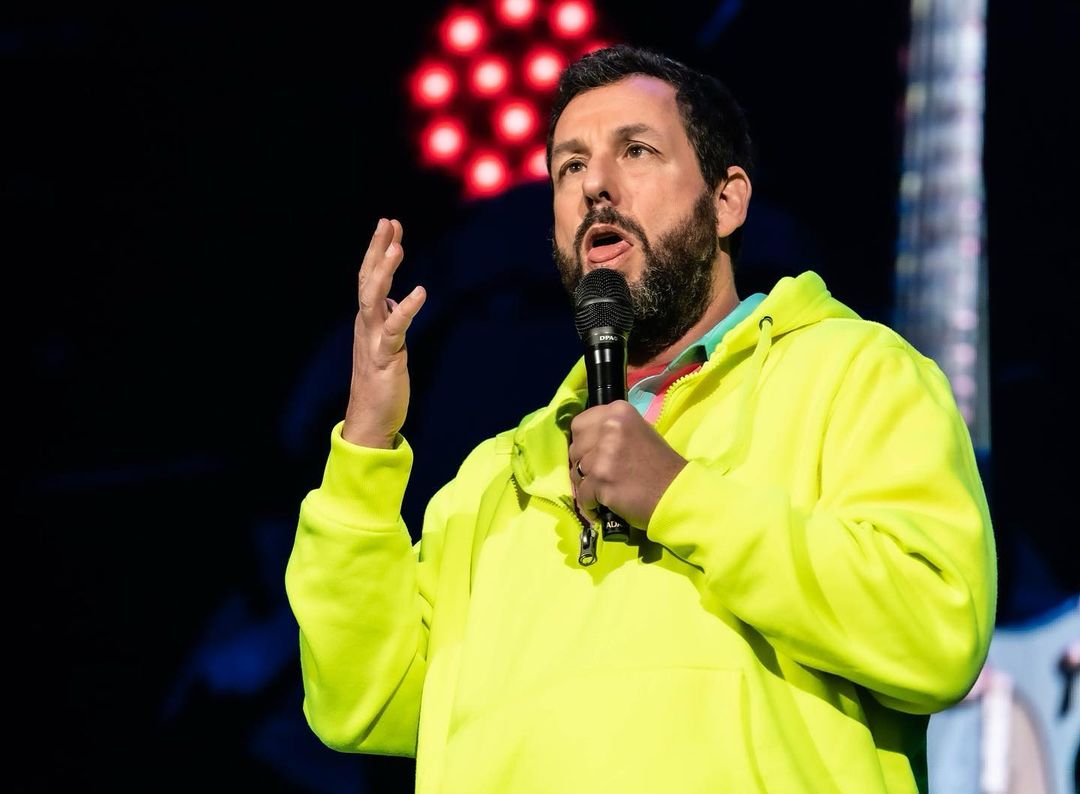 Recently, the actor was presented with the Mark Twain Prize for American Humor in Washington. The presenters included Drew Barrymore, Conan O'Brien, Chris Rock, Jennifer Aniston, Steve Buscemi, Dana Carvey and Luis Guzmán.
Sandler's impressive career first took off when he was cast on Saturday Night Live in the '90s. His tenure on SNL was so successful that he went on to star in comedies such as Billy Madison, Happy Gilmore and The Waterboy. Since then, Sandler has gone on to become one of the most successful actors and comedians in Hollywood. Besides acting in movies, he has also released several comedy albums and embarked on various stand-up comedy tours.
"I was proud and excited for my family, man."

Adam Sandler says it was a "huge surprise" to receive the Mark Twain Prize for American Humor. https://t.co/aSyp33v4gw pic.twitter.com/dw4UZ60RGF

— The Associated Press (@AP) March 20, 2023
Throughout his career, the actor has experimented with various roles that showcase his talent, acting skills and ability to deliver versatile performances. Cue Uncut Gems and Hustle. So, given Sandler's impressive versatility, here are eight of our favourite Adam Sandler performances in drama films that deserve more recognition.
Eight best performances by Adam Sandler in drama films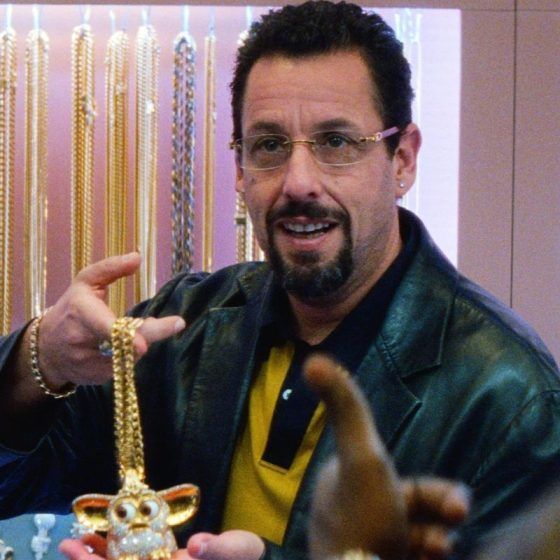 When talking about Sandler's dramatic performances, Uncut Gems is the first film that comes to mind. A crime thriller directed by Joshua and Benny Safdie, Uncut Gems was critically acclaimed, with many critics calling Sandler's performance to be Oscar-worthy. The plot of the film revolves around Howard Ratner, a New York City jeweller and gambling addict who decides to pay off his debts by selling a rare Ethiopian black opal, all the while juggling his failing marriage, mistress, and various criminal associates. The film was also praised for its intense and chaotic energy and rapid editing that created a sense of urgency and tension. It was also A24's highest-grossing film domestically until it was taken over by Everything Everywhere All at Once in May 2022.
IMDb rating: 7.4
Rotten Tomatoes score: 91%
(Image credit: Courtesy IMDb/Uncut Gems)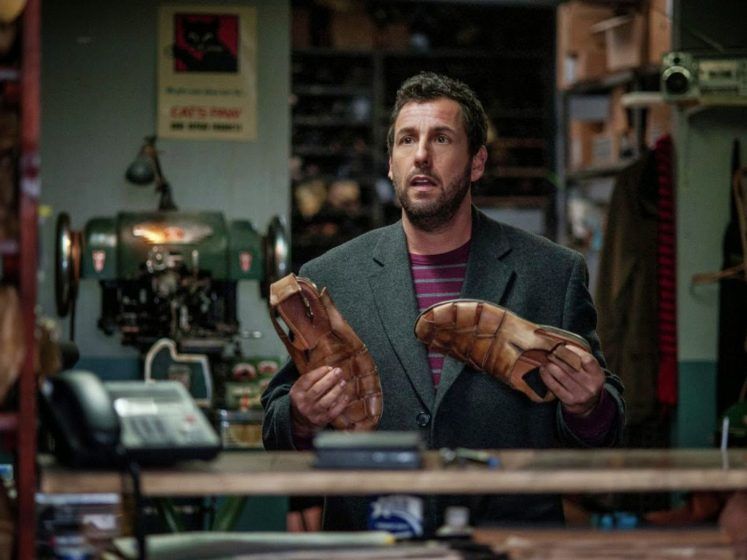 A dramedy, The Cobbler features an underrated performance by Sandler. Directed by Tom McCarthy, the film focuses on Max Simkin, a cobbler who discovers a magical sewing machine that allows him to transform into the people whose shoes he repairs. The film follows Max as he uses his newfound ability to try on different identities and walk in other people's shoes (literally). While doing so, he learns about the lives and struggles of those around him, including his own family and community in New York City. While the movie was slammed by critics, Sandler's performance was considered to be a step in the right direction for the actor. It's one of those cases where the performance deserved a better film.
IMDb rating: 5.8
Rotten Tomatoes score: 10%
(Image credit: Courtesy IMDb/ The Cobbler)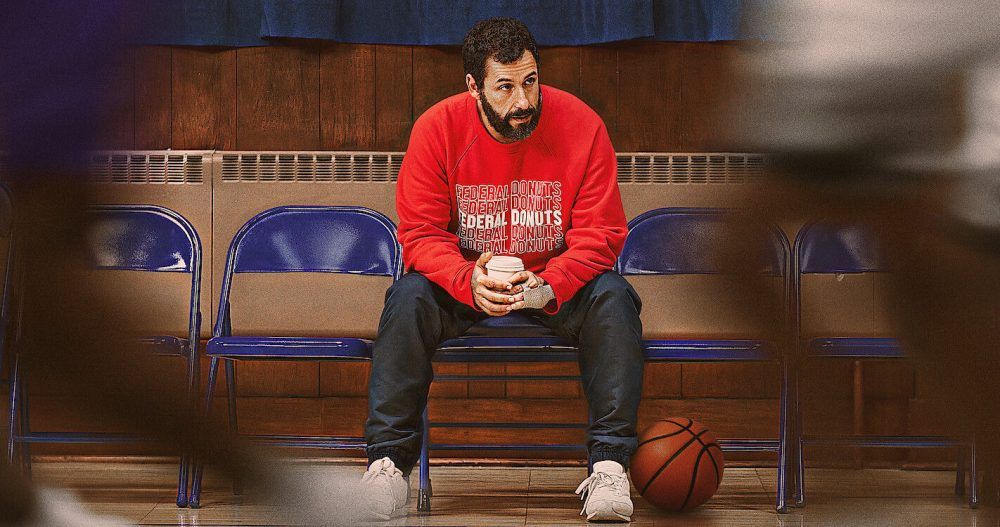 Sandler's most recent dramatic film, Hustle came out on Netflix in 2022. Directed by Jeremiah Zagar, the plot of the movie revolves around an NBA scout who discovers a talented basketball player in Spain and eventually tries to prepare him for the NBA draft. Other actors in the cast include Oscar-nominee Queen Latifah, Ben Foster, the legendary Robert Duvall, Heidi Gardner and current NBA player Anthony Edwards. Several other NBA players and coaches also made special appearances in the film. The film received positive reviews from critics, with Sandler receiving the majority of the praise. Sandler's performance even fetched him his first Screen Actors Guild Award nomination in the Best Actor category.
IMDb rating: 7.3
Rotten Tomatoes score: 93%
(Image credits: Courtesy Netflix/Hustle)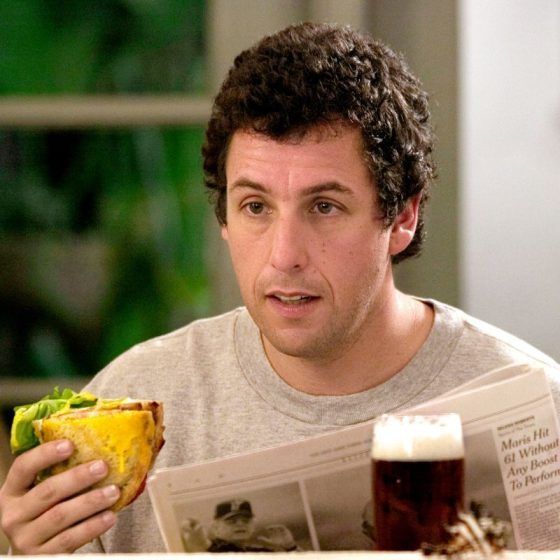 Sandler started experimenting with dramatic roles of more substance in the early '00s, with Spanglish being one of his early forrays. Released in 2004, this dramedy was directed by James L. Brooks and tells the story of a Mexican immigrant named Flor, who becomes the housekeeper for an affluent American family in Los Angeles. As Flor struggles to adapt to her new life and improve her English, she becomes increasingly involved in the lives of her employers, particularly their daughter. Meanwhile, the family's relationships are strained by the mother's (the legendary Cloris Leachman) alcoholism and the father's growing attraction to Flor. Despite receiving mixed reviews from critics, Sandler and Leachman were praised for their performances.
IMDb rating: 6.4
Rotten Tomatoes score: 54%
(Image credits: Courtesy IMDb/Spanglish)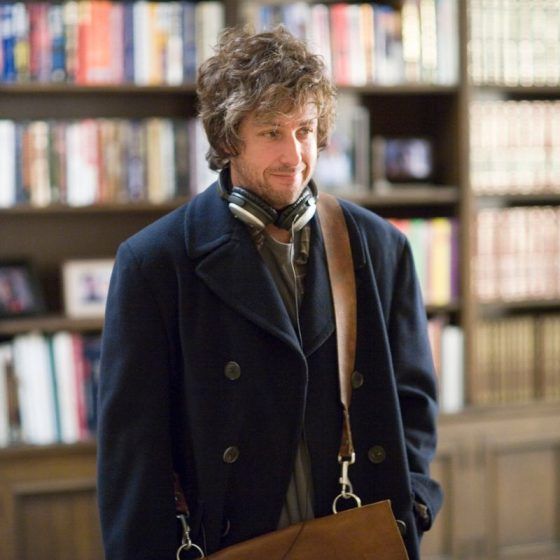 Directed by Mike Binder, Reign Over Me tells the story of Charlie Fineman, a man who lost his wife and children in the 9/11 terrorist attacks, and who has since withdrawn from his former life and relationships. Don Cheadle plays Alan Johnson, Charlie's old college friend who crosses paths with him by chance and tries to reconnect. As the two men begin to rebuild their friendship, they confront their own personal struggles and learn to come to terms with their grief and past. Reign Over Me received generally positive reviews from critics, with many praising Sandler's performance in the drama film.
IMDb rating: 7.4
Rotten Tomatoes: 64%
(Image credits: Courtesy IMDb/ Reign Over Me)
6
/8
The Meyerowitz Stories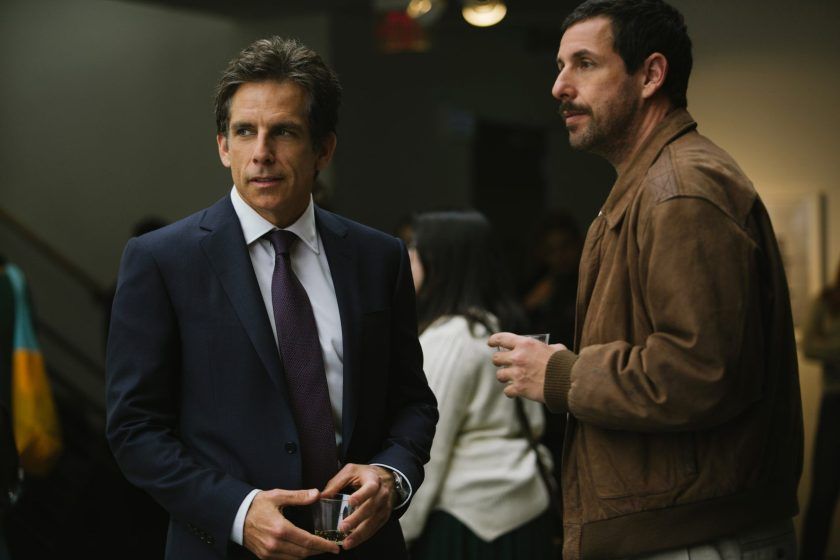 Directed by Noah Baumbach, The Meyerowitz Stories focuses on three adult siblings who gather in New York City to celebrate their father's artistic achievements. Along with Sandler, it stars Ben Stiller, Dustin Hoffman and Emma Thompson. As the family reunites, they grapple with their own personal and professional struggles, including their relationships with their father. The film explores themes of family dysfunction, artistic expression and the passage of time. The Meyerowitz Stories was critically acclaimed, with many praising the film's ensemble cast (including Sandler) and Baumbach's direction. In fact, this is Sandler's highest-rated movie on Rotten Tomatoes, which is ironic since the actor is known for his comedies.
IMDb rating: 6.9
Rotten Tomatoes score: 93%
(Image credits: Courtesy IMDb/The Meyerowitz Stories)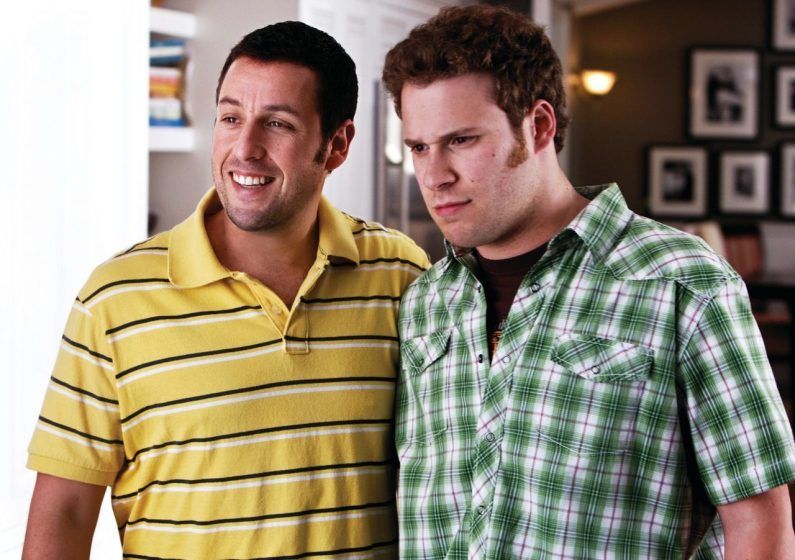 Written and directed by Judd Apatow, Funny People is a comedy-drama starring Sandler, Seth Rogen and Leslie Mann. The film follows George Simmons (Adam Sandler), a successful but unhappy comedian who learns that he has a terminal illness. Simmons hires aspiring comedian Ira Wright, played by Seth Rogen, to be his assistant and help him write new material. As George tackles the news of his mortality, he tries to reconnect with his old flame, played by Leslie Mann, and reconcile with his estranged family. Meanwhile, Ira struggles to balance his loyalty to George with his own ambitions of becoming a successful comedian.
IMDb rating: 6.3
Rotten Tomatoes score: 69%
(Image credits: Courtesy IMDb/Funny People)
8
/8
Men, Women & Children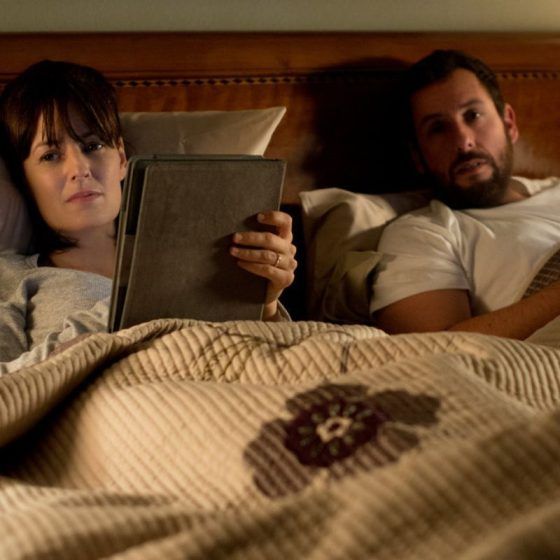 Directed by Jason Reitman, Men, Women & Children portrays the story of a group of interconnected families in a suburban town, and how their relationships and behaviour are affected by technology, specifically the internet. The main cast includes Adam Sandler, Jennifer Garner, Rosemarie DeWitt and Ansel Elgort. Sandler plays Don Truby, a middle-aged man whose marriage is falling apart and who turns to online pornography to cope with his unhappiness. Garner plays Patricia Beltmeyer, a controlling mother who monitors her daughter's every move online while Elgort plays Tim Mooney, a teenager who becomes addicted to online gaming and begins to neglect his real-life relationships. The film has been appreciated for its exploration of technology's negative impact on our lives and personal relationships.
IMDb rating: 6.6
Rotten Tomatoes score: 33%
(Image credits: Courtesy IMDb/Men, Women & Children)
This story first appeared here.
(Hero and feature image credit: Courtesy IMDb/Uncut Gems and Hustle)
Frequently Asked Questions (FAQs)
Question: How many movies has Adam Sandler been in?
Answer: In his career, Adam Sandler has appeared in 69 feature films.
Question: Which Adam Sandler movie is the best?
Answer: Some of Adam Sandler's most acclaimed movies include Uncut Gems, The Wedding Singer, Hustle, The Meyerowitz Stories (New and Selected) and Punch-Drunk Love.
Question: Which was Adam Sandler's first hit movie?
Answer: Billy Madison was Adam Sandler's first hit film, grossing USD 26.4 million on a budget of just USD 10 million. His first blockbuster hit, however, was The Wedding Singer which made a whopping USD 123.3 million on a budget of USD $18 million.