When you first see those peaks, you blink your eyes, a little. Shake your head. Tell yourself it's not a dream. An imagination-stretching, mind-bending sight, the mountain's verdant, craggy heights look like something from a cartoon, or maybe one of those hand-drawn, vintage postcards.
For decades, the beautifully angled and uneven upper stretches of these peaks have been wowing arrivals, and for many centuries, the surrounding flanks and motus have been home to islanders, right close to the heart of the Polynesian triangle. Green on the heights. Powdery clouds above. And below, shade upon shade of blue, azure to aquamarine and beyond, more than you could splash around on a canvas with a standard set of paints.
Since becoming home to French Polynesia's first international airport, Bora Bora has been synonymous with paradise. It's very small, with a land area of just 12 square miles. The mountainous main island is crested by the summits of Mount Pahia and Mount Otemanu, part of a long-extinct volcano.
It is surrounded by a blue lagoon, which is hemmed in by long, flat "motus," islands formed along coral reefs. It's all part of the Society Islands, an archipelago that also includes Tahiti. On my third visit here, I arrived on a small ship called the MV Panorama II and went beyond the beach, searching for history and stories.
Settling the Seas
The history here reaches back a very long way. Famously amazing navigators, the ancient Polynesians began sailing and settling the islands of the Pacific around 4,000 B.C. Arriving in Tonga and Samoa around 1,300 B.C., they continued across the sea, reaching, over the centuries, the furthest corners of the "Polynesian triangle." Its three points—Hawaii, Easter Island, and New Zealand—encompass a vast area. Within it, elements of common language and culture are shared across people groups that include the Māori, Tongans, Hawaiians, Tahitians, and many others.
The Society Islands, and Bora Bora, are right in the middle of it all. Originally called "Pora pora mai te pora," which means "created by the gods," its name was often shortened to just "pora pora," or "first born." Its current pronunciation dates to the Dutch explorer Jacob Roggeveen, who sighted the island in 1722. He's the same guy who called Rapa Nui "Easter Island" after arriving there that same year, on Easter Sunday.
Wave upon wave of westerners arrived here in the 18th and 19th centuries, whalers and missionaries alike. The last Tahitian dynasty ceded the islands to France in 1880. In 1958, the French Overseas Territory of French Polynesia came into being. It became an Overseas Country in 2004, with greater powers of self-governance.
And for Bora Bora specifically, life changed dramatically when the American military decided to use their islands as a base in the Second World War. "They knew there was only one entrance into the lagoon," a guide told me as we rattled around in a jeep along the dirt roads of the main island. With intimidating natural redoubts—barrier islands, mountainous terrain, deep jungle—planners figured it would be easier to defend.
Jungle Adventures
In the end, U.S. military stayed four years, but none of the high-powered guns—including the eight they left behind, now tourist attractions—were ever actually fired. We drove into the rainforest, where the vegetation and humidity closed in fast. Around me, I found wild bananas and avocados and breadfruit. Small homes huddled nearby, where friendly people spotted us and waved through the windows.
I poked my head into two different bunkers, remnants of those war years, now overgrown and slowly returning to the earth. Next, we drove up to a lookout point near the 2,385-foot peak of Mount Otemanu. Below, the island—only 2.5 miles at its widest—spreads out, including the main town, Vaitape. The ride back down is a bit of a thrill, the jeep navigating a road that feels like it's perched on a razor's edge, cliffs falling away to oblivion on both sides.
Across the lagoon I saw the villas that have made this island famous. While the Americans paved the roads—an important thing, to be sure—building an airstrip proved invaluable. This served as French Polynesia's only international airport until 1960, with a direct flight that linked the island to Los Angeles via Honolulu. Visitors, including many honeymooners, flooded into this exotic and romantic place, often staying in bungalows built right over the water. (The first ones were built on a neighboring island—those were simple accommodations, much different from the luxe versions that, today, can run thousands per night.)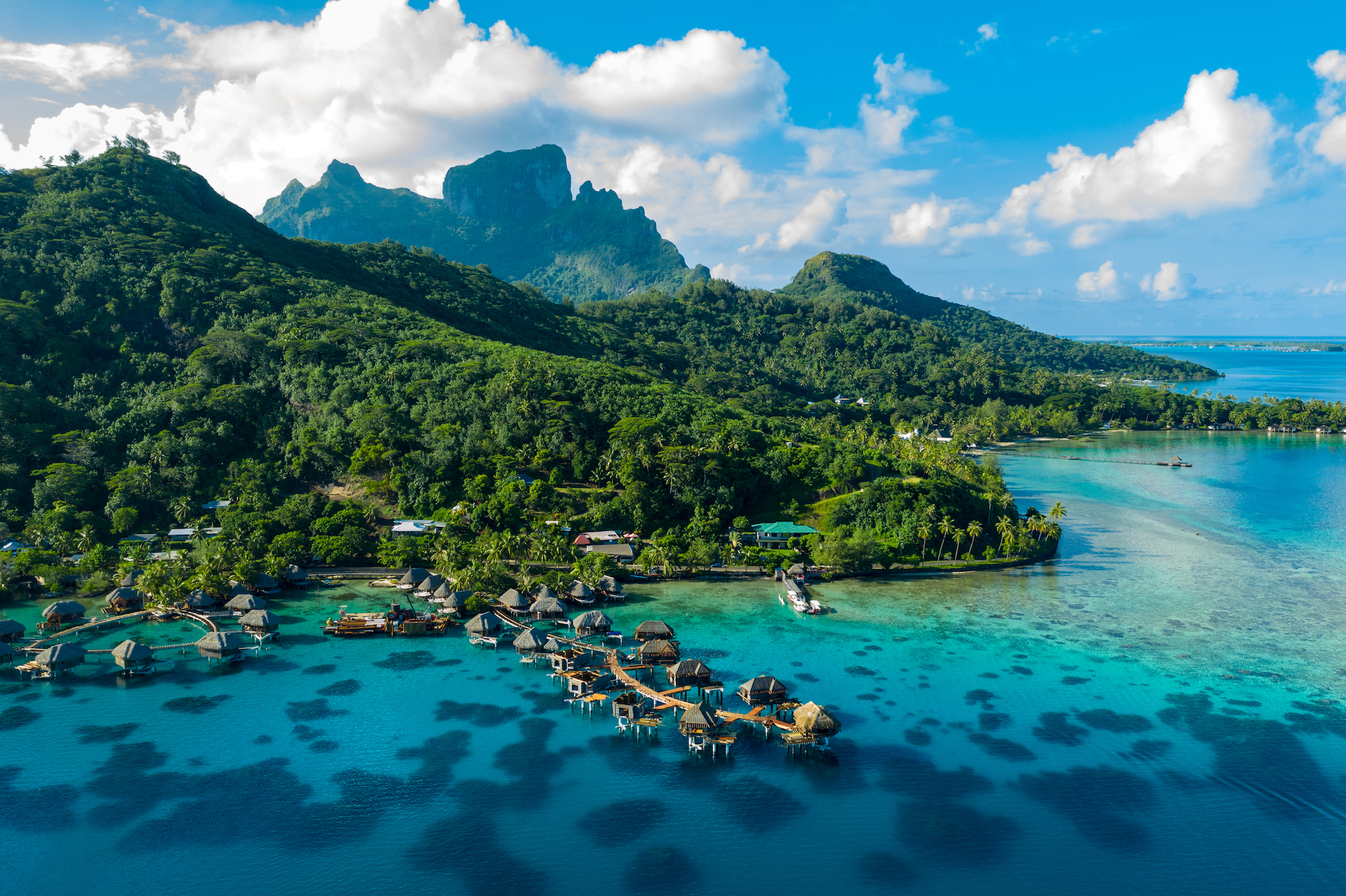 Sometimes known as Motu Mute, Bora Bora's airport is still a fascinating place to land. With a breezy, open-sided terminal located right next to the water, a boat transfer is required to reach Vaitape or the many luxury resorts here. Most of the latter maintain docks, right out the back. And the vast majority of the guests head straight to their little slice of paradise, over the water.
I was grateful to see a little more, and the last stop on the Jeep tour took me to small operation where locals hand-dye "pareos," a sort of sarong. While they've become a stylish must-have for a day on the beach, a local friend explained to me that they've long been a simple but essential piece of clothing for Polynesians. "This is something I will always have with me," she said. "I can use it as a scarf, as a towel. I can do yoga on it. I can wrap my babies in it." Just a footnote, maybe, but an interesting thing I'd never learned before.
Soon, I was back on the Panorama II, heading out of that one opening in the lagoon. The sun had set, and a waning moon accompanied the constellations—including the Southern Cross, right overhead, shining bright—over the Pacific. The heights of Otemanu, now a dark rise, loomed off the starboard side. As I stared into the cosmos, I considered how little I know and was grateful, in that moment, to have seen and learned just a little more about Bora Bora's 12 beautiful square miles.
If You Go
Fly: While Bora Bora's little airport (BOB) is still busy, international flights now land at the modern international airport in Papeete (PPT) on the main island of Tahiti. You can currently fly direct from three U.S. airports: Seattle, Los Angeles, and San Francisco. Once you reach PPT, it's a short hop on Air Tahiti to BOB.
Getting Around: You have two options for visiting the Society Islands—air, or water. For the latter, while ferries provide dependable service, the journey can be long. Better to take a cruise, like mine operated by Variety Cruises on the Panorama II, which visited several islands on a seven-day itinerary. Fall asleep, and awake at a new island.
Stay: The ultimate luxury hotel, the Four Seasons Bora Bora, on Motu Piti Aau remains one of the top resorts in the world. Some of the over-water villas here include private plunge pools on massive two-level patios. Inside, little windows on the floor give you a glimpse at the sea below your feet. Inside, the rooms define comfort, with deep-soaker tubs and butler service. Make sure to snorkel in the lagoon and lend a hand in their coral reef regeneration project, then relax on the beach, get a massage, and dine at one of two restaurants.
Take Note: Currency here is the XPF, or Polynesian franc. Cash is handy to have your pocket, as taxi drivers rarely take cards, and that's also the case at some shops and restaurants. In terms of value, 1,000 XPF is roughly equivalent to $10 USD.