When you imagine a dive watch, your mind likely conjures up a very specific and stereotypical image. It's probably a bit on the larger side, it will have well-lumed indices and maybe a different colour on the minute hand for ease of legibility, and it will definitely have a count-up, 60-minute bezel with a lumed pip triumphantly at the top. There's a very good reason this is what you imagine. While these devices were groundbreaking instruments when they began arriving on the scene in the 1950s (partially thanks to Blancpain), they have changed very little in the decades since. And that has been just fine; if it ain't broke, don't fix it, as the old adage goes. As diving technology advances, however, so must the humble dive watch, and Blancpain is at the forefront of that effort, with the new Fifty Fathoms Tech Gombessa reimagining the concept of the count-up bezel with a new 3-hour display. 
Starting back in 2011 with the Fifty Fathoms X-Fathoms, Blancpain set out to push the limits of what a mechanical diving watch can do. Including a dual depth gauge and a five-minute safety stop timer meant that you could theoretically dive with just your trusty mechanical watch, no high-tech computer necessary (Disclaimer: I highly recommend taking a backup, just in case). Now, in 2023, Blancpain is continuing that spirit of innovation with another piece that aims to redefine the capabilities of a dive watch, and they graciously invited us along to the Rangiroa atoll in French Polynesia for a few days of open-circuit SCUBA diving, and an introductory course in the more advanced, closed-circuit rebreather diving, to truly test out what this new release is capable of.
Rangiroa is the largest atoll in the Tuamotus and one of the largest in the world. It is a well-regarded dive spot due to the vast array of sea life that can be seen in the area, from dolphins to sharks and everything in -between. It is also the home of a group supported by Blancpain Ocean Commitment: the Mokarran Protection Society, a non-profit group that aims to study and protect the Great Hammerhead Shark which can be found in the area.
This year marks the 70th anniversary of the first Fifty Fathoms dive watch back in 1953, and Blancpain is celebrating with a trio of new watches split into "Acts". Act 1 was the Fifty Fathoms 70th Anniversary limited edition released back in early January, and Act 2 is the watch we bring you today, the intimidatingly named Fifty Fathoms Tech Gombessa.
Developed by Blancpain CEO Marc A. Hayek in collaboration with diver, photographer and underwater biologist Laurent Ballesta, the watch was created to meet the highly technical needs of the Gombessa Expeditions divers. The Gombessa Expeditions, helmed by Laurent Ballesta and funded by Blancpain Ocean Commitment, is a project that focuses on studying some of the rarest, most elusive marine creatures and phenomena on Earth. To date there have been five Gombessa expeditions, studying things like the rare coelacanth up-close and personal at a depth of 120 meters, and documenting and acquiring some of the first images of Antarctica's deep-sea ecosystems. This year also marks the 10th anniversary of these expeditions. So many milestones to keep track of. 
A watch made for closed-circuit rebreather diving
For the uninitiated, closed-circuit rebreather diving, or CCR for short, is diving using a device that recycles the air you exhale to be re-breathed, rather than relying on a finite air supply in a tank, like standard scuba diving. This is achieved within the unit by passing the exhaled air through a CO2-absorbent material, typically Sodalime, then adding a small bit of pure oxygen back in, to replenish the amount metabolised by the previous breath. The result is the ability to stay underwater far longer than the typical hour or so limit imposed by standard air tanks used in diving, up to 3 hours and beyond for those who push the limits. And since your exhalation just goes right back into the device instead of out into the water like regular diving, there are no bubbles at all, and thus almost no sound. This is highly preferable when trying to study any wildlife up close, as the sounds of air bubbles scare many of them away.
Say goodbye to the usual cacophony of breaths and bubbles, and hello to an eerily silent maritime world, with nothing but faint, haunting marine sounds all around you. If it all sounds like Sci-Fi or witchcraft or warlockery, I agree. And now, thanks to Blancpain, I can personally attest to the fact that it is very strange the first time around. The breathing feels different than standard scuba, not worse but just different, and keeping your buoyancy in check works slightly differently as well. And the silence… it takes some getting used to but I can definitely see the appeal and hope to do more rebreather diving in the not-too-distant future.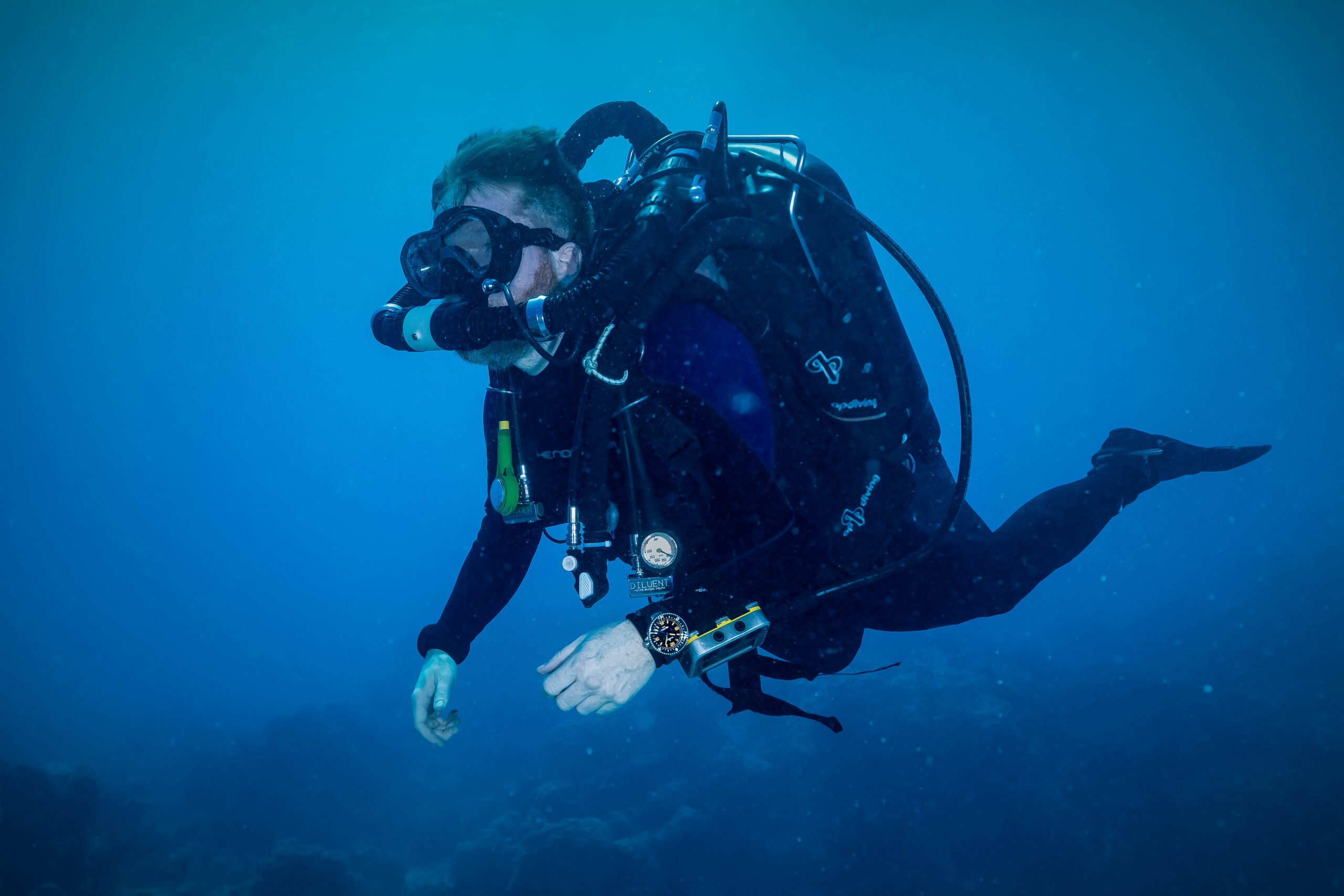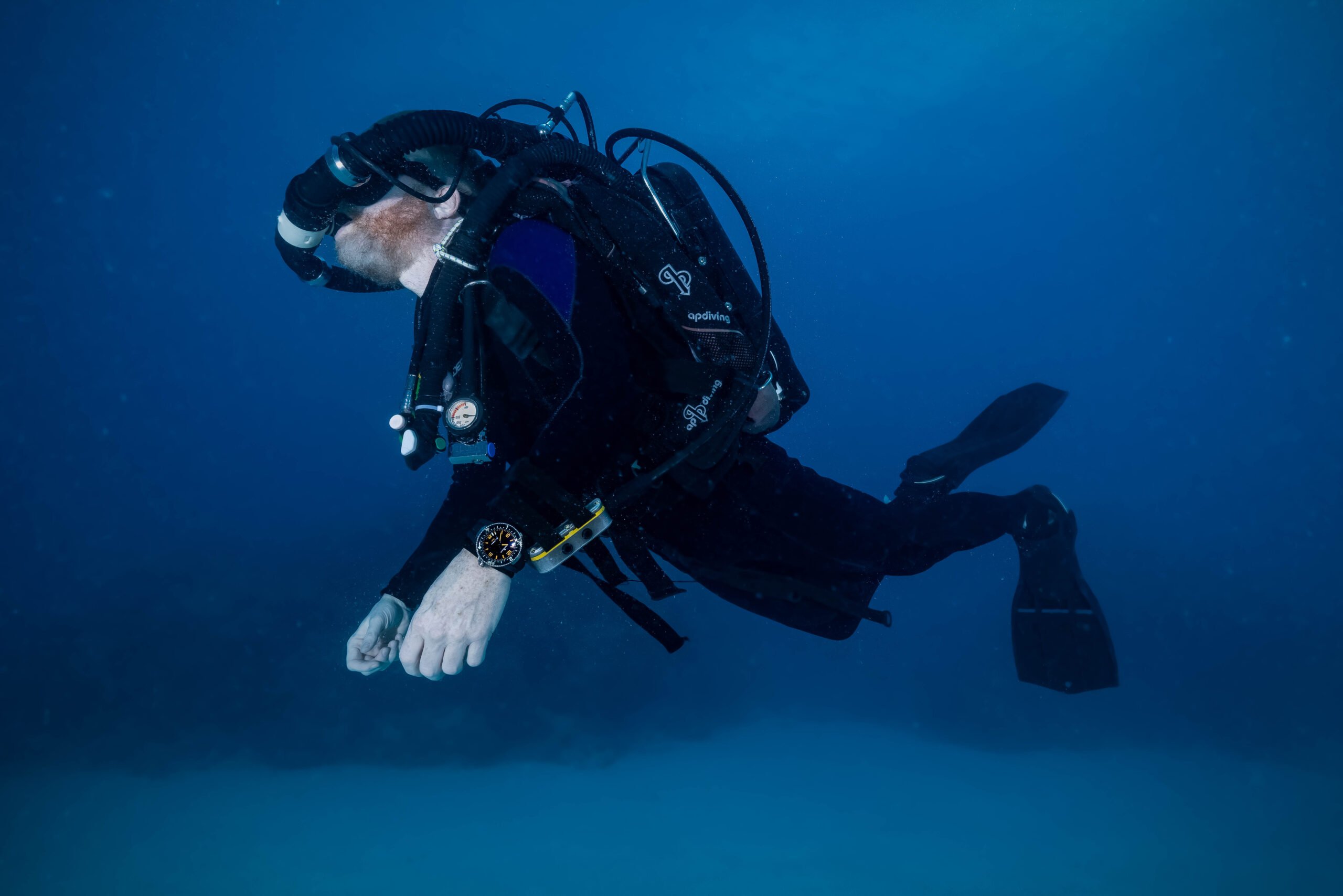 As you can imagine, if you are staying underwater for three hours, you have basically rendered a standard, 60-minute bezel useless. Sure you could just let it keep going and keep track of the hours in your head, but if you're 150 meters underwater, your nitrogen narcosis'd brain might not be up to that particular challenge, with dangerous consequences. With the Gombessa team needing to dive for much longer durations, Laurent Ballesta asked Blancpain if it would be possible to make a mechanical watch with a longer timer, and with avid diver Marc Hayek at the helm, Blancpain accepted the challenge. Now let's talk about that watch.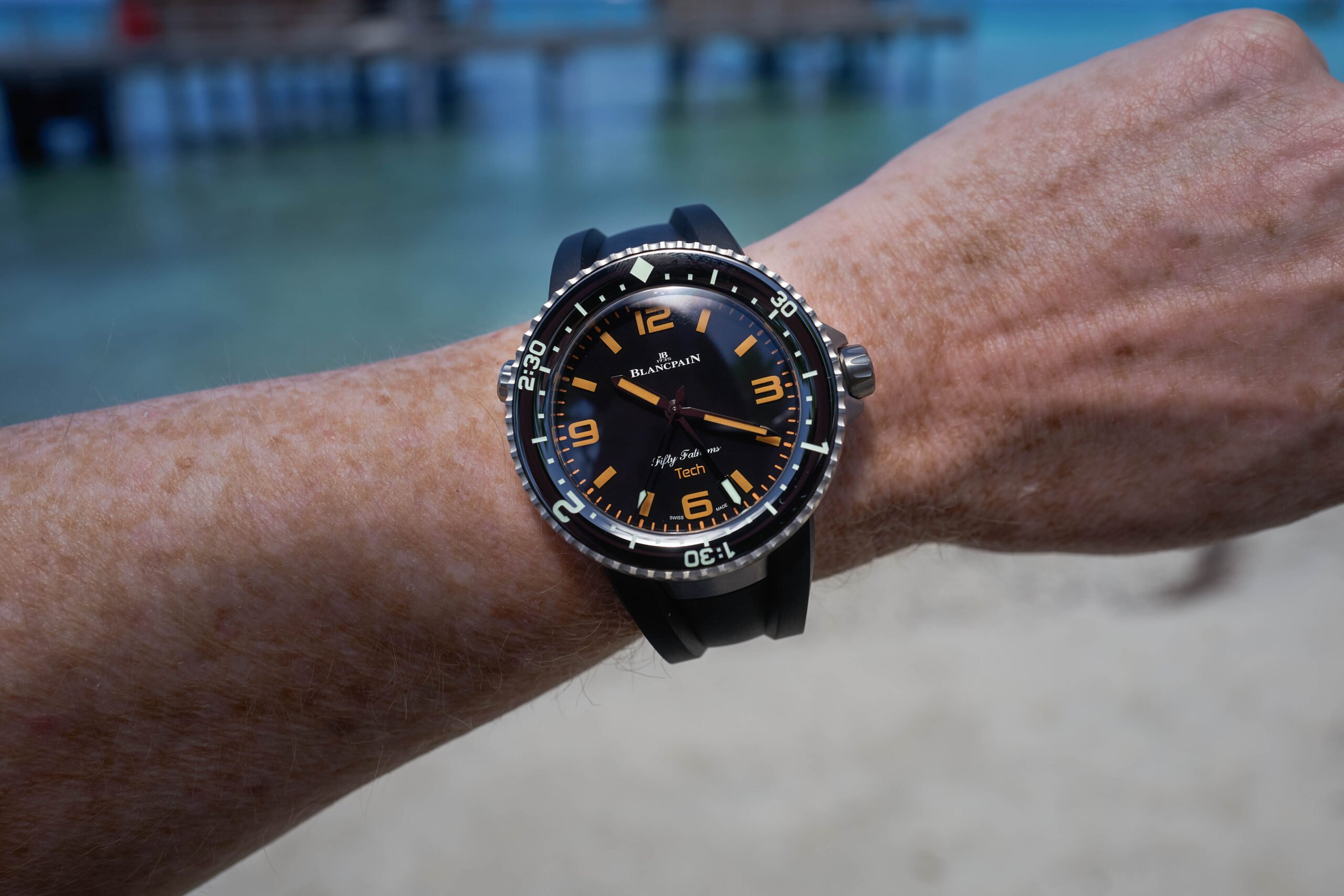 At 47mm in diameter and just under 15mm thick, the case of the Tech Gombessa is fully made out of Grade 23 titanium, a material recently introduced in Blancpain's collections. This metal is also known as grade 5 ELI (extra low interstitials) and is the purest type of titanium available. This makes it very strong while also staying very light for its size. The case has a brushed finish and is machined with the precision and attention to detail you would expect from Blancpain. It also includes a helium escape valve, as the most recent Gombessa expedition dabbled in some saturation diving, so at least we know someone, somewhere is actually using that feature.
In an interesting bit of case design, Blancpain has almost completely done away with lugs on this watch, instead using a small central piece of metal to integrate with the rubber strap. The result is a very sleek and subtle look, while also making the watch wear much smaller than the 47mm spec would have you believe. The lightness of the titanium helps a lot in this regard, as well.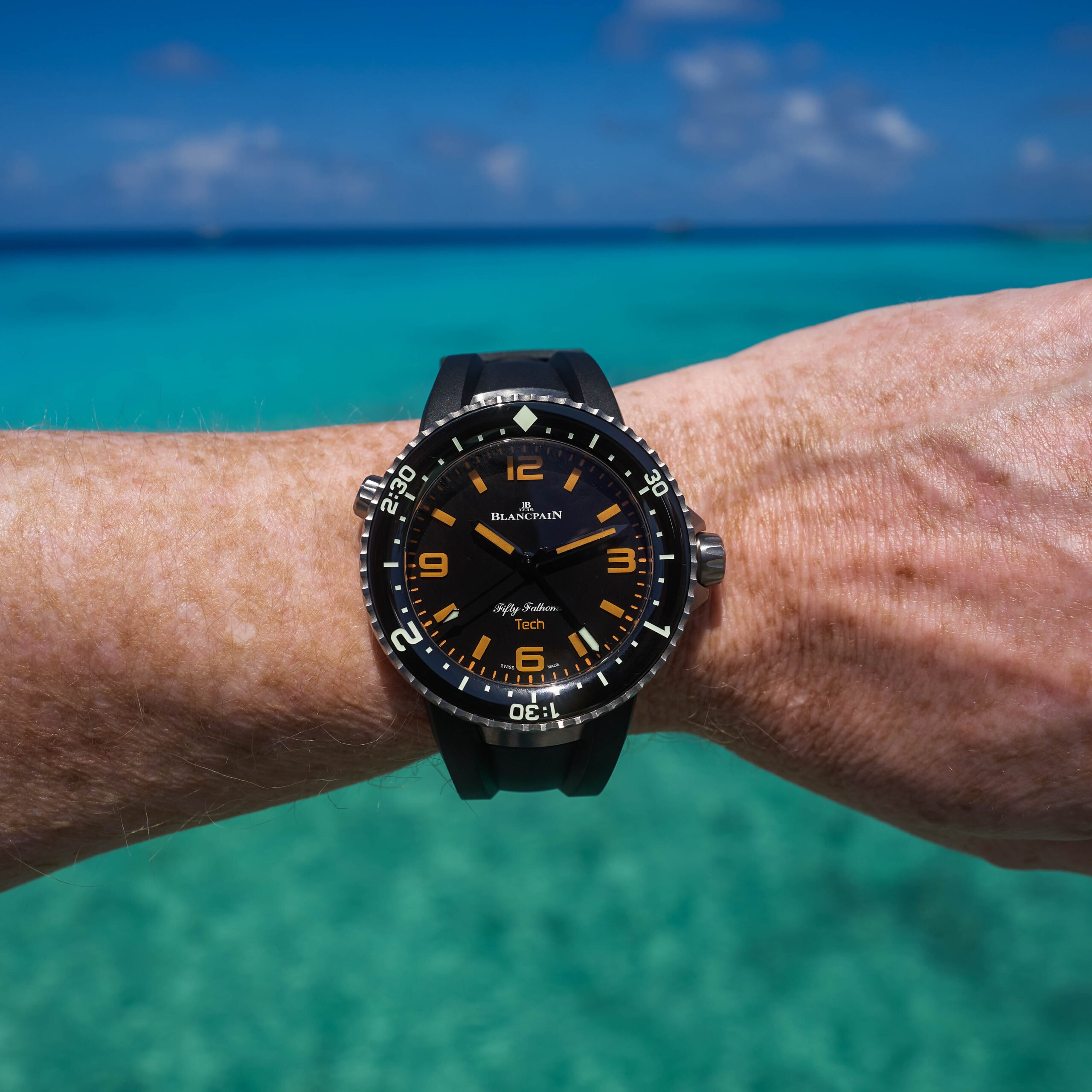 The dial features a new finish, called absolute black, which absorbs 97% of the light trying to reflect off of it. It's like Vantablack but not quite as extreme and it fits this watch very well. The indices are raised, three-dimensional, and made of an orange luminescent material with a blue emission. The hour and minute hands are also given the orange treatment, and the contrast between all the orange and the pure black dial makes this a highly legible watch. There is a slightly-domed sapphire crystal to keep everything protected. Turning the watch over you will find a sapphire display case back, showing off the nicely decorated movement and the Gombessa logo emblazoned on the skeletonised rotor – calibre 13P8, based on the well-known and high-performance calibre 1315, with 3 barrels, 120h power reserve, 4Hz frequency and silicon hairspring. An automatic movement that is nicely decorated and is more than capable for the present job.
Now for the pièce de résistance: the three-hour timing feature. This first-of-its-kind complication was achieved with the addition of a fourth hand on the watch, similar to a GMT hand, but instead of rotating fully every 24 hours, this one completes a full rotation every 3 hours. Coupled with the highly visible three hours of markings on the bezel, timing your dive is as simple as lining up the pip with this new three-hour hand and going under. Even with an extra hand to spin around, the movement delivers a whopping five-day power reserve. The unidirectional, 120-click bezel's inlay is made of black ceramic instead of the usual sapphire and is slightly tilted inward towards the dial, which seems to aid in reducing any distortion the domed ceramic might cause the numerals. The bezel action is tight and solid with zero back play. The 300m water-resistance, thanks to the screw-down crown and screwed back, is more than sufficient in real-life diving conditions.
On the wrist, the watch wears like a dream. The rubber strap is soft and supple and the lack of lugs and the subtle curvatures of the case make it hug the wrist like that's where it's supposed to live. The dial layout is very legible and the separate functions of the watch are colour-coded: the time-telling features, such as the hour and minute hand and indices around the dial are all in orange, while the timing features, the three-hour hand, second hand, and scale around the bezel are all done in white, making it very easy to quickly parse whatever data it is you desire. Unless that data is the date, as you will not find that info here. I think the exclusion of the date was a good call, as it keeps the dial clean and symmetrical. If you're spending hours at the bottom of the ocean counting coelacanths, do you really need to be thinking about what day it is? I think not. Now let's go rebreather diving!
Tech Gombessa & rebreather, underwater
Strapping on a rebreather and the Blancpain Fifty Fathoms Tech Gombessa for the first time, I feel like a rookie member of the Gombessa team, heading out to unravel mysteries on the high seas. This is all a fantasy of course, but far more romantic than my true objectives which are simply to not sink and/or die. Underwater, the watch functions like a high-end dive watch should, fitting so comfortably that you forget it's there while being perfectly legible anytime you need (or want) to glance at it. Unfortunately, we did not get to stay down for three hours on our intro dives, but by the time we were back on the boat the watch just ticked past the one-hour mark, so I think I can say I used it for its intended purpose. All in all, this is a highly functional diving watch that does everything you want it to do extremely well, and then a little bit more, just in case you want to push your diving into much more serious territories.
In a world of millions of dive watches that all do the exact same thing, it is refreshing when a company tries to do something new and push the envelope – and this Blancpain Fifty Fathoms Tech Gombessa 70th Anniversary does that! Who knows, maybe in ten years all bezels will count to three hours and beyond, and we will think of the 60-minute counter as an old throwback. Whether you are interested in their fascinating history, their groundbreaking dive-focused complications, or their heavy focus on ocean conservancy, Blancpain is definitely a brand to keep a close eye on. And I, for one, am pretty excited to see what Act 3 has in store.
The Blancpain Fifty Fathoms Tech Gombessa 70th Anniversary Act 2 is released as part of the permanent collection (non-limited) and comes in a special Peli™ presentation box that is water-resistant and shock-resistant as well as reusable and configurable. The watch is priced at CHF 26,300. For more details, please visit www.blancpain.com.
https://monochrome-watches.com/blancpain-fifty-fathoms-tech-gombessa-70th-anniversary-3h-immersion-bezel-underwater-diving-review-specs-price/