By Todd Martens
From Los Angeles Times
Los Angeles—I'm about to take a bite from a slice of Key lime pie at the Toothsome Chocolate Emporium when a host named Jacques stops by. He looks at my plate and tells me it's a good thing the desserts weren't made to his specifications. If it had been up to him, my pie would be filled with mini metal keys.
That's because Jacques is a robot. Or, rather, an actor playing a robot in a costume made of random clamps, clasps and metal hands, with leather overalls in various shades of cocoa and a bowler cap. His voice, filtered through an unseen distortion device, sounds a little tinny. If the innards of a vintage timepiece had been blown up, fashioned into human form and given a workman's coating, it'd probably look something like Jacques. Ask to take his picture, and he'll likely apologize for blinking, though he has no pupils or eyelids. His eyes are constructed out of metal cups.
When he's not making the rounds from table to table, often with his female pal Penelope, the purported proprietor of Toothsome, Jacques is seen on screens—meant to be windows—in the back of the restaurant, hovering over the action amid oversized gears and tubes.
One's tolerance for being interrupted by a fake robot while dining out is likely dependent on a few factors. The presence of children in the party likely helps, as does one's feelings about formative trips to theme parks. But prime weekend reservations tend to fill quickly at Toothsome, the new steampunk-themed restaurant in CityWalk at Universal Studios Hollywood. Is it an indication that there's a dearth of family-friendly theatricality around the dinner table? Or a sign that the themed restaurant, which enjoyed an era of expansion throughout the 1980s and '90s with the Hard Rock Cafe, Planet Hollywood and many more, is ready for a proper comeback?
Well, that depends how one defines a themed restaurant.
"A themed restaurant would be an artifice of another place brought artificially to life," says Craig Hanna, chief creative officer of themed entertainment firm the Thinkwell Group, which has worked with clients across the entertainment business. "This goes all the way back to when immigrants started coming to the United States and were trying to relive the place they left behind. You could go back further."
Hanna does, discussing the World's Fairs of the 1890s and their European-inspired façades and interiors. Even earlier, at the start of the 12th century, China had restaurants with singing waiters. And, of course, there was the theatrical restaurant culture of Paris in the 18th and 19th centuries.
Eddie Sotto, formerly of Walt Disney Imagineering, the company's arm devoted to theme park experiences, and a designer who worked on numerous L.A. restaurants including John Sedlar's shuttered but acclaimed Rivera, takes us to the Parisian countryside in the mid to late 1880s, where there were treehouse-themed restaurants inspired by the novel "Robinson Crusoe."
"I have an engraving in my home, from the magazine L'Illustration, of people having Champagne cocktails in this Robinson family treehouse," Sotto says. "In places like Paris, they would have themed events in the catacombs and people would dine there. Theater and dining go back a long way together."
Southern California has its own storied history when it comes to themed establishments.
There's our penchant for food-shaped eateries, of course—see our giant doughnuts or the return of Tail o' the Pup—but dinner with a side of story is a Los Angeles-area staple that predates any corporate chains such as Rainforest Cafe or Chuck E. Cheese. Imagine, for instance, a night out in the Roaring '20s. Forget Gatsby-inspired elegance. How about being led by staff in prison garb to a table inside what's designed to be a makeshift lockup? Such was the conceit of Sunset Boulevard's Jail Cafe. In downtown L.A., one could order a steak in a restaurant outfitted with cow stalls at Ye Bull Pen Inn, and from the midcentury to today our region has long had a love affair with tropical, Polynesian-inspired culture.
Then the 1980s and '90s gave birth to a themed restaurant renaissance, when even Steven Spielberg got into the action with the submarine-focused DIVE! in Century City.
"It's a really nuanced subject," says designer Phil Hettema of the themed restaurant conversation. Hettema runs a namesake themed-entertainment firm in Pasadena and contributed to the creation of DIVE!. "I think a themed restaurant is where the experience is of equal or greater value to the dining experience. That's a tricky balance. DIVE! was one of my favorite experiences to work on, and the owners gave us carte blanche to do whatever we wanted to do."
Toothsome is an import—a version is open at Universal's version of CityWalk in Orlando—but it's just weird enough to feel a part of SoCal's themed-restaurant lineage with an elaborate, borderline melancholic backstory.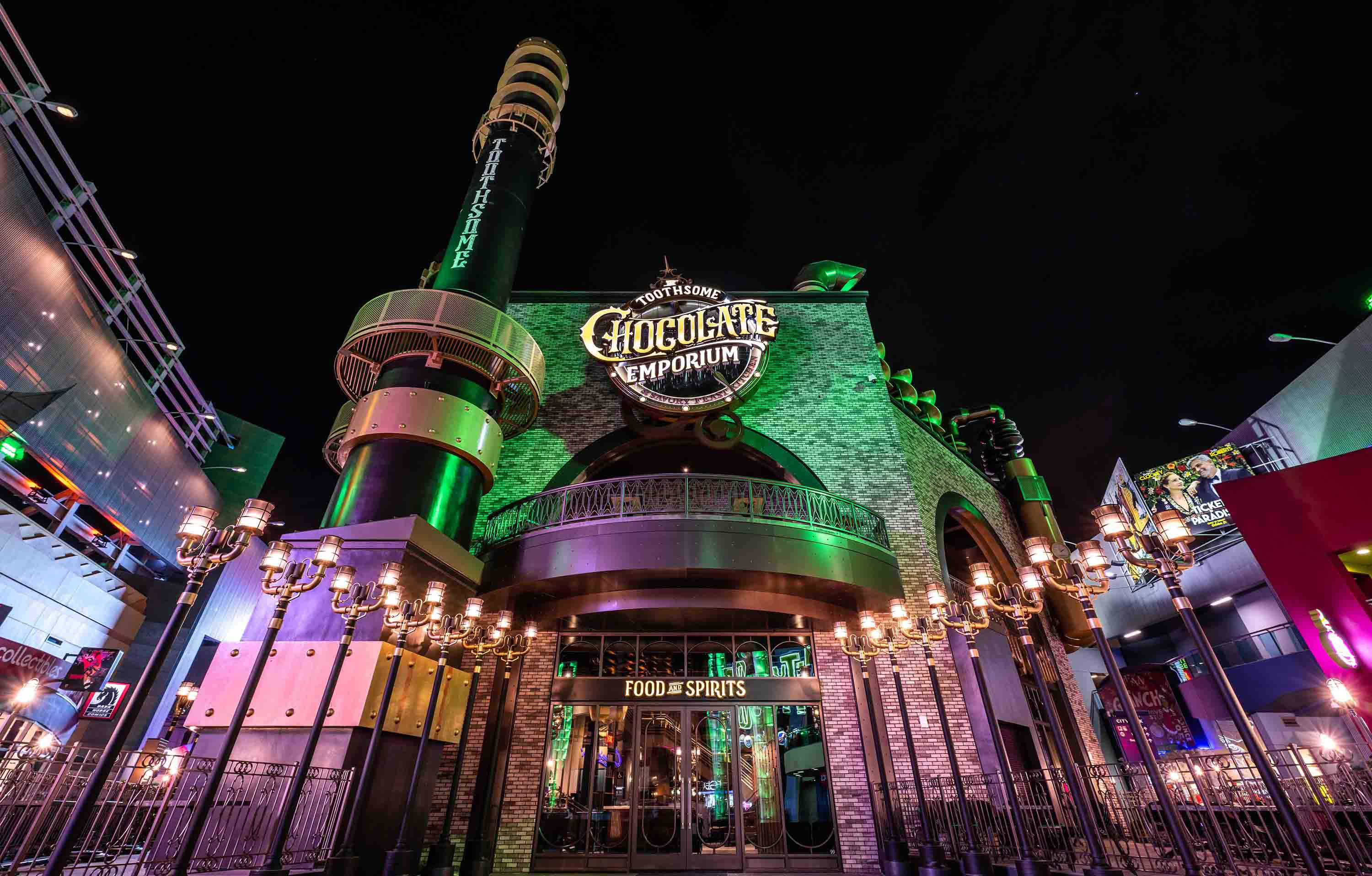 Professor Dr. Penelope Tibeaux-Tinker Toothsome has been traveling the world in a Zeppelin with Jacques, her robot companion. But upon returning home, she finds her family missing. Mom and Dad, apparently longing for their daughter, have set off to reunite with her. Penelope begins opening chocolate-themed restaurants—a hearty, gooey chocolate bread is available as an appetizer, and an Old-Fashioned comes with candied chocolate pieces—in the hopes that someday they will stumble in.
But fear not, the atmosphere—a domed mural of flying blimps and hot air balloons graces the ceiling—is not one of a search party.
"Having character development as part of the story is important because it helps engage the guest further emotionally into the space," says Su-Fei Sakamoto, a senior designer with Universal Creative. "If it were just a generic steampunk decorated restaurant theme, anyone can do that."
A themed restaurant, then, is the difference between interior design and narrative design.
***
"Prepare to dive." One could hear such an advisement hourly at "DIVE!," the restaurant Spielberg opened and conceptualized with fellow Hollywood player Jeffrey Katzenberg. An exaggerated yellow submarine heralded its presence at the Century City mall, and inside one could find a periscope looking outward onto Santa Monica Boulevard, bar stools fashioned out of makeshift torpedoes and video displays that could conjure a submarine dive or the depths of the ocean.
It was a restaurant-meets-theme-park experience that signaled the height of the '90s themed-restaurant movement in Southern California. DIVE!, which opened in 1994, and its upscale submarine sandwiches lasted about five years, with some wondering if its menu was too casual or if local residents had their fill after one visit, not needing to be subjected to a red-alert-like warning multiple times during dinner.
"A lot of times, outside of a theme park, experiential ideas kind of have a lifespan," Hettema says. "They may tap into the zeitgeist at a particular moment, and it's a thing everybody does, but a year later it's kind of old news."
"Humans," adds Brent Bushnell, who oversees downtown's Big Top-themed Two Bit Circus, a game-focused restaurant and bar, "really like novelty in their entertainment." Bushnell grew up in themed and fantasy environments, the son of Atari and Chuck E. Cheese mastermind Nolan Bushnell. "You don't go back and see the same movie, generally. You see a different movie. You can change the bits. You didn't have to change the atoms. Atoms are hard. People will love the novelty of DIVE! the first time. The decor will get them there, but does it get them back the second, third or fourth?"
There's another hurdle. "The old joke is people don't expect the food to be any good in an immersive environment," Sotto says. "'They're not coming for that. They're coming for the artifacts on the wall.' Well, I don't believe in that. I believe it all should be good."
When it comes to our area's earliest themed restaurants, they were praised mightily, at least in this paper. The Jail Cafe's first location in Silver Lake—now home to El Cid—had a stone façade with a guard's watchtower, complete with a guard, out front. This paper in 1928 declared it "one of the finest eating houses in the city," noting that though it was designed to mimic a prison, it had "all the modern comforts one could wish for. Each table is a private cell, separated from the others by bars."
Ye Bull Pen Inn was the site of many banquets and feasts for winning sports teams, with The Times writing lovingly of its design, where the main dining room was divided into stables and stalls, and interior woodwork was "especially aged and rough hewn." The 1928-published "Los Angeles Trip Book" by Katherine Ames Taylor excitedly writes, "Los Angeles affects the bizarre in many of her cafes," singling out the famed Brown Derby and its signature walk-in hat as well as the problematic Zulu Hut, where caricatures of African culture were the off-menu entertainment.
Venice's Ship Cafe was considered a treasure, said to be inspired by the sailing exploits of Spanish explorer Juan Cabrillo, and home to gaming, dancing and a clientele that included "everybody who was anybody," according to this paper. Halibut would be caught off the Venice Pier and soon be ready to serve. And that says nothing of our region's contributions to Tiki bar and restaurant culture, anchored by Don the Beachcomber in the mid-1930s, originator of many of today's still fashionable rum-filled concoctions and the initiator of a trend that has come colorfully in and out of style over the decades.
Establishments would try to one-up one another with volcano effects and hula shows, while Rosemead's Bahooka centered its entertainment around flaming drinks and live fish, creating a restaurant that felt more like a national aquarium, albeit one with "exotic Polynesian ribs" on the menu. The trend seems to be thriving again today, with news in February of the Beachcomber brand being resurrected and local institutions newish and old—see Silver Lake's traditional Tiki-Ti and the fantastical pirate theme of Anaheim's Strong Water—thriving.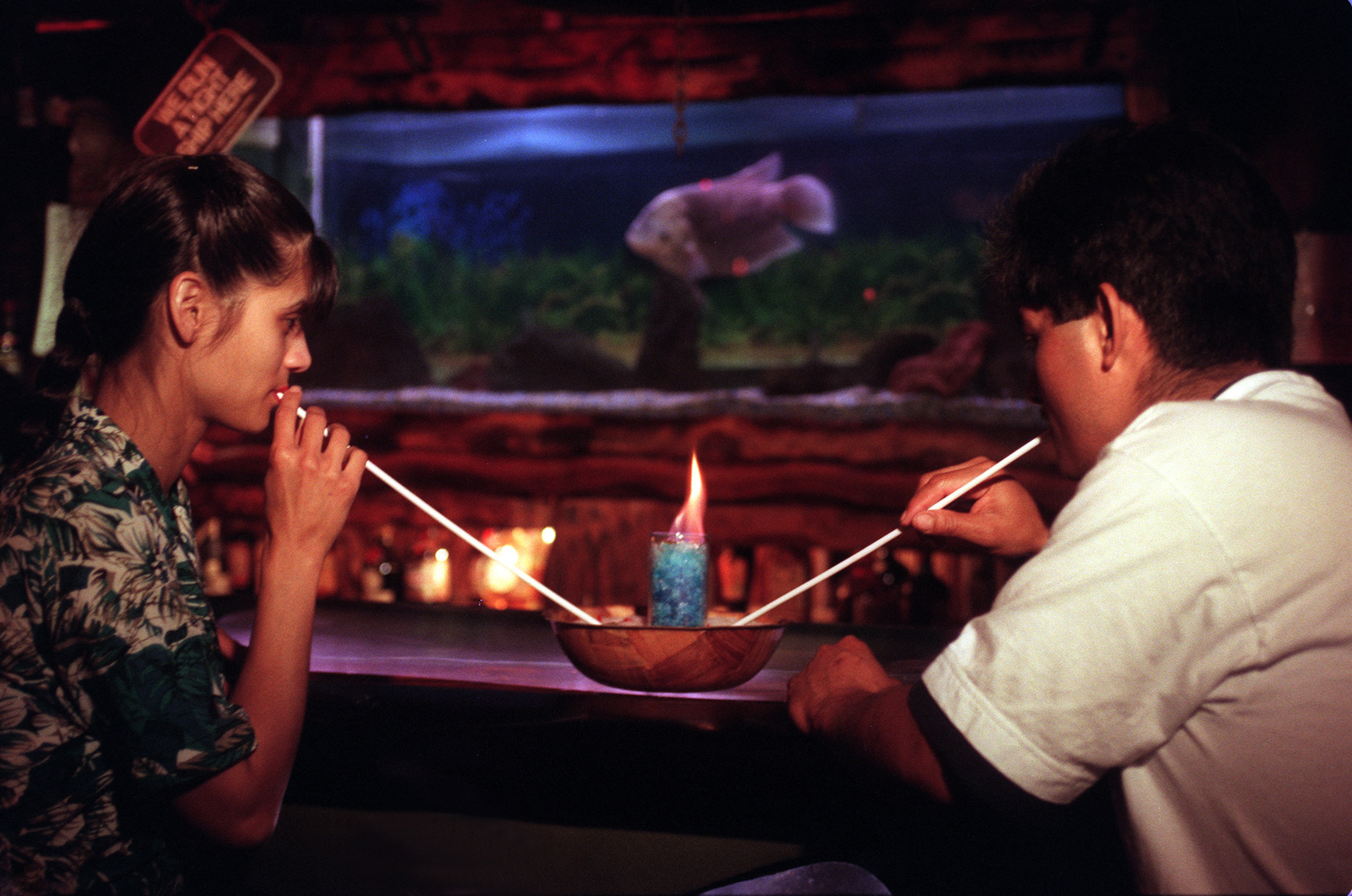 "Bahooka was probably one of the greatest, most proto-Polynesian restaurants in L.A.," says Thinkwell's Hanna. "There's so many great examples in Southern California alone. Toothsome could be the next extension, you could say. L.A. has always been a place for dreamers. We've always been called weird by everyone, including ourselves, so it comes to no surprise to me that if you look at the apex of all those things, and the end of Route 66, that you see this entrepreneurial weirdness."
While dining in a prison cell may feel like a novelty, the best themed restaurants tend to have a few common traits. There's a tinge of romanticism, a longing for a different era or a fantastical environment, be it the high seas, a fairy tale or the chocolate-meets-travel decor of Toothsome. And there's joy that comes from being inside a creative space, a sense of adventure at piecing together a story as well as the calming sensation of stepping out of the chaos of our daily lives.
But for themed restaurants to truly make an impact, says Sotto, there's also a harder-to-define quality they must possess: "There is a graveyard of these things, from just having the accounting department hire an architect." The necessary ingredient? "I believe this comes from sincere passion. It comes from over-the-top insanity of an obsessed person. People want to see that. People want to feel that."
Locally, Sotto cites the long-standing Tam O'Shanter, one of L.A.'s first and most stable themed restaurants, as an example of a themed restaurant that's built to last. Designed by Harry Oliver, an artisan trained in Hollywood art direction, storybook houses and corporate whimsy (see the fancifully European windmills of Van de Kamp bakeries), the Tam, earlier known as Montgomery's Country Inn, has a hand-built, bedtime-story charm.
"I would argue that Harry Oliver, who also designed the western town of the 1935 [World's Fair] exposition in San Diego that Walter Knott visited, was the bridge between Walter Knott theming Knott's Berry Farm and Walt Disney theming Disneyland," Sotto says. "Walt Disney was eating in a themed environment at the Tam O'Shanter, which was far more Expressionist back then. It was more fantasy-oriented."
That makes the lasting impact of the themed restaurant hard to track. Chuck E. Cheese founder Nolan Bushnell cites Disneyland's Enchanted Tiki Room as the inspiration behind his game-focused pizza joints, as well as the '70s-era trend of Wurlitzer organ-centered pizza parlors.
But themed restaurants also impacted fine dining. Sotto took lessons from Disney and elsewhere and applied them to his interior work at at downtown L.A.'s Rivera, which stood from 2009 through 2014. The Times' review praised the design, namely "a 40-foot electronic mural of evocative and poetic images (Maya ruins, agave, lizards, abstract forms) that dissolve into one another throughout the evening."
"I thought, 'What would happen if I could not do something visually literal, and just mine Sedlar's imagination?'" says Sotto, noting that the restaurant had custom-designed tequila bottles with their own unique key. "What if his food looked like a room?"
These are lessons that Universal has sought to apply to its latest themed endeavor in Toothsome. CityWalk is no stranger to themed restaurants, home briefly to a Marvel-themed eatery, and Toothsome itself is taking over a space once occupied by a Hard Rock Cafe.
But for all of the chocolate art and steampunk touches—try to spot the brass snails making their way to the second story—Toothsome doesn't overpower guests with its theme. The actor dressed as Penelope visited our table only when drinks were being delivered, and attempted to guess who ordered what before being on her way. And though there is a video wall at the back, most of the images are static, placing the emphasis on decadent theme-park concoctions like oversized milkshakes and a menu that mashes together burgers, meatloaf, pasta, flatbreads and more. Chocolate figures heavily, from the chocolate stout wings to the chocolate-crusted pork tenderloin.
Don't expect something as busy as a restaurant in the actual theme park, such as the always-packed Toadstool Cafe in Super Nintendo World. Toothsome aims to offer just a bite of the theme-park experience. And grounding the restaurant in the characters of Penelope and Jacques, says Universal's Sakamoto, was done in the hopes of creating a more "authentic fantasy," to give Toothsome a bit of a lived-in feel.
"I think humans need to get away, in general, from our everyday life," says Sakamoto. "A themed restaurant is just a restaurant. Going to a theme park is a production. You have to plan ahead and spend the whole day. A themed restaurant is easier, more casual."
Just be prepared for a pun-slinging robot.
Copyright 2023 Los Angeles Times. Visit latimes.com. Distributed by Tribune Content Agency, LLC.