With nearly 200 years of glorious history, American brand Tiffany & Co. is rightly considered the quintessential jewellery house in the world — one that represents class and creative excellence in the most unique and stylish ways. Often making headlines for its popular collaborations, the brand owes its joint venture successes to the luxury conglomerate, LVMH (Moët Hennessy Louis Vuitton), which acquired Tiffany & Co. as one of its 75 luxury maisons in 2021.
The signature Tiffany Blue boxes containing sophisticated pieces such as the famous diamond 'Engagement Ring', the 'Heart Tag Necklace' and the '925 sterling silver rings,' have been captivating the world since their debut and have an interesting history too. Founded by Charles Lewis Tiffany and his partner, J. B Young as 'Tiffany & Young,' the first Tiffany store opened on Broadway in New York City in 1837 with USD 4.98 as its first day's sales. However, it was only after Charles took control of the company in 1853, that 'Tiffany & Co.,' which the world cherishes today, came into existence.
From Tiffany's American aesthetic flourishing through the Art Deco years of the 1920s and 30s to its current collaborative flairs such as the 2023 Tiffany & Co. x Fendi limited-edition 'Tiffany Blue' Baguette triumphing at the global front, success came in swift for the company. So much so that the Tiffany collaborations, which began with a jewellery piece with contemporary artist Frank Gehry in 2006, are now statement emblems of pop culture.
Of late, the jewellery house has seen an incredible influx of collaborative opportunities ranging from streetwear and sports to art and fashion. And as the brand is all set for its upcoming Tiffany & Co. and Nike collaboration for a limited-edition release of Air Force 1 Low '1837', we look at some of its most well-known collaborations over the years — the ones that form a pivotal part of Tiffany's rich and prosperous history.
10 Tiffany & Co. collaborations that everyone should know about
Tiffany & Co. x Cat Street Tokyo sports-inspired capsule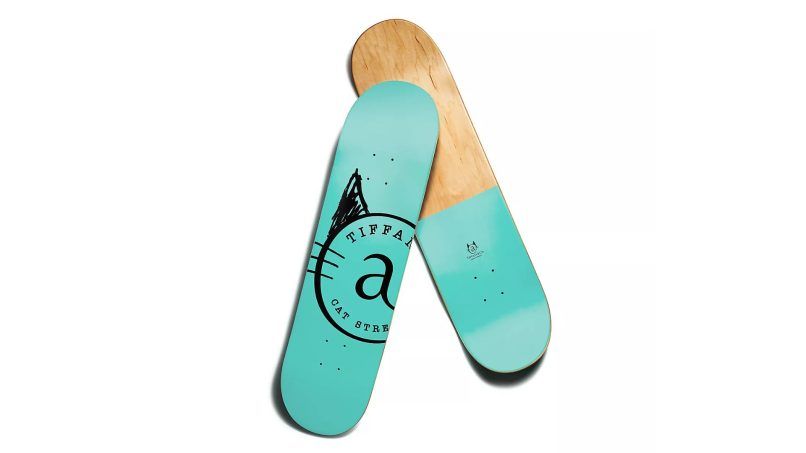 Release date: 2 July 2021
This exclusive capsule was released to mark the continued celebration of Tiffany & Co's 160-year-old history of making major sports trophies. The jewellery brand collaborated with Japan's streetwear hotspot Cat Street Tokyo to give the world limited quantities of a selection of sporting equipment accessories dressed in their iconic Tiffany Blue, also known as robin's-egg blue hue.
Carrying the Cat Street logo, the items included American maple skateboard decks, Gilbert rugby balls, Spalding basketballs and soccer balls. The capsule ranged from USD 380 to USD 630 approximately.
Tiffany & Co's Advent Calendar collaboration with Jean-Michel Basquiat's estate
Release date: November 2021
With Basquiat's 1982 painting, Equals Pi* as the centrepiece, Tiffany & Co. collaborated with the estate of Jean-Michel Basquiat for a limited-edition four-foot tall advent calendar, each retailing for USD 1,50,000. However, USD 2,50,000 of its total proceeds was donated to the nonprofit organisation, Free Arts NYC. The highlight of the collaboration was the 24 individually wrapped Tiffany Blue presents that came with the calendar.
The Basquiat artwork, consisting of mathematical equations, text, figures, expressive gestures and symbols, first appeared in a Tiffany advertisement alongside Beyoncé and Jay-Z.
Supreme's 'Return to Tiffany®' collection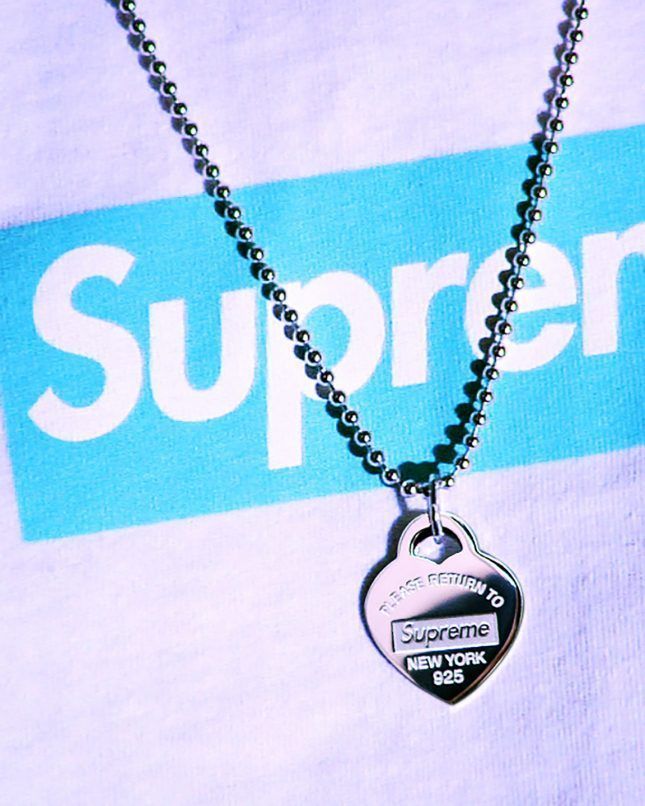 Release date: 11 November 2021
Supreme's 'Return to Tiffany®' collection was released as a part of Supreme's Fall 2021 collaboration series. The highlight of the design was the "Please Return To" text arched at the top with Supreme's box logo below. It was underscored by 'NEW YORK' and '925' texts, marking the roots of both brands.
Drawing inspiration from some of the most iconic Tiffany & Co. jewellery that was originally released in the '60s, the collection consisted of a Heart Tag Pendant, Pearl Necklace with the oval tag, Star Bracelet, Heart Knife Key Ring, Heart Tag Stud Earrings and a box-logo T-shirt with the signature Supreme logo remade in a robin's-egg blue hue.
Patek Philippe's limited-edition 5711 Nautilus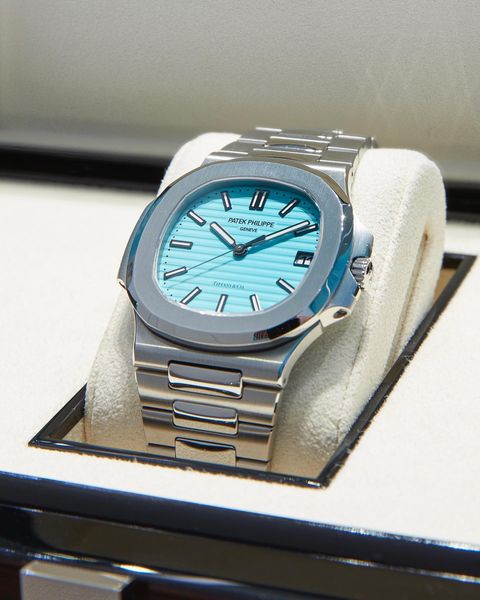 Release date: December 2021
Honouring their long-standing partnership, Tiffany & Co. and haute horlogerie Patek Phillippe released the 5711/1A-018 Nautilus watch for the 170th anniversary of their association. The stainless steel wristwatch with the iconic 'Tiffany Blue' lacquer dial, date and bracelet, was undoubtedly one of the most coveted Nautilus pieces ever designed.
The limited edition collection was exclusive to Tiffany's New York, Beverly Hills and San Francisco boutiques. However, one of the 170 pieces was sold for around USD 6.5 million at the 2021 New York Watch Auction in Phillips at 432 Park Avenue with 100 percent of its proceeds for the welfare of the Nature Conservancy.
Pharrell x Tiffany & Co's diamond-encrusted sunglasses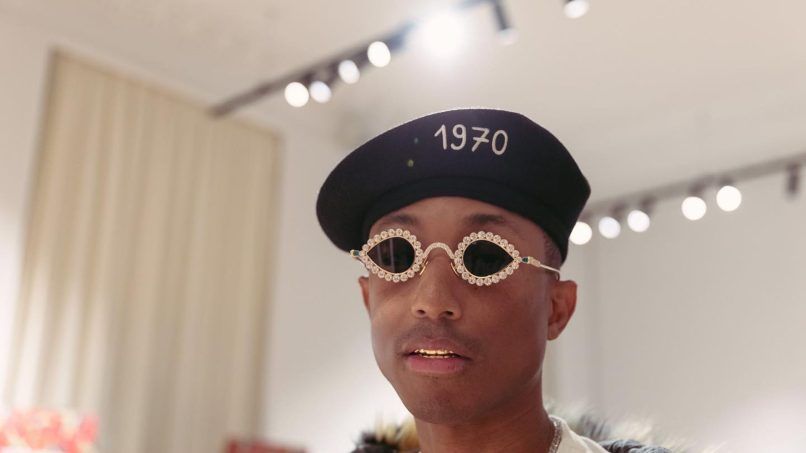 Release date: 23 January 2022
Spotted wearing a pair of almond-shaped diamond-encrusted sunglasses at the Kenzo Fall/Winter 2022 show in Paris, Grammy award-winning singer Pharrell Williams made sure his collaboration with Tiffany & Co. got all the hype. The custom sunglasses were made of 18k gold and had embellishments of 61 round diamonds of over 25 total carats along with two emerald-cut emeralds.
MSCHF x Tiffany & Co. 'The Ultimate Participation Trophy'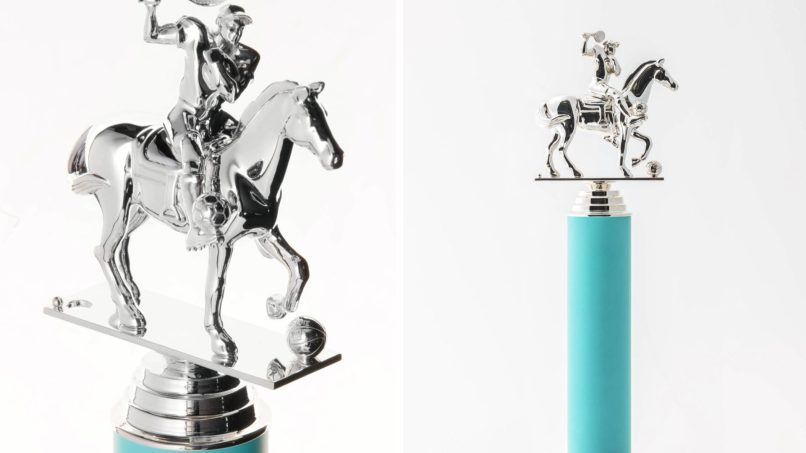 Release date: 2 May 2022
This Tiffany collaboration with American art collective MSCHF saw a limited production of 100 handcrafted trophies titled 'The Ultimate Participation Trophy', featuring a 900g sterling silver sculpture on top, depicting a person carrying a football in one arm, swinging a tennis racket with the other, and kicking a soccer ball with one leg while riding a horse that looked ready to kick a basketball itself.
The figure is placed atop a stainless steel tube, powder-coated in their signature blue, and seated on a base of white marble with a felted bottom. The trophies were priced at USD 1,000 each in the spirit of "Those Who Can't Play, Pay!"
Custom Tiffany & Co. crown of thorns for Kendrick Lamar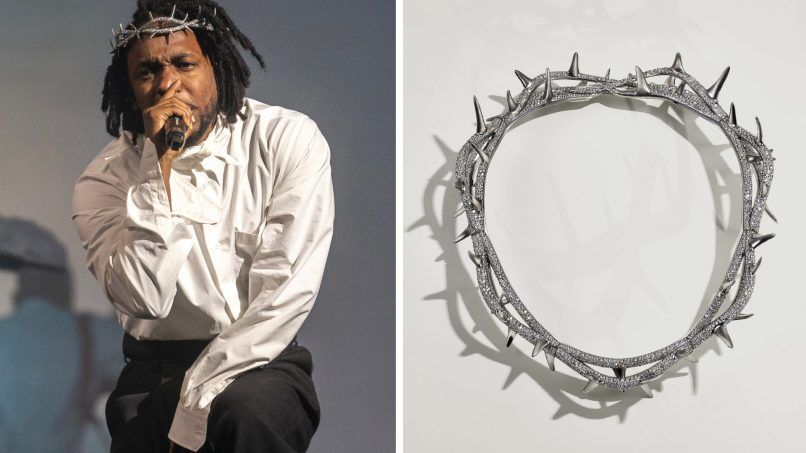 Release date: 13 May 2022
First unveiled on the album cover of Mr Morale & The Bigger Stepper, the Tiffany & Co. crown of thorns, created in collaboration with rapper Kendrick Lamar and American filmmaker Dave Free was a custom headpiece that took 10 months and over 1,300 hours to complete. Made of titanium and pavé diamonds, the non-purchasable piece featured 50 thorns of varying shapes and over 8,000 diamonds (137 carats) in a unique cobblestone pattern and weighed around 200g.
Handcrafted by four artisans, the custom crown came with a "Mr. Morale" engraving — a reference to Lamar's fifth studio album, Mr. Morale and the Big Steppers (2022).
'NFTiff' CryptoPunks Pendants
We're taking NFTs to the next level. Exclusive to CryptoPunks holders, NFTiff transforms your NFT into a bespoke pendant handcrafted by Tiffany & Co. artisans. You'll also receive an additional NFT version of the pendant. Learn more: https://t.co/FJwCAxw8TN #NFTiff #TiffanyAndCo pic.twitter.com/pyKlWejHv4

— Tiffany & Co. (@TiffanyAndCo) July 31, 2022
Release date: 1 August 2022
Marking the jeweller's official venture into the world of NFTs, Tiffany released NFTiff, which was exclusive to CryptoPunks holders. Each bespoke pendant was handcrafted by Tiffany & Co. artisans and composed of 30 gemstones/diamonds. The limited edition came with only 250 pieces of 18k rose gold or yellow gold pendants worn on an adjustable chain between 18 to 22 inches, comprising rectangular links that take inspiration from the square-shaped pixels.
The pendants engraved with its CryptoPunks edition number on the back were priced at USD 51,000 (ETH 30) approximately.
Tiffany & Co. x Fendi Limited-Edition 'Tiffany Blue' Baguette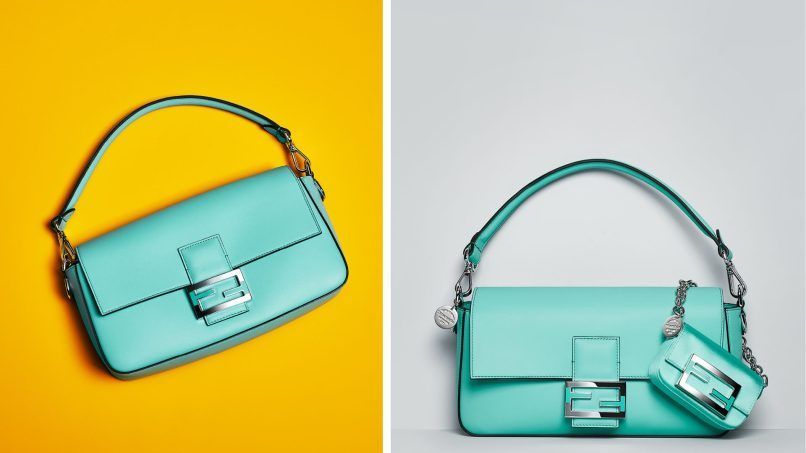 Release date: 6 January 2023
Fendi celebrated the 25th anniversary of its signature Baguette by releasing Tiffany & Co's reimagined Baguette with sterling silver, enamel, white gold and diamonds in the legendary Tiffany Blue. The bag pays tribute to Silvia Venturini Fendi's iconic 1997 creation.
The official capsule was first unveiled at 2022 New York Fashion Week during the brand's Resort 2023 show. With prices ranging from USD 2,350 to USD 5,500, the lineup currently includes a medium-sized bag in smooth leather, silk or satin finish and a nano Pico Baguette charm.
Tiffany & Co. x Nike Air Force 1 Low '1837'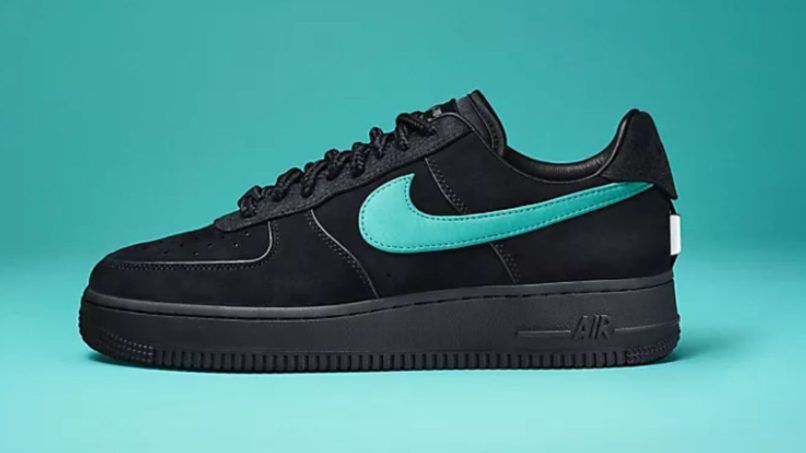 Release date: 7 March 2023
The upcoming Tiffany & Co. and Nike collaboration for a limited-edition release of Air Force 1 Low '1837' has stirred up quite a buzz on the internet. Priced at USD 400, the kicks are constructed with a black leather and suede base that highlights the Nike swoosh and insoles in the iconic robin's-egg blue hue. A care kit of limited-edition sterling silver products including a sterling silver whistle, shoe horn, shoe brush and lace ornament also known as a dubrae, comes with the shoes.
Additionally, details of silver co-branded plates on the tongue and heel feature atop the all-black Nike Air Force 1 rubber sole. The shoes, now called 'a legendary pair', also come with a special co-branded blue box packaging that has already been revealed on Tiffany & Co's official Twitter account.
(Main and featured image credit: tiffany.com)
Sushmita Mahanta
A PhD research scholar, Sushmita is a full-time writer and a part time poet. Clashing and colliding with words since childhood, there was nothing better than writing she could do to make a living. Notepads are Sushmita's one true love — the unbothered victims drowned in the ink of her pen. An avid fan of K-pop and K-dramas, she mostly writes about Korean culture and entertainment. When not writing, Sushmita is dancing, reading, collecting books, learning about fashion, art, motion pictures, and appreciating BTS.
---
Subscribe to our newsletter to get the latest updates.
You're all set
Thank you for your subscription.