Simply put, helicopter tours in Vegas are out-of-this-world. We've gone on helicopter rides all over the planet but there's something special about flying through the Neon Capital of the World, especially at night.
When it comes to the best places to ride on a helicopter, a few spots may come to mind. Some of the most highly sought-after flights include Hawaii, Alaska, New Zealand, the Great Barrier Reef, the Grand Canyon, and of course, Las Vegas. What do all of these locations have in common? They're all bucket list destinations!
We love, love, love Vegas. We've been there four times and can't wait to return—in short, it's the energy of the city that keeps us returning time and time again.
If you're going to splurge on a helicopter ride then it makes perfect sense to do it on one of the many helicopter tours in the Entertainment Capital of the World. However, that doesn't mean it has to cost a fortune. Luckily, there are affordable helicopter tours in Vegas too.
Ideal Weather Conditions for a Helicopter Flight
Honestly, some of our helicopter rides have been a bit nerve-wracking—it's not like flying on a plane. One time, we were emergency evacuated off the Milford Track in New Zealand due to heavy flooding during a torrential downpour. It was wet, and windy, with poor visibility, and less-than-optimal conditions to say the least.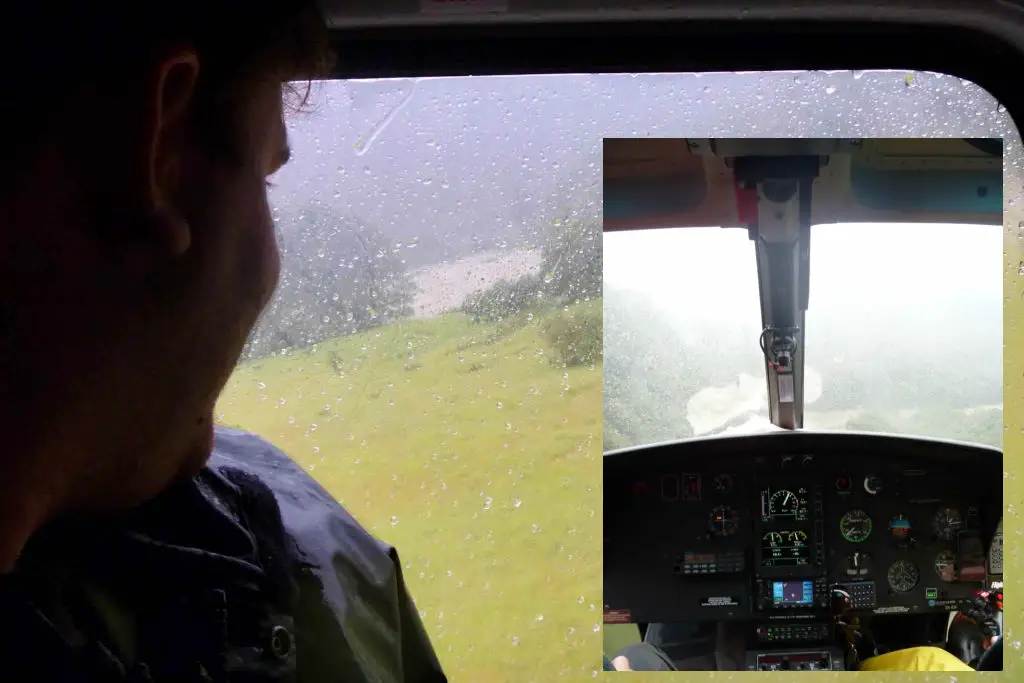 It seems a bit silly to discuss New Zealand, but the point is that it's not pleasant flying in severe weather, plus you can't see anything! This is why it's important to reserve your seat early in your trip so that in the unlikely chance there is bad weather you can reschedule for later in the day or the next.
Now, the good news! Typically, flights in Vegas are precisely the opposite of New Zealand, with ideal weather conditions for a helicopter tour. Man, does the Vegas sun feel good on the bones!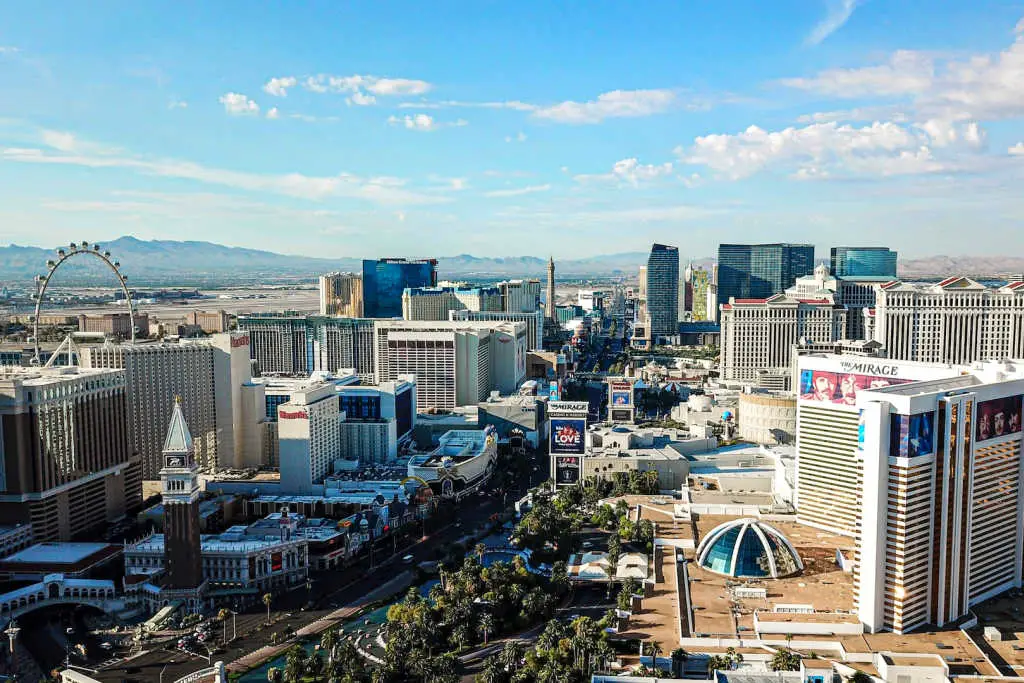 As a desert oasis, weather conditions are favorable for operating helicopter tours. Outside the spring season, winds tend to be fairly calm and the days are clear and sunny. As a result of this natural blessing, the helicopter handles better, making for a smoother and safer ride.
Due to astronomically high fuel and maintenance costs, helicopters are pretty much the most expensive mode of transportation on the planet. For this reason, Vegas helicopter tour companies try to price their tours based on price and destination rather than the length of the tour.
As a result, helicopter tours on The Strip last between 12-15 minutes and typically cost between $100 and $120+. Fortunately, there is a trick to getting deals and discounts on helicopter tours in Vegas.
Deals & Discounts – Flights for Less Than $100
When we're looking for cheap helicopter tours in Vegas or tickets for shows we use Vegas.com. Vegas.com works directly with the hotels and the Vegas flight operators to promote their flights at discounted prices, kind of like Groupon.
Below are the steps to take to get cheap helicopter tours in Vegas.
Go to Vegas.com
See all helicopter tours available.
Select one or more tours and get ready for an epic flight.
3 Most Popular Helicopter Tours in Vegas
Like everywhere else, helicopter tours in Vegas are a bit expensive. However, they are certainly worth the splurge. Flying over The Vegas Strip at night is exhilarating. The second you board a helicopter, you immediately know you're doing something special and are mentally checking it off your bucket list of adventures.
If you think driving down The Strip is impressive, just wait until you're hovering over it in a helicopter. It's one of those things you'll never regret spending money on. After all, you can always make more money but you never relive an epic Vegas trip.
*All prices below are per person.
1. Vegas Strip Highlights Tour – Less Than $100
Whether you're going over The Vegas Strip or the Grand Canyon, all helicopter tours depart from in front of Harry Reid International Airport, along The Strip. Helicopter terminals are located just west of the airport's runways.
On the Vegas Strip Highlights Tour, passengers will soar high above The Strip heading north passing MGM Grand, Planet Hollywood, The Venetian, The STRAT, and the historic downtown, Old Vegas.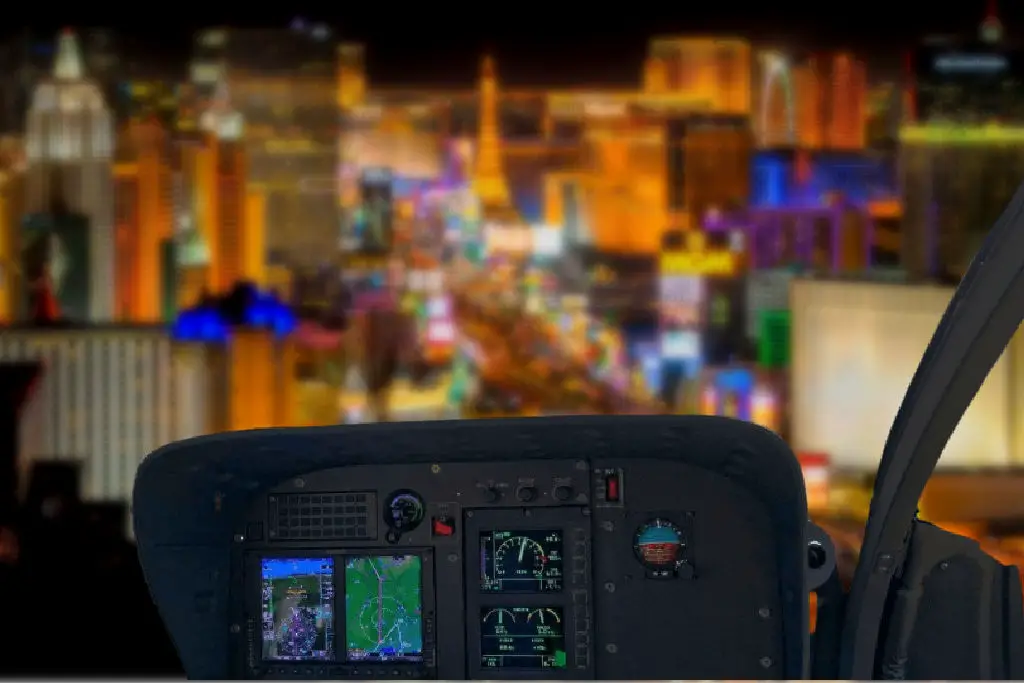 From Old Vegas, the flight will begin returning south, passing Resorts World, Bellagio, and Mandalay Bay. This jaw-dropping neon extravaganza lasts about 12 to 15 minutes and is the cheapest helicopter flight you'll find in Sin City. Of course, it's best done at night!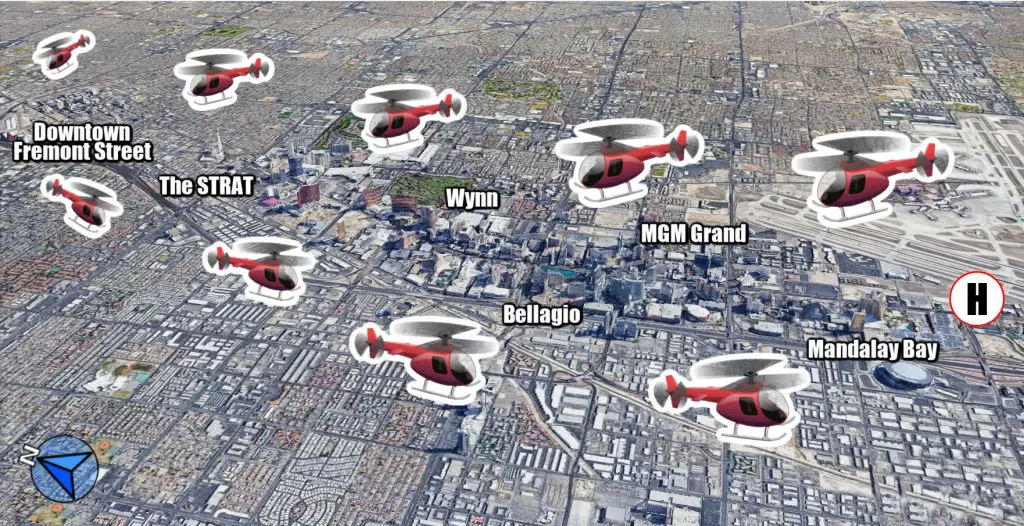 The Vegas Strip Highlights Tour is the most highly sought-after helicopter excursion in Adult Disneyland. If this is something you're interested in doing make sure to book your flight well ahead of time.
2. Vegas Strip & Red Rock Canyon Combo Tour – About $200
After being chauffeured in a limousine coach from your accommodation, the Vegas Strip & Red Rock Canyon Combo Tour takes passengers high above the Mojave Desert to the dramatic mountains and rosy-red cliffs of Red Rock Canyon National Conservation Area. You'll quickly learn to love to fly upon realizing that the 12-minute flight (one-way) takes drivers nearly an hour to complete. Paupers, right?

Next, the pilot will land on a private vista that overlooks the Vegas Strip to the east and Spring Mountain Range to the west. If you're looking to propose, this just may be the perfect location. Either way, you'll be celebrating the journey with a champagne toast, and about 30 minutes to take in the views at 2,900 feet.
Afterward, you'll begin your journey back to The Strip, where you'll take in once-in-a-lifetime views of The Gambling Capital of the World. Furthermore, you'll cruise over stunning mansions, golf courses, part of The Strip, and Allegiant Stadium.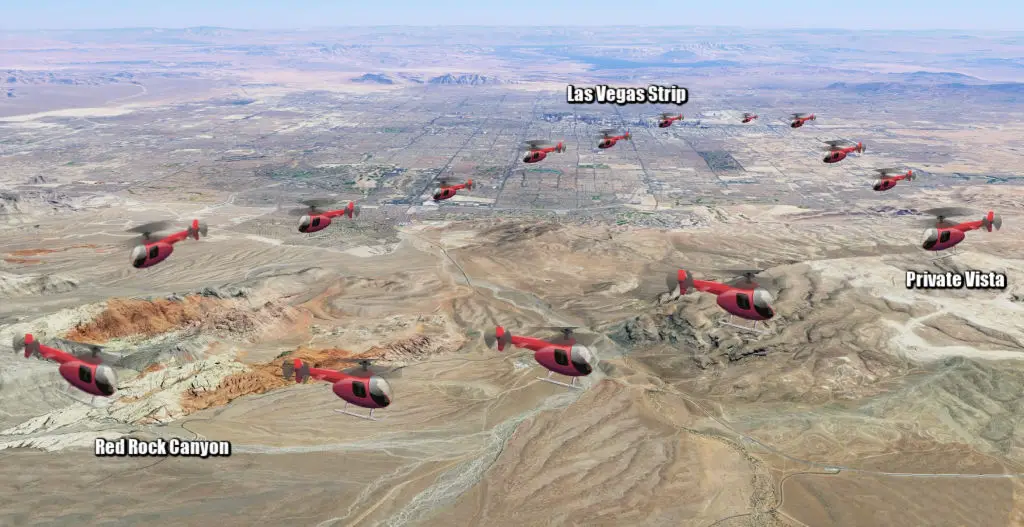 There is an option for a sunset tour. This extends the time at the viewpoint and allows passengers to witness the transition from day to night on the way back to The Strip—a shockingly special moment.
Tour length: 2.5 hours
3. Grand Canyon, Hoover Dam, and The Strip Combo Tour – About $500
You'll be living the high life as you're whisked away in a luxury shuttle to the heliport near The Strip. This Grand Canyon, Hoover Dam, and The Strip Combo Tour is the most popular helicopter tour to the Grand Canyon, and for good reason.
Where you go, the sights you see, and the picnic area will provide a "pinch me" moment—the experience is definitely bucket list material. Also, the total flight time is about 100 minutes.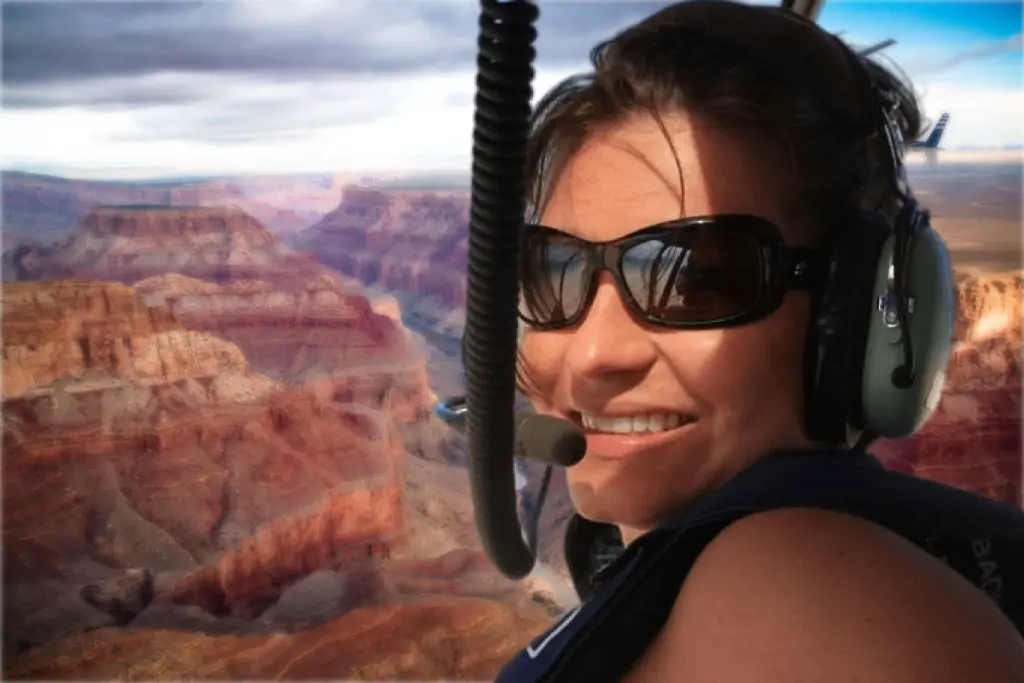 First-time flyers are guaranteed to walk away appreciating the ability of pilots to easily take passengers to places that are unattainable by foot. From Las Vegas, passengers will fly over Lake Las Vegas, before proceeding to Lake Mead and Hoover Dam.
For us, it's just about impossible to look at Hoover Dam without thinking about the hilarious scene from "Vegas Vacation" with Clark Griswold (Chevy Chase) attempting to climb the 726-foot embankment. Thankfully, with the helicopter's wraparound glass and theatre-style seating, there's no need to worry about missing a glimpse of this historic site.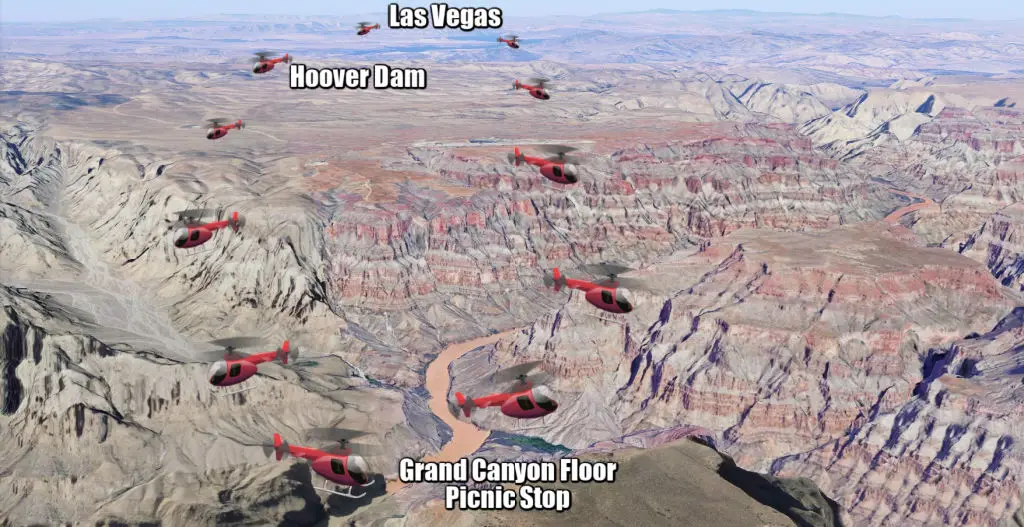 Next, passengers will make their way to the Grand Canyon floor for a picnic of champagne, other beverages, and hors d'oeuvres. This 30 to 40-minute stop provides passengers with plenty of time to snack and take the most jaw-dropping photos.
Heading back to Vegas, passengers have time to enjoy additional views of the canyon and the Bowl of Fire. Fortunately, due to helicopter traffic patterns at Harry Reid, passengers are treated with one huge final perk. They'll be treated to a flight down the Vegas Strip starting in downtown (Old Vegas) and ending near Mandalay Bay before landing at the heliport.
Tour length: 4 to 4.5 hours
Things to Know Before Taking Helicopter Tours in Vegas
Below are some general tips and things passengers should be aware of before their flight.
Fuel Surcharge
Flight operators are extremely competitive in their pricing, literally every mile counts. As a result, none of them are including the current fuel surcharge in their pricing. Therefore, passengers should be aware that they will most likely have to pay a small fuel surcharge upon check-in. To give an idea, the surcharge for the Vegas Strip Highlights tour is $5 per person.
Transfers
Complimentary pick-ups only will be made at hotels. Therefore, if you're not staying at one it may be worth traveling to one for the free transfer.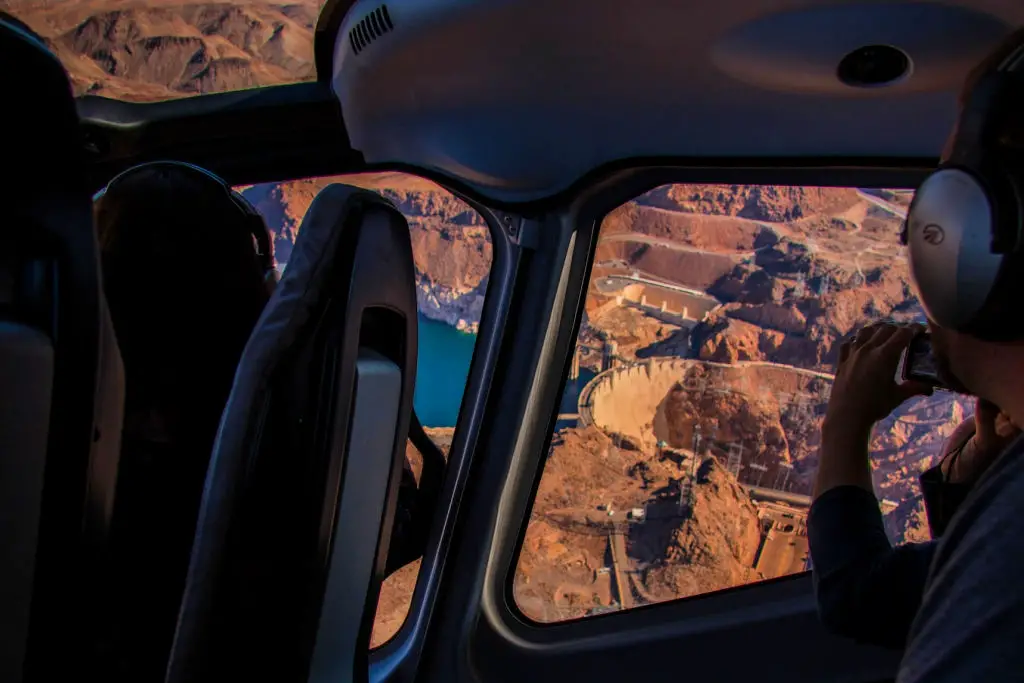 Seating Arrangement
Once again, unless you're booking a private tour, the seating arrangement on the helicopter will be calculated on the weight of the passenger. Moreover, this is to ensure the balance of the aircraft, not to discriminate against heavier people.
Passenger Weight
Passengers that weigh more than 300 lbs will have to pay an additional fee to balance out the aircraft unless booking a private tour.
Take the Tour Early in Your Trip
If possible, reserve your seats early in your trip. If there's inclement weather and the tour gets postponed to later in the day or the next, you have plenty of time to reschedule.
Safety Tip
Over the years, we've received several safety briefings as well as general advice about being around helicopters. Below is the one piece that sticks out to us the most.
When approaching and leaving a helicopter never go near the rear of the aircraft because the tail rotor may be spinning. Technically, during normal operating procedures, they should not be spinning when boarding/disembarking. Nevertheless, the tail rotor may spin so fast that it's nearly invisible, especially at night. Therefore, as a general safety guideline, never walk near the rear of a helicopter. Of course, you should always listen to the pilot's instructions first.
Furthermore, in some cases, the helicopter may have a shrouded tail rotor (covered) which helps prevent accidents, which most operators in Vegas do have. Catastrophic injuries are rare but do happen. In short, a good habit is simply to stay away.
Helicopter tours in Vegas take passengers way off the beaten path. For example, there is no better way to discover the Grand Canyon than by going from the canyon floor to high in the sky in a matter of seconds. Whether you're zooming high over the Vegas Strip, looking down on Bellagio's dancing fountains, or exploring the natural beauty of Red Rock Canyon, a helicopter tour is an unforgettable adventure and one that's well worth the splurge.