By Rachel Hutton
From Star Tribune
I lay on the sand of Luquillo Beach, warmed by the sun and lulled by the whoosh of incoming waves—just as I'd done here before, in my carefree, pre-parenthood days. Puerto Rico was 80 degrees warmer than blizzarding Minnesota. And here I was, basking like an iguana.
Between the winter and spring breaks of last year, my kids, now 4 and 7, spent nearly as much time out of school as in it (COVID closure, teachers' strike, various holidays). That made the work/child-care juggle especially stressful. I vowed that this winter would be different: We'd build in a break by taking our first real vacation as a family of four.
A decade ago, when I lacked an entourage, I'd visited Puerto Rico with friends. Our activities—ocean swims, kayak paddles, rainforest hikes, ferry rides, food-stall meals—seemed more kid-friendly than big-city art museums and elegant bistros.
Puerto Rico, the "Rich Port" of some 3 million inhabitants, sits a bit off American tourists' radar. The U.S. territory feels international, with its colorful concrete buildings, free-roaming horses and primacy of the Spanish language. Yet it offers the ease and familiarity of a domestic destination. There are English speakers everywhere, U.S. dollars and even in-network health care. And with Delta and Sun Country offering nonstop flights, we could be there in about five hours.
Beaches for Days
We arrived to pouring rain in San Juan, America's oldest European-established city. (Christopher Columbus arrived in 1493, followed by Spanish settlers.) My husband gamely slipped on his flip-flops and sloshed up to the counter of Charlie Car Rental's flooded office, a modest inconvenience for saving a couple hundred bucks.
Less than an hour later, we arrived in the coastal town of Luquillo, where we'd rented a condo for the week. We found a restaurant and flagged down a waiter serving the patio, just as a car blasting salsa music rolled past. "Sorry," he shouted. "Our culture is loud."
The place was about to close, so the waiter directed us to a late-night beachside bar, called Boardriders. There we found Latin/Caribbean beats blaring from the karaoke machine—but no American pop hits at all. It was one of many reminders of how Puerto Rico's culture has remained distinct from the mainland's.
Between Luquillo and Fajardo, a slightly larger city about 15 minutes away, there are beaches for days. The small, crescent-shaped Playa Azul was just a few blocks from our condo. The larger Balneario La Monserrate, known as Luquillo Beach, as well as Seven Seas Beach in Fajardo, weren't officially open the days we visited. But we simply followed the stream of beachgoers slipping through the fence.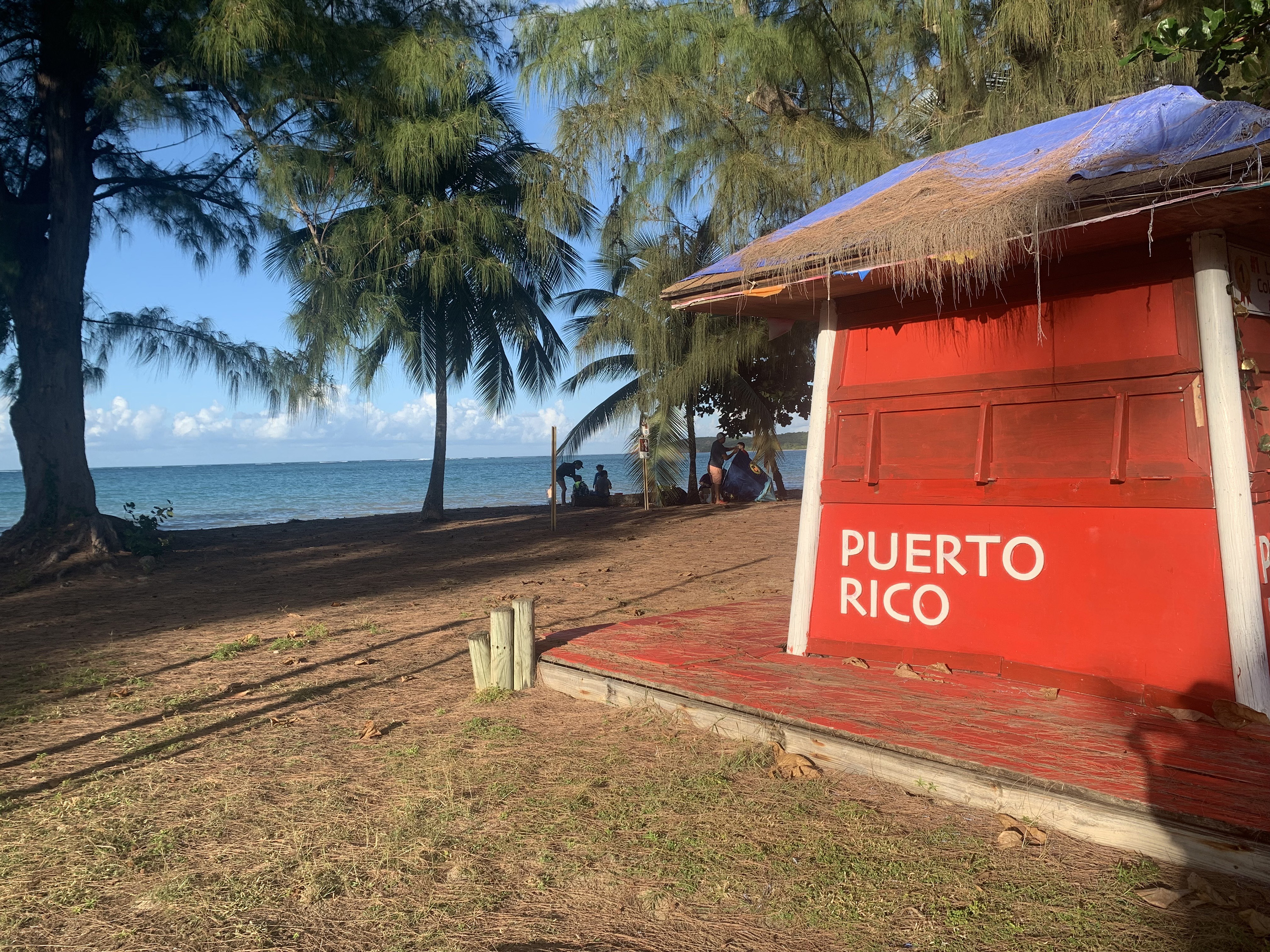 Every beach had aquamarine waters, little to no seaweed, and light to modest crowds. The only variations were in sand texture (crushed-shell bits to silky powder) and waves (mild to moderate). The only thing to complain about was the frequently overflowing garbage cans.
By chatting up a local, my husband got directions to Playa Escondida, a "Hidden Beach" accessed by an easy 30-minute hike. The next day, we followed the path through a tunnel of thick mangroves to find another spectacular, secluded strip of sand.
Island Cuisine
Our favorite restaurant was Fajardo's La Estación, in a former gas station. A couple of New York City restaurant veterans serve what they call Nuyorican BBQ, bringing Caribbean flavors to the Southern U.S. tradition. The grilled swordfish was white-tablecloth caliber. And the pulled-pork sandwich, tucked into Puerto Rican sweet bread, deserves a spot on any best-of list.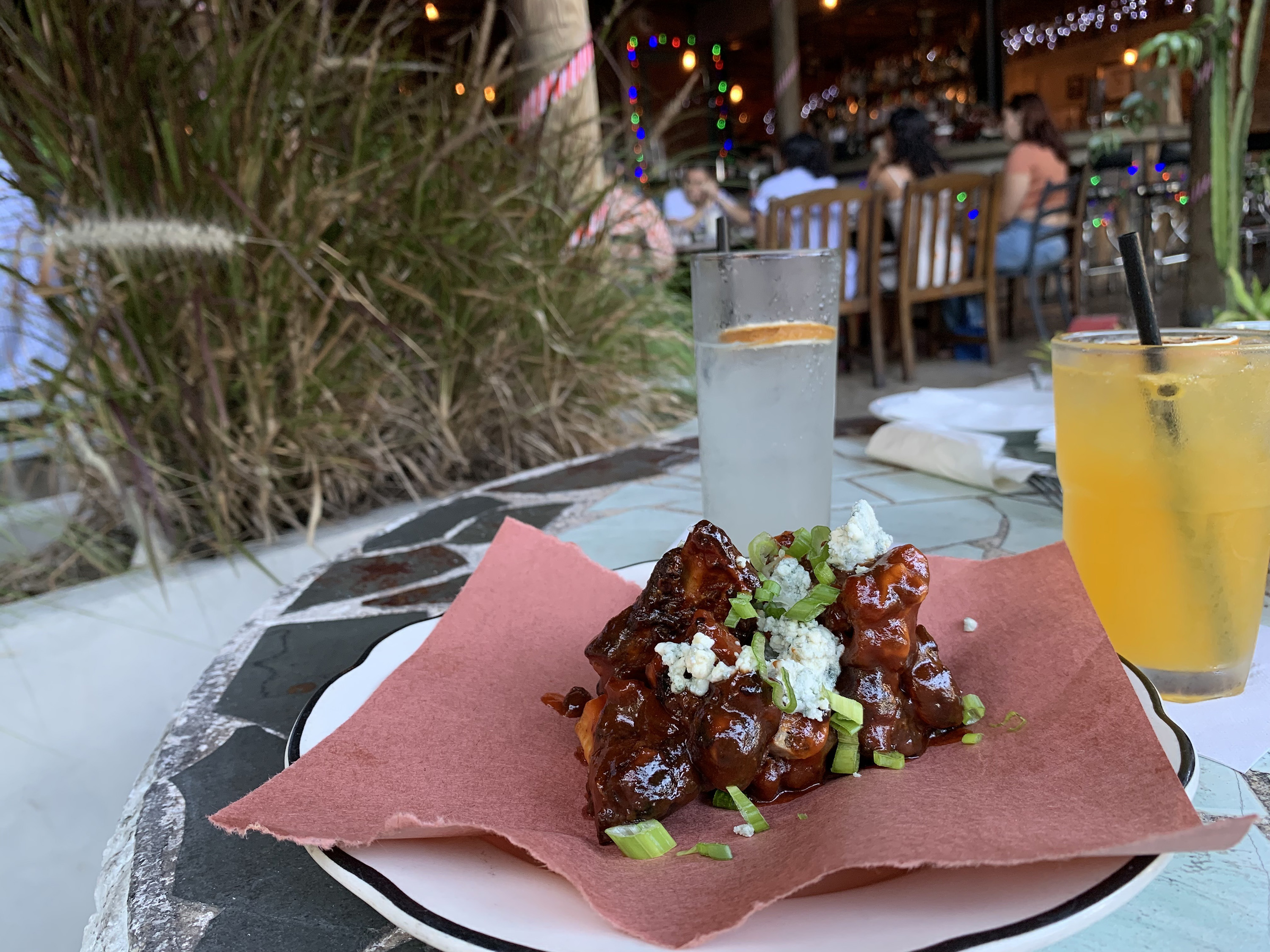 We also ate well at the Luquillo kiosks, a blocks-long strip of open-air restaurants and food stalls. We found delicious, portable pinchos (kebabs) and, for a taste of the mainland, excellent slices at Revolution Pizza Shop. I'd also recommend Terruño and La Parrilla for a more formal meal.
Puerto Rican cuisine includes a lot of fried starches, including green plantains served mashed as mofongo or as chip-like tostones. We liked Puerto Rico's version of the empanada, called pastelillos, which are sold everywhere, even out of a beach hawker's insulated bag.
Our kids loved pairing the fish tacos at La Fonda in Luquillo with a flight of tropical juices: mango, passion fruit, tamarind and soursop. And, even better, a virgin piña colada from the kiosks, served in its own pineapple, topped with a paper umbrella.
My husband and I availed ourselves of Puerto Rico's famous rums. Enormous mojitos were a common and refreshing beach sipper. Even with cocktail prices in the single digits, we didn't encounter the rowdy drinkers that often descend on beach towns.
Instead, the liveliest thing we saw in downtown Luquillo was three young men who arrived on horses and hitched them up outside a bar. The friendly riders welcomed my kids' request to pet the horses and even hoisted them up to sit on their backs.
Day Trips
We took a break from beachcombing and drove 20 minutes to the El Yunque rainforest. On my prior trip to El Yunque, my friends and I ziplined through the treetops of this U.S. national forest. My family opted to drive its most popular route, which required an online reservation 24 hours in advance. We made pit stops to take in the view at an observation tower, marvel at a shuttered CCC-built swimming pool, scramble up a steep hiking path and douse ourselves under a waterfall.
We also made a day trip to the small island of Culebra, the sleepier sister to the better-known Vieques. The kids initially loved the upper-deck view and ocean spray of the ferry (tickets cost a mere $4.50 for adults, $2 for kids; book in advance). But the waves' jostle became less fun once my 7-year-old lost his breakfast. (We picked up Dramamine for the return.)
We caught a van ride to Culebra's Playa Flamenco, often named among the best beaches in the world for its crystalline waters and white sand. A decade ago, when my friends and I relaxed under one of its palm trees, I was approached by some of the island's roaming horses—one boldly licked the ocean salt off my arm.
The islands' lack of development, due to Culebra's and Vieques' long occupation by the U.S. Navy, helped sustain the free-range herds. But the isles' legacy as a training range means contaminants abound. Even after an alarming 40,000-plus bombs, grenades, and rockets have been removed, an unknown number remain. (A posted flier warns of the munitions: "They are not souvenirs.")
Though the risks to visitors are minimal, a massive, decades-long environmental cleanup remains underway. Wood-and-concrete showers, bathrooms and kiosks are under construction at Flamenco, a welcome upgrade to the Hurricane Irma- and Maria-battered beach's minimal amenities.
My kids were captivated by their novel surroundings, content to search for geckos, build forts out of palm fronds, or watch a guy shimmy up tree trunks to harvest coconuts (he kindly opened one with a machete so they could drink the juice).
As they age into more island activities—from snorkeling to surfing to scuba diving—I can't wait to bring them back.
Copyright 2023 StarTribune. Visit at startribune.com. Distributed by Tribune Content Agency, LLC.