We may earn commission from affiliate links →
Mykonos Travel Guide – A Mediterranean Vacation Like No Other
Perhaps the most fabled summer destination in the Mediterranean, Mykonos island is a Greek pearl with royal blood running through its veins. While there, you'll get a pampering with king-like vibes, which are always abundantly showered upon its visitors, VIP or not. 
Picture-perfect beaches, crystalline, azure waters, iconic Cycladic architecture, blue-dome chapels overlooking the magnificence of the Aegean Sea, cloudless skies, great weather almost year-round, and one of the most vibrant and legendary night and party scenes await to capture your heart forever.
This was certainly something my wife and I, along with three more couples from back home with the same mindset, could not leave unexplored at least once in our lifetime! This is our experience – something we would go through again and again.
Ways To Reach Mykonos From Athens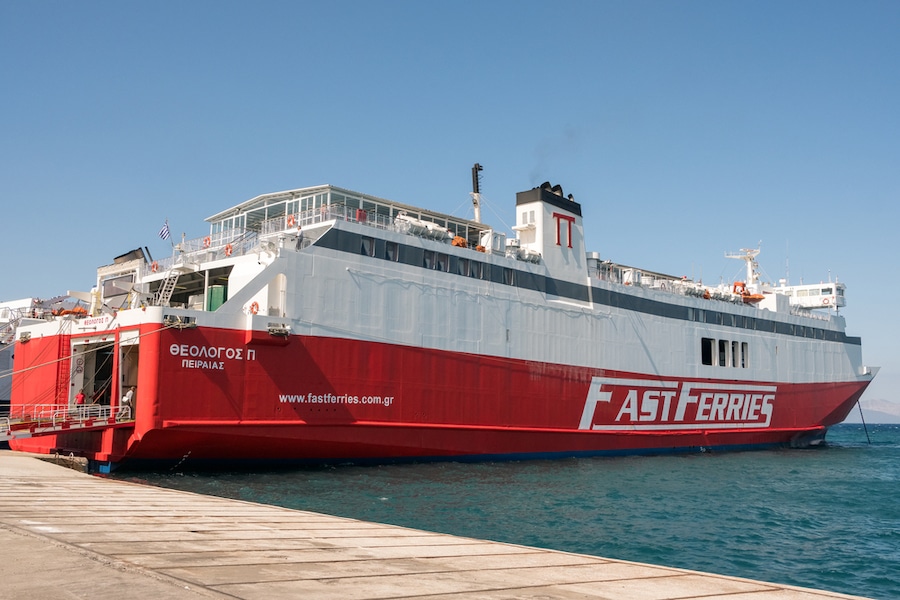 There are two primary ways to get to the enchanting island of Mykonos. By plane and by ferry. Well, if you have enough cash, you can also go by private yacht or a private jet flight, but let's concentrate on the major ones that are within our budget:
We selected Aegean Airlines for our flight to JMK (Mykonos airport) as it was the quickest way to reach the island (a 45-minute flight), although there are at least three more airlines connecting Athens with Mykonos, including Volotea and Sky Express
For the second option, SeaJets is the fastest ferry operator, reaching the island within 3 hours and 20 minutes, at least at the time of this writing. Hellenic Seaways, Blue Star Ferries, Minoan Lines, Fast Ferries, and ANEK Lines also run ferries between the two destinations (multi sailings per day)
Best Accommodation Options In Mykonos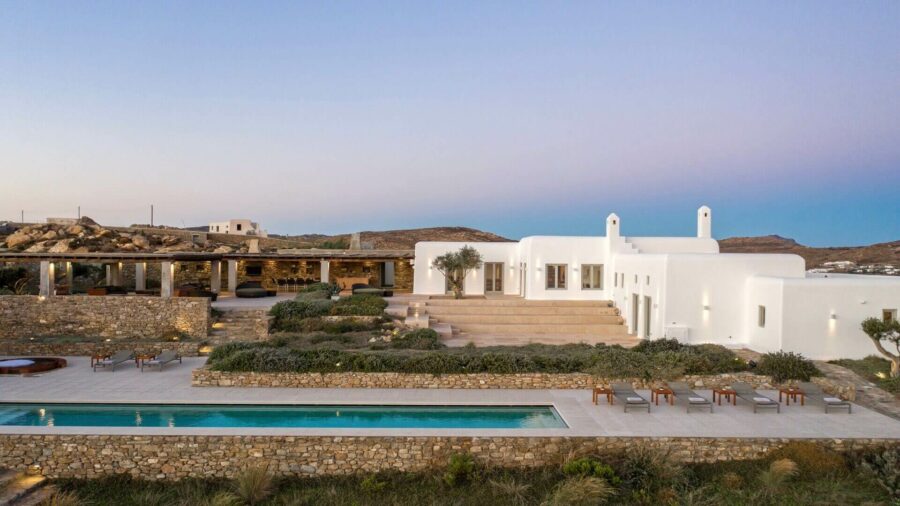 I chose to rent a luxury villa on the southwestern side of Mykonos from Kinglike Concierge, a luxury villa rental agency. The location, the Agios Lazaros area, was fantastic as I wanted to be within an arm's reach from the island's beating heart, its lively capital (Mykonos Town).
At the same time, I wished for a quiet retreat to return to after a long and fascinating day of sightseeing, exploring, partying, sailing, and enjoying oneself. The mansion was everything a discerning traveler could ask for – stylish, oozing authenticity, chic, peaceful, exclusive, and armed with tons of high-end amenities, including a hammam, helipad, gym, and even a private beach. Plus, a stunning garden to walk through or share a glass of chilled champagne at sunset! Even more exciting about our stay at the selected property was the availability of top-tier concierge services enabled us to max out our experiences with a private chef who prepared the most delicious Mediterranean dishes for us from the villa's fully equipped kitchen.
Apart from the luxury villas, though, Mykonos provides an abundance of accommodation options. From lavish holiday resorts and hotels to modish apartments, AIRBNBs, and B&Bs, you can get exactly what you want, depending on the location, budget, needed facilities, and the number of guests.
Location-wise, the selection of the ideal accommodation has to do with the kind of venture you are after while visiting Mykonos. For instance, you can opt for a lodge in Mykonos Town, Paradise, or Super Paradise beach to be right in the heart of all the action. Or a slightly more remote destination, such as Agios Lazaros, Kalafatis, Ornos, or Elia, to secure some peace and quiet times and make a good compromise between your need for privacy and full-on entertainment and exploration of the iconic Mykonos nightlife. Or go the other way, and stay at a property quite far from the wild parties, vibrant beach clubs, and loud music and settle with options like Ftelia, Fokos, Kapari, and Choulakia. They all feature sugary shores, crystalline waters, mind-blowing Cycladic architecture, and a hypnotic appeal.
Where To Eat In Mykonos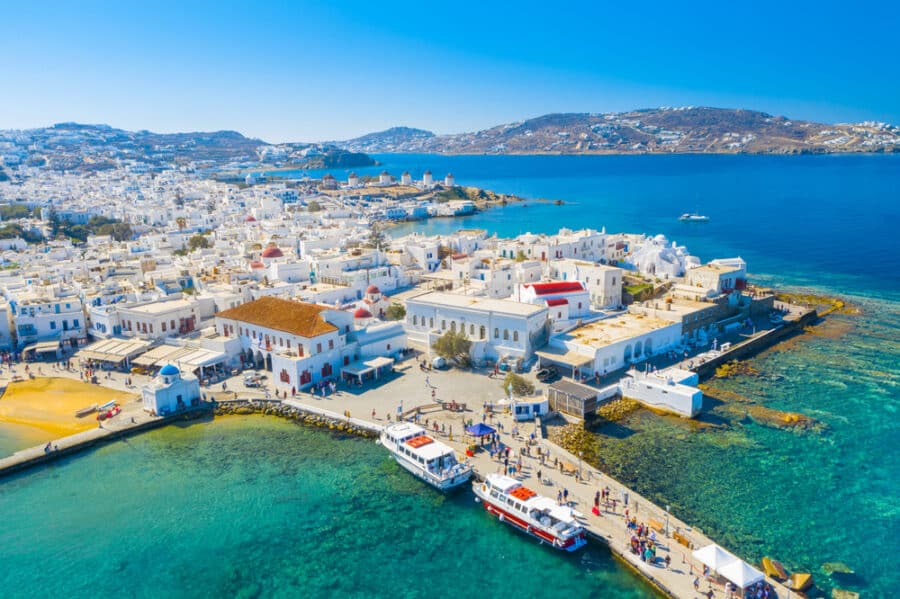 I am a full-blown Mediterranean diet lover. I also appreciate authentic dining experiences that involve tasting the local gastronomy (Mykonos is known to have a mouth-watering cuisine). Therefore, I preferred to stray away from gourmet and international cuisine options (though the island has some really noteworthy restaurants for enthusiasts of fusion dishes, such as M-Eating, LaLaLa, and Jackie' O Mykonos) and went straight to seafront family-run tavernas with traditional local dishes and restaurants with a Mediterranean or Greek menu.
In this respect, Apaggio Restaurant in the picturesque Ornos region felt like heaven on a dish. We started with the Greek starter platter and then had seafood pasta and an assortment of fried calamari, grilled fish, and prawns. They were all finger-licking. As for the views, they are simply heart-stopping.
Other than that, Souvlaki Story Mykonos is a great place to have Greek souvlaki and fast food meals with a dietary value. At the same time, D'Angelo Mykonos is a fab destination if lip-smacking Italian cuisine and pizza is on the other end of your burning desires.
We also enjoyed the breakfast options at Popolo Restaurant in Mykonos Town and had tasty Greek yogurt (from a long list of options) with Mykonos honey. Its lunches were also very appetizing, especially the fresh salads (all made with local ingredients and fresh produce). For a great steak and low-cost meals, do head to Local, though, at Mykonos Town.
For taverna-style eating, we would not look anywhere else besides Nicolas Taverna near Paraga. Want the most romantic place to dine? Then head to Bistrot de Nicolas in Ano Mera. Need the best seascapes and sunset views? Book a table at Kastro's at Little Venice. Looking for the most popular beach bar restaurant? Hit up Buddha Bar on Ornos Beach.
Hanging Out In Mykonos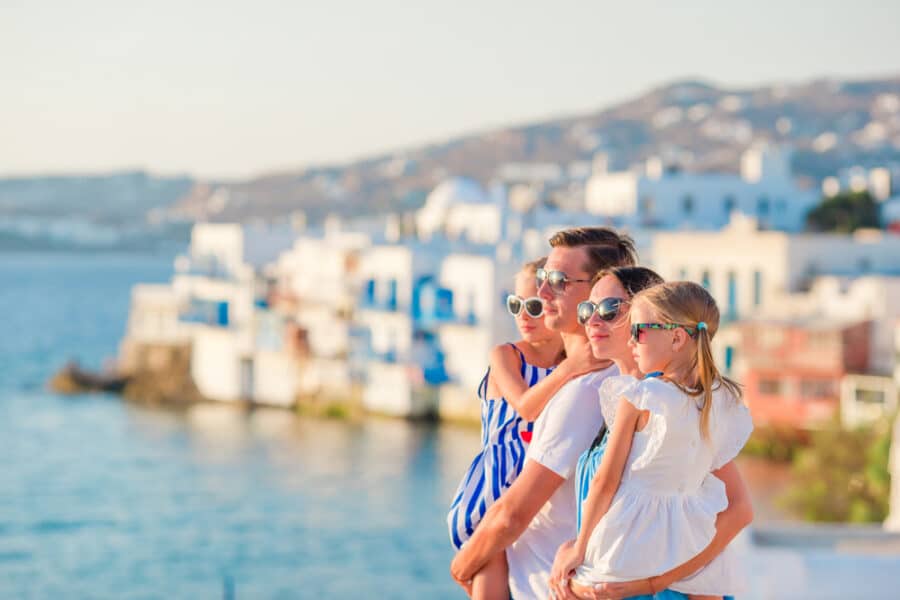 Strolling along the cobblestone streets of Mykonos and being greeted by whitewashed architecture, cubic-shaped houses, charming cafes, elegant rooftop bars, and shops lining the legendary-for-its-boutique-shopping-experiences Matogianni Street is a fun way to spend your early evening hours.
Around sunset, Little Venice is one of the most idyllic spots to have a cocktail or drink, with expansive views of the shimmering archipelago below your feet. We visited Semeli The Bar there and had our jaws dropped by the gorgeous décor, cocktail list, views of the iconic windmills, and the stunning sea panoramas. Bowl is another great option that also serves the most delicious brunches. Hopping to the more lively entertainment venues at Mykonos Town, Jackie' O, Alley, and Astra all have a super-friendly atmosphere and a great variety of Greek spirits. For the most exquisite Mykonos and sea vistas, though, nothing can beat the open-air 180o Sunset Bar and its amazing multi-tiered sea-facing terrace.
Moving further into the night, you can't get more legendary party vibes than Scandinavian Bar, Babylon, and Void (all in Mykonos Town). Of course, there are also the party meccas, Super Paradise, and Paradise beaches, whose beach bars have been throwing the most fabled events across the Mediterranean for more than half a century!
So, it all comes down to the desired intensity of your evening and late-night endeavors here. You can have anything from lounging on cushions or a luxury sunbed in the garden of a charming little bar or a celebrity-status beach bar, respectively, or opt for a more upbeat venture at venues with an exotic setting and the most animated events starring international DJs and champagne that is used to shower with!
Best Mykonos Beaches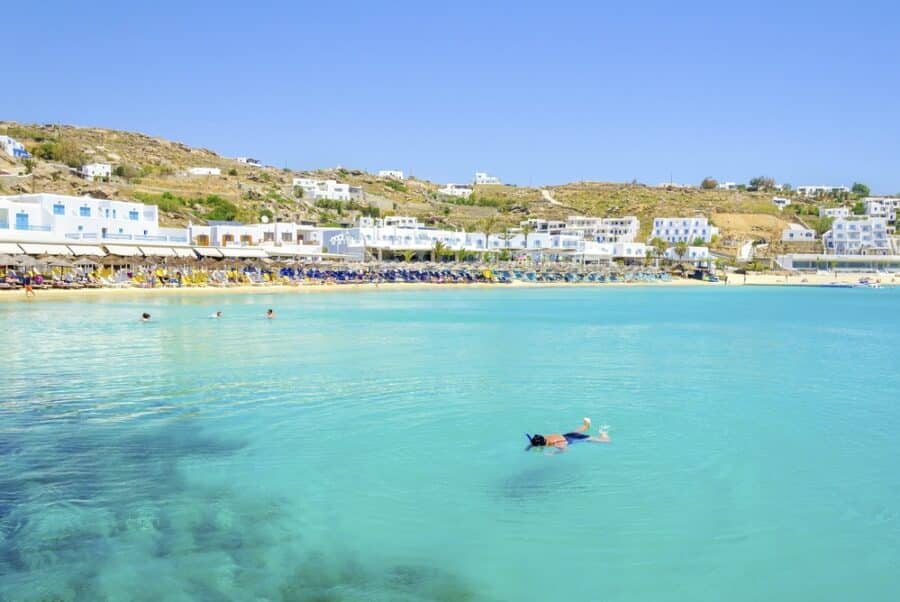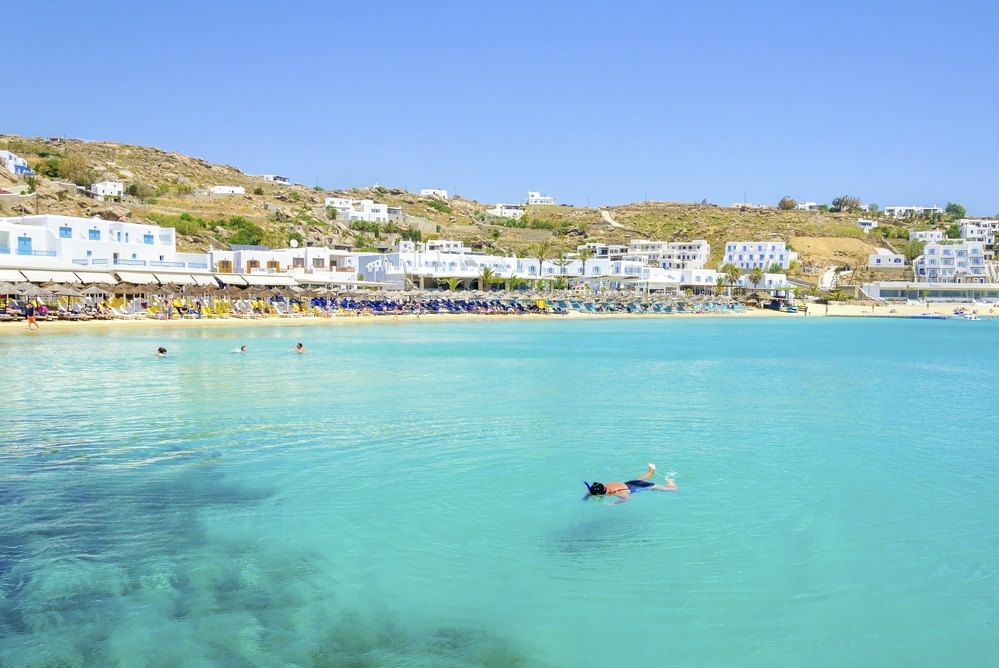 Diversity distinguishes yet this aspect of one's stay in Mykonos. There are more than 50 beaches to choose from, each providing an adventure cut for your needs. We wanted an all-around Mykonos experience, and for that reason, we decided to try both cosmopolitan and remote shores
For starters, if you are staying at Mykonos Town, the closest fine-sand beach is Megali Ammos Beach, which is also backed by tons of tavernas and restaurants (only a 10-minute walk from the capital)
For the Shirley Valentine setting, Agios Ioannis Beach is the place to be, with a pristine, lively shore and a more remote and isolated section for more privacy
Ornos is, hands down, one of the most family-friendly beaches to hit, with an adorable village and harbor to visit
Now, if you decide to visit Psarou, Paraga, Paradise, Super Paradise, or Elia beach, you'd better dress up as these are all super celeb-filled and feature a luxe club scene and even high-end boutiques
Agrari, Kalafatis, Fokos, and Mersini beaches are fantastic options for more isolated beach experiences away from the noise and bustle
As for the most gay-friendly shores, these are definitely Elia, Super Paradise, and Paradise beaches
We hope you enjoy your time on Mykonos as much as we did.