Just like almost every year, brands benefit from the new year to release updated price lists. 12 months ago already, we published an extensive look at the 2022 Rolex Price List, which showed rather substantial inflation, mostly on the steel sports models. And because we just entered a new year, it was expected for the Crown (and, of course, many more brands) to release its new pricing policy. And the 2023 Rolex price list is here… with its dosage of corrections. And let us be clear from the beginning, on a year-to-date basis, by comparing January 2022 and January 2023, we'll be talking about a significant increase in all prices, ranging from about 7 to 11% depending mostly on the materials – two-tone Rolesor models being the most impacted in 2023. Let's take a closer look.
Preliminary note: to simplify this 2023 Rolex price list and to have a reliable comparative background to Rolex prices in 2022, we've decided to compare the price on a year-to-date basis – January 2022 vs. January 2023 – and with the prices in Euros, on the French market. As such, this allowed us to use the article we've published last year as a precise comparison, using the same market, the same currency and the same models. Also, note that Rolex has done a mid-year increase of its prices in Q3 2022. Another source (WatchPro) indicates that compared to mid-2022, the early-2023 increase in prices seems limited to about 2.5%. However, this source uses the British Pound as a base for its calculation and doesn't list as many models. This is why we've chosen this YTD 2022-2023 approach here. 
A new year means a new price policy. This is standard practice for most industries and, knowing the current situation of the world economy, it is clear that 2023 wasn't about to show a correction of the prices on the decreasing side… The costs of production are increasing and this is now reflected on the price lists. Yet, on the other hand, the trend for the watchmaking industry is extremely positive, with 2022 showing record sales.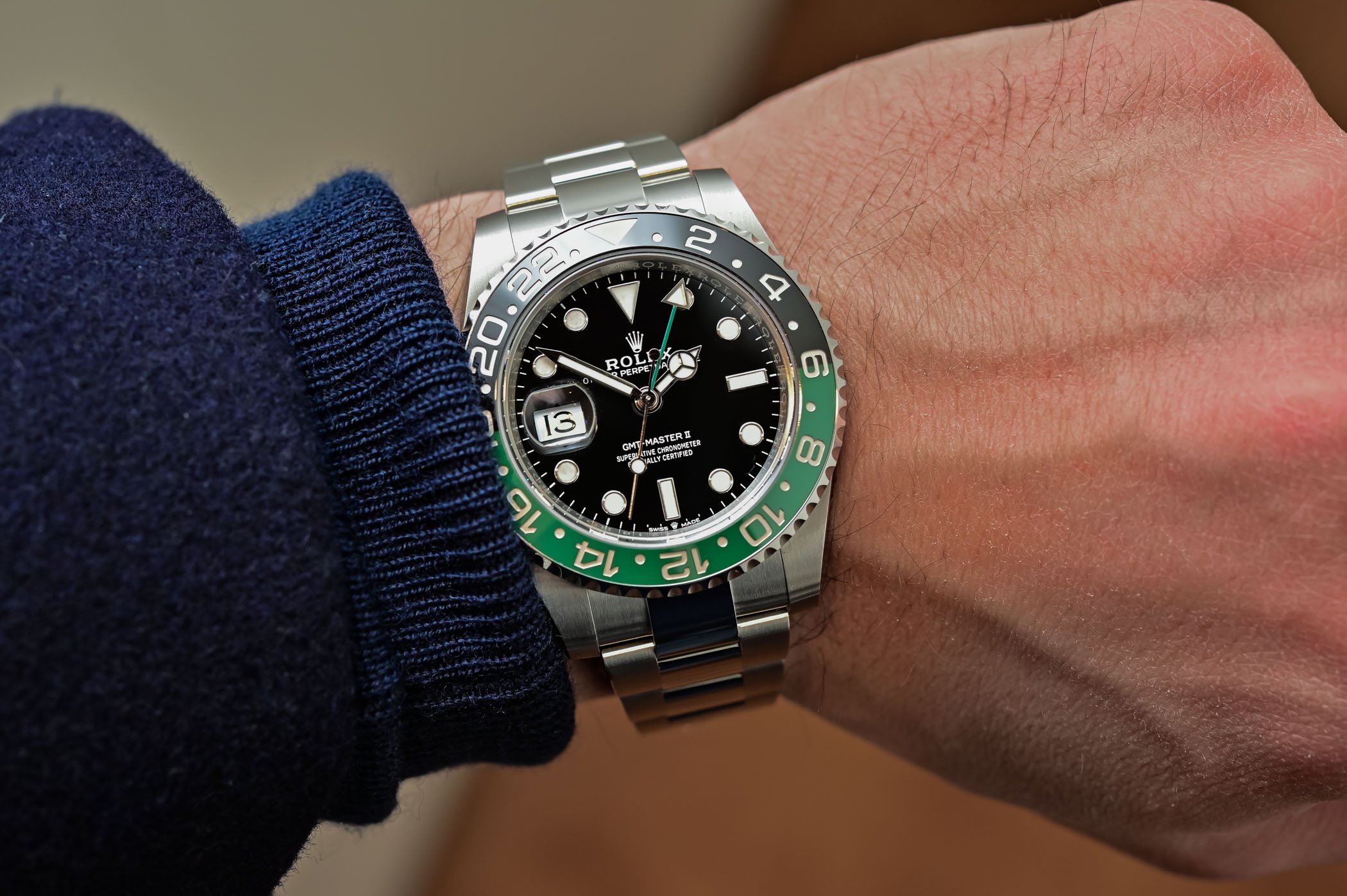 Taking a closer look at Rolex, we have to keep in mind that the brand remains very discreet regarding its production or revenues. On top of Montres Rolex SA is a foundation – the Hans Wilsdorf Foundation, which owns and controls Rolex to this day – and there is no requirement to disclose financial statements under law. As such, we can only speculate on the health of the company and use the reports of experts such as Vontobel or Morgan Stanley to have an estimation of the level of production of Rolex. That being said, and if the situation seems to be slowing down gradually, the demand for Rolex watches is still extremely high and most steel and sports references are facing long waiting lists. This year, Rolex also entered the second-hand market, with the Rolex Certified Pre-Owned Programme.
Before we look at the prices in detail, there are a few trends to see with the 2023 Rolex price list. First of all, on average, most watches are up by about 7 to 8% on a year-to-date basis, with a few exceptions such as the Yacht-Master II collection or the recent AirKing. Also, we can easily see a difference depending on the materials. In 2022, stainless steel watches were mostly affected by the rise in price (about 10 to 11%). Looking at this year's prices, it seems that it's the turn of Rolesor watches (steel-and-gold models) to face a more important increase than the rest of the collection – about 11 to 12%. Full steel models are up by about 7% on average and gold models are up by about 8 to 9% on average.
Let's now take a look at the detailed 2023 Rolex price list per collection.
Cosmograph Daytona
Starting with the star chronograph of the brand, the Rolex Daytona, we can clearly see the trend that we explained above, with a much more pronounced increase in the price of the steel-and-gold Rolesor reference 116503, compared to the classic steel models – either black or white dial – and the rest of the collection, composed of precious metals. The steel 116500LN watches, the most coveted in the collection, are facing a 7% increase, following an increase of 10.5% in early 2022. In 2021, the price of such a watch was EUR 12,400 compared to EUR 14,650 now, meaning an 18.1% increase in two years.
Submariner and Submariner Date
The Submariner collection is no exception to the rule, with about 7% of increase on the steel models, about 8% on the gold models and an increase of almost 12% for the Yellow Rolesor watches, either with a blue or black bezel. Regarding the classic date version with a black dial and bezel, the increase in 2023 follows a 9.8% rise in 2022. In 2021, such a reference 126610LN was priced at EUR 8,650 compared to EUR 10,200 now, meaning that the model is up by 17.9% over the course of two years.
GMT-Master II
Following the trend, the 3 stainless steel editions of the GMT-Master II – the Batgirl, the Pepsi and even the very recent Destro – are all facing close to 7% of increase. The rise in price is here again more noticeable for the so-called Rootbeer version, which relies on a case mixing steel and Everose gold. Regarding the classic Pepsi 126710BLRO edition, the increase follows a rise of 11% in 2022. This model was priced at EUR 9,100 in early 2021 and is now EUR 10,800 (on a jubilee bracelet), meaning 18.7% more expensive.
Sea-Dweller and Deepsea
First, the very latest release of Rolex, the Deepsea Challenge RLX reference 126067, isn't affected by a correction of its price. But keep in mind that this model was launched in November 2022. The rest of the collection is no expectation to the rules mentioned above, with a significant increase of the two-tone edition of the SeaDweller 43mm. The classic black dial steel model, reference 126600, was priced at EUR 10,950 and is now EUR 13,100, meaning a 19.6% increase in its price in two years.
EXPLORER 36 AND EXPLORER II
The Rolex Explorer collection – either the classic 3-hand model or the more complex dual-time edition – were both released in 2021, but nevertheless faced an increase already in 2022. For early 2023, the situation for all models in this collection is identical to all previous sports watches, with increases of 6 to 11%. In 2021, an Explorer II White Dial 226570 was priced at EUR 8,050 and is priced at EUR 9,550 in 2023, representing an increase of 18.6% in two years.
Yacht-Master and Yacht-Master II
Just like what we've reported in 2022, the situation for the Yacht-Master and Yacht-Master II collections is a bit different from the rest. The increase seems to be more controlled on the steel editions of the classic YM, while again much more limited than the rest of the collection on the YM II watches – this was already the case in 2022, with no increase at all of the prices for this sub-collection. Declining interest of the customers…? This could explain why the collection is not overly affected by the correction of prices. The white gold reference 116689 has even been discontinued.
MILGAUSS, AIR-KING AND SKY-DWELLER
Looking at the two stand-alone sports models in the collection, the situation is slightly more complex than above. The Milgauss 116400 follows the trend of other steel watches above, with a rise of about 7%. The Airking reference 126900, a recent model introduced in 2022, sees a slightly less significant rise in its price. The Sky-Dweller was almost not impacted by a correction of price in 2022, however, it is now following the same trend as all models above, with an increase in prices depending on the materials.
DATEJUST 41 AND 36
In order to keep things clear, we only focus on a compact selection of models in the Datejust line – which is composed of hundreds of references. The steel models, either with a smooth steel bezel or a fluted white gold bezel, are all impacted by a 7% + correction, while two-tone watches are more significantly impacted, with prices up 11 to 12%. A classic 126300 (41mm, smooth bezel, Oyster bracelet) was priced at EUR 7,250 in 2021, while now retailing for EUR 8,000, or about 10% of increase over two years.
DAY-DATE 40 AND 36
With a collection available exclusively in precious metals, the Day-Date range is impacted, like other gold models above, by a rather substantial rise in prices, at around 8%. A classic yellow gold version on President bracelet was priced at EUR 34,400 in 2021 and is priced at EUR 38,200 in 2023, meaning an 11% increase in 24 months.
OYSTER PERPETUAL 41, 36, 34, 31 AND 28
Following a relatively reasonable correction of the prices in 2022, the entry-level Oyster Perpetual collection undergoes a significant increase in price in 2023, with all models facing at least 10.5% or more correction – or 500 to 600 euros more. As a reminder, an Oyster Perpetual 41 reference 124300 was priced at EUR 5,550 in 2021 and is now EUR 6,350 in 2023, thus about 14% more than 2 years ago.
You can consult the updated prices of Rolex in your region by visiting www.rolex.com.
https://monochrome-watches.com/the-2023-rolex-price-list-explained-shows-another-significant-ytd-increase-compared-january-2022/