"Dial M… for Motorsport." A single letter is all that's needed to get Petrolhead's blood pumping. It signifies a very iconic lineage by BMW, which dates back to the early 1970s and iconic cars such as the BMW 3.0 CSL or the M1. What started as a team of people to take factory BMWs racing in 1972 morphed into an integral part of the German car manufacturer as time progressed. And in more than 50 years, the BMW M division has created some very, very special cars indeed! Five of those are now coming up for auction, as RM Sotheby's is offering what's essentially a BMW M Greatest Hits collection at the upcoming Villa Erba auction in May of this year. So fancy an opportunity to fill your garage with not just one, but FIVE BMW M's? Sure you do!
The M Power Collection, as the selection of cars is affectionately called, is part of a private collection and is being offered through RM Sotheby's. The collection spans three decades of cars as the oldest one is a 1990 BWM E30 M3 Evo (titled in 1993 though), and the newest is a 2022 BMW F82 M4 CSL created for the 50th anniversary of the BMW M division. It covers pretty much every generation of BMW's high-performance M coupes since the original M3, with one glaring hole in the line-up; there's no E36 M3 of any kind. Despite that, the collection is simply amazing, and will likely fetch a pretty penny towards the end of May. Every single car is offered with a fully documented history and all are in absolutely pristine condition.
1990 BMW M3 Evo sport evolution
There's no question the BMW M3 Sport Evolution is the most important car of the collection. It is a monster of a legend and one that lives on in spirit in every subsequent M-car BMW has built. The legacy starts when BMW wanted to enter the then-infant DTM racing class (1984 was the 1st season). This series was perhaps the epitome of touring car racing, as it featured cars you and I (or at least our fathers, theoretically) could park on the driveway. Road cars were turned into highly tuned racing cars, with the DTM regulations stipulating a homologation car must be built. BMW began building the racing variant of the E30 30-series car in 1985 and gradually kept on improving it into its final and most capable version, the M3 Sport Evolution. In racing, it won numerous championships and iconic races such as the Nürburgring 24 Hours (five times) and the Spa Francorchamps 24 Hours (four times).
The BMW E30 M3 was built as a homologation special, something we talked bout in length before. The boxy little car was fitted with a high-revving 2.3-litre four-cylinder engine at first, which produced around 200bhp (100bhp less than its racing counterpart). The body was fitted with wider wheel arches, new bumpers, better suspension and other performance parts. Although the homologation limit was set at 5,000 cars, BMW ended up building 17,000 of them. By 1989 the Sport Evolution (or Evo) was introduced, which was lighter and had more power (now 238bhp). It also had an adjustable front splitter and gurney flap on the rear spoiler, setting it apart from its non-Evo siblings. Just 600 of the faster BMW E30 M3 Sport Evolution were built.
The 1990 BMW E30 M3 Sport Evolution offered by RM Sotheby's is a 1990s car, but on 1993 title. It's finished in Briliantrot and is in immaculate condition inside and out. RM Sotheby's offers it without a reserve price, but it's likely to fetch top dollar!
2003 BMW E46 M3 CSL
Fast forward to 2003, skipping the E36 generation of the BMW 3-series sadly, we have an E46 M3 CSL! This rather special car is one of only 1,383 built and was the most performance-focused iteration of the third-gen M3s. It rekindled the CSL type of car building by BMW, which refers to Competition Sport Leichtbau. Essentially, it is a stripped-down, lightened version of the 'regular' E46 M3, built between 2000 and 2006 before it was replaced with the E90/E92 generation. The E46 M3 was available as a coupe or a convertible, just as the two generations before it, with the CSL version being a coupe only.
The difference between the standard M3 and the M3 CSL is quite substantial, although the two cars look very similar still. The weight was cut down by about 110 kilos by extensive use of carbon fibre and glass-reinforced plastic body panels (including the roof) and thinner glass for the rear window. The interior also had less soundproofing material, lighter bucket seats and other trim modifications. On the outside, it received new bumpers front and back, a boot-lid with integrated 'ducktail' lip-spoiler, larger 19-inch wheels, a rear diffuser, a carbon splitter and so on. The most notable difference between the two cars up front is the hole in the CSL's bumper to suck in much-needed air through the newly designed air intake system.
It was fitted with the S54 3.2 litre straight-six engine, which produced 360bhp (17 more than the standard M3). This gave the car a limited top speed of 280kph instead of the regular 250kph limit on M-cars, but better yet; an absolutely glorious sound when going through the gears! This E46 M3 CSL has almost 78,000kms on the odometer so it has been used quite a bit, but it's in very good condition and comes with a fully documented service history. Again, offered at no reserve, this could very well be the most expensive of the five!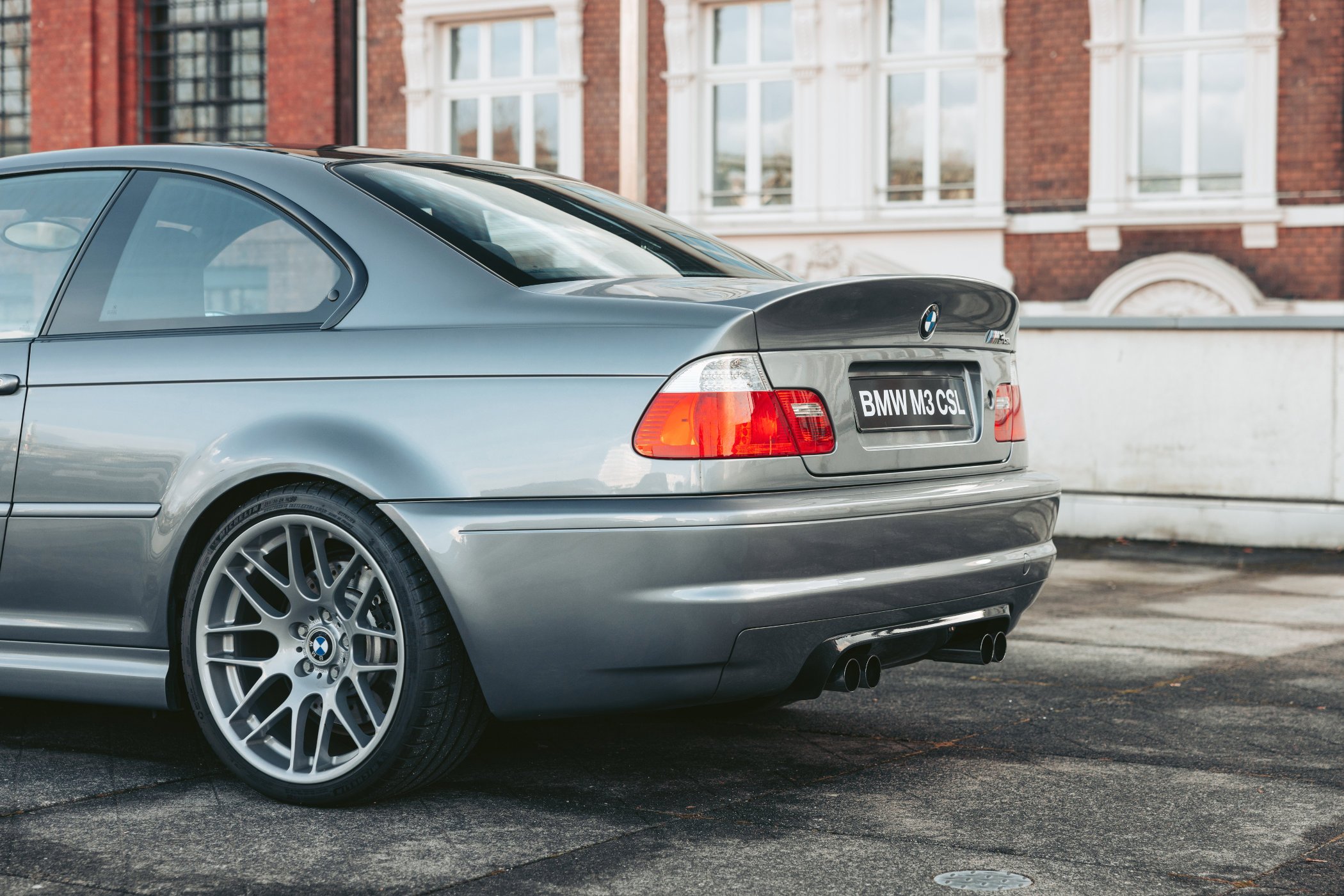 2010 BMW E92 M3 GTS
After the E46 M3 came the jump to the E92 generation, which was a massive departure from the previous M3s. The E36 and E46 M3s that came before it used a straight-six, whereas the E92 M3 would get a normally-aspirated V8 under its bulbous hood! It came in a five-door saloon body (the E90), a coupe (E92) or as a convertible (E93). With the new engine came new power as well, as the output jumped up to 420bhp. The car proved extremely popular in M-trim, with more than 40,000 coupes, 16,000 convertibles and 9,600 saloons built over just 6 years (2007-2013).
BMW announced a track-oriented GTS version of the E92 M3 in 2009, with production commencing a year later. This was to be the ultimate diver's car of what was already considered one of the greatest driver's cars ever made. It was only ever made as a coupe and featured some of the most aggressive exterior modifications on an M3. The front bumper had a big carbon fibre splitter, and around the back, a carbon fibre diffuser and adjustable rear spoiler were fitted. On the inside, the rear seats were taken out, acoustic insulation was removed and lighter console and interior panels were used. This dropped the weight by 136 kilos, while the power grew to 444 bhp. Production was limited to just 135 cars.
Finished in bright orange, the 2010 BMW E92 M3 GTS coming up for auction looks as menacing as it did when it rolled out of the factory. It has done just under 10,000 kilometres and is in excellent condition.
2016 BMW F82 M4 GTS
With the E92 M3 heading towards its retirement in 2013, BMW decided it was time to make the 3-series coupe and convertible standalone models. While it still offered an M-version of the 3-series, it was in saloon form only. The coupe and convertible were now the 4-series, with a subsequent M4 to follow soon after the split of course. In a move to follow the trend of downsizing engines, the F82 M4 would once again receive a straight-six engine, albeit a completely new one and now twin-turbocharged. This pushed the engine's power to 425bhp and 550Nm of torque. Mated to a 6-speed manual or 7-speed automatic transmission, the F82 M4 could hit 100kph in 4.3 seconds (automatic) or 4.6 seconds (manual) and soldier on to an electrically limited top speed of 250kph.
Just as with all the generations that came before it, the M4 would see its fair share of special editions, including this M4 GTS. And similar to the orange M3 GTS shown above, the weight was cut down by removing parts entirely or replacing them with lightweight alternatives. This track-focused barnstormer had an even more powerful engine up front, with around 500 horsepower on tap. A special nozzle water injection system was fitted to achieve this and keep the engine cool under high stress. With more power, and less weight to lug around, the M4 GTS would hit 100kph in just 3.8 seconds and wouldn't stop accelerating until it hit 305kph. According to BMW, it lapped the famous Nürburgring in 7 minutes and 28 seconds, on part with the Porsche Carrera GT!
Only 700 of these first-gen BMW M4 GTS' were built, including this one finished in Frozen Dark Grey. The current owner had it since new and is now letting it go with a little under 20,000 kilometres of life on the road, or on track.
2022 BMW G82 M4 CSL
Now, we've raved on about the current M4's questionable looks before, so we won't do that again. The fact of the matter is, this new grille (kidneys in BMW slang) just looks awful. If you can ignore that, this final of five BMW M-cars is again rather a special one. In celebration of the 50th anniversary of BMW Motorsport, the G82 M4 CSL comes full circle with the Competition Sport Leichtbau philosophy. Take that with a grain of salt, however, as it's not really a lightweight car at more than 1.6 metric tons. Compared to the next lightest M4 variant, it's down in weight by about 100 kilos.
The exterior is finished in Frozen Brookly Grey with black and red touches. With this one, BMW has used even more carbon fibre to keep the weight down. Although it lacks a big rear wing, the back once again has that integrated lip spoiler generating much-needed downforce. Other elements that make the exterior stand out are the front splitter, side skirts and large rear diffuser. The interior is finished with leather, Alcantara and carbon fibre bucket seats in black and red. BMW has built only 1,000 of these very special cars, all fitted with a slightly updated 3.0-litre twin-turbo straight-six from the previous generation M4. It grew even stronger and faster in the M4 GTS, with 550 horsepower hurdling you towards a top speed of 307 kph. The zero-to-100kph sprint is done and dusted in 3.7 seconds and it can lap the Nürburgring a massive 8 seconds faster than its predecessor.
With well under 5,000 kilometres, this 2022 BMW G82 M4 CSL is pretty much like a brand-new car. And being such a rare car, accompanied by 4 other special BMW M-cars, this might well blow through the EUR 165,200 sticker price it originally came with!
RM Sotheby's is gearing up to auction these five BMW M models, and other modern and classic sports- and supercars, such as a 2011 Lexus LFA or several Ferrari Testarossa iterations, a Lamborghini Diablo or even a project Aston Martin DB5 later this year. The auction takes place during the Concorso Villa d'Este 2023 on the 20th of May at the Villa Erba location (down the road from Villa d'Este).
And even if you're not in the market for these, or any of the other cars up for auction, just going there is a thing you should do. The Villa Erba and Villa d'Este estates are situated on the beautiful Lake Como, and are guaranteed to show you cars you've never seen before! To me, it's a must for any Petrolhead at least once in life.
For more information and details, check RM Sotheby's website!
---
Editorial Note: All images have been supplied by RM Sotheby's.
https://monochrome-watches.com/the-petrolhead-corner-a-greatest-hits-of-bwm-m-cars-up-for-auction/