Did you ever accidentally slide into a wrong chat or regret a message you sent on the spur of the moment? We're sure many of you are screaming 'yes'! However, you will be happy to know you can undo the deed on Instagram.
Thankfully, Instagram allows users to remove their messages without any time limit. What's more comforting is that the recipient won't know you've deleted any message, and it's a clean slate, like you never sent anything. So how do you unsend an Instagram DM? Keep reading to know.
Here's how to unsend a message on Instagram
Instagram's user-friendly interface allows a plethora of options when it comes to DM. React, reply, turn on 'vanish mode' or unsend messages at any point. Instagram's 'unsend message' option removes the specified text from both your and the receiver's chat.
However, it shouldn't be confused with 'deleting an Instagram DM'. When you delete a message, you make it disappear from your chat while the recipient still has it. You can unsend a message from a day, week or month ago, there's no ceiling.  Here are the steps you need to follow:
Go to your Instagram DM and open the conversation.
Long-press on the message you want to remove and click on the 'unsend' option.
The message will be gone instantly! The members of the conversation won't be able to find the deleted texts in the chat history as well.
You can also unsend messages on Instagram's web version. Here's how it works:
Log in to your Instagram account via PC or laptop and visit your inbox.
Open the conversation and select the message you want to delete.
Click the three dots next to the message and choose 'unsend'.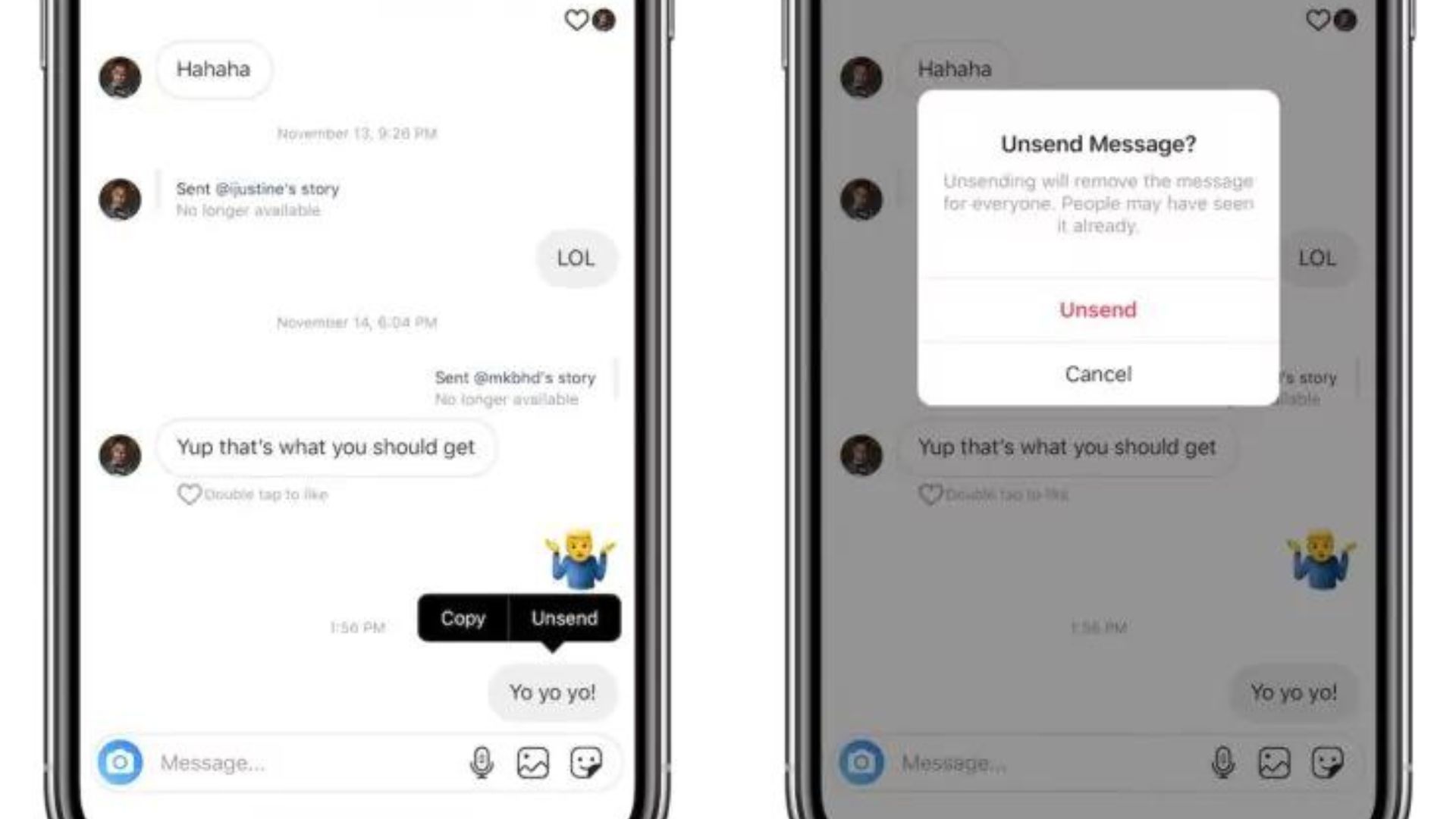 Image credit: wccftech.com
Please keep in mind that people you've sent the message to might have already seen it via their phone notifications, if not viewed it on the app. So that would render the entire process futile, but we wish you good luck nonetheless!
(Hero image credit: Gerd Altmann/ Pixabay)
(Feature image credit: Tofros.com/ Pexels)
Frequently Asked Questions (FAQs)
Question: Can I unsend a message on Instagram after they see it?
Answer: Yes, you can unsend your messages on Instagram even after the recipient has viewed them.
Question: How do you delete Instagram messages on both sides?
Answer: You need to 'long press' on the text you wish to remove and select the 'unsend' option to delete it from both sides.
Question: Can I unsend a DM on Instagram?
Answer: Instagram allows you to unsend all messages in your inbox irrespective of the time you sent it.
Question: How do you unsend an entire DM?
Answer: Simply select the message you wish to remove and click on the 'unsend' option. Your message will be gone.