Although South Beach thrums with lively bars and trendy restaurants, especially along Ocean Drive, the iconic Miami Beach hotspot harbors a quieter—but far from boring—side. On a recent visit to family, we explored South Beach's northern section, which blooms with stunning water views, al fresco dining, Art Deco buildings and street art, all touched with a breezy vibe that's residential rather than raucous.
South Beach stretches from South Pointe Park at Miami Beach's tip north to 23rd Street (some descriptions push the border to 26th Street), east to the Atlantic Ocean and west to Biscayne Bay. We based ourselves at Kimpton Hotel Palomar South Beach in the northern section of South Beach, blocks from the water and from the Sunset Harbour neighborhood.
That location changed our perspective. Instead of heading to the Atlantic Ocean beaches as usual, we focused on Biscayne Bay. We followed Bay Road, admiring the Art Deco low-rise apartment buildings that exemplify Miami Beach architecture. Near 16th Street we turned toward the bay.
The walkway surprised us with its sweeping water views and docklike closeness to the bay. We spotted fish in the water and admired the dramatic skyline of downtown Miami Beach in the distance. Joggers, dog walkers and stroller-pushing moms moved briskly along the nearly mile-long paved promenade that separates the waterfront condominiums and apartment buildings from the bay. A neighborhood gem, the path is open to the public from sunrise to sunset.
Searching for more bay views, we lunched at the Lido Bayside Grill in the Standard Hotel Miami Beach on Belle Isle, one of the six Venetian Islands in Biscayne Bay that abuts the western edge of South Beach. Even though the Standard has gained fame as a destination spa, the property welcomes outsiders to its restaurant. My husband and I savored panoramic water views from our table as we dined on salads, burgers and fish sandwiches.
After lunch, we walked east across the causeway to meander Sunset Harbour, a former industrial area that has morphed into a residential neighborhood spiced with good eateries and restaurants. Stiltsville Fish Bar features seafood that ranges from oysters, fish tacos, grilled shrimp wraps and tuna poke to roasted whole fish. Locals like the sushi at Sushi Garage, which also plates chicken tacos and fried tofu for non-fish lovers. For dinner, we enjoyed the flavorful wasabi-crusted salmon and curried chicken breast.
After people we met raved about True Loaf Bakery, we returned the next morning for multigrain loaves and chocolate croissants. Both proved delicious. A good way to shorten the wait at the much-loved artisanal bakery is to order online ahead of time.
Outdoor enthusiasts also like getting onto the bay. You don't need a boat. Miami Beach Paddleboard rents its namesake toy as well as kayaks and electric boards that propel you along with no effort required.
Another day we ventured to Lincoln Road Mall, between 16th and 17th streets. We joined the lunchtime strollers in the eight-block-long open-air pedestrian shopping center whose median fills with seating for sidewalk cafes. From pizzerias, burger places, Mediterranean bistros and taquerias, we chose Aura for its eclectic menu and shade umbrellas. Our tropical shrimp salad and chicken fajita wrap were tasty.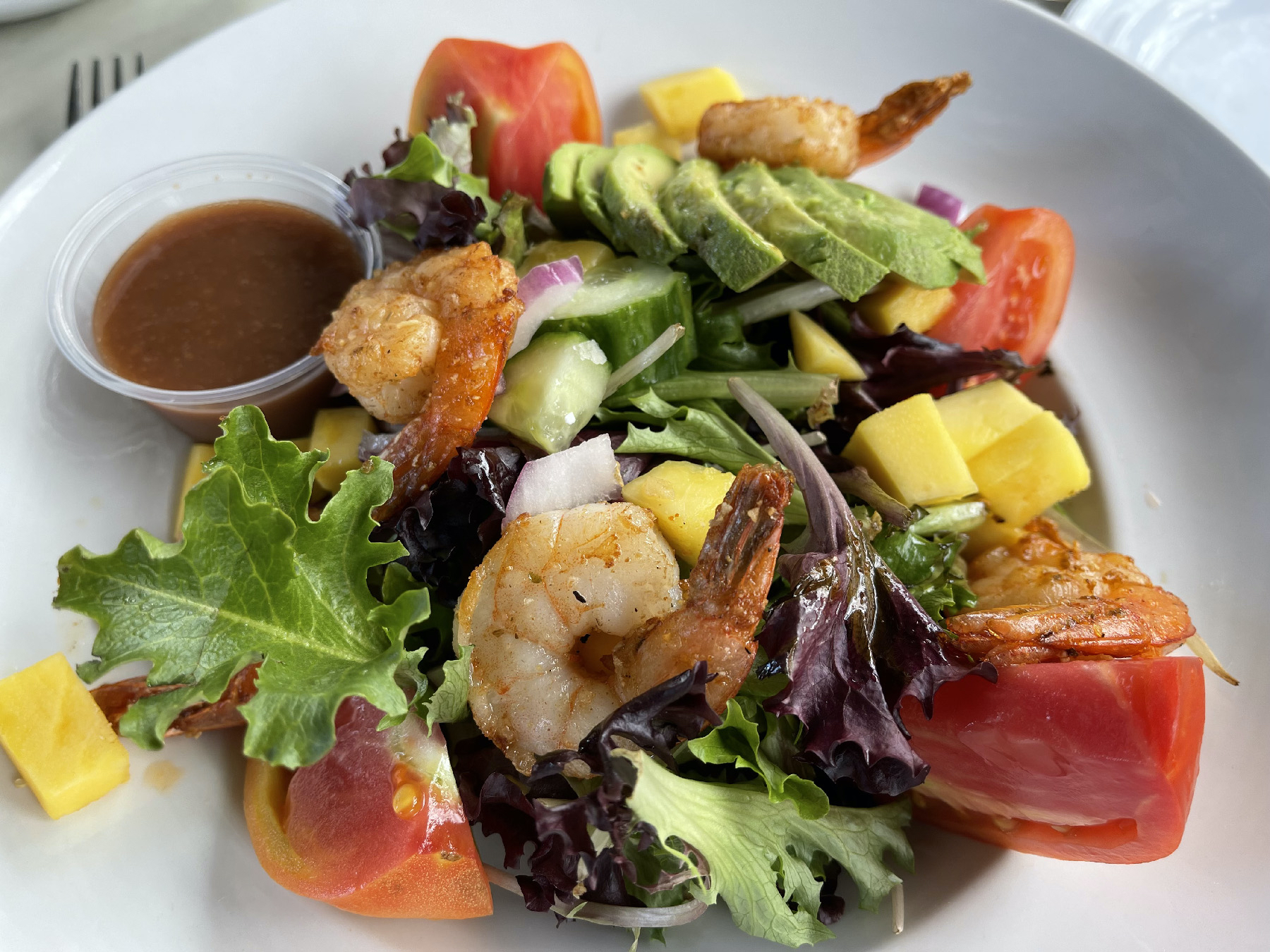 The mall also pays homage to the arts. The Miami New Drama, a showcase for drama, film, dance and music, occupies the Art Deco Colony Theatre, a Morris Lapidus icon that opened in 1935. Richard Orlinski's bright-red crocodile and his orange rearing horse enliven the mall promenade, as does Kfir Moyal's red and blue transformer created from motorcycle parts. More of Moyal's work appears in his mall gallery.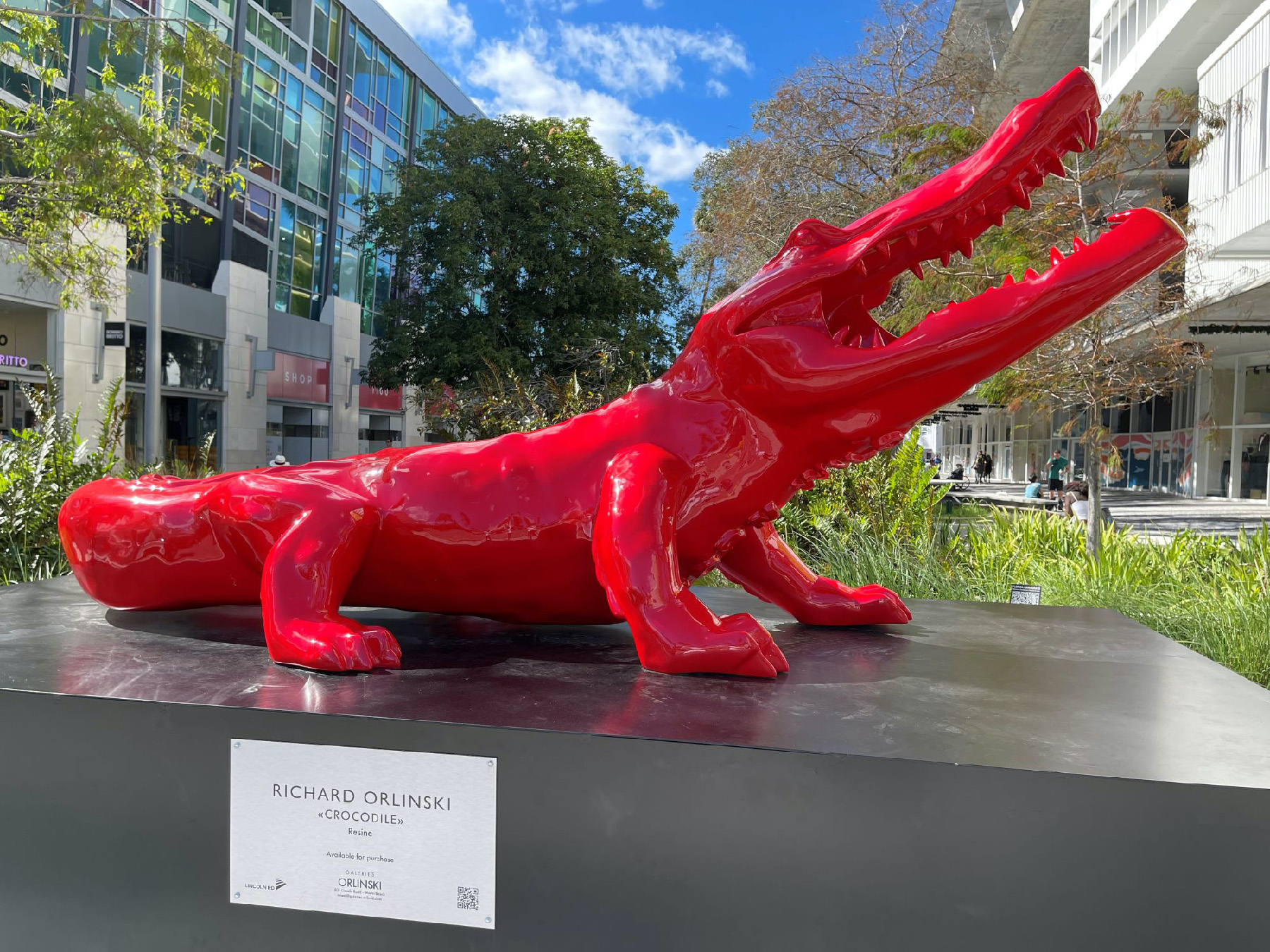 You can also browse well-known artist Romero Britto's work at his namesake mall gallery. Founder of what's known as the "Happy Art Movement," Britto is one of the world's most-licensed artists. His candy-colored pop-art-like designs adorn canvases, clothing, coffee mugs, stuffed animals and staircases.
Back at the Kimpton, we cooled off in the rooftop pool and admired views of the engaging northern South Beach neighborhoods. When we return to northern South Beach, we look forward to an indoor performance at the New World Symphony and an outdoor movie at the New World Center, both nearby on Lincoln Road.
When You Go
Greater Miami Convention and Visitors Bureau: www.miamiandbeaches.com
Kimpton Hotel Palomar South Beach: www.hotelpalomar-southbeach.com
Lido Bayside Grill at The Standard Miami: www. standardhotels.com/miami/properties/miami-beach
Miami Beach Paddleboard: www.miamibeachpaddleboard.com/en
Stiltsville Fish Bar: www.stiltsvillefishbar.com
Lincoln Road Mall: www.lincolnroadmall.com
Aura: www.auraonlincoln.com
Kfir Moyal Gallery: www.lincolnroad.com/project/moyal-gallery-2
Romero Britto Fine Art Gallery: www.shopbritto.com
Miami New Drama: www.miaminewdrama.org
Candyce H. Stapen is a writer at www.greatfamilyvacations.com. Follow her on Instagram @family trips @candycestapen Twitter @family trips (Candyce H. Stapen), www.facebook.com/FamilyiTrips/ and at www.hennyskids.org, her non-profit that brings solar-powered computers and training to rural schools in Africa. COPYRIGHT 2023 CREATORS.COM