We may earn commission from affiliate links →
Things To Do In Ankara, Türkiye- Capital City Of Turkey 
If you did a quick survey of a sample of people and asked which city is the capital of Türkiye, many would tell you Istanbul.
Many would also be wrong! So, what is the capital of Turkey? Well, while Istanbul is undoubtedly Türkiye's largest city, it isn't the Turkish capital; that particular honor falls to Ankara, located in the center of this huge country.
Ankara is definitely worth a visit, and if you're heading there during the winter months, you'll get to see a beautiful snowy scene in Ankara city and the surrounding area. A visit here will also show you a slightly different way of life, as it's far more traditional in this part of the country compared to the westernized beach resorts on the south coast or the tourist feel of Istanbul.
There is plenty to see and do in Ankara. It's also the final resting place of Mustafa Kemal Ataturk, the first president of the Republic of Turkey and a hugely inspirational and important figure for all Turks, even today.
PLAN AHEAD TO GET THE BEST DEALS
Where Is Ankara & How To Get To Ankara City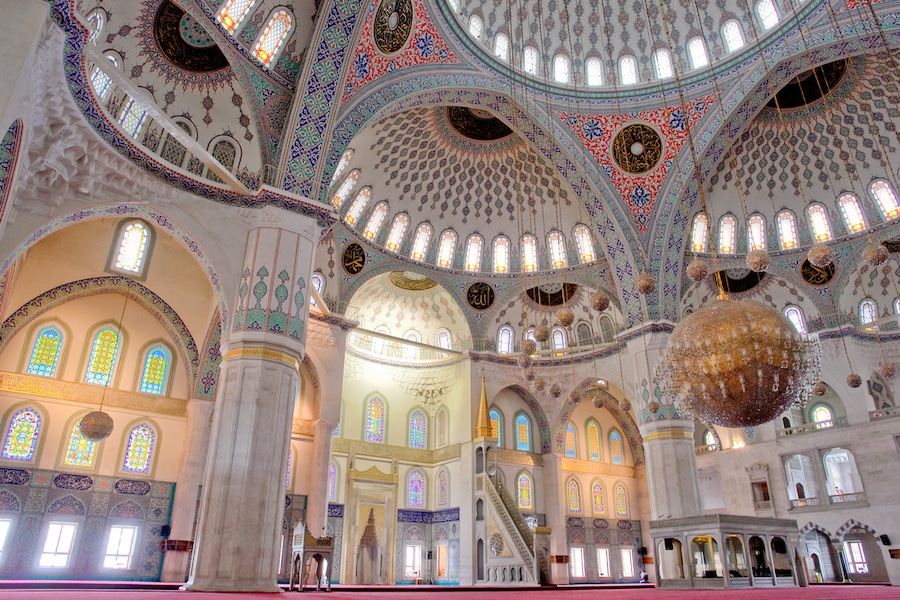 Being the capital city, of course, Ankara has its international airport, and you'll find direct flights heading into that airport all year round. However, many people also travel to Istanbul and connect to Ankara from there. If you decide to do that, the flight from either of the Istanbul airports will take just one hour.
You can also choose to drive to Ankara from any major city in Türkiye or go via a long-distance bus. There are far too many combinations to mention here, but let's give you an example of road distances from Istanbul.
If you choose to drive from Istanbul to Ankara, you'll need to travel 450km, but the road is direct, high quality, and quite scenic. You can also choose to go by bus, and Turkey has several high-quality long-distance bus providers, including Kamil Koc, Pamukkale, and Metro. The bus will take you around 7 hours, depending on traffic.
About Ankara
We've already mentioned that Ankara is Türkiye's capital, and this is where all the central Government buildings can be found. There are many very attractive architectural buildings around Ankara city, and you'll find plentiful history too.
Ankara used to be called Angora, and its first historical settlements can be dated back to the Bronze Age. Different empires have conquered the city several times, including the Persians, the Romans, the Byzantines, and the Ottomans. However, Alexander The Great was the first to conquer Ankara, back in 333BC, before being taken over by the Roman Empire in 25BC.
The city of Ankara is the modern name, derived from the Celtic language, from the word for anchor, Ancyra. This makes sense as Ankara is not only the Turkish capital but is located very centrally within the country.
Until 1923, Ankara was established as the capital of the new Republic of Turkey, growing from a relatively small city into a huge and bustling city.
Things To Do In Ankara – Capital City In Türkiye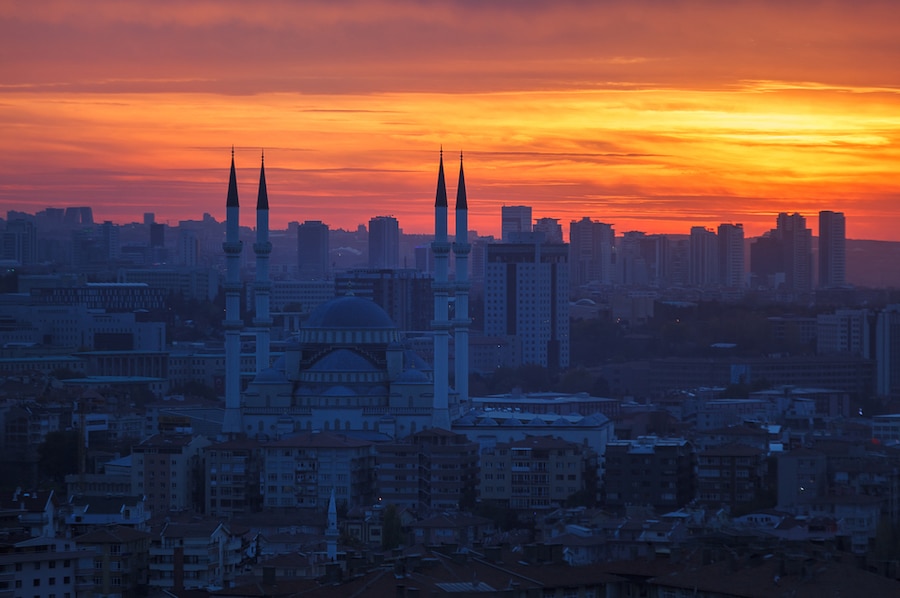 There are many historical buildings of importance in the city of Ankara, but the metropolis itself is beautiful to walk around and explore. You'll find a great blend of old and new, and the surrounding area is also fascinating to explore if you want to get out of the hustle and bustle for a few hours.
Ankara Castle
Ankara Castle is in the Ulus area of the city, dating back to 476BC. The castle was originally a defensive fortress, and you can still see the military influence in its architecture today. Despite its age, Ankara Castle is relatively well preserved, and it has four strong walls around the outside and 42 towers along the top section. It's not the easiest walk to get to the castle, and you will need comfortable walking shoes, but you'll have your mind blown when you see the panoramic view over the city. If you love views, this is one thing to do in Ankara for you.
Anitkabir
One of the most famous buildings in the whole of Ankara, if not the country, is Anitkabir, the mausoleum of Ataturk. Not only is this Ataturk's final resting place, but it is also a site of a large museum on the War of Independence and Ataturk himself. You'll undoubtedly learn a lot, and it's a very somber and important spot in terms of Turkish history.
You will need comfortable walking shoes as this one is one of the things to see in Ankara that is quite large and separated into four sections – all requiring lots of walking. In the first sector of Anitkabir, you can see Turkish soldiers carrying out their daily parades, you'll be able to walk around Peace Park with a dazzling display of flora and fauna, and you'll also be able to visit the Ceremonial Plaza before entering the Hall of Honour, which is where Ataturk's tomb is located.
Atakule
This spot will give you a fantastic view of the city. Atakule is a huge communications tower that opened in the late '80s and stood 410 feet high. There is an observation deck where you can check out the entire city below you, and you can also eat at a great height. This is one of those places to visit in Ankara, with not only a view but a top-class restaurant that rotates a complete turn every hour. You will need to book a table here way ahead of time to avoid disappointment!
Cengelhan Rahmi Koc Museum
If you're visiting Ankara as a family, this is what to do in Ankara with children. Sat right next to Ankara Castle, this museum is full of exhibits on the world of transportation and communication, with airplanes and old telephones in abundance. Many of the shows are interactive so that children can learn something while they're visiting, and they will undoubtedly love the train ride which goes around the grounds.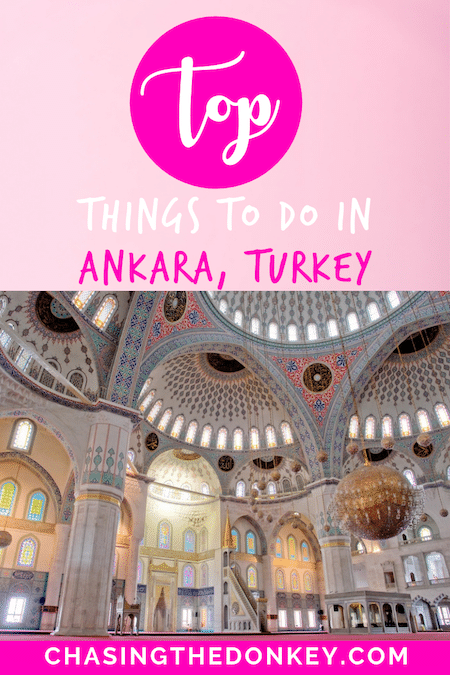 Genclik Park
When the weather is warm, everyone heads to Genclik Park! This is a huge outdoor space with a Ferris wheel, swimming pool, green space to roam, fountains, miniature train rides, an amusement park, and even an open-air theatre. Kids will love all the attractions, and the park's size means it doesn't tend to feel too crowded most of the time. There are also eating spots, and you can take a picnic if you want to. If you stay until the early evening, you'll also be treated to the daily light show over the swimming pool.
ANKAmall
If you fancy a spot of modern-day shopping, then ANKAmall is for you. This is the country's second-largest shopping mall, and it's packed with high-street names and smaller boutique stores. Covering a huge 1890,000 square feet, you'll need those comfortable shoes once more! Of course, you'll find eateries and plentiful activities formal the family.
Haci Bayram Mosque
There are many beautiful and historical mosques in Ankara, but Haci Bayram Mosque is one of the most famous. Dating back to the 15th century, the mosque is simply stunning on the outside and the inside, with beautiful architecture to enjoy. If you choose to go inside the mosque, remember that this place of worship will be closed during religious holidays and Friday prayers. It would be best if you also respected mosque etiquette.
Roman Baths
Ankara's Roman baths are one of the Ankara sights to have a window to the past. Inside, you will find statues and carvings dating back to Roman times, with the baths built by Emperor Caracalla in the 3rd century. While these are no longer functioning baths, you can explore the three main rooms: the hot bath, the warm bath, and the cold bathroom. Many people say they can feel the history when visiting this particular spot, so it's a place in Ankara for history buffs.
So, now do you feel ready to enjoy Ankara, Turkey?