The name rolls off the tongue with a poetic and memorable ring, the resonance tantalizing the ear like a beloved song. Dusseldorf, a little more than an hour's train ride from Frankfurt, is world renowned and refreshingly faithful to art and fashion. Overlooking the vast Lower Rhine River in the heart of Germany, the city is brimming with energy and vitality with an elevated living standard and a five-star lifestyle, eminent among the best cities in Europe.
The creativity swirling through the city on the wings of fashion designers and students, ongoing fashion trade shows and fashion boutiques has taken hold in Dusseldorf, not unlike in the fashion cities of Milan, Rome, Paris and London. With four public and 10 private universities as well as Gallery Dusseldorf, Breuninger and the Fashion Design Institute—the dominant fashion school in Germany—the city has a distinctly youthful vibe.
The destination is one of the country's brightest stars, yet it is often bypassed because of a rather threadbare tourist trail. But with sustainability an ongoing focus and Germany being one of Europe's top solar producers, Dusseldorf is a green city with gorgeous leafy parks and gardens, ponds with snooty swans, impressive art centers, grand palaces smartly converted to elegant museums and designated bicycle lanes with a cycling community not yet on the level of Amsterdam but inching forward.
Bicycles or not, Dusseldorf is a compact, relaxing place since everything in the city is only 20 minutes away. This includes the neighborhood near the main train station, one of the largest Japanese communities in Europe and the thriving Old Town adjacent to the Rhine River.
For a midsized city, Dusseldorf has the most attractive city-center fashion shopping street in Germany, if not all of Europe. Mile-long Konigsallee, called Ko by residents and visitors alike, is lined with Prada, Miu Miu, Gucci, Louis Vuitton, Chanel, Dior, Hermes, Armani, Fendi, Fashionette, Barbara Freres storefronts and engaging fashion boutiques. Ko is separated by a large gardenlike pond canopied with trees, small street bridges with Victorian-style lamps offering access to either side of Ko, while the island of green alters Ko as if it has been separated into two different streets.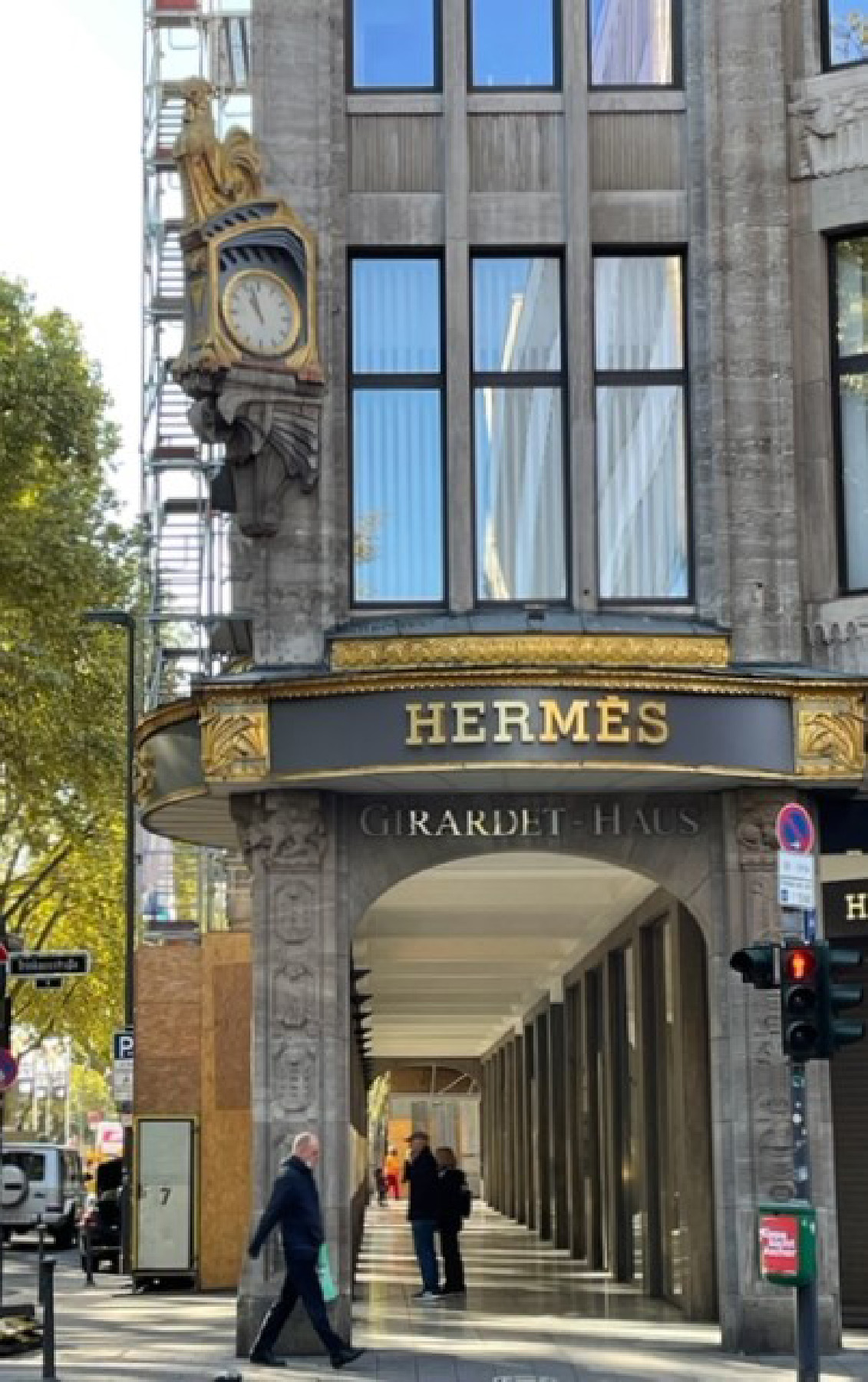 "It's like shopping in a big park!" one visitor said.
Germany is the second-largest fashion-brand supplier in Europe with German-based designers Escada, Addas, Hugo Boss, Adidas and Joop, many of whom have instigated new processes to make their work more sustainable. A collection of Dusseldorf fashion designers enhances this significant economic cultural resource.
Drenched with soothing morning light, Marion Strehlow's intimate atelier in the Oberbilk city district in a ground floor complex where she both lives and works inspires a feeling of creativity and inspiration. Her collection of unisex garments would fit naturally on Ko with their dark, earthy colors.
"I started from zero in 1998," she said. "I spent three years in fashion school and work with Italian fabrics, cotton, cashmere and beautiful black cloth. I love to sew and create a garment from beginning to end and make my own look, a look that is clean with unexpected hidden details, comfortable and classy to wear and for all ages. I follow my heart and create garments that I love. I do have a clientele, and visitors can come to the studio if they call or email me."
"Don't Panic It's Organic" is Heiko Wunder's call to sustainability. His Wunder(Werk) atelier and retail stores are a commitment to an absolute sustainable lifestyle and a fully organic fashion collection.
"My fabric is from Austria, free of toxic chemicals, and it's softer and more attractive," he said. "It's good for your skin, and I use stone nuts in place of plastic buttons."
His casual clothing is classic, not trendy, with six retail stores throughout Germany.
Suzusan is a Japanese family-owned fashion house in business for more than 100 years.
"I design the collection and they are manufactured in Japan by my family dating to the fifth generation with special age-old Japanese skills," said Hiroyuki Murase, the creative director. "Cashmere is a favorite."
His clothes have been worn by Natalie Portman and created for Dior.
Stephanie Hahn's stylish Live Lab Studios in the Loretto district is brimming with energy.
"It's new energy," she said. "I'm always looking for new designers and young people who can gather here and share their ideas. Fashion is a tough life—it's not glamorous. It's demanding work."
Hahn was born in Dusseldorf and spent time in France. Her collection is handmade in Germany and has been shown at Paris Fashion Week. Coats and unisex jackets are highlighted in the Hahn collection.
"I need to touch the material and see how it feels and falls," she said. Sustainability is important, and avoiding chemicals, reducing overproduction and creating biodegradable goods is in her future.
When You Go
Dusseldorf, a luxury fashion destination, has a significant assemblage of elite fashion designers. If you're planning a trip, contact Ilona Marx, a local guide with great expertise in fashion: mail@ilonamarx.de
Marion Strehlow: www.stre-low.com
Heiko Wunder: www.wunderwerk.com
Suzusan: www.suzusan.com
Stephanie Hahn: www.livelabstudios.com
Richard Carroll is a freelance writer. To read features by other Creators Syndicate writers and cartoonists, visit the Creators Syndicate website at www.creators.com.
COPYRIGHT 2023 CREATORS.COM